Planning a trip? Keep reading for our detailed list of the best hotels in Austin!
As a native Austinite, you could accuse my of being partial, but I do believe that Austin, Texas is one of the best cities to visit in the United States! Whether you're into art, food, or the great outdoors, there are so many things to see, do and experience here in the capital city. It's long been a favorite destination for bachelorette parties, is a great place to visit with kids and has no shortage of delicious restaurants! If you're planning a trip and looking for a place to stay, keep reading for our list of the best hotels in Austin!
Downtown Austin Hotels
1. Austin Proper Hotel
Situated in Downtown's Second Street District, Austin Proper Hotel is just steps from Lady Bird Lake, the legendary Austin City Limits music venue and nearby shops and restaurants. The hotel opened in 2019 with inspiring interiors by Kelly Wearstler and culinary offerings in collaboration with McGuire Moorman Hospitality at the delicious mediterranean restaurant, The Peacock. Austin Proper offers 244 rooms and suites, a dedicated spa and fitness center, and 14,000 square feet of meeting and event spaces, including a rooftop pool deck offering small-batch tequilas and majestic lake views.
Address: 600 W 2nd St, Austin, TX 78701
Rates starting at $279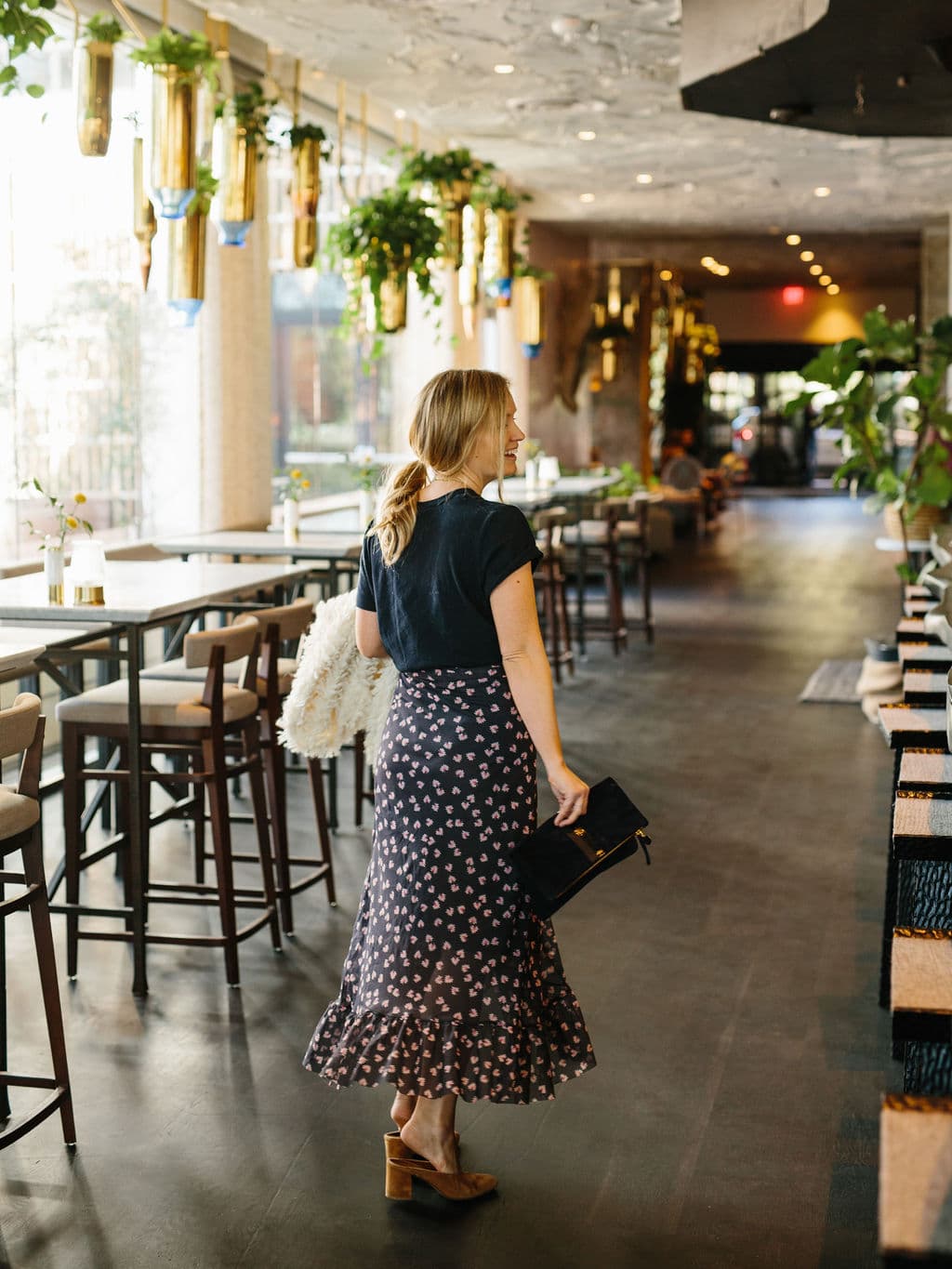 2. The Line Hotel
At the crossroads where Town Lake meets downtown, the LINE Austin draws influence from both the surrounding natural beauty and the creative energy that fuels the city. Once home to a jazz club that broadcast live on local radio in the late 1960s, the hotel is part of downtown Austin history and holds a cultural legacy within its walls as unique as the city itself. Overlooking the lake and the Congress Avenue Bridge, the LINE's salt water infinity pool is open daily and serving up poolside tacos and cocktails in the good life.
Address: 111 E Cesar Chavez St, Austin, TX 78701
Rates starting at $255.
3. Hotel Ella
Located in downtown Austin and walking distance to the University of Texas campus, Hotel Ella is a stylish boutique hotel housed in the historic Goodall Wooten House, one of Austin's original landmark estates. Constructed in 1900, the Greek revival-style mansion underwent an extensive renovation in 2013, and now offers the perfect balance between modernity and a rich history rooted in the fabric of the neighborhood and the university. With 47 guest rooms, a cabana-lined pool, and a wrap-around veranda overlooking our front lawn, Hotel Ella features beautifully designed outdoor and indoor spaces perfectly suited for your vacation, wedding, corporate event and more.
Address: 1900 Rio Grande St, Austin, TX 78705
Rates starting at $145
Austin Hotels near South Congress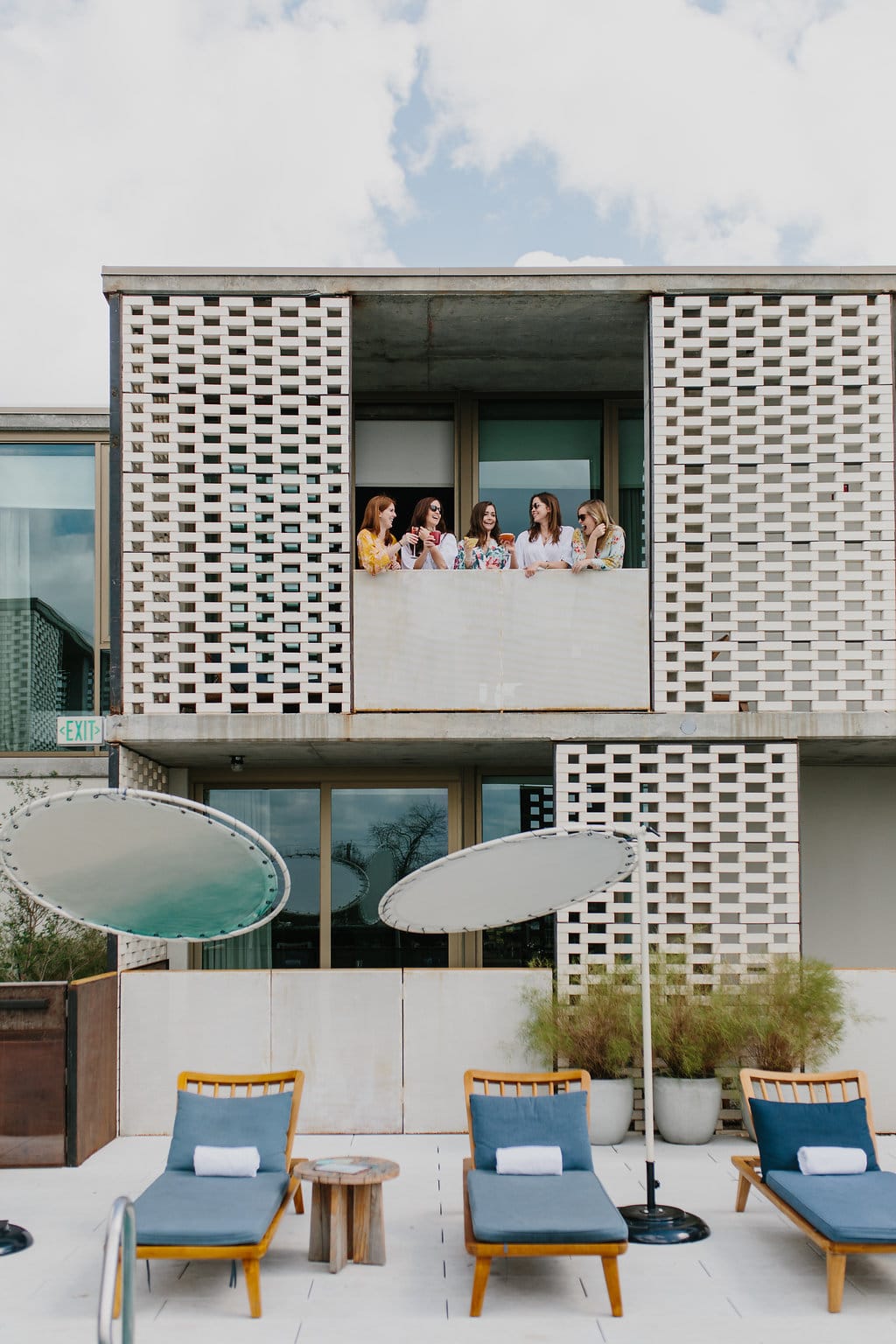 4. South Congress Hotel
With rooms overlooking either the vibrant South Congress Avenue, home to favorite local shops, restaurants, and music venues or the historic Travis Heights neighborhood, no hotel is more in the mix than this one. Enjoy bespoke Matteo bed linens, a locally sourced minibar, and a spa-like walk-in shower experience with Ursa Major bath & body products. The lobby design is one of my all-time favorites!
Address: 1603 S Congress Ave, Austin, TX 78704
Rates starting at $189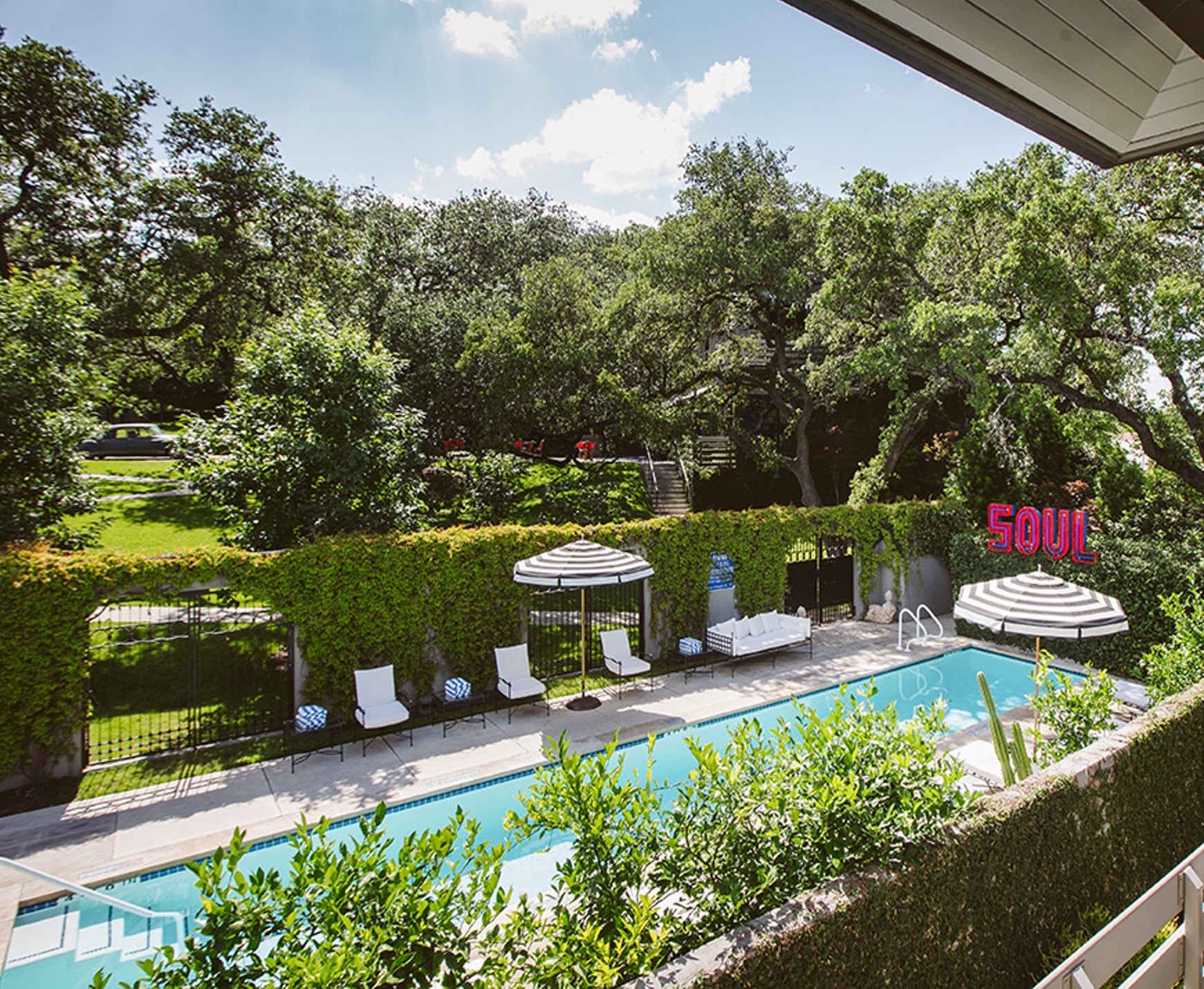 5. Hotel Saint Cecilia
Created in honor of the patron saint of music and poetry, the Saint Cecilia takes inspiration from the great era of the late 1960's and early 1970's when a revolution of rock and roll and beat poetry overran the hallowed halls of established convention. Each of the five suites, six poolside bungalows, and three studios embodies an equal love for the elegance of old-world luxury and the irreverence of our muses – The Stones, Bill Burroughs, Anne Sexton, Hunter S. Thompson among them. The secluded property and lush grounds are open only to hotel guests, thereby offering a unique sense of privacy situated steps away from the heart of South Austin.
Address: 112 Academy Dr, Austin, TX 78704
Rates starting at $545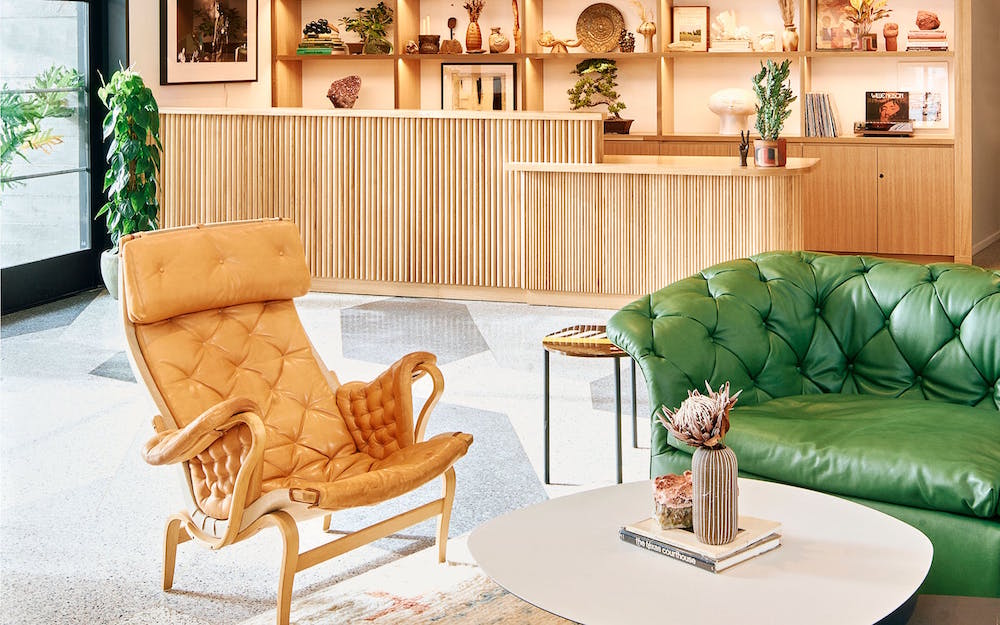 (image by Nick Simonite)
6. Hotel Magdalena
Hotel Magdalena is a new hotel project, now open on Music Lane in the popular South Congress neighborhood of Austin. At 89 rooms, it features four new, but distinct, buildings connected by exposed elevated walkways and courtyards, creating a treehouse feel inside the grounds. The property sits at varying elevations, an homage to the slopes of Barton Springs, and the lush grounds are planted with native Texas species including Bigtooth Maples, Redbuds, Meyer Lemon Trees, Yaupon Holly, and Little Gem Magnolia. Hotel Magdalena is just steps from a new development of shops and restaurants including, Ama, Everlane, Parachute, Two Hands, Reformation and so many more.
Address: 1101 Music Ln, Austin, TX 78704
rates starting at $245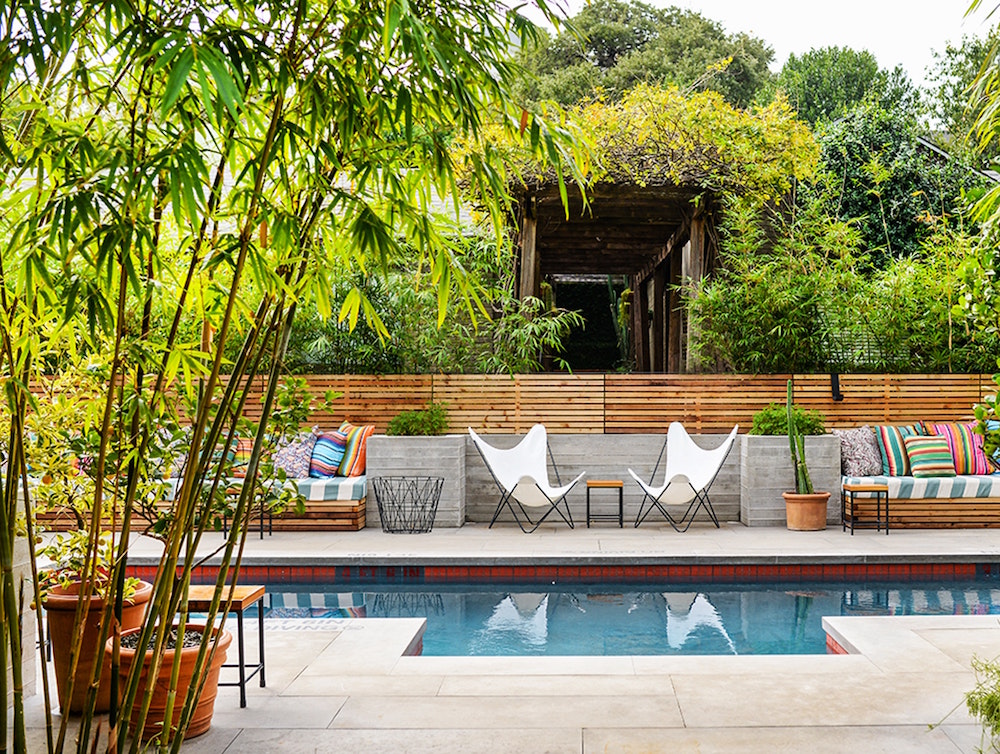 (image by Hannah Koehler)
7. Hotel San Jose
The Hotel San Jose is located on South Congress Avenue, a few blocks south of where the Colorado River runs through downtown Austin. Originally built in 1939 as an "ultramodern motor court," the San Jose has since been transformed into a secluded urban bungalow-style hotel in the heart of one of the city's most beloved neighborhoods. Aaron and I actually stayed here for our honeymoon. The location is great for walkability, but can be noisy since it's right in the heart of everything.
Address: 1316 S Congress Ave, Austin, TX 78704
rates starting at $245
8. Austin Motel
The historic Austin Motel, with 41 guest rooms and suites, sits just south of the Colorado River and Downtown, in view of the State Capitol and walking distance to the famous bat bridge. Part of the beloved South Congress neighborhood, the motel is surrounded by some of the city's most interesting dining, nightlife and shopping, with easy access to bus lines and Austin's lovely hike and bike trail that connects to Zilker Park, Barton Springs Pool and the Barton Creek greenbelt.
Address: 1220 S Congress Ave, Austin, TX 78704
Rates starting at $155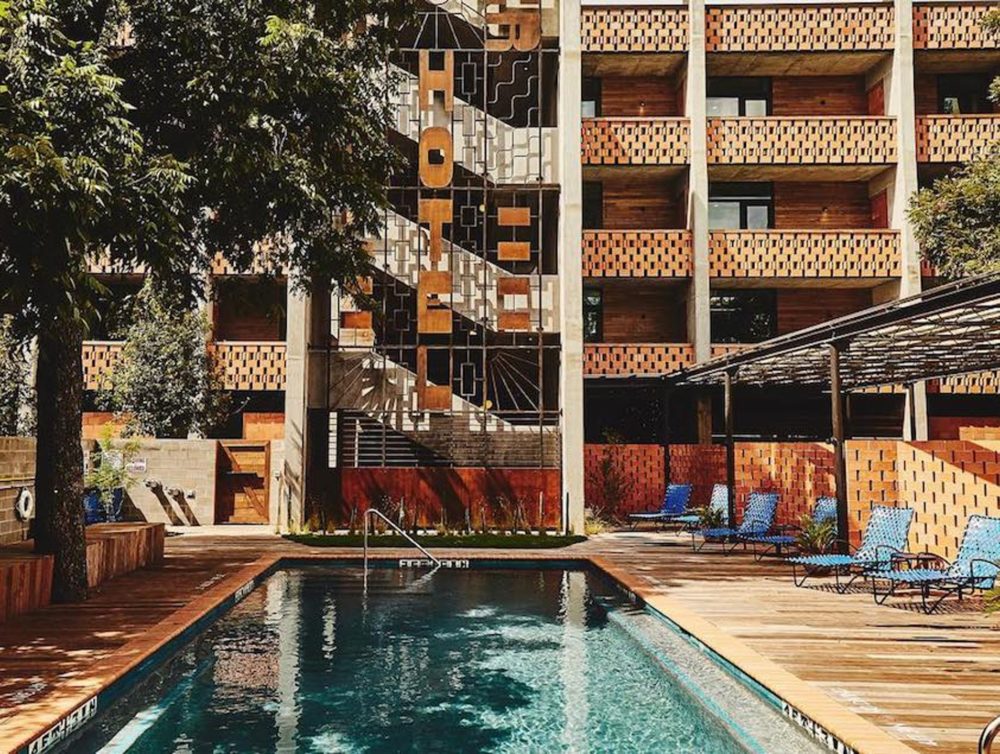 9. Carpenter Hotel
Located in an old union hall, Carpenter Hotel sits inconspicuously at the corner of Barton Springs Road and South Lamar. Just steps from Zilker Park, it's a little further off of South Congress, but still walkable to a great set of bars and restaurants.
Address: 400 Josephine St, Austin, TX 78704
Rates starting at $195
Further out and Worth the Drive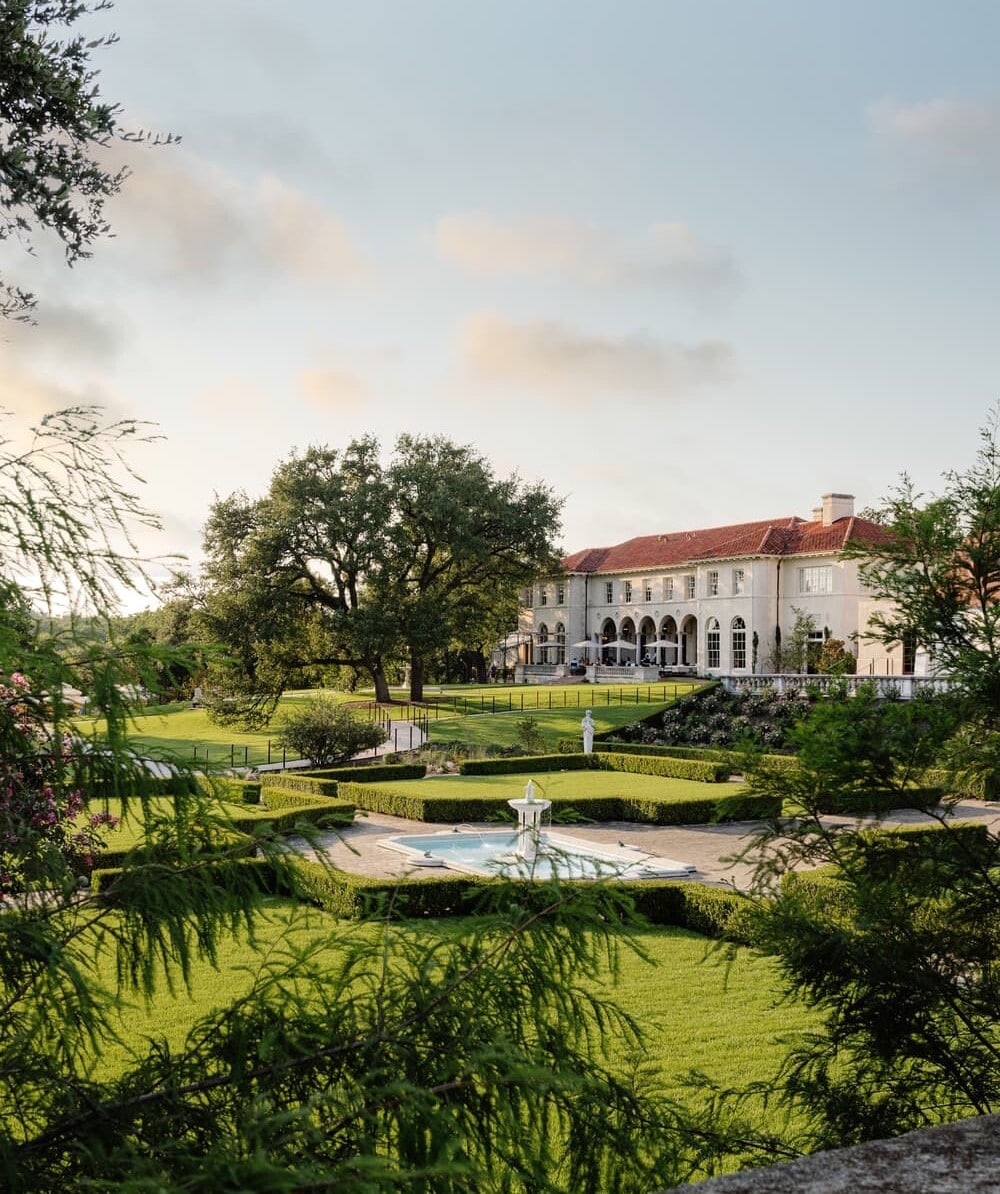 (image via Chase Daniels)
10. Commodore Perry Estate, an Auberge Hotel
Reimagined by internationally renowned designer Ken Fulk, this private retreat brings a new level of contemporary glamour and whimsical soul to Austin. A modern interpretation of a residential estate from yesteryear, these picturesque grounds offer a welcoming 10-acre setting in the heart of the city. The estate is located near campus, about 15 minutes north of downtown shops and restaurants. It is hands down my personal favorite hotel in the city, but definitely less walkable than others. The girls and I stayed here in March and gladly never left the property. Also, every bite of food here was delicious!
Address: 4100 Red River St, Austin, TX 78751
Rates starting at $545
11. Lake Austin Spa Resort
Just 20 miles from downtown Austin lies the all-inclusive waterfront oasis that is Lake Austin Spa Resort. With 40 welcoming rooms, a focus on conscientious cuisine, and a full calendar of fitness and wellness programming, Lake Austin Spa Resort might just be the escape you've been searching for.
Address: 1705 S Quinlan Park Rd, Austin, TX 78732
Rates starting at $1300
12. Miraval
Miraval Austin is one of three Miraval properties in the country and is the perfect spiritual oasis for curious, health-seeking people looking to spend some quiet time, reflect and unwind. Miraval is an all-inclusive and device-free resort. (You're allowed to keep them, but use them only in your guest room.)
Address: 13500 FM2769, Austin, TX 78726
Rates starting at $1200
The Best Hotel Pools
A pool is a must if you're visiting Austin between March and November! I love the pool at the Commodore Perry estate with it's striped yellow chaises and small but inviting pool that is kept warm and balmy year round. The Austin Motel is the most fun poolside scene with regularly scheduled DJs and pool parties. Simple but quiet and tucked away is the pool at Hotel Ella. Lastly, Saint Cecilia with it's unmistakable neon 'Soul' sign is also a perfect place to take a dip.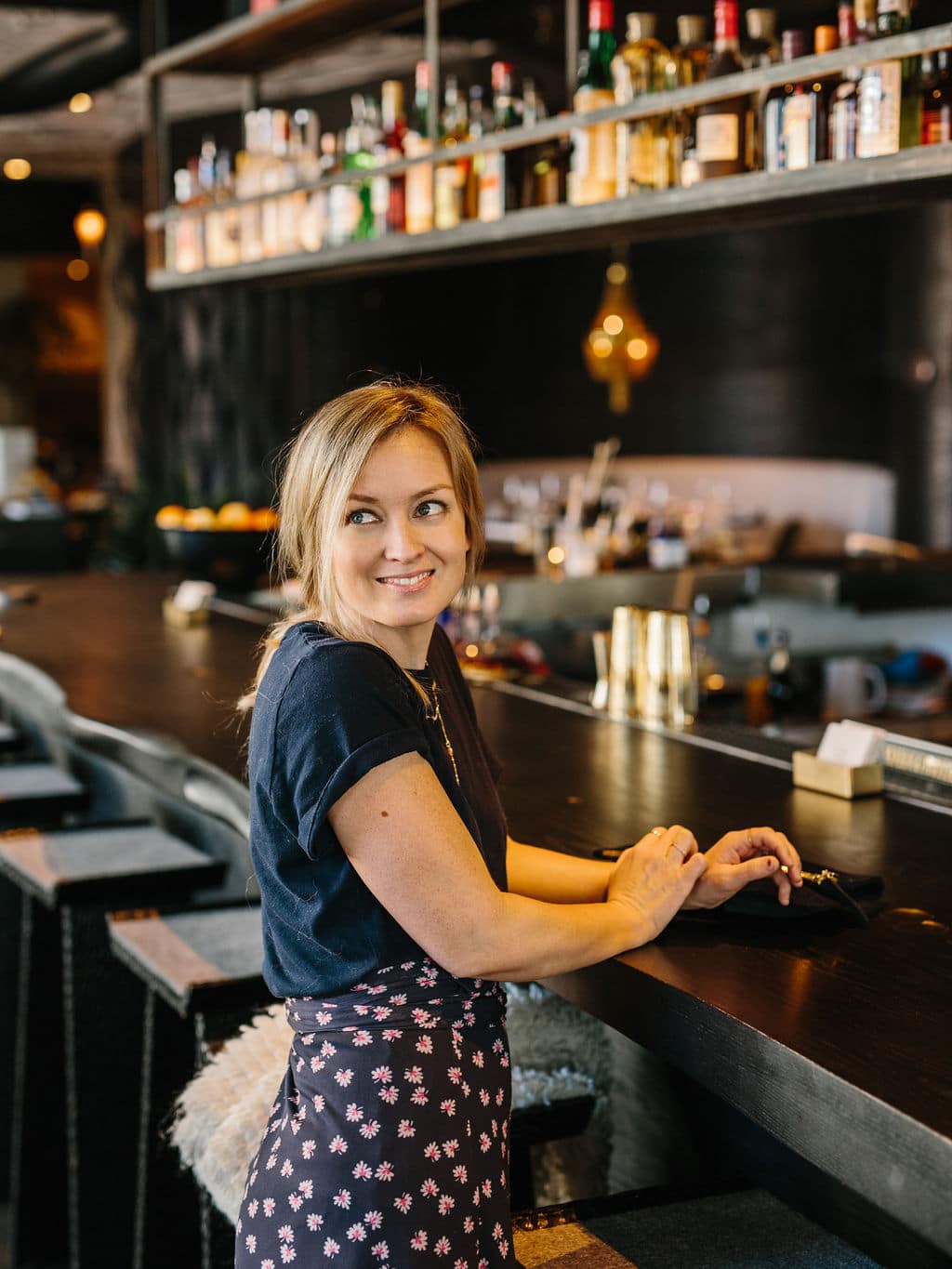 The Best Hotel Bars
For the best hotel bars complete with clever cocktail menus, try Vixen's Wedding at ARRIVE hotel, Geraldine's at Hotel Van Zandt, and Watertrade at South Congress Hotel. For a casual, garden vibe, stop by Hotel San Jose for something frozen and delicious.
The Best Hotel Spas
For a true zen-spa experience, Miraval or Lake Austin Spa Resort are the way to go. For a downtown hotel experience with a great spa, the Away Spa at the W Hotel is always a great experience, as is the Four Seasons. If you're staying downtown, though, I would opt for Viva Day Spa on South Lamar or Milk and Honey on 1st Street.
The Best Hotels for a Staycation
My favorite hotel in Austin for a staycation is the Commodore Perry Estate. I felt transported to another country for the one night I stayed there. Our room opened to a beautiful Moroccan-like courtyard and the lush landscape of the 10 acres felt reminiscent of Italy. The food is so good. It was the perfect place to unwind without being too far out.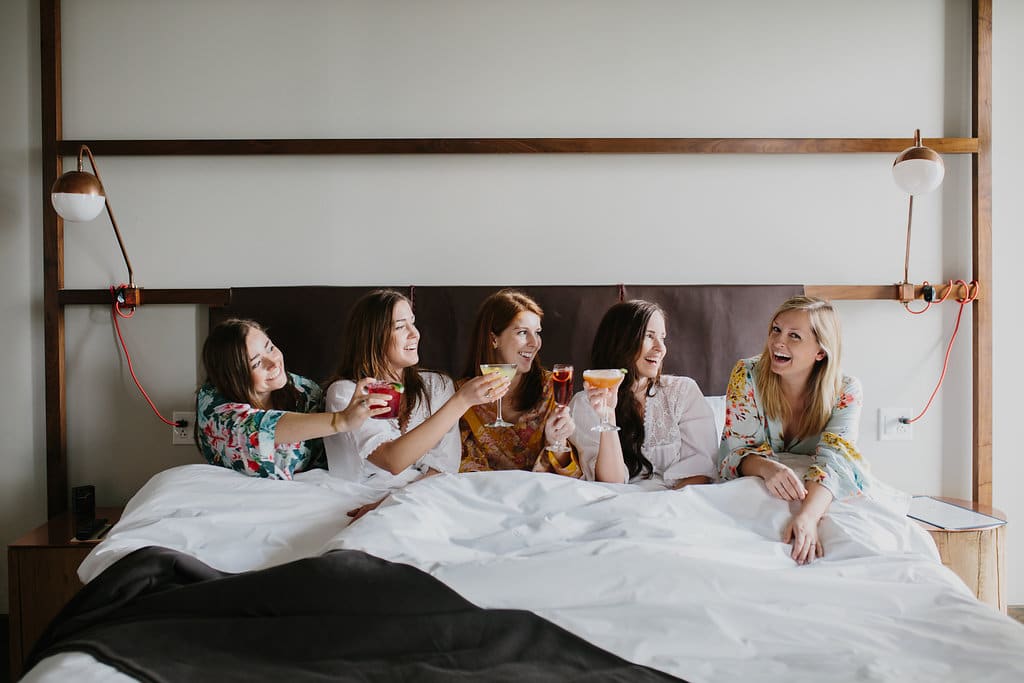 The Best Hotels for a Bachelorette Party
If you're coming to Austin for a bachelorette party, make sure to read this post! Next, call around to local hotels and see if they have special accommodations for groups. South Congress Hotel, for example has a bunk room that has 4 queen sized bunk beds and a sofa. The LINE hotel has a 1475 square foot suit. It only has one king-size bed, but plenty of space to party with your friends. Who needs sleep?
Planning a Trip to Austin? You Might Also like: