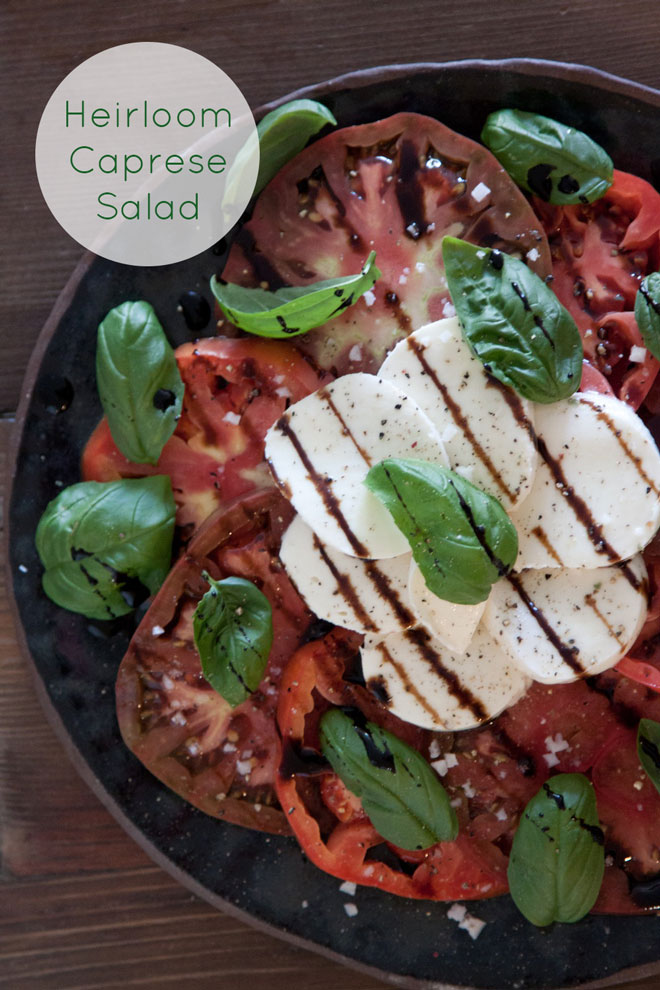 Hey guys! I'm Gaby from What's Gaby Cooking and I'm so excited to be a new food contributor over here on The Effortless Chic! I'm a chef, blogger and cookbook author among other things, but I'm really all about creating delicious recipes that are easy, tasty and sometimes a bit decadent! With summer in full swing and tomato season going crazy, I thought I'd kick things off with a tried and true favorite.  This Caprese salad is the way I go for all of my summer entertaining events. I like to jazz it up by using gorgeous heirloom tomatoes from my local markets, super fresh buffalo mozzarella and then a drizzle or two of some balsamic crème. If you don't have access to balsamic crème, it can usually be found next to the balsamic vinegars and olive oils at your local market, you can just reduce down a bottle of regular balsamic vinegar and store it in an air tight container for use.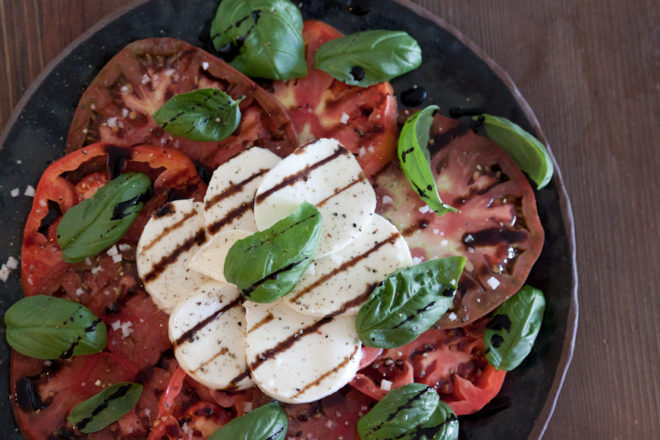 Another 100% necessary addition to this Caprese salad is basil. I just started my own garden this year, let's hope I don't kill it as I tend to have a black thumb! So, while it's still alive and thriving, I've been snipping some basil leaves off and adding them to all my summer dishes, this Caprese is no exception. Fresh herbs not only give your meal and extra layer of flavor, but they give it that visual pop when you're serving your friends and family. Then, just give it a sprinkle of your favorite kind of salt. I'm partial to Maldon and a few twists of freshly cracked black pepper and voila! A jazzed up version of a classic summer dish!
Gaby's Caprese Salad
 Ingredients:
2 cups Balsamic Vinegar – or 3-4 tablespoons balsamic crème
3 whole ripe heirloom Tomatoes, sliced about ⅓ inch thick
12 ounces, fresh buffalo Mozzarella Cheese, sliced about ⅓ inch thick
Handful of fresh Basil Leaves
Kosher Salt And Freshly Cracked Black Pepper
Directions
(If you need to make the balsamic crème start here – if you don't skip to step 2) In a small saucepan, bring balsamic vinegar to a boil over medium-low heat. Cook for 15 to 20 minutes, or until balsamic has reduced to a thicker glaze and coats the back of a wooden spoon when dipped into the vinegar. Remove from heat and transfer to a bowl and allow to cool completely before using.
To assemble the dish, arrange the slices of tomato and mozzarella slices alternating on a platter. Sprinkle the basil leaves on top or tuck them between the slices of tomato. Drizzle the balsamic crème on top. Store any extra balsamic crème in fridge in an airtight container for later use.
To finish, sprinkle some salt and pepper on top and serve as a salad, with some bread as a light lunch or alongside a main course as a side dish.
Photography, Recipe, and Copy by
Gaby Dalkin