Last week my in-laws were in town so we spent the better part of a week and a half taking them to our favorite restaurants and cafes around town.  We had some very memorable meals, but, needless to say, by the time they left I was craving some simple, healthy bites cooked at home.  When Gaby told us what she was planning for today's post, I could hardly wait to get my hands on the recipe and try it for myself-- which is exactly what I did last Sunday night before we left for China.  This Avocado Tomatillo Sauce is absolutely to-die-for!  If you want more of Gaby's delicious avocado-infused recipes, be sure to check out her book, Absolutely Avocados.  In the meantime, though, definitely give this one a try!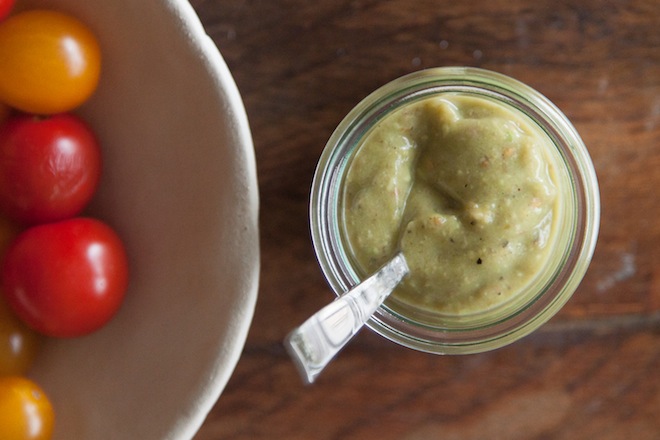 For the Avocado Tomatillo Sauce
Ingredients
1 pound tomatillos, husked and rinsed
½ jalapeno, you can remove the seeds if you want, or leave them in for an extra kick
1 small Spanish onion, quartered
3 garlic cloves
1 Tablespoon agave nectar
1 bunch fresh cilantro, roughly chopped
1 avocado
1 lime, juiced and zested
Salt and pepper to taste
Instructions
Combine all the ingredients in a blender or food processor.
Process for 1-2 minutes until the dressing is smooth and creamy.
Serve on grilled chicken as needed.
Cover and refrigerate any extra for another use on salads, steak, fish etc.
For the Grilled Chicken
Ingredients
4 boneless, skinless Chicken Breasts
Kosher salt and pepper
2 teaspoons garlic powder
Olive oil for brushing
Instructions
Pre-heat your BBQ or Grill to medium high heat
Sprinkle the chicken breasts with salt, pepper and garlic powder.
Brush each side with a little olive oil to prevent any sticking on the grill
Place the chicken on the heated grill and grill for 4-5 minutes until the chicken is just starting to become opaque around the edges. Using a pair of tongs, flip the chicken and continue to cook for about 4-5 minutes more until the chicken is fully cooked. Remove the chicken from the grill and let rest for a few moments before serving alongside the tomatillo avocado sauce.