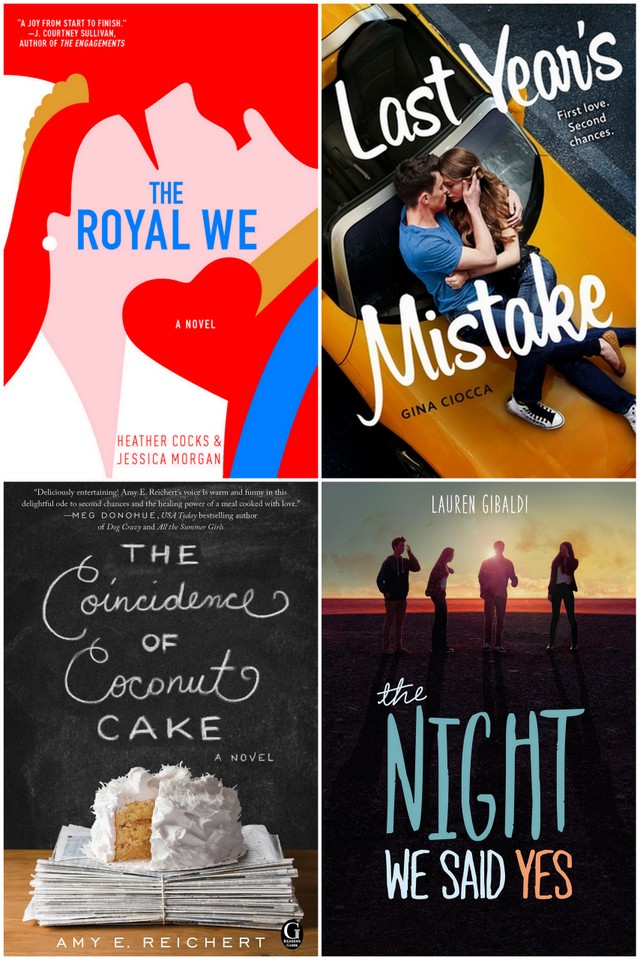 I recently learned that when Aaron is out of town and I am in bed alone at 10pm with my laptop, what begins as catching up on emails or writing a post always ends in an impulse purchase.  It could be cute baby shoes or new dry shampoo, but it will undoubtedly be something.  Last week Aaron was out of town for six nights in a row.  Parker got new shoes on night number one and I got new craft supplies for an upcoming project on night number three, but luckily for both of us on night number two I binge ordered 4 books via Amazon Prime, so by night number four I was no longer on my computer at 10pm impulse shopping, but reading rather. Thank goodness!  And thank goodness Gail is back with her must-read picks for summer today because I'm already well into the stack of books I ordered last week and can hardly wait to get some more!  You might remember Gail was the one begging you to read Girl on a Train in February, long before it had found it's way to your Instagram feed or other blogs.  The girl knows her books!  (Oh and the book I finished last week is called The Nightingale.  It's so good!  Rumor has it a film studio just optioned it for a movie and I'm already casting the characters in my head.  Hey Natalie Portman, you available?)
ROMANCE //

The Royal We by Heather Cocks and Jessica Morgan: American Rebecca Porter was never one for fairy tales. Her twin sister, Lacey, has always been the romantic who fantasized about glamour and royalty, fame and fortune. Yet it's Bex who seeks adventure at Oxford and finds herself living down the hall from Prince Nicholas, Great Britain's future king. And when Bex can't resist falling for Nick, the person behind the prince, it propels her into a world she did not expect to inhabit, under a spotlight she is not prepared to face.
Last Year's Mistake by Gina Ciocca: Is there anything that electric chemistry can't overcome? The past may be gone, but love has a way of holding on in this romantic debut novel told in alternating Before and After chapters.  The summer before freshman year, Kelsey and David became inseparable best friends—until the night a misunderstanding turned Kelsey into the school joke and everything around her crumbled, including her friendship with David. So when Kelsey's parents decide to move away, she can't wait to start over and leave the past behind. But David's not quite ready to be left.
The Coincidence of Coconut Cake by Amy E. Reichert: You've Got Mail meets How to Eat a Cupcake in this delightful novel about a talented chef and the food critic who brings down her restaurant—whose chance meeting turns into a delectable romance of mistaken identities.  (They had me at You've Got Mail.)
The Night We Said Yes by Lauren Gibaldi: A fun, romantic read, perfect for fans of Sarah Dessen and Susane Colasanti! What happens when Matt and Ella reunite one year after their breakup? Are second chances really possible?  Before Matt, Ella had a plan. Get over her ex-boyfriend and graduate high school—simple as that. But Matt—the cute, shy, bespectacled bass player—was never part of that plan. And neither was attending a party that was crashed by the cops just minutes after they arrived. Or spending an entire night saying "yes" to every crazy, fun thing they could think of.
CLASSICS: NEW & ON THE BIG SCREEN //

Go Set a Watchmen by Harper Lee: An historic literary event: the publication of a newly discovered novel, the earliest known work from Harper Lee, the beloved, bestselling author of the Pulitzer Prize-winning classic, To Kill a Mockingbird.  Originally written in the mid-1950s, Go Set a Watchman was the novel Harper Lee first submitted to her publishers before To Kill a Mockingbird. Assumed to have been lost, the manuscript was discovered in late 2014.  Go Set a Watchman features many of the characters from To Kill a Mockingbird some twenty years later. Returning home to Maycomb to visit her father, Jean Louise Finch—Scout—struggles with issues both personal and political, involving Atticus, society, and the small Alabama town that shaped her.
God Help The Child by Toni Morrison: Spare and unsparing, God Help the Child—the first novel by Toni Morrison to be set in our current moment—weaves a tale about the way the sufferings of childhood can shape, and misshape, the life of the adult.
Suite Francaise by Irene Nemirovsky: Beginning in Paris on the eve of the Nazi occupation in 1940. Suite Française tells the remarkable story of men and women thrown together in circumstances beyond their control. As Parisians flee the city, human folly surfaces in every imaginable way: a wealthy mother searches for sweets in a town without food; a couple is terrified at the thought of losing their jobs, even as their world begins to fall apart. Moving on to a provincial village now occupied by German soldiers, the locals must learn to coexist with the enemy—in their town, their homes, even in their hearts.When Irène Némirovsky began working onSuite Française, she was already a highly successful writer living in Paris. But she was also a Jew, and in 1942 she was arrested and deported to Auschwitz, where she died. For sixty-four years, this novel remained hidden and unknown.
Far from the Madding Crowd by Thomas Hardy: This story of a proud rural beauty and the three men who court her is the novel that first made Thomas Hardy famous.  Despite the violent ends of several of its major characters, Far from the Madding Crowd is the sunniest and least brooding of Hardy's great novels. The strong-minded Bathsheba Everdene—and the devoted shepherd, obsessed farmer, and dashing soldier who vie for her favor—move through a beautifully realized late nineteenth-century agrarian landscape, still almost untouched by the industrial revolution and the encroachment of modern life.
INSPIRING //
The Life-Changing Magic of Tidying Up: The Japanese Art of Decluttering and Organizing by Marie Kondo: Despite constant efforts to declutter your home, do papers still accumulate like snowdrifts and clothes pile up like a tangled mess of noodles? Japanese cleaning consultant Marie Kondo takes tidying to a whole new level, promising that if you properly simplify and organize your home once, you'll never have to do it again.  With detailed guidance for determining which items in your house "spark joy" (and which don't), this international bestseller featuring Tokyo's newest lifestyle phenomenon will help you clear your clutter and enjoy the unique magic of a tidy home—and the calm, motivated mindset it can inspire.
Getting There: A Book of Mentors by Gillian Zoe Segal: The path to success is rarely easy or direct, and good mentors are hard to find. In Getting There, thirty leaders in diverse fields share their secrets to navigating the rocky road to the top. In an honest, direct, and engaging way, these role models describe the obstacles they faced, the setbacks they endured, and the vital lessons they learned. They dispense not only essential and practical career advice, but also priceless wisdom applicable to life in general. Getting There is for everyone—from students contemplating their futures to the vast majority of us facing challenges or seeking to reach our potential.
If You Find This Letter: My Journey to Find Purpose Through Hundreds of Letters to Strangers by Hannah Brencher: A heartwarming memoir of love and faith from Hannah Brencher—founder of The World Needs More Love Letters—who has dedicated her life to showing total strangers that they are not alone in the world. Fresh out of college, Hannah Brencher moved to New York.  Lonely and depressed, she noticed a woman who looked like she felt the same way on the subway. Hannah did something strange—she wrote the woman a letter. She folded it, scribbled "If you find this letter, it's for you…" on the front and left it behind.  When she realized that it made her feel better, she started writing and leaving love notes all over the city—in doctor's offices, in coat pockets, in library books, in bathroom stalls.  Hannah's project took on a life of its own when she made an offer on her blog: She would handwrite a note and mail it to anyone who wanted one. Overnight, her inbox exploded with requests from people all over the world. Nearly 400 handwritten letters later, she started the website, The World Needs More Love Letters, which quickly grew.  If You Find This Letter chronicles Hannah's attempts to bring more love into the world—and shows how she rediscovered her faith through the movement she started.
We Should All Be Feminists by Chimamanda Ngozi Adichie: In this personal, eloquently-argued essay—adapted from her much-admired TEDx talk of the same name—Chimamanda Ngozi Adichie, award-winning author of Americanah, offers readers a unique definition of feminism for the twenty-first century, one rooted in inclusion and awareness. Drawing extensively on her own experiences and her deep understanding of the often masked realities of sexual politics, here is one remarkable author's exploration of what it means to be a woman now—and an of-the-moment rallying cry for why we should all be feminists.
TRUE STORIES //
So You've Been Publicly Shamed by Jon Ronson: For the past three years, Jon Ronson has travelled the world meeting recipients of high-profile public shamings. The shamed are people like us - people who, say, made a joke on social media that came out badly, or made a mistake at work. Once their transgression is revealed, collective outrage circles with the force of a hurricane and the next thing they know they're being torn apart by an angry mob, jeered at, demonized, sometimes even fired from their job.  A great renaissance of public shaming is sweeping our land. Justice has been democratized. The silent majority are getting a voice. But what are we doing with our voice? We are mercilessly finding people's faults. We are defining the boundaries of normality by ruining the lives of those outside it. We are using shame as a form of social control. Simultaneously powerful and hilarious in the way only Jon Ronson can be, So You've Been Publicly Shamed is a deeply honest book about modern life, full of eye-opening truths about the escalating war on human flaws - and the very scary part we all play in it.
It's What I Do: A Photographer's Life of Love and War: War photographer Lynsey Addario's memoir It's What I Do is the story of how the relentless pursuit of truth, in virtually every major theater of war in the twenty-first century, has shaped her life. What she does, with clarity, beauty, and candor, is to document, often in their most extreme moments, the complex lives of others. It's her work, but it's much more than that: it's her singular calling. Lynsey Addario was just finding her way as a young photographer when September 11 changed the world. One of the few photojournalists with experience in Afghanistan, she gets the call to return and cover the American invasion. She makes a decision she would often find herself making—not to stay home, not to lead a quiet or predictable life, but to set out across the world, face the chaos of crisis, and make a name for herself.
Dead Wake: The Last Crossing of the Lusitania by Erik Larson: On May 1, 1915, with WWI entering its tenth month, a luxury ocean liner as richly appointed as an English country house sailed out of New York, bound for Liverpool, carrying a record number of children and infants. The passengers were surprisingly at ease, even though Germany had declared the seas around Britain to be a war zone. For months, German U-boats had brought terror to the North Atlantic. But the Lusitania was one of the era's great transatlantic "Greyhounds"—the fastest liner then in service—and her captain, William Thomas Turner, placed tremendous faith in the gentlemanly strictures of warfare that for a century had kept civilian ships safe from attack.
Modern Romance by Aziz Ansari : At some point, every one of us embarks on a journey to find love. We meet people, date, get into and out of relationships, all with the hope of finding someone with whom we share a deep connection. This seems standard now, but it's wildly different from what people did even just decades ago. Single people today have more romantic options than at any point in human history. With technology, our abilities to connect with and sort through these options are staggering. So why are so many people frustrated? Some of our problems are unique to our time. "Why did this guy just text me an emoji of a pizza?" "Should I go out with this girl even though she listed Combos as one of her favorite snack foods? Combos?!" "My girlfriend just got a message from some dude named Nathan. Who's Nathan? Did he just send her a photo of his penis? Should I check just to be sure?" But the transformation of our romantic lives can't be explained by technology alone. In a short period of time, the whole culture of finding love has changed dramatically. A few decades ago, people would find a decent person who lived in their neighborhood. Their families would meet and, after deciding neither party seemed like a murderer, they would get married and soon have a kid, all by the time they were twenty-four. Today, people marry later than ever and spend years of their lives on a quest to find the perfect person, a soul mate.
SUSPENSE
Luckiest Girl Alive by Jessica Knoll: As a teenager at the prestigious Bradley School, Ani FaNelli endured a shocking, public humiliation that left her desperate to reinvent herself. Now, with a glamorous job, expensive wardrobe, and handsome blue blood fiancé, she's this close to living the perfect life she's worked so hard to achieve. But Ani has a secret. There's something else buried in her past that still haunts her, something private and painful that threatens to bubble to the surface and destroy everything.
Hausfrau by Jill Alexander Essbaum: Anna Benz, an American in her late thirties, lives with her Swiss husband, Bruno—a banker—and their three young children in a postcard-perfect suburb of Zürich. Though she leads a comfortable, well-appointed life, Anna is falling apart inside. Adrift and increasingly unable to connect with the emotionally unavailable Bruno or even with her own thoughts and feelings, Anna tries to rouse herself with new experiences: German language classes, Jungian analysis, and a series of sexual affairs she enters with an ease that surprises even her. But Anna can't easily extract herself from these affairs. When she wants to end them, she finds it's difficult. Tensions escalate, and her lies start to spin out of control. Having crossed a moral threshold, Anna will discover where a woman goes when there is no going back.
Unbecoming: A Novel by Rebecca Scherm: On the grubby outskirts of Paris, Grace restores bric-a-brac, mends teapots, re-sets gems. She calls herself Julie, says she's from California, and slips back to a rented room at night. Regularly, furtively, she checks the hometown paper on the Internet. Home is Garland, Tennessee, and there, two young men have just been paroled. One, she married; the other, she's in love with. Both were jailed for a crime that Grace herself planned in exacting detail. The heist went bad—but not before she was on a plane to Prague with a stolen canvas rolled in her bag. And so, in Paris, begins a cat-and-mouse waiting game as Grace's web of deception and lies unravels—and she becomes another young woman entirely.
The Country of Ice Cream Star by Sandra Newman:
In the aftermath of a devastating plague, a fearless young heroine embarks on a dangerous and surprising journey to save her world in this brilliantly inventive dystopian thriller, told in bold and fierce language, from a remarkable literary talent.
In the ruins of a future America, fifteen-year-old Ice Cream Star and her nomadic tribe live off of the detritus of a crumbled civilization. Theirs is a world of children; before reaching the age of twenty, they all die of a mysterious disease they call Posies—a plague that has killed for generations. There is no medicine, no treatment; only the mysterious rumor of a cure.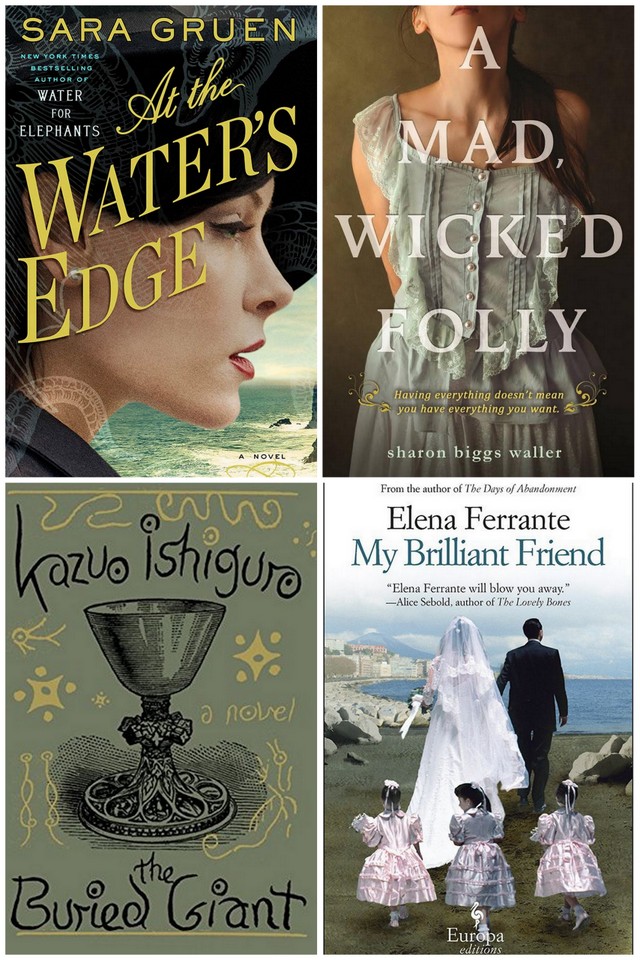 FARAWAY PLACES 
At the Water's Edge by Sara Gruen: In this thrilling new novel from the author of Water for Elephants, Sara Gruen again demonstrates her talent for creating spellbinding period pieces. At the Water's Edge is a gripping and poignant love story about a privileged young woman's awakening as she experiences the devastation of World War II in a tiny village in the Scottish Highlands.
My Brilliant Friend by Elana Ferrante: A modern masterpiece from one of Italy's most acclaimed authors, My Brilliant Friend is a rich, intense, and generous-hearted story about two friends, Elena and Lila. Ferrante's inimitable style lends itself perfectly to a meticulous portrait of these two women that is also the story of a nation and a touching meditation on the nature of friendship.
A Mad Wicked Folly by Sharon Biggs Waller: Welcome to the world of the fabulously wealthy in London, 1909, where dresses and houses are overwhelmingly opulent, social class means everything, and women are taught to be nothing more than wives and mothers. Into this world comes seventeen-year-old Victoria Darling, who wants only to be an artist—a nearly impossible dream for a girl. After Vicky poses nude for her illicit art class, she is expelled from her French finishing school. Shamed and scandalized, her parents try to marry her off to the wealthy Edmund Carrick-Humphrey. But Vicky has other things on her mind: her clandestine application to the Royal College of Art; her participation in the suffragette movement; and her growing attraction to a working-class boy who may be her muse—or may be the love of her life. As the world of debutante balls, corsets, and high society obligations closes in around her, Vicky must figure out: just how much is she willing to sacrifice to pursue her dreams?
The Buried Giant by Kazuo Ishiguro: The Romans have long since departed and Britain is steadily declining into ruin. But, at least, the wars that once ravaged the country have ceased. Axl and Beatrice, a couple of elderly Britons, decide that now is the time, finally, for them to set off across this troubled land of mist and rain to find the son they have not seen for years, the son they can scarcely remember. They know they will face many hazards—some strange and otherworldly—but they cannot foresee how their journey will reveal to them the dark and forgotten corners of their love for each other. Nor can they foresee that they will be joined on their journey by a Saxon warrior, his orphan charge, and a knight—each of them, like Axl and Beatrice, lost in some way to his own past, but drawn inexorably toward the comfort, and the burden, of the fullness of a life's memories.