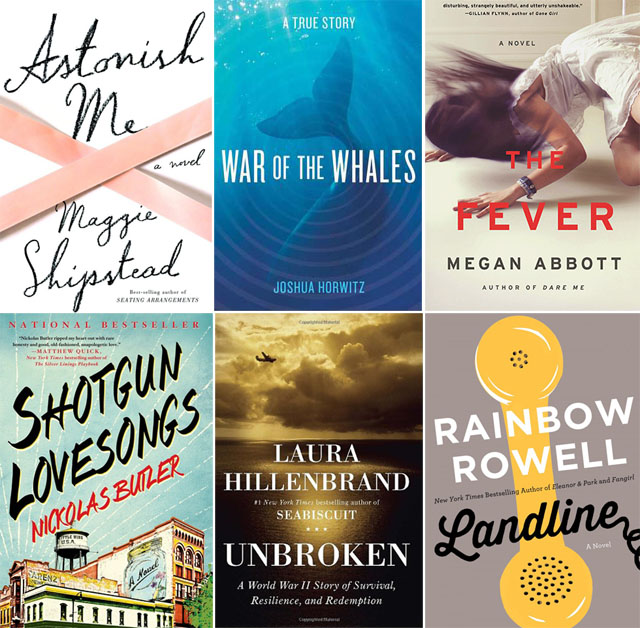 I am super excited to intro this new series and it's lovely author, Gail Werner.  As soon as I read through her recommendations I immediately purchased a couple and have been since devoting myself to making it through Baby Led Weaning so that I can enjoy one of these novels some day soon.  Gail is quite the creative trifecta.  She's not only a photographer with a gorgeous eye and a blogger with a distinct voice, she's also a published author with her finger on the pulse of what's happening right now in the literary world.  Whether you're looking for a nail-biter or a beach read, one of these books should do the trick! (If you've read any of these, I would love to know what you thought in the comments!)
Astonish Me: Literary darling Maggie Shipstead's Astonish Me follows Joan Joyce, a young ballerina who must accept her fate of falling short of perfection. Her one chance at fame will come helping famed Soviet dancer Arslan Rusakov deflect to America (a plot point inspired by the great dancer Mikhail Baryshnikov's deflection in the 1970s). It's Joan's dalliances with Arslan, along with the ins and outs of the "safe" life she builds with husband Jacob and son Harry, that drive the plot of this time-hopping narrative, one that'll keep you guessing until the end.
War of the Whales: Joshua Horwitz is earning praise for this nonfiction nail-biter that tells the story of how two civilian men take on the U.S. Navy to protect the fate of whales on the verge of extinction. War of the Whales is well researched and provides deep insight into the little known consequences of our government's use of sonar technology — two reasons it'd make great fodder for conversation at a summer cocktail party. Just don't be surprised if you take up the mantle of environmental activist after plowing through it.
The Fever: Not since Gillian Flynn's Gone Girl have I read such a suspenseful book! Megan Abbott borrows a "ripped from the headlines" plot hook to weave an engrossing narrative about what happens to the people of an East Coast town that finds itself in the throes of mass hysteria after a mysterious illness afflicts girls at the local high school. If you're up for a chilling story to keep you company in the summer heat, this makes for a perfect, fast-paced beach read.
Shotgun Lovesongs: I'm a sucker for coming-of-age stories and in the hands of newcomer Nickolas Butler Shotgun Lovesongs is as good as any. With a narrative that follows five friends straddling life between their 20s and 30s (and all the major changes—marriage, divorce, children—that accompany it), this book's got sentimental heart. It's also got the bonus of a character (Lee) based off Bon Iver frontman Justin Vernon, who grew up in the same Wisconsin town the author is from. Shotgun is my pick so far for favorite read of 2014 (but because I'm a fellow Midwesterner, this is likely due to it being one giant love song dedicated to the kind of place I'm from!)
Unbroken: It's been awhile since Laura Hillenbrand released Unbroken but now that the paperback is out and we're months away from its big budget film debut (the trailer is goosebump-inducing!), there's never been a better time to delve into the extraordinary life story of World War II veteran Louis Zamperini. Earlier this month, Zamperini passed away at age 97 and I was deeply saddened by the news. Maybe it's because there's something special about Unbroken: After you finish reading it, you'll feel as if you personally know him. It's a remarkable story about the human spirit and a powerful reminder of why Louis's generation was, in fact, the greatest.
Landline: Rainbow Rowell follows up her popular young adult read Eleanor & Park with this summer's Landline, a humorous but tender account of TV writer Georgie McCool's attempts to save her marriage courtesy of a landline phone that lets her call back in time to the version of her husband she fell in love with in college. Where Landline excels is its sharp wit (I laughed out loud at certain lines) and keen observations on life, particularly the ups and downs of marriage. Its biggest flaw is an over-reliance on a plot that can feel gimmicky, but rest assured any release from Rowell is compulsively readable—far better than most other novels you'll spy new on bookstore shelves.