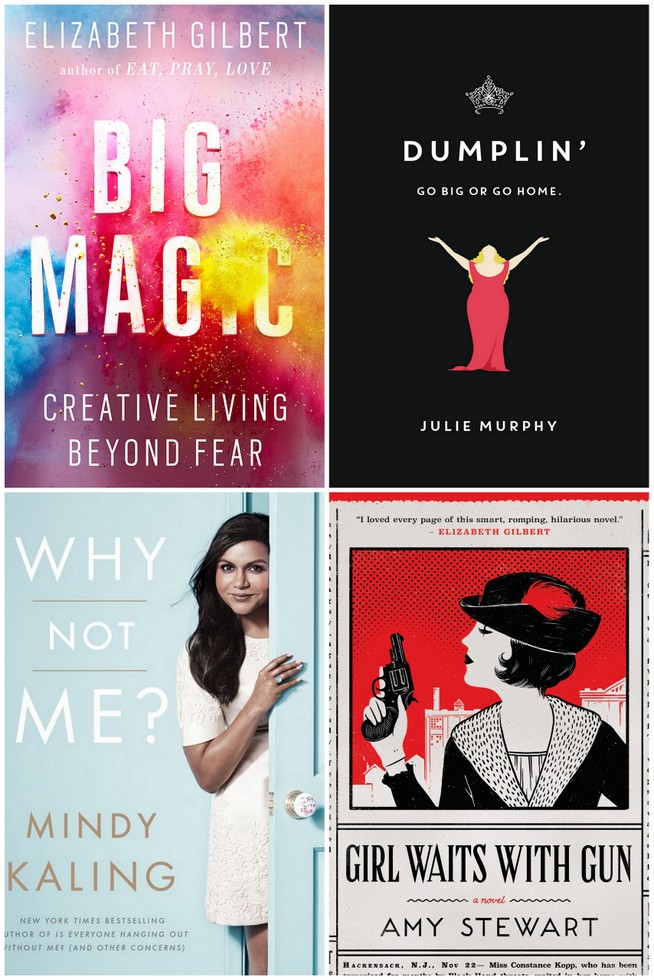 A new season around here can only mean one thing: A new fall reading list by our book aficionado at large, Gail Werner.  October is shaping up to be an equally fun and crazy busy work month, but I fully plan on setting aside a little time after-hours for some of these reads!  Take it away, Gail!
Big Magic by Elizabeth Gilbert: I started gushing about Elizabeth Gilbert's Magic Lessons podcast in August. Conceived as "road maps for the path to creativity," the weekly listening sessions where the author pushed creatives to face fears and dig into their passions were the perfect segue to her fall release Big Magic, a book that aims to demystify the creative process. Through anecdotes about how ideas arrive (a concept that BLEW my mind) to giving one's self permission to persist through the creative struggle, Gilbert offers a refreshing take on creative living that surprised me with its originality and wit. For sure one of the most inspiring reads I've come across in my own path as a creative.
Dumplin' by Julie Murphy: If "Sixteen Candles" took place in rural Texas, and if a painfully shy Samantha was swapped out with a cheeky (ha!) fat girl competing in a beauty pageant named Willowdean, then you'd have Dumplin' in your hands. I finished this book in a mad streak of binge-reading and immediately felt sad it was over. Forget Jake Ryan because by the end of this, you'll remember what it's like to be a teenager again, developing a new crush on Bo (a.k.a. Peachbutt). Also, a crush on the author, because this is a book for all the girls who want to lift each other up—the fat-bottomed ones especially. If you love the voice and style of Rainbow Rowell, this should definitely be your next read.
Why Not Me? by Mindy Kaling: Years ago there was a book-turned-movie titled "I Don't Know How She Does It." I bring it up because I'm mad it was already taken for Mindy's newest collection of essays. Truly, how does this woman do it? In Why Not Me?, a particular essay about Mindy's workday (which starts at 5 am and ends at midnight) validates just how much of a hustler she is—and I love that about her. This is a quick read that's hilarious, smart, and spastic in a way that describes Kaling in a nutshell. Read it especially if you're a fan of her show, The Mindy Project—and if you're not, you should be! (One last note: Midway through, I texted my friend a pic with an excerpt from an essay in which Mindy reveals the "sexiest thing that ever happened to her" along with the words 'PLEASE LET THIS BE ABOUT CHRIS MESSINA.' The read-between-the-lines-effect of this book? So strong.)
Fates and Furies by Lauren Goff: Here's my take for must-read literary fiction pick of the fall: Goff's Fates and Furies, an epic saga that offers a dual perspective on a marriage that's not all it seems, as revealed from opposing viewpoints of husband and wife. (Doesn't that format sound perfect for fans of Showtime's The Affair?) This one's garnered lots of industry buzz and while it's not a breezy read by any means, it promises to be one of the season's most rewarding.
A Little Life by Hanya Yanagihara: This isn't a fall release (it came out this spring), but the appreciation for Yanagahria's beast of a novel (it's 700-plus pages!), has been steadily growing. Short-listed for the Man Booker Prize and long-listed for the National Book Award (two of the most illustrious awards in publishing), A Little Life is a heavy tome with an even heavier plot (so get out your tissues). The story about a group of four male friends, one of whom suffers mightily as a child victim of abuse, is dark and disturbing, yet seems to mesmerize almost anyone who dares to pick it up. As a friend of mine shared, "It's like nothing I've ever read before—it still haunts me." A book like that? It makes me want to know what I'm missing.
Girl Waits With Gun by Amy Stewart: Here's your historical fiction pick for fall, a book that capitalizes on the whole "Girl" craze in publishing, but gets its title straight from a 1914 newspaper headline involving its protagonist. Girl Waits With Gun tells the forgotten true story of one of America's first female deputy sheriffs—how fascinating is that? My book club is reading it for its fall pick, and we look forward to celebrating such a powerful woman in print. If nothing else, pick up this book for your coffee table. With a cover that great, you've got a built-in excuse to show off your literary taste!