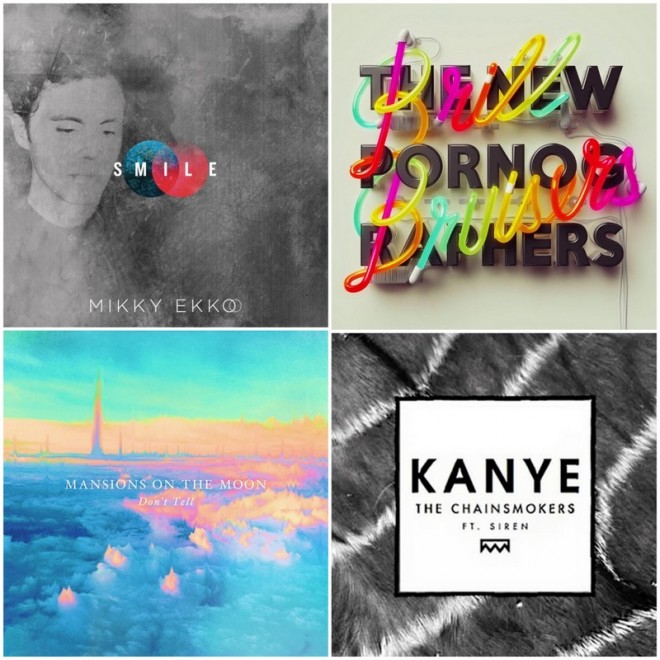 September always feels a little reminiscent of a new year.  While the sun continues to beat down, a new season is imminent.  You can tell by the new collections walking runways at Lincoln Center and the sound of the marching band practicing at the neighborhood high school.  As the days inch shorter, cool breezes are just around the corner bringing with her football seasons beginning anew, pumpkin flavored everything, and the resolve to finish this last third of the year as strong as we began.  And while we're glad that Matt's playlists come to us new every month, this one is so good we could gladly keep it on repeat until the clock strikes midnight on December 31st.  Click play.  Turn it up.  Go get 'em, tiger.
1. The Chainsmokers ft. Siren - Kanye
Hilarious/genius idea for a song. Helps that it's catchy too.
2. Mikky Ekko - Smile
First single from his upcoming album, Time. Cannot wait to hear the rest of the album. Just saw him perform in LA a few weeks back and it was amazing.
3. The New Pornographers - Brill Bruisers
Anyone who gets their own brew at Intelligentsia is cool with me. This song has a great 90s Nada Surf vibe to it.
4. Mansions On The Moon - Somewhere Else Tonight
Club beat but an indie song? Works for me.
5. Shakey Graves ft. Esmé Patterson - Dearly Departed
The hits in this song are kind of jarring at first, and then you start looking forward to them.
6. Alex Clare - War Rages On
This song kind of gives me anxiety and makes me want to drive fast. Would probably be good on a run/workout mix. I wouldn't know, so someone out there give it a try and report back. Thx.
7. The Kite String Tangle - Arcadia
What an amazing band name. I wish I had thought of it.
8. Jessie Ware - Tough Love
This girl is just rad.
9. Echosmith - Cool Kids
OK OK OK. Every time this song comes on, I'm like, "Who is this?...I like it!!"
10. iamamiwhoami - Fountain
Basically the opposite as The Kite String Tangle in the name department, but the melody on that chorus with the keys/vocals...iamallaboutit!
11. Ryn Weaver - Promises
Great new artist. Love her voice and the whole Promises EP is pretty cool too. Check it out.
12. Bahamas - Waves
Guitar Solo!!!
*Matt's All-Time Favs:*
Third Eye Blind - Motorcycle Drive By
3eb holds a pretty special place in my heart. Lots of nostalgia when I listen to this band. In High School, my friends and I deemed the final 4 songs on their debut album (I Want You, The Background, Motorcycle Drive By, and God Of Wine) the "Drive Home" songs. They were the perfect collection of chill, epic, sing-a-long songs that you could roll down the windows and just enjoy the drive home. I haven't done it in forever, but I'm pretty sure it still holds up. I thought it might be a little overkill to include all 4 on this mix, but feel free to give it a try for yourself. Out of the 4, Motorcycle Drive By is kind of the stand out track. Enjoy!