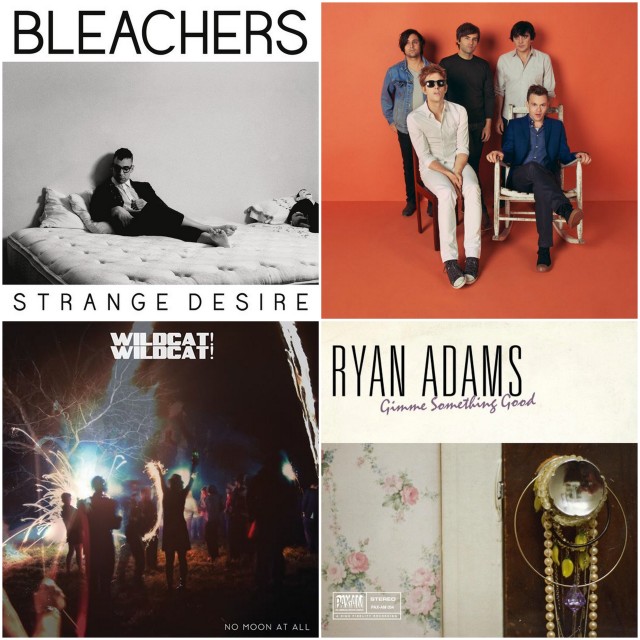 It's the Fourth of July, folks.  I could argue (and have) that it's the best of all of the holidays (no presents, no pressure, just food, friends, and a beach if you're lucky), but instead I'll give you the gift of another one of Matt Mugford's genius summer playlist.  It's perfect for whatever you have planned today.  Aaron, Parker, and I are headed out for a little 4th of July picnic this afternoon and then have a crab cake dinner and sparklers on the agenda after Miss P goes to sleep.  What are all of you up to this weekend?  Hope it's wonderful!
Ryan Adams - "Gimme Something Good"
It's no secret that I'm obsessed with RA. I love this first single from his new album coming out in September (I may have stumbled upon a copy of it, and it's really good).
Bleachers - "Rollercoaster"
This band is the side project of Jack Antonoff from the band fun. He's written some big hits for his band as well as other artists, now he's taking it on himself and it's pretty impressive. This is a fun one.
Delta Spirit - "From Now On"
My obsession for Ryan Adams is only rivaled by my feelings for this band. Delta Spirit's new album may have found its way to my ears also and it does not disappoint. Expect to hear more in future playlists.
Wildcat! Wildcat! - "Hero
This is a band that I have been following for quite awhile and am so stoked that they finally have music out there for the masses.
Ed Sheeran - "Nina"
This guy is crazy talented and has crafted a very smart career for himself.
Spoon - "Do You"
That "doo doo" intro is screaming to be used in a commercial.
Birdy ft. Jaymes Young - "Best Shot"
I admit I saw The Fault In Our Stars and cried...but only because the music in it was so great. Props to music supervisor, Season Kent on an amazing job. This is a great original song from the film.
Pepa Knight - "Rahh!"
One half of the band Jinja Safari, Pepa Knight is making music on his own and I can't wait to hear more.
Porter Robinson - "Sad Machine"
I hadn't been too familiar with Porter's music until recently when I got to use one of his songs ("Sea Of Voices - RAC Remix) in a spot I worked on for the Google I/O conference last month. This one has become a fav of mine.
Sylvan Esso - Coffee
This Sylvan Esso record is super interesting and I LOVE coffee, so this was a no-brainer.
First Aid Kit - "My Silver Lining" & "Stay Gold"
I was trying to decide which one of these songs to include on this playlist and I could not decide, so you are getting a double feature of FAK. Both songs are so so so good.
Priory - "Weekend"
Seems fitting for a long 4th of July weekend. Enjoy everybody!
Matt's All Time Fav's
Daryl Hall & John Oates - "I Can't Go For That (No Can Do)"
It's kind of shameful that I haven't included a Hall & Oates jam in this section of the playlist yet. But that all changes