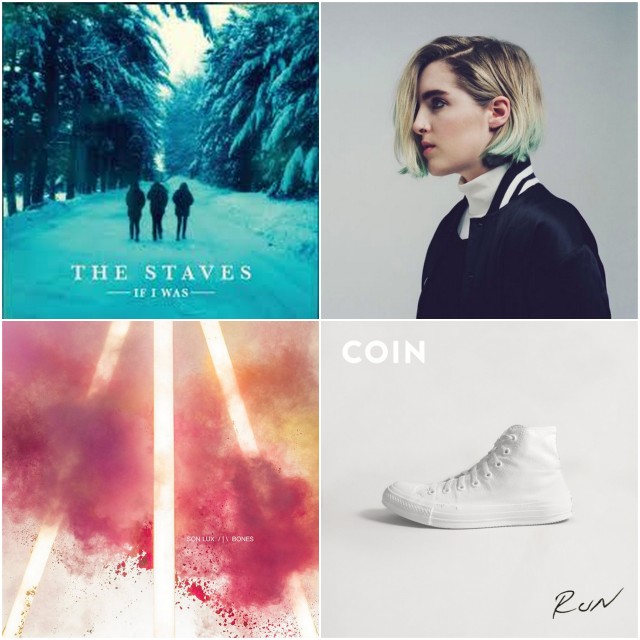 Happy Wednesday, friends!  Hope all of your week's are going well.  Last week I was having a major "mercury must be in retrograde" moment, but this week the universe seems to have sorted itself out.  Thank goodness!  Since it's officially Music Festival Awareness month and because I needed a pick-me-up after last week, Matt told me he made this playlist extra good!  (It's not really Music Festival Awareness month, but did you know that there are no less than 19 music festivals you can attend in April?)  Whether you're Coachella bound or heading for New England Metal and Hardcore 2015, take this playlist along to keep you company.
Kacey Musgraves - Biscuits
I try to slip a country song in these playlists from time to time, but usually don't lead off with one. But this one is just too good and clever. It gets pretty serious towards the end of this playlist, so thought it might be good to start off with something light. If you don't like it...listen to the lyrics!
Brandon Flowers - Can't Deny My Love
I may or may not have already heard his entire new album, and it's amazing!! This isn't even my favorite song on the record so there's a very high likelihood of more B Flowers on future playlists.
Dead Sara - Something Good
I like when girls rock.
COIN - Run
This song is HUGE!
The Helio Sequence - Stoic Resemblance
This is one of my favorite bands. I love the atmosphere they create in their music. Something very calming about the whole thing.
James Bay - Hold Back The River
I couldn't decide which song to put on here from his new album. Check out the whole thing. It's solid.
Of Monsters And Men - Crystals
I always get worried when bands go away for awhile that they won't be as good when they come back. Well I feel like this is a perfectly adequate return for OMAM. Just picking up where they left us, and that's okay.
Snoop Dogg ft. Charlie Wilson - Peaches N Cream
In the same way I sometimes sneak in a country song, I'll sometimes sneak in a R&B/Rap jam too. This groove is just too good.
Son Lux - Change Is Everything
Probably one of the most creative songwriters/composers/artists out there right now. All of his stuff is fresh and new and weird.
Shura - 2 Shy
I'm trying to figure out what song this sounds like and all I'm coming up with is Angel Of Mine by Monica. That can't be it though, right? Either way this is a pretty dreamy jam.
The Staves - Blood I Bled & Make It Holy
Back to back!!! I don't do this too often either, last time was with First Aid Kit...maybe I have a thing for folky girl groups? I'm obsessed. Oh and Justin Vernon produced their new record, that that probably has something to do with it.
Matt's All-Time Fav's
Damien Jurado - Museum Of Flight
This one goes back a couple of years. There's just something about it that is honest, real, and brutal about it. Songs like that can hit you pretty deep and stay with you for a long time. This is definitely one of them.