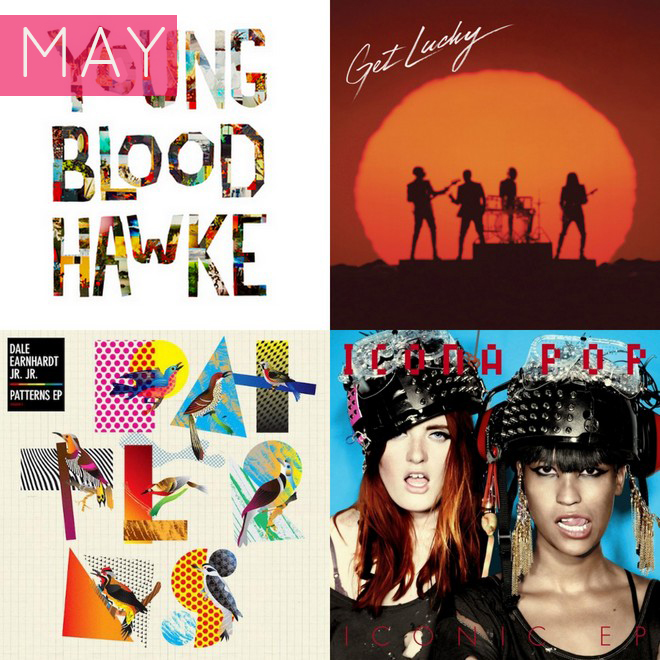 I don't know if all of you are aware, but we are supposed to hit 95 degrees in LA!  Yowzas!  Summer is definitely upon us and our resident musical genius, Matt Mugford is here just in time to drop some summer jams.  Aaron is in London so I am going to be spending most of the weekend getting ahead on work in order to make up for my quick jaunt to Austin next week.  (Can't wait!)  Come tomorrow afternoon, though, you can find me on a beach in Malibu listening to this...  Thanks, Matt!
Empire Of The Sun - Alive
Battle between this and "Get Lucky" for song of the summer. You be the judge! (I vote Empire)
Icona Pop - Good For You
I love it! Get it?
Daft Punk ft. Pharrell Williams - Get Lucky
Doesn't get much cooler than DP + Pharrell. They are like a funkier old school version of Jay-Z + Kanye.
Youngblood Hawke - Rootless
Don't sleep on this band.
Dale Earnhardt Jr. Jr. - If You Didn't See Me [Then You Weren't On The Dancefloor]
True of Jen's husband Aaron...and myself from time to time. 🙂
Team Spirit - F*** The Beach
Not sure I agree with the title, but a little rock n roll never hurt anyone.
Cold War Kids - Miracle Mile
Just good.
Wild Belle - Shine
Time for a tropical vacation.
Junip - Villian
This guitar riff has been in my head for a month.
Tokimonsta ft. MNDR - Go With It
Chill vibez for the summer are good too.
Paramore - Ain't It Fun
Indeed it is.