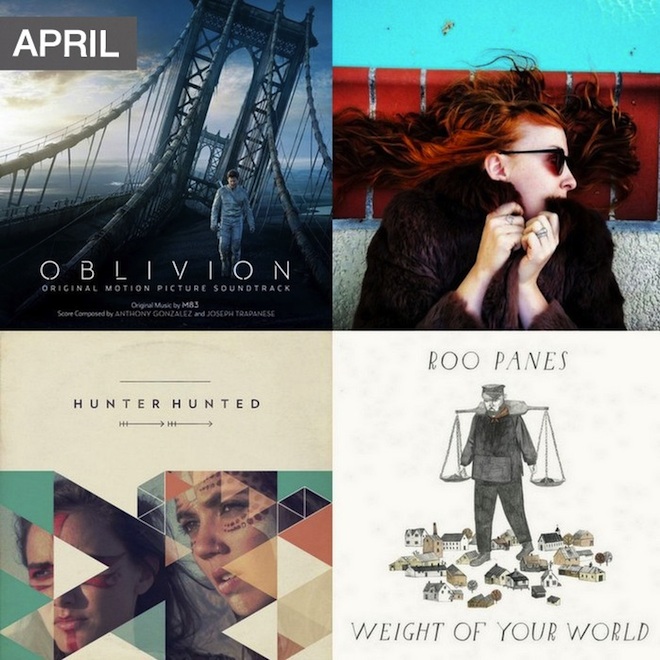 Do you guys follow Matt on twitter?  If so, you will know that he and his wife Beth announced some very exciting news this weekend.  There is going to be a new addition to the Mugford family, due in October!  I've been told that he's already purchased a pair of headphones for baby Mug, too.  I have a feeling that this very lucky child is going to grow up with a wonderful taste in music, if his dad has anything to do with it.  In the meantime, let's all reap the benefits and take a listen to what Matt has in store for us this month!  Happy April!
Brooke Waggoner - "Perish"
Had this song submitted for a film soundtrack I was working on awhile ago and fell in love with it. She also plays in the all girl band for Jack White. Soooo...she is pretty badass.
M83 - "Oblivion (ft. Susanne Sundfør)"
I had the privilege of visiting a scoring session for this film and it was epic. Can't wait to see it later this month.
Hunter Hunted - "Operating"
New band that came from the former members of Lady Danville. Solid poppy goodness.
Banks - "Fall Over"
I have a crush on this girl...don't tell my wife.
Vampire Weekend - "Diane Young"
I wouldn't classify myself as a huge VW fan, but I'm digging this new single.
Laura Welsh - "Hollow Drum"
Obsessed.
Half Moon Run - "Give Up"
Kinda sounds like a Thom Yorke/Radiohead thing going on here...and that is never a bad thing.
Roo Panes - "Open Road"
Waiting to hear this on a commercial. Maybe it already is.
Sin Fang - "What's Wrong With Your Eyes"
Great beat. Great melody.
Youth Lagoon - "Third Dystopia"
Their debut album, The Year Of Hibernation, was one of my favorites. The new album, Wonderous Bughouse, is still growing on me, but this track is a winner.
Little Green Cars - "Big Red Dragon"
New album just came out. Check it. Good stuff.
Justin Timberlake - "Tunnel Vision"
Couldn't resist.