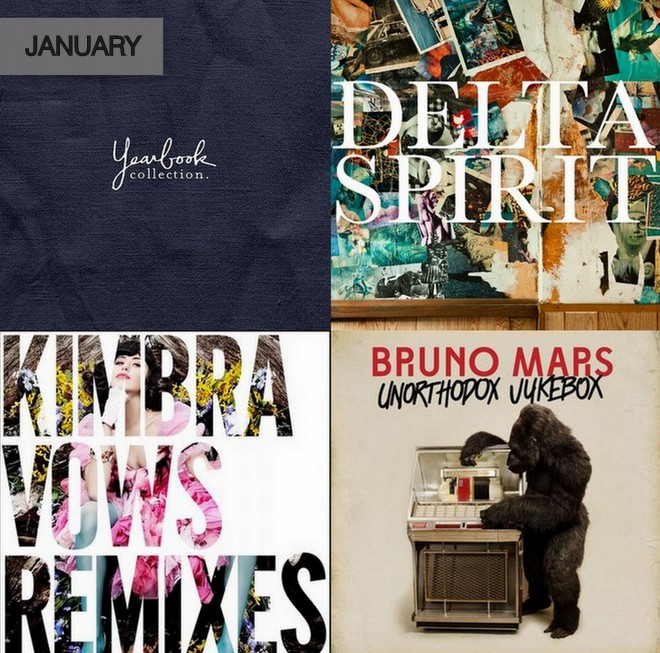 Why is it that we are always so impatient for the next season?  Here we are, just two weeks into January, and I'm already daydreaming of new summer dresses and daylight that lasts until 9pm.  In an effort to appreciate the present last week, I bought a new winter coat  and have been cooking with all of the seasonal ingredients I imagine I will miss when the weather turns warm.  (Butternut squash, anyone?)  I also thought it was time to get our favorite music supervisor in here to shake things up a bit with a fresh playlist for January.  If this doesn't fully satiate your music appetite, be sure to check out Matt's pics for the top albums of 2012 and the breathtaking Google commercial that he supervised that has in excess of 13 million views!

Sleeping At Last - January White
I like starting these playlists with a little something "on the nose". This is one of my favorite tracks from one of my favorite artists. The lyric in this song: "The past will be the past, but the future is brighter than any flashback" is a great way to start 2013.
Big Boi ft. A$AP Rocky & Phantogram - Lines
I was not expecting to love this record as much as I do. So much unique and genius stuff, including a couple more tracks that feature Phantogram as well as Little Dragon. Definitely check it out.
NO - Another Life
I guess there is a band called Yes, so there might as well be a No.
CHVRCHES - The Mother We Share
A good pop hook is hard to deny sometimes.
Ryan Adams - Shining Through The Dark (Live)
You should know that whenever there is something new by Ryan Adams, you will find it in this list. I'm obsessed. This is a great new song from the This Is 40 soundtrack.
Delta Spirit - Time Bomb
Another band that I obsess over a little too much is Delta Spirit. If you ever get a chance to see them live, DO IT!  You will not be disappointed. If you are, I'll give you your money back.
Bruno Mars - Moonshine
This album snuck into my 
Top 10 Albums from 2012
 kind of against my will. This guy is super talented and is going to be around for a long time so no sense in fighting it, right?
Kimbra - Love Is A Two Way Street (Damian Taylor Remix)
It's not too often I enjoy a remix more than the original, but this is an amazing take on an already great track.
Wake Owl - Gold
I've been familiar with this band for some time now, but they just got signed so Spotify actually has a song of theirs up! Their 
Wild Country EP
 comes out later this month.
Eight And A Half - Oh, My Head
Kind of forgot about this song for a moment, glad it came back to me.
Charli XCX - Nuclear Seasons
Was a toss up between this and CHVRCHES, so just decided to include them both. Deal with it.
(Image)