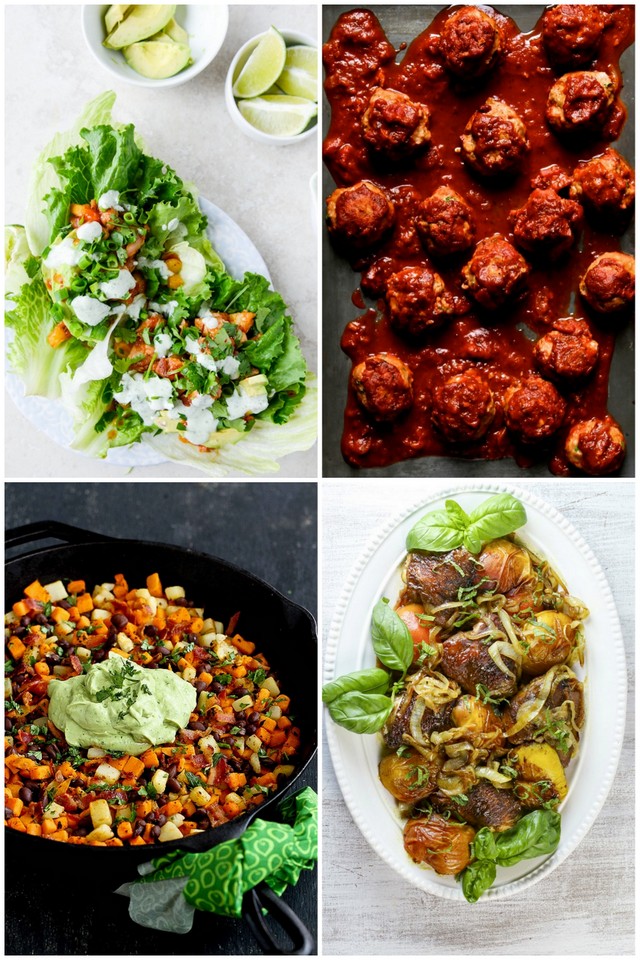 When I have the time to do it, I really love cooking.  I find it therapeutic and I really do derive so much satisfaction from being able to put a homemade meal on the table that both Parker and Aaron enjoy.  We've been fortunate so far that Parker has a pretty wide variety of things she will eat and having to feed her has made me a lot more conscious of making sure we all get enough fruits and vegetables.  (Her love for fruit knows no bounds!  Current obsession: plums!)  I'm always on the hunt for new recipe ideas that work for all three of us, so I thought I would share what I've been making lately and would love for you to leave your current favorite recipes in the comments!  Also, life is about to get a lot busier for me, so bonus points if you have favorite slow-cooker recipes or tips for quick week day dinners!
1. Peach Chicken Skillet Dinner via Something New For Dinner // This was such a fan favorite for both Aaron and Parker.  I substituted boneless skinless chicken thighs so they cooked a lot faster, and a shortened some of the cooking times on things like the onions and peaches just because I was in a hurry.  We had zero leftovers because it was just so good!
2. BBQ Chicken and Pineapple Lettuce Wraps via How Sweet Eats // This is another super tasty chicken recipe.  We've eaten it once this way as lettuce wraps, but I have also made it and put on top of salads or inside spinach wraps.  Parker is obsessed with anything she can dip into a sauce, so the cilantro yogurt sauce is her jam.  I also top a lot of her meals with really finely chopped raw spinach.  She doesn't mind it and it's an easy way to sneak in some more nutrients.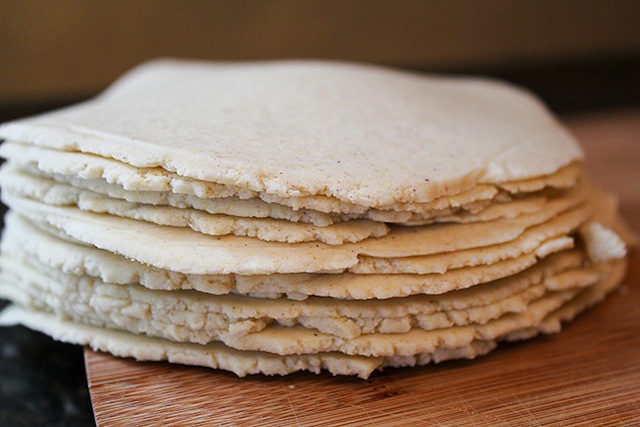 3. Corn Tortillas via From Away // We eat tacos at our house at least once a week if not more often, so I can't believe it took me so long to learn how to make homemade corn tortillas.  They're delicious and so simple.  I also feel good knowing we are dodging any added ingredients or preservatives from the store bought ones.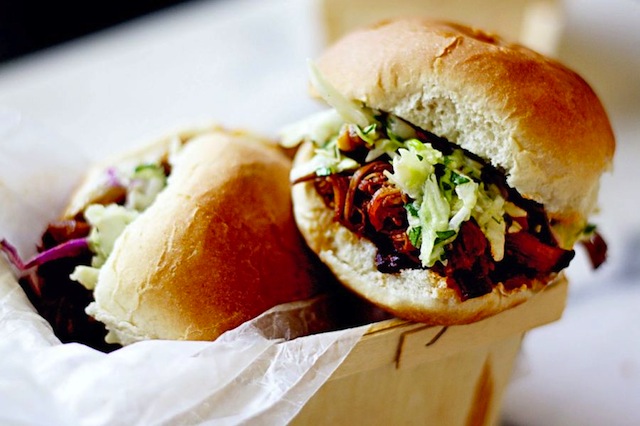 4. Slow Cooker Cherry Chipotle Pulled Pork via Imperial Sugar // I made this for the first time in December and have turned so many other people onto it since!  It seems really simple, but turns out totally delicious.  You definitely want to opt for the pork butt roast as opposed to a loin or shoulder.  You need the extra fat for these longer cook times.  We eat this on top of quinoa and black beans or as a sandwich.  Its really tender and a huge hit with Parker!
5.  Slow Coooker Short Rib Sauce via How Sweet Eats // This is one of Aaron's favorite things I made and so easy.  (Also, I usually cheat on slow-cooker recipes and don't brown the meats before putting them in the slow cooker.  It kind of defeats the purpose of the slow cooker for me if I have to do thirty minutes of prep on the front end.  I should try doing it both ways and see if I can tell a big difference,)  Anyways!  I serve this with roasted broccoli and homemade pasta from the farmers market and it's one of my favorites!
6. Turkey Meatballs via Joy The Baker // This is a total staple around our house.  They're super easy to sneak extra finely chopped veggies into and I can make them on Sunday and pop them into the oven on Monday night.  You can serve them with roasted veggies, pasta, or as a sandwich and they're always yummy!
7. Fusili Pasta with Pesto via Boulder Locavore // I've never made this exact recipe, but recently a friend turned me onto to making a simple homemade basil/parm/olive oil pesto with fusili pasta and it was a huge hit with Parker.  I add chopped spinach and an avocado for some added calories and nutrients for her.
8. Halibut in Parchment via Kitchen Confidante // Again, I've never made this exact recipe but I do something really close to it.  We used to eat a ton of fish and then got out of the habit for awhile.  Parker loves it though and I know it's so good for her, so we're trying to make it part of our weekly routine.  I usually put the halibut in the parchmant pocket with butter for her and olive oil for us.  We both get tons of tiny heirloom cherry tomatoes, a couple slices of lemon, a few springs of rosemary and a little salt and pepper.  Really simple and easy and comes out delicious!
9. Sweet Potato Hash via Cookin Canuck: Talk about a staple!  Sweet potato hash is such a mainstay on our menus.  It's my favorite side dish for dinner and I make a ton of it so that we have leftovers.  The next morning I mix it up with scrambled eggs for Parker and top it with a poached or over easy egg for Aaron and I.  If Parker needs a little afternoon snack, it works great for that, too.