08/15/2017
Can you believe the new school year is upon us? It seems like just yesterday I was making our summer bucket list and yet the school supply list for Parker's new preschool just arrived in my inbox last week. She is actually going to be starting at a new school this fall and we are all feeling super excited about it. I'm really glad to not be doing the daily commute that we've been keeping up for over a year now and I'm also looking forward to being able to pack her lunch for the first time!  Her current school provides lunch, which has been so great and convenient, but I'm really excited to be able to actually choose what she's eating for lunch every day. (I've been brainstorming lunch ideas and stocking up on bento boxes in preparation!) How do you feel about packing lunches? Do you find it's easy to get stumped? Do your kids prefer variety or gravitate towards the same things every day? We partnered with Target and Annie's today to share a week's worth of lunch ideas to get you (and me!) started this school year!  My requirements for these lunches? They can't be super fancy or time consuming because there's nothing more disappointing than spending an hour making a scratch veggie lasagna that nobody wants to eat.  (Speaking from personal experience here!)  Also, they have to be things Parker would actually eat, not tuna stuffed tomatoes or smoked salmon.  We aimed for balanced lunches, too– they all provide a good source of protein, even though three are vegetarian, and all of them include fruits or vegetables or both.  (PS. During the month of August Target will have a variety of Cartwheel offers that you don't want to miss to celebrate back to school yum with Annie's!)  Also, all of you more experienced mamas, what are your go-to lunch ideas?!  I'd love to hear!
Monday:
Sweet Potato and Cheese Quesadilla
Wild Rice
Annie's Organic Bunny Fruit Snacks
Black Beans
Tuesday:
Whole Wheat Bagel Pizzas with halved Cherry Tomatoes and Basil
Sliced Cucumbers
Annie's Chocolate Chip Cookie Bites
Mixed Berries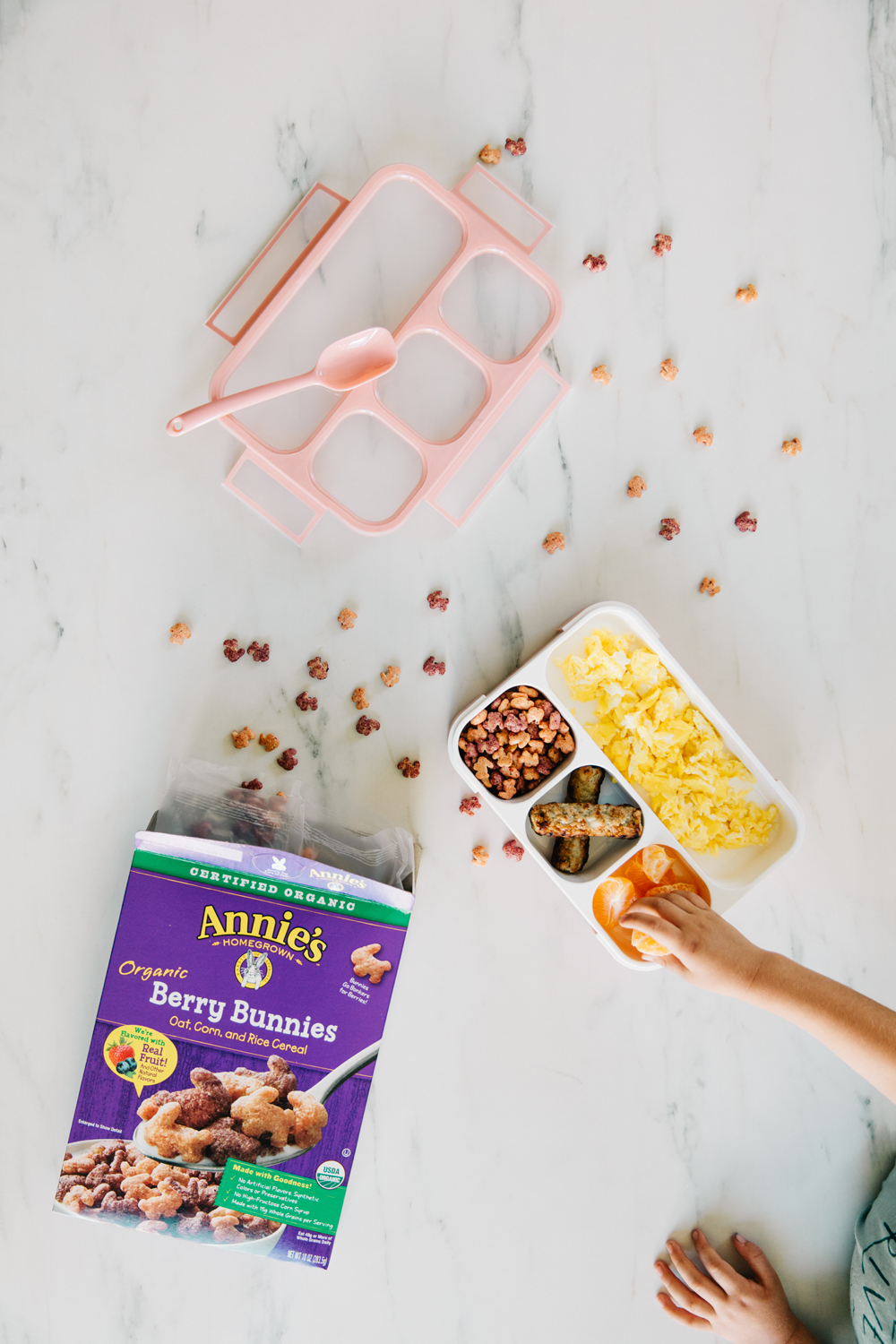 Wednesday:
Scrambled Eggs
Annie's Organic Berry Bunnies Cereal
Turkey Sausage
Peeled Clementines
Thursday:
Annie's Bunny Pasta with Yummy Cheese and Green Peas
Blueberries
Grilled Chicken
Carrot Sticks
Friday:
Celery Sticks and Apple Slices
Almond Butter
Cheddar Cheese Cubes
Annie's Chewy Granola Bars
Photography by Aaron Pinkston
Parker's Dress, bitte || Harper's Dress, bitte || Bento Boxes available here
This is a sponsored conversation written by me on behalf of Target & Annie's. The opinions and text are all mine.