There is something about the fall that lends itself to the weekend trip. Summer is for the week long getaway or month of hiatus spent in the country, but a fall weekend is the perfect excuse to get away for a quick 48 hours and recharge before another busy week begins. If you read Monday's post, then you know I have been daydreaming about heading up the coast and into cooler temperatures for a few days. The location of my daydreams? Big Sur, California.
Our weekend itinerary...
Friday //
Check into Lucia Lodge (photo above), a historic cliffside hotel just off of the Pacific Coast Highway with breathtaking ocean views! This quaint seaside lodge would be the perfect contrast to a busy week in the city.
After a long drive, we would probably just relax out on the deck with a glass of wine and a meal at the hotel restaurant.
Saturday //
After a little bit of lazy morning lounging, we would get the day started with a hike to McWay Falls (as seen in the first photo-- beautiful, right?!)
After working up such an appetite, we would head over for late morning brunch at Nepenthe, home of the famous Ambrosia burger and a favorite spot for artists and vagabonds throughout the year.
We couldn't possible miss checking out this view, so afterwards we would head down to Pfeiffer Beach to take in the rock formations and majestic coastline.
After such a relaxing day by the sea, we would hop on over to Wild Coast Restaurant at the Treebones Resort for what is sure to be a delicious bite. They harvest most of their salad greens and vegetables from a garden on the premises. The sesame tuna tataki is supposed to be incredible!
Sunday //
Sunday morning would be spent staring out at the ocean with coffee in hand, lamenting that we have to leave so soon! After a light breakfast we would check out the local art galleries on our way out of town. Coast Gallery, Sofanya's, and Hawthorne all come highly recommended. You can even eat lunch at Coast Gallery.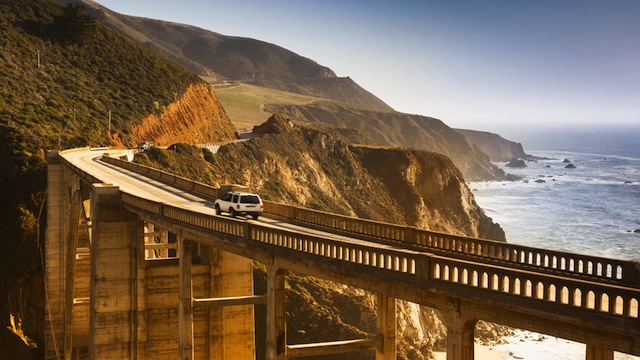 Next stop? Home!