04/24/2019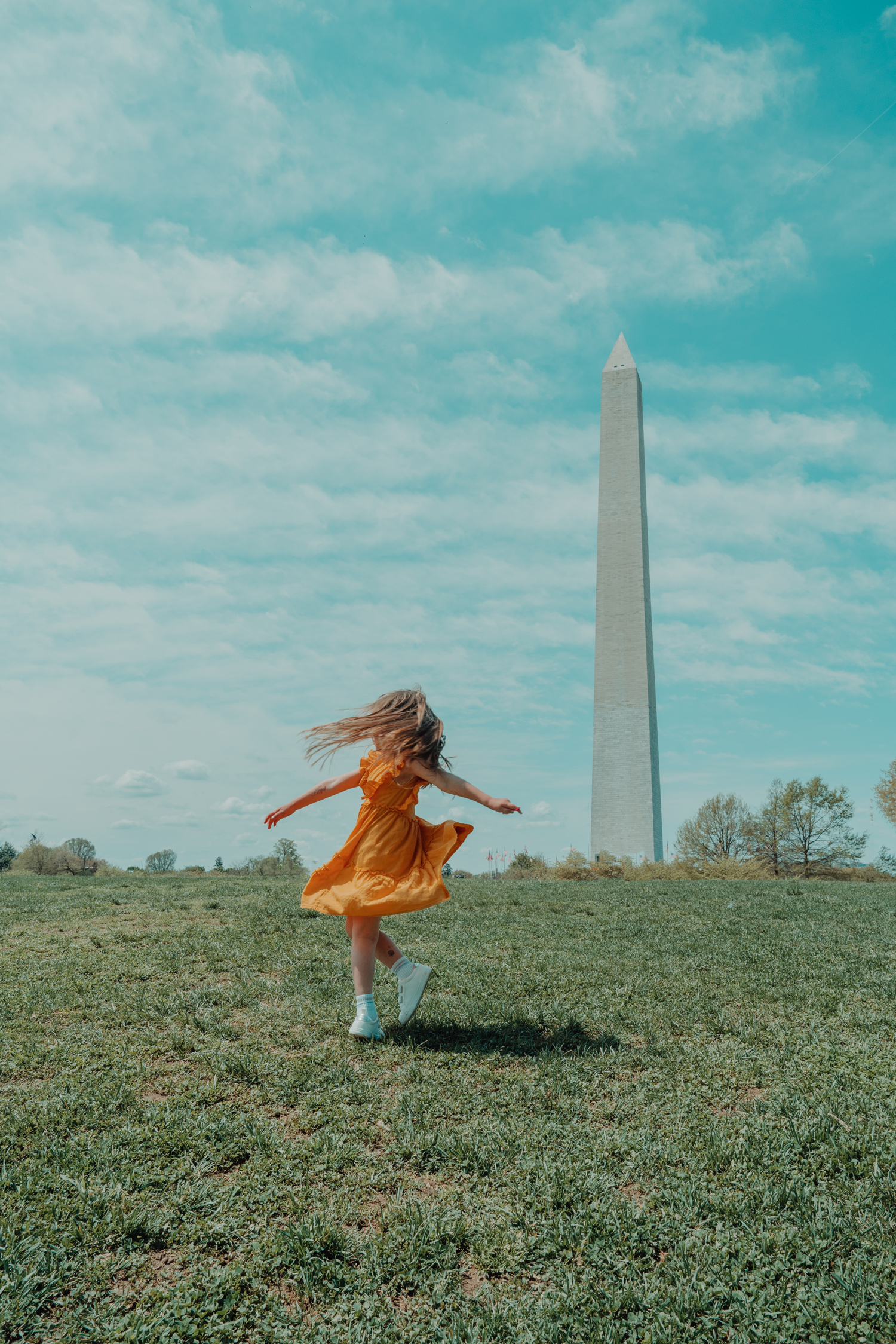 (The post is sponsored by HotelTonight, an app that we use for booking hotels when we travel and absolutely love. Use it to plan ahead or book last minute on a whim! This trip is the fourth in our series of 12 trips in 12 months!)
About a year after Aaron and I were married, we found ourselves in Washington D.C. in late March. It wasn't until the next day when we decided to venture down to the Tidal Basin that we were serendipitously surrounded by the most beautiful blooms- the cherry blossoms that were gifted to the United States by Japan all the way back in 1912. That day and those images of the beautiful millennial pink trees before there was even such a thing as millennial pink has stuck with me ever since and I've been dying to bring the girls to experience it for themselves.
We landed into Washington D.C. around 4pm on Friday afternoon and would be flying out almost exactly 48 hours, so this was a very quick trip! We were here for the blooms. If you aren't familiar, though, the cherry blossoms are only at peak bloom for a very short amount of time and it changes every year based on the temperatures and rainfall… or in this case a windstorm that blew through the Monday before we arrived and took down a lot of them.  As we flew over the very not-pink Tidal Basin and into DCA on Friday, I quickly reset my expectations and realized we would need some other highlights to this trip.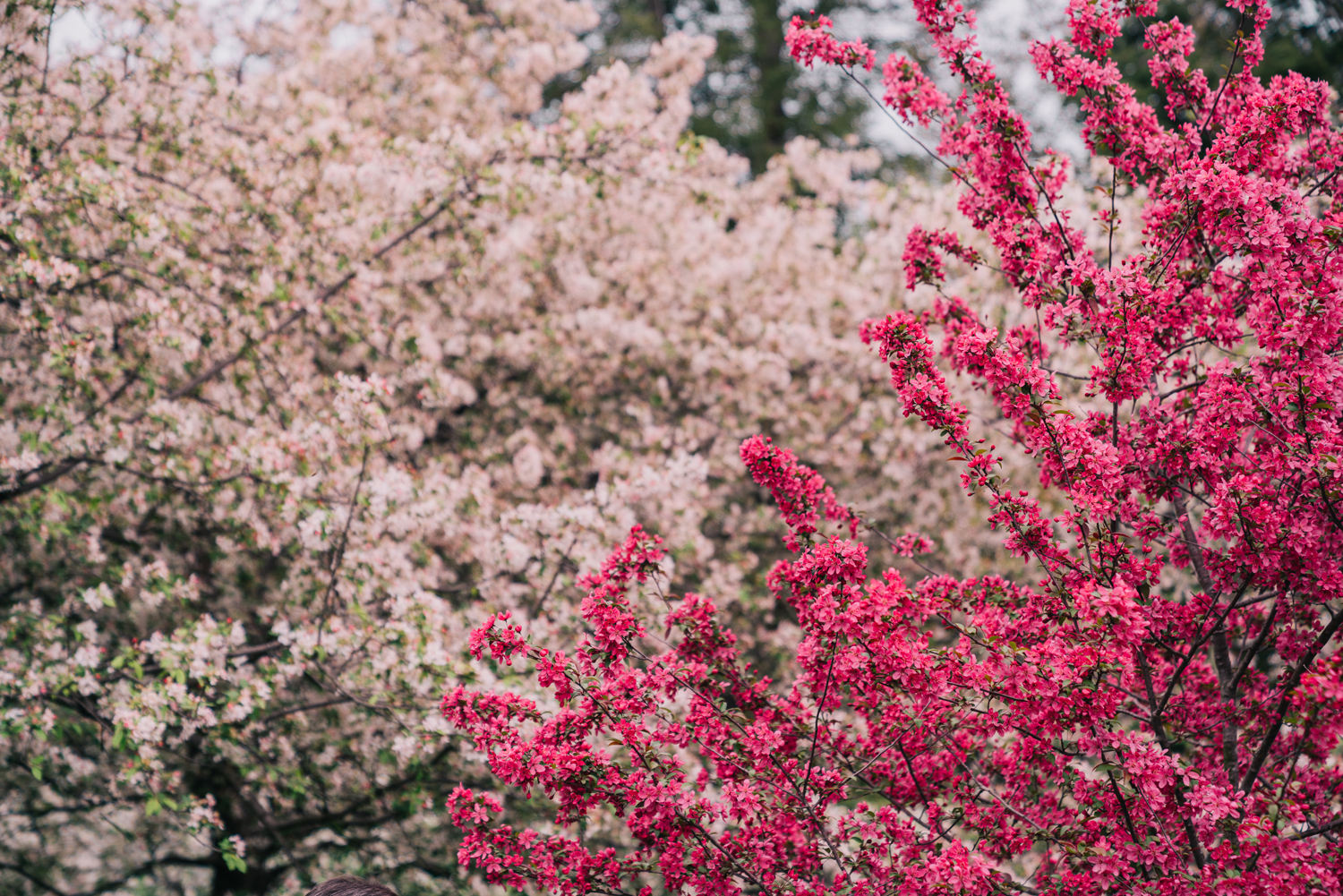 Luckily, Washington D.C. has no shortage of things to do and many of them are perfect for bringing kids. One thing I have learned in our time of traveling with kids, is that it's best to really prioritize 2-3 things a day that you would like to do and build a schedule around those few things with ample buffer time on either end for the unexpected naps, tantrums, snacks, meals, and assorted other things that will undoubtedly all occur at some point. If you're able to do other things, great! By lowering your expectations, though, your more likely to be pleasantly surprised than disappointed. (Our New York trip was a big exception to this rule, but everything was so easy to walk or take the subway to that we were able to do a ton in one day and it all worked out. Most cities, D.C. included, aren't as easy to get around.)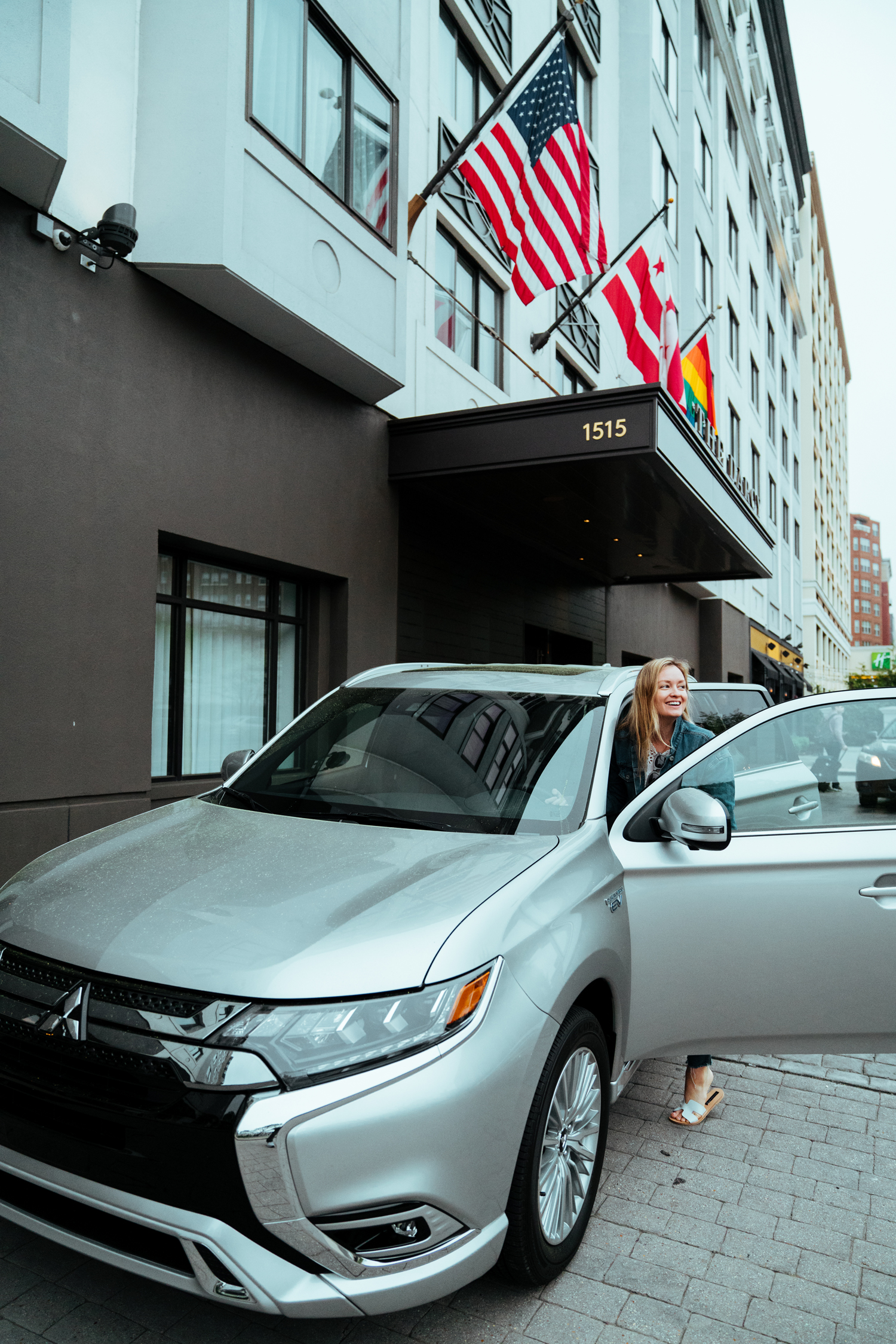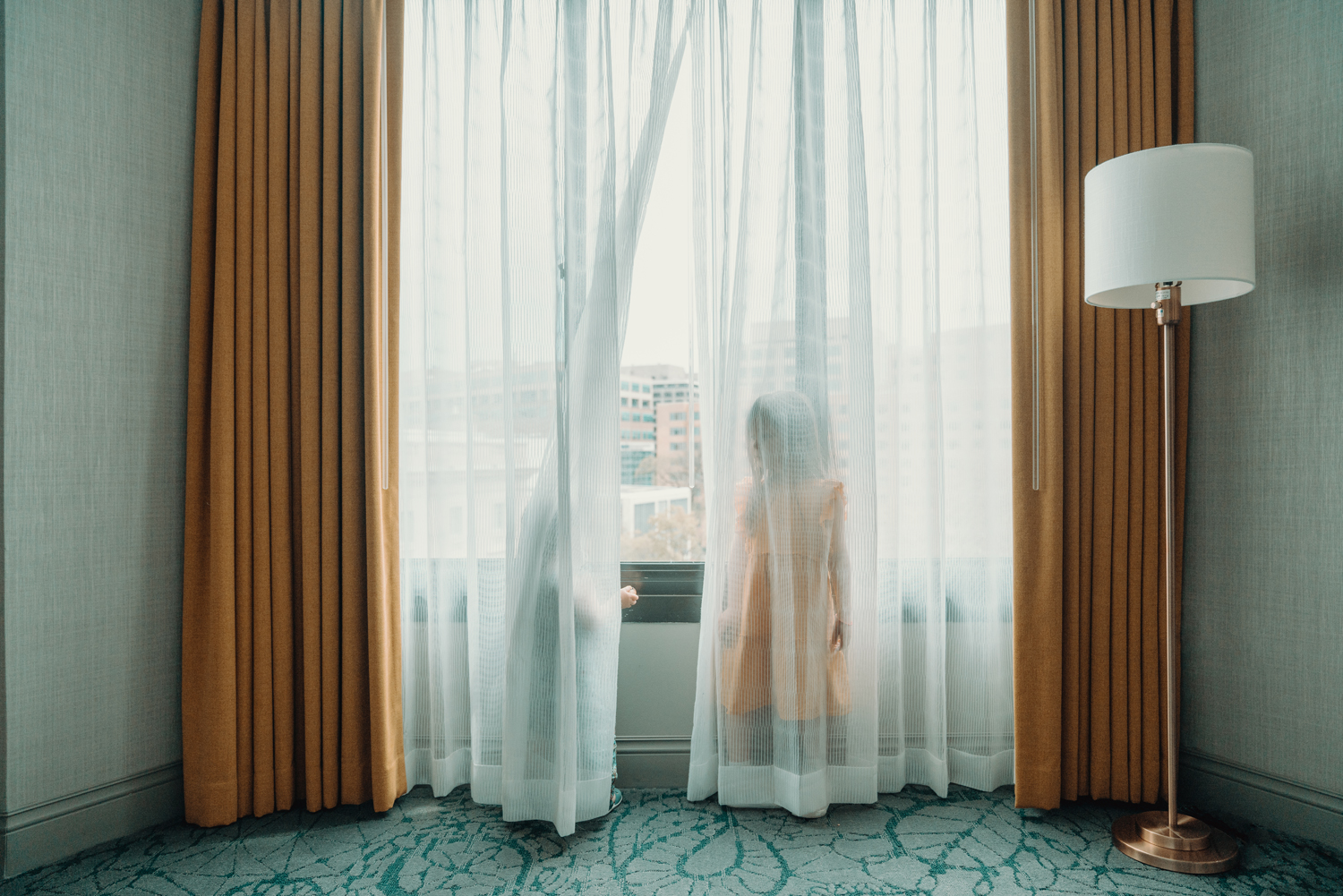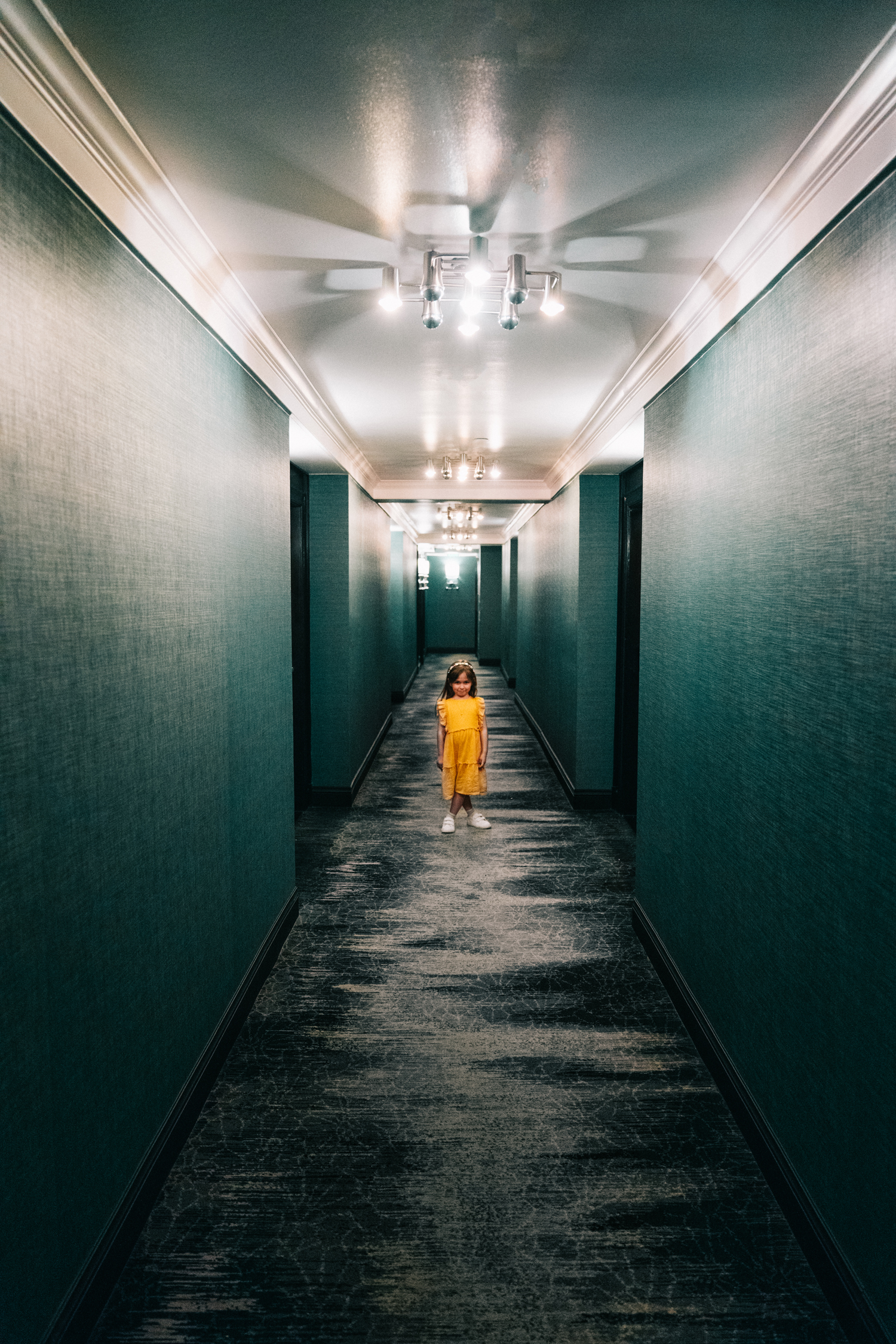 We booked our hotel for this trip through HotelTonight. By now hopefully you know how much we love it! It's really the simplest and most streamlined hotel booking app I have ever used. Be sure to download the app if you haven't already! Friday afternoon we checked into our hotel, The Darcy, and were so blown away by the size of the room, enormous bathroom, the super helpful and warm staff and just overall how nice the hotel was. A major bonus was the easy walkable location. We walked to Shake Shack that night for dinner and then to Whole Foods to grab snacks for the room. We started both mornings with a walk to Blue Bottle coffee and ended our day on Saturday with a walk to Milk Bar for dessert. I would highly, highly recommend staying here if you're coming to Washington D.C. with kids or even by yourself.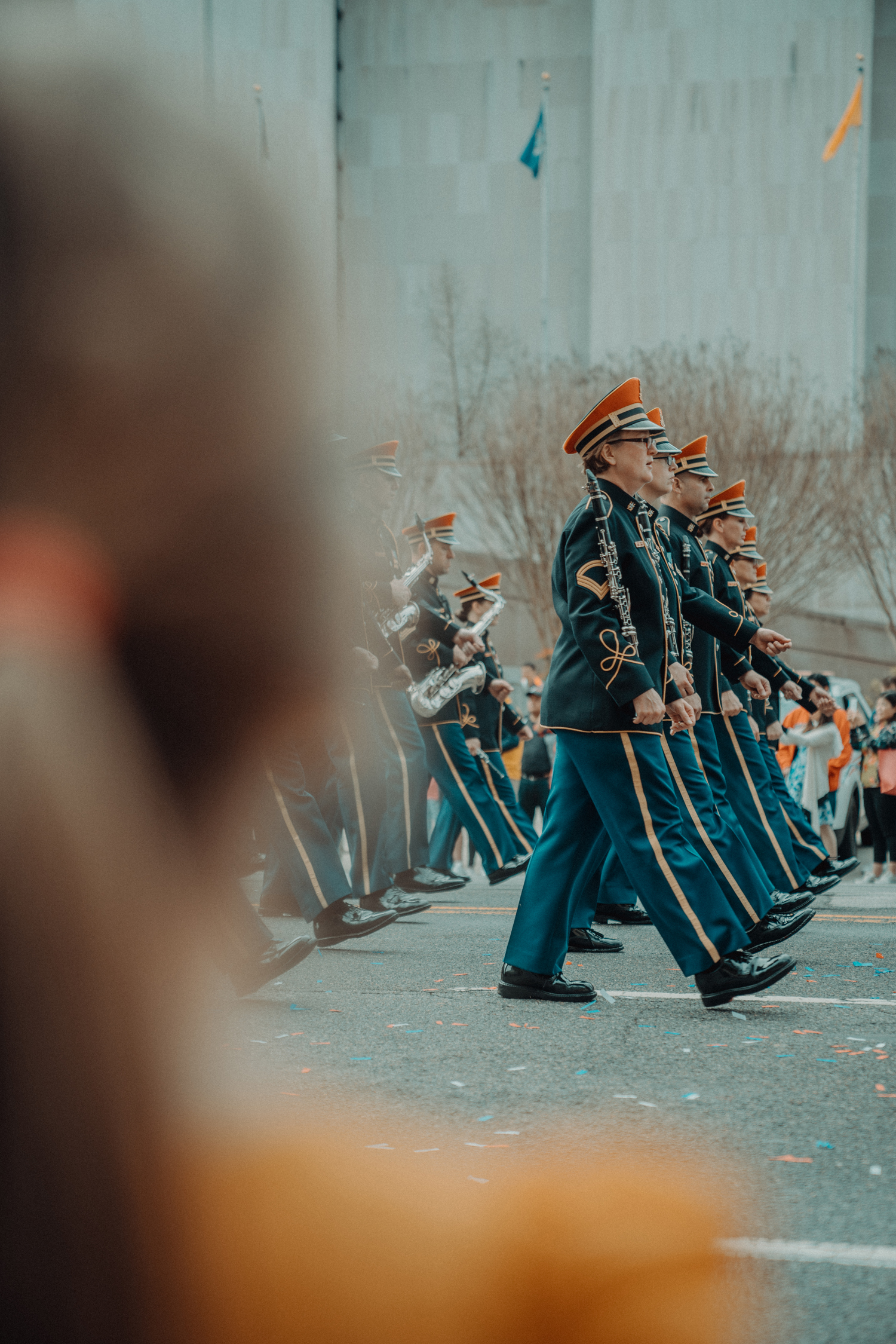 On Saturday after breakfast, we walked down towards Constitution Avenue to watch the Cherry Blossom Festival parade and were so glad that we did when we saw how much both girls loved it.  I got teary on multiple occasions. Many of the groups marching were so inclusive of people with all abilities and I just thought what a wonder time it is to be raising kids. We stayed for about 30 minutes and then jumped to the other side of the parade and around the corner to the Smithsonian Museum of Natural History. We have taken Parker here before, but it was just too good not to re-visit and we knew Ever would love it, too! They have this incredible butterfly exhibit right now where you can walk into a room filled with plants, flowers, and butterflies and they fly all around you! It's really neat.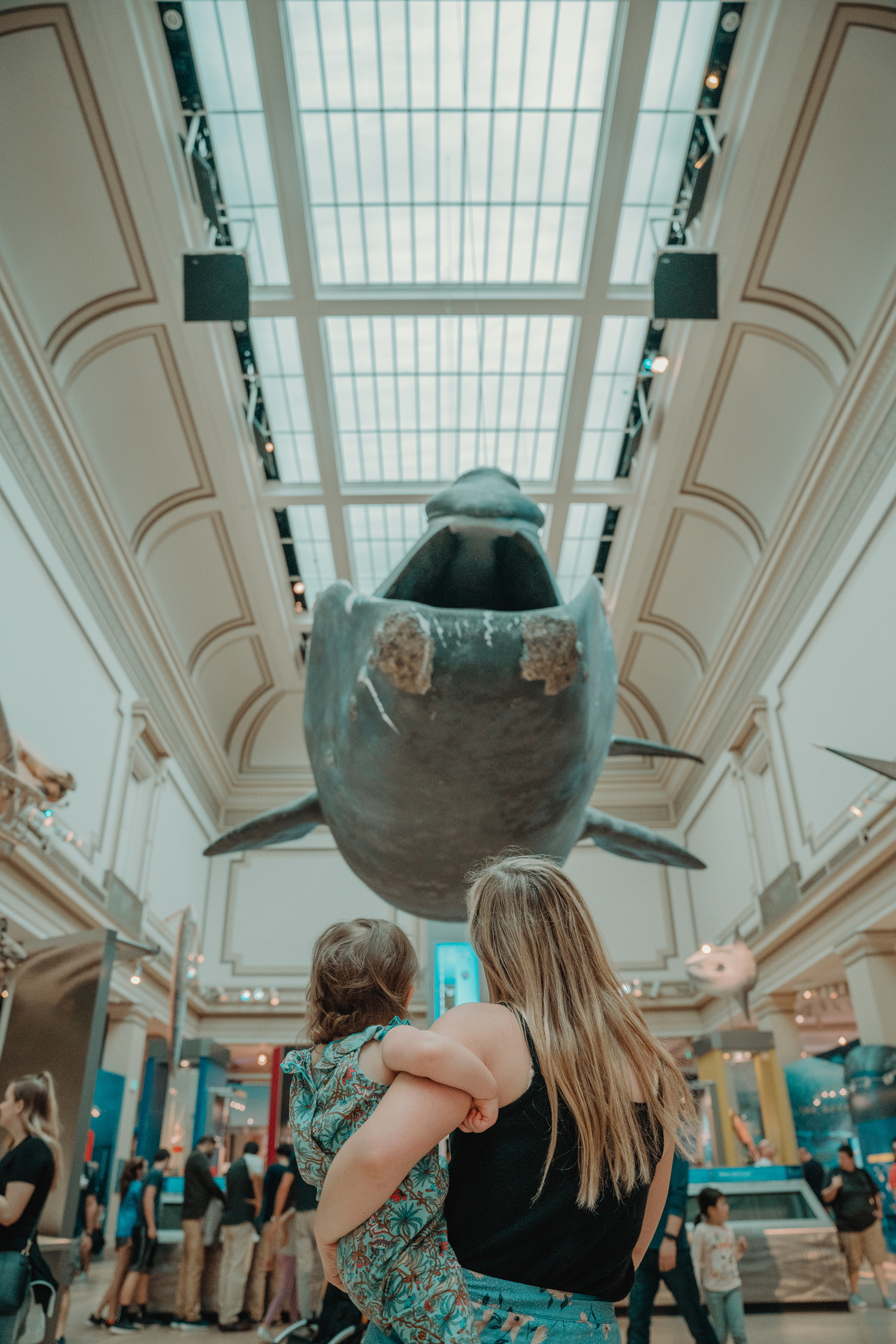 We grabbed a quick lunch while Ever napped in her stroller and then decided to drive to Georgetown to Dumbarton Oaks Gardens. Someone recommended this place to me on my Instagram and it ended up being the highlight of our trip! Nestled deep in the back of the rolling property was the most beautiful grove of Cherry Blossom trees—just what we were hoping to find! We spent over an hour and a half here. The girls were having so much fun running around and smelling the flowers. Parker was looking for secret passage ways everywhere we went. She truly thought she was in a secret magic garden which is kind of what it felt like!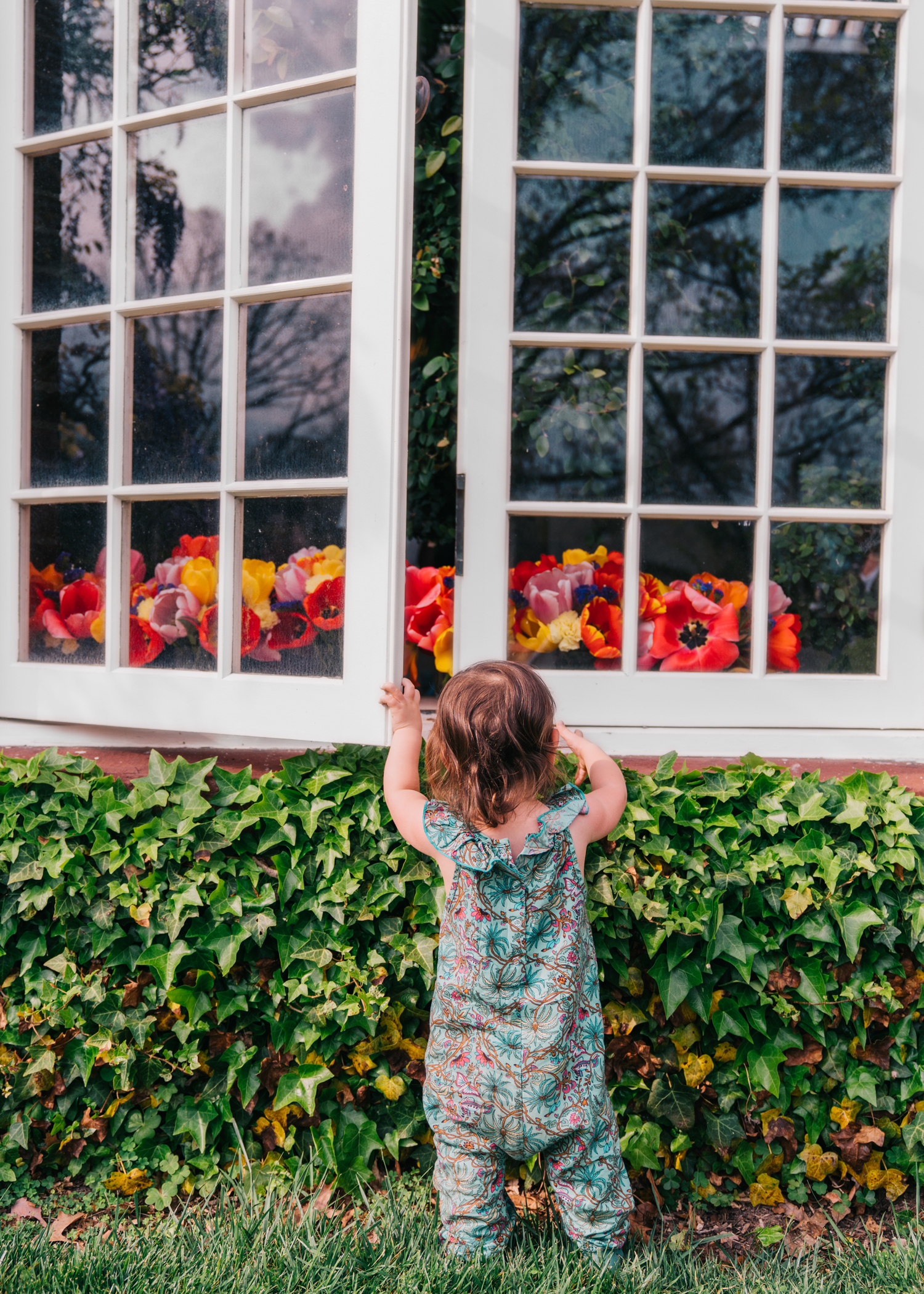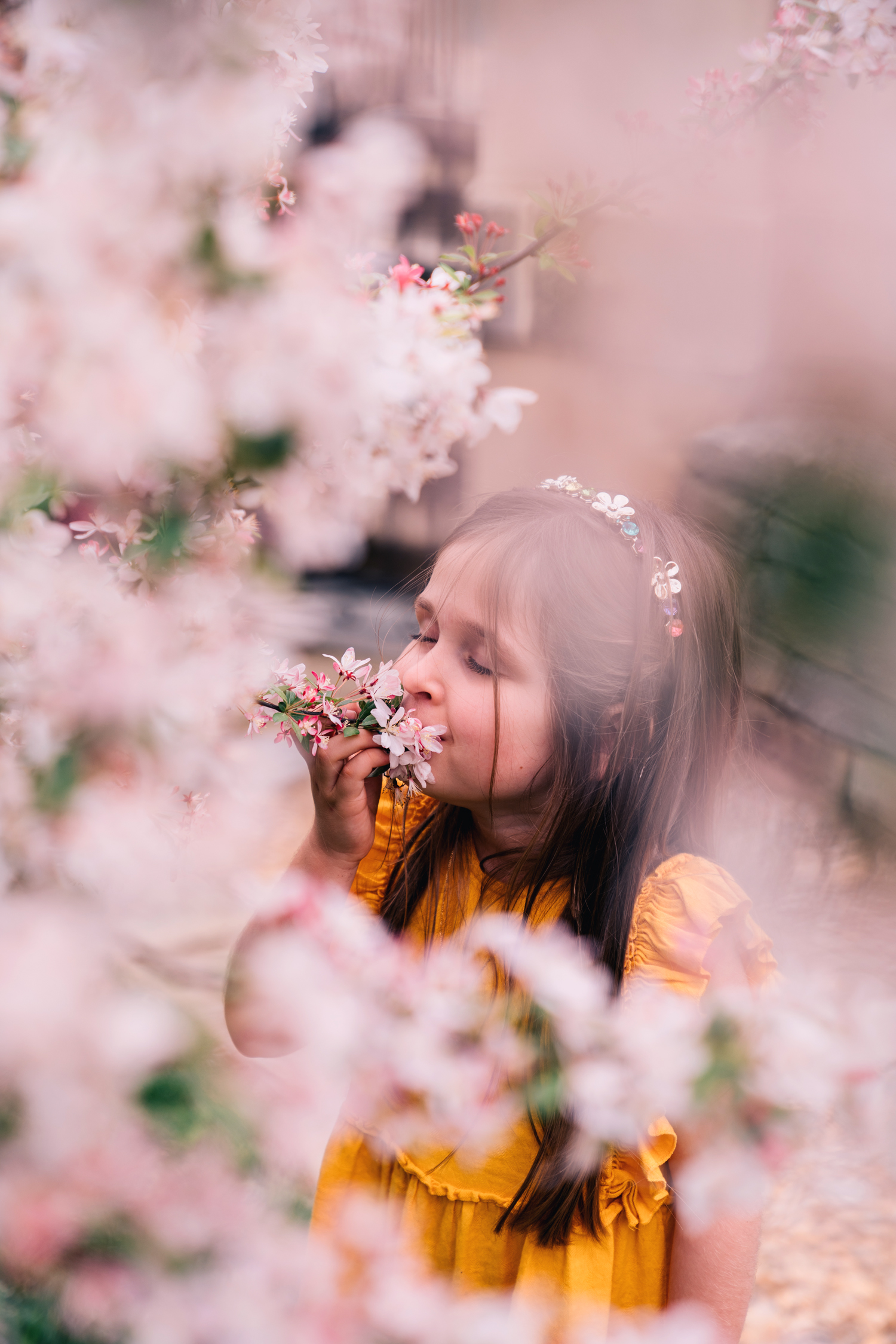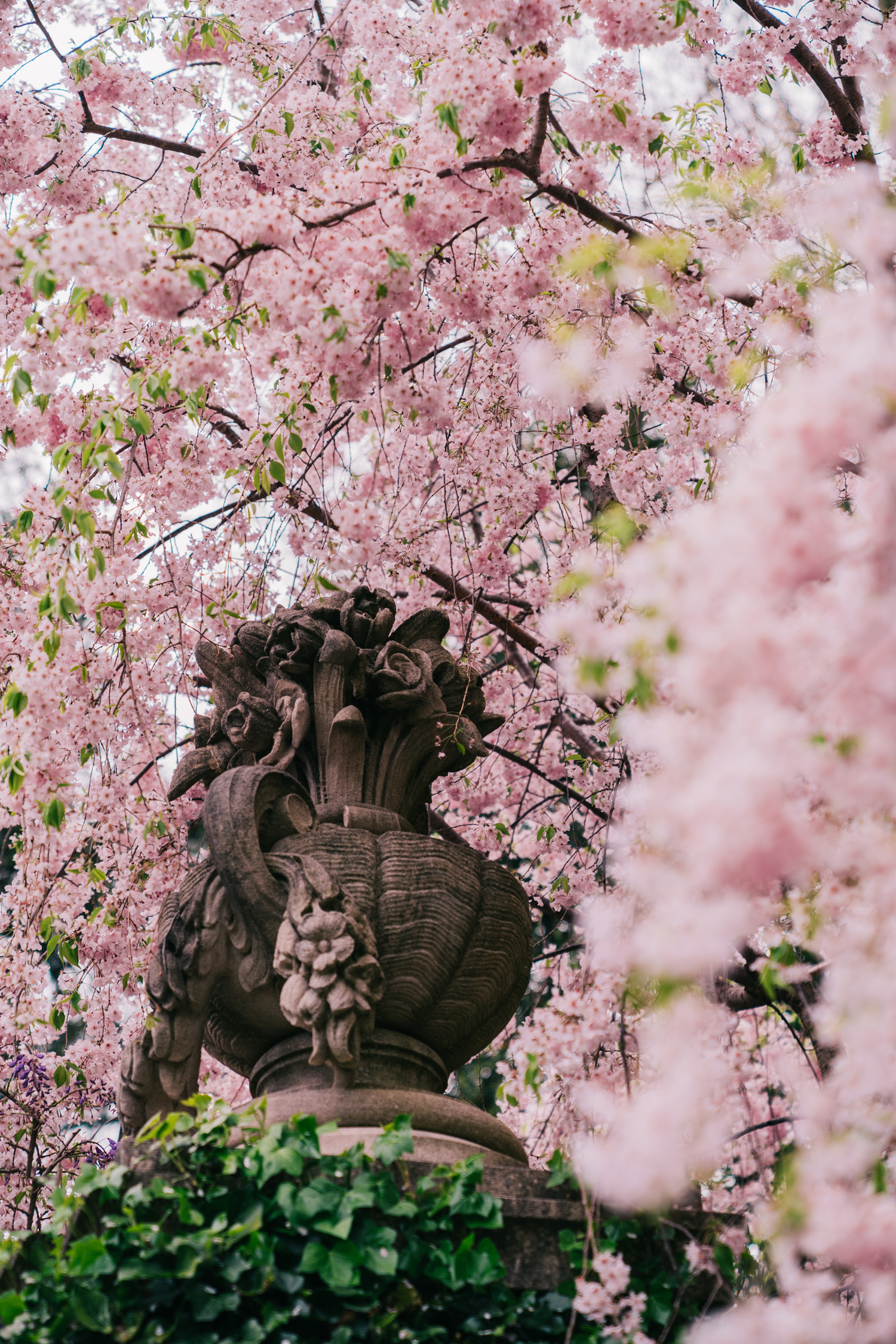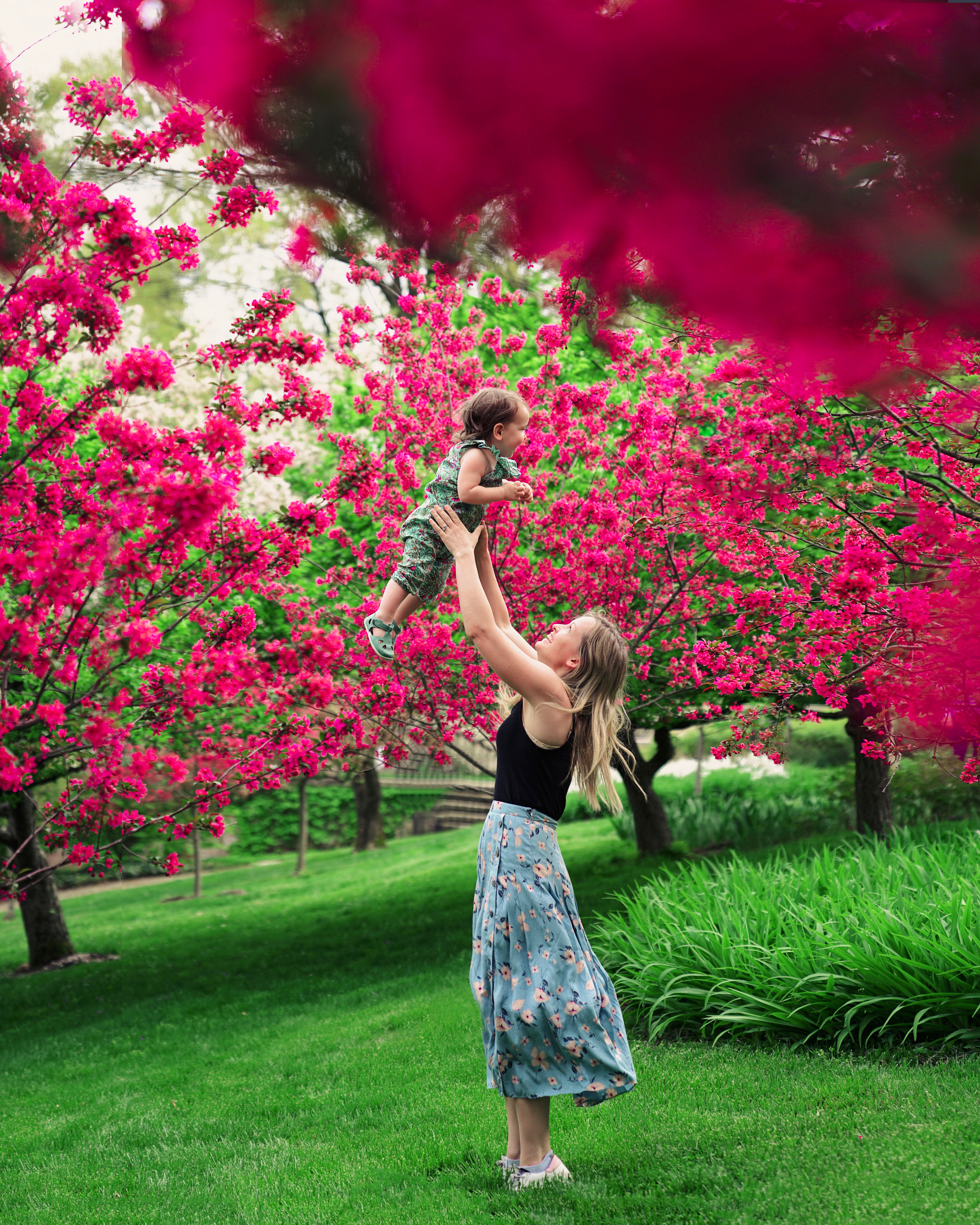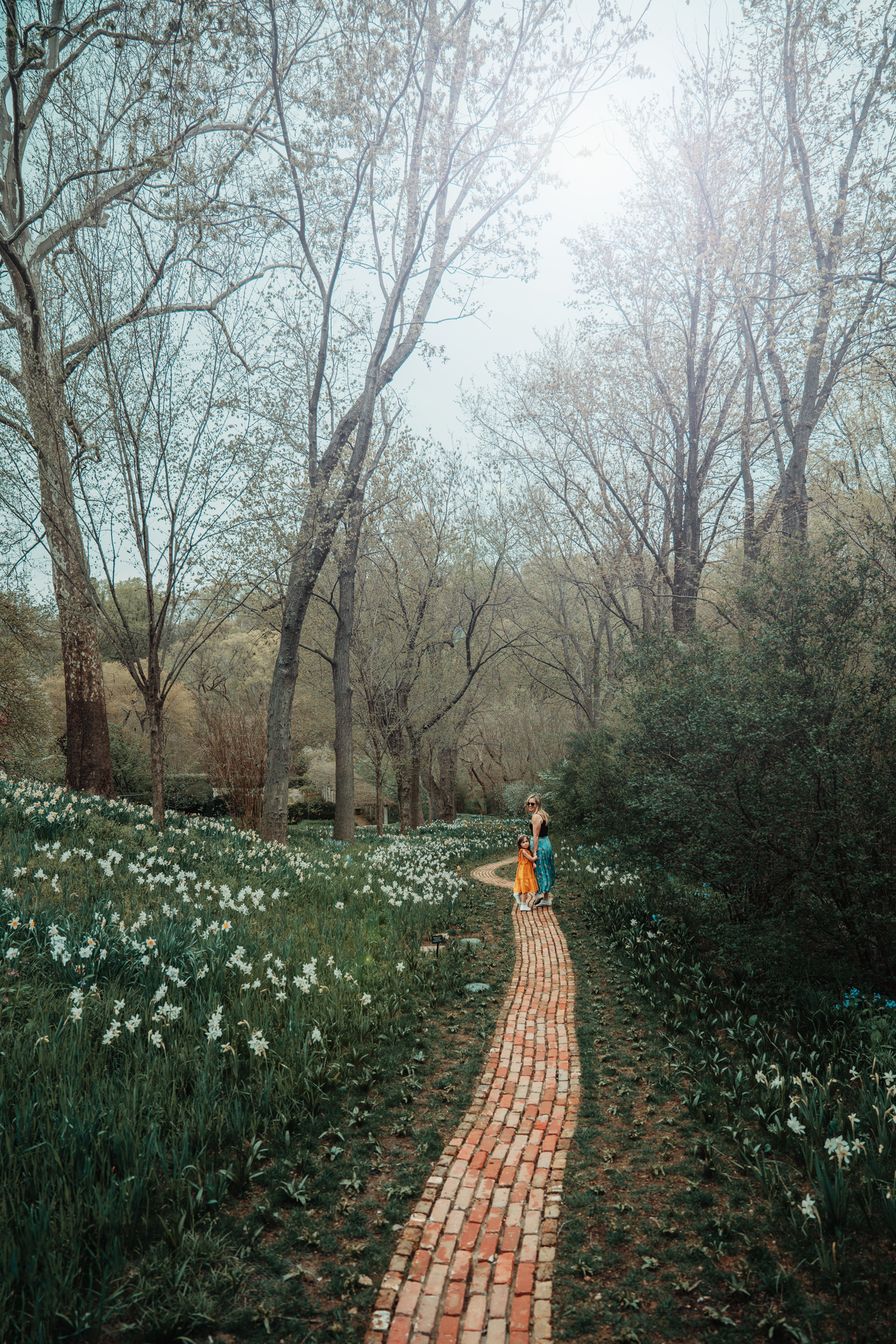 Afterwards we had dinner at Luke's Lobster. It was so easy—order at the counter—and so insanely delicious! There are few things I love more than squeezing in a lobster roll when we are on the east coast! We ended the day at Milk Bar with lots of indulgences after clocking 7.7 walking miles around the Nation's Capital!
Sunday we woke up super early to beat the crowds to the Lincoln Memorial. If you've never experienced the memorial at non-peak hours, you must. It's an almost church-like experience. When you turn around and look out, you're gazing across the reflecting pool to the Washington Monument—perhaps the best view in the whole town.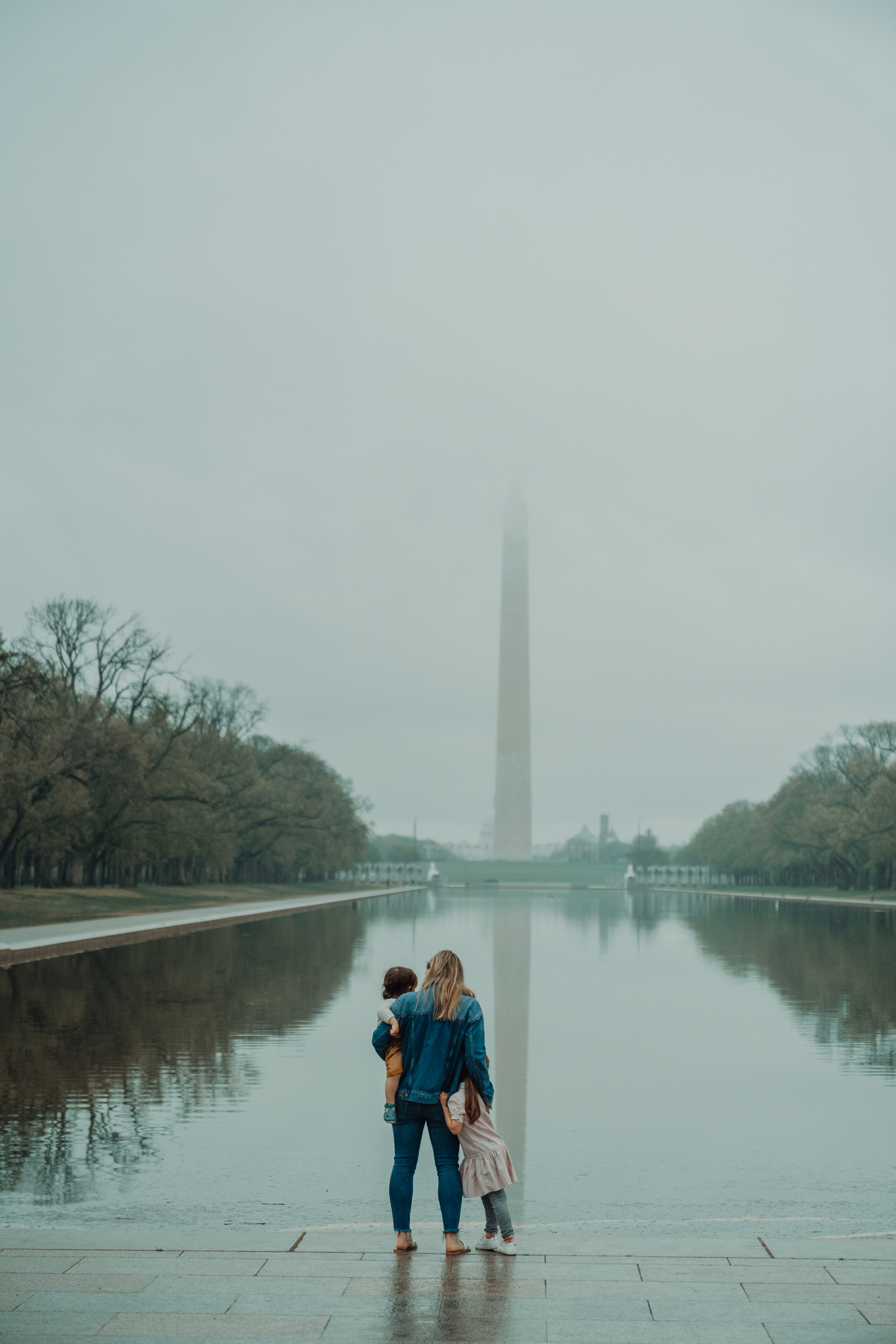 Some of you sent me DMs about transportation in the city. We rented this Mitsuibishi Outlander while we were in town and actually kind of fell in love with it! It can hold up to seven passengers so Aaron's parents were able to jump in with us and we loved the multi-view back-up camera feature. We didn't take public transportation at all this trip. We spent half of our day Saturday in Georgetown which isn't accessible by the subway and then with the girls being so young and still in car seats, I sort of prefer to have our own car. The city was not as walkable as New York was for us. I think if you were just doing the monuments or just doing the museums, you might be able to walk everywhere, but we just felt like it wasn't a super easy walkable city to do everything in. If we were staying longer we might have taken the time to learn the subway or bus routes, but we actually found driving and finding parking to be super easy.
We had brunch after our adventure and then went back to the hotel to check out. Next, we met up with some friends at a nearby park. I think parks get totally underrated when visiting new cities. Our kids always love when we take them to a park in a new city. Plus, I think it offers a break for their brain that is processing the new information of being in a new place and out of their typical routine to be able to just play.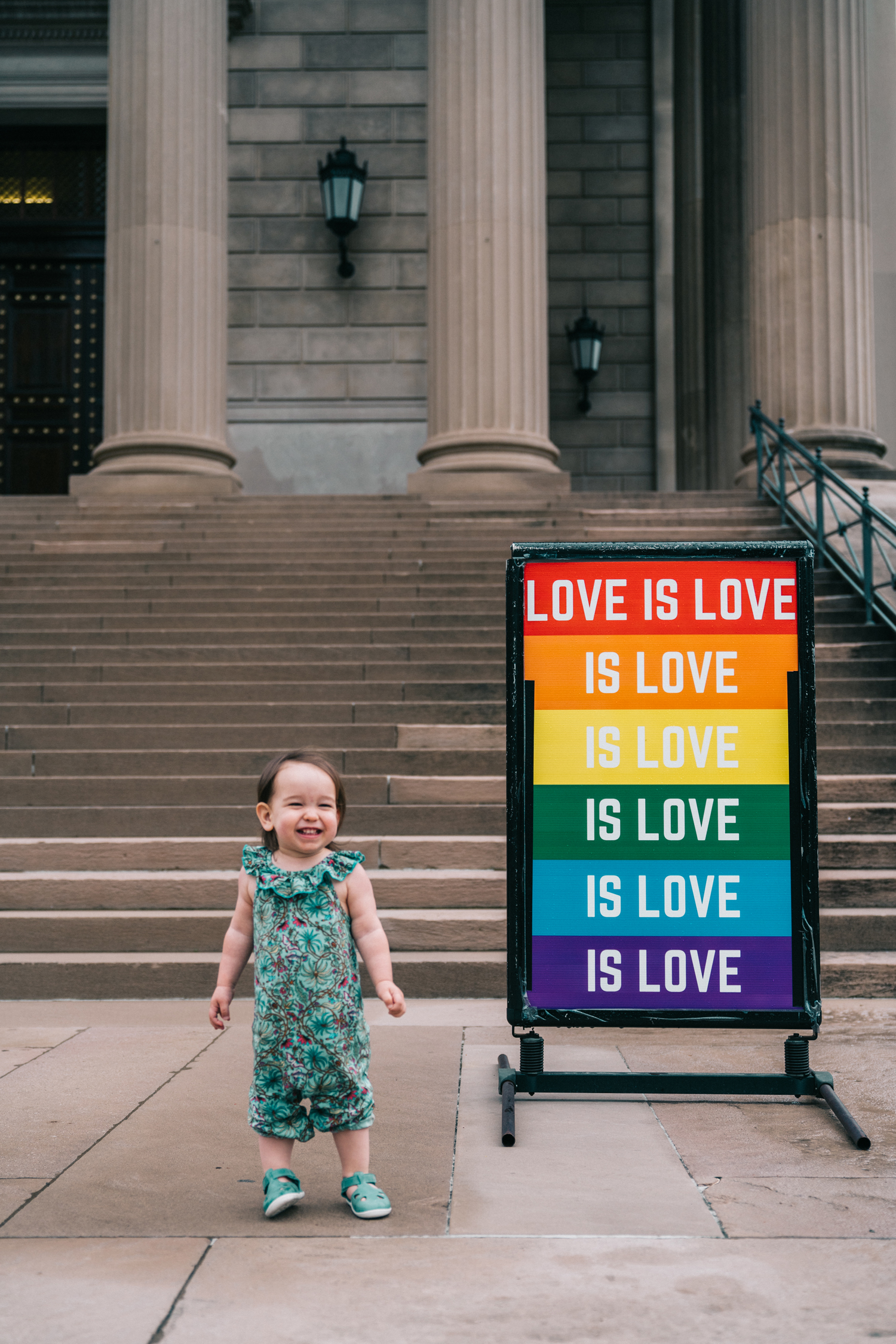 I never want you to think that our trips with kids are all rainbows and cherry blossoms. The only pair of shoes that I brought for Parker started giving her blisters on Saturday morning so we had to derail all of our morning plans to go to the only shop that opened at 9am to get her new shoes only to discover they didn't carry kids shoes like the Austin location does and then find another store. Later that day we were trying to eat at a lunch spot that we were excited about, but many of the roads were closed for the parade and after being detoured three times already it was going to be such a long walk that we stopped for sandwiches instead. Ever woke up at 4:30am on Sunday morning and didn't want to go back to sleep. I think what is helpful for me is to go into a trip knowing that these things are going to happen and also being able to move on from them quickly rather than letting them affect your whole day.
This was such a fun trip and Washington D.C. proved to be a really great city for taking kids if you're ever looking for a new destination! Be sure to download the HotelTonight app if you haven't already and check it out when booking your next room! We have had the best experience!

Smithsonian Museum of Natural History
The Beauvoir Playground at the National Cathedral
Paddle Boats at the Tidal Basin

The Darcy: This is actually the only hotel I've stayed at in Washington D.C., but Aaron has stayed at a handful for work and says this one is far and away his favorite of the bunch.
Photography by Aaron Pinkston