I am usually the trip planner in our family, but as our two year anniversary approached Aaron let me know that he wanted to plan a little weekend getaway for us.  What girl is going to argue with that?!  It was supposed to be a surprise, but when he told me I would need a passport and a jacket I figured out our destination pretty quickly: Vancouver!  We spent three days biking Stanley Park, Drinking Coffee at Caffe Artigano, 49th Parallel, and Revolver, Exploring the rain forest in North Vancouver, trekking across the Capilano Bridge, eating AMAZING meals at The Flying Pig, Alibi Room, and L'Abattoir, and exploring Granville Island and the Public Market.  We were so busy, in fact, that I hardly ever had a chance to pull out my camera!  Luckily Aaron captured some pretty great shots via Instagram that he let me share with y'all 😉  (PS.  If you aren't following him on Instagram, you really should!  He is quite the whiz with that little app!)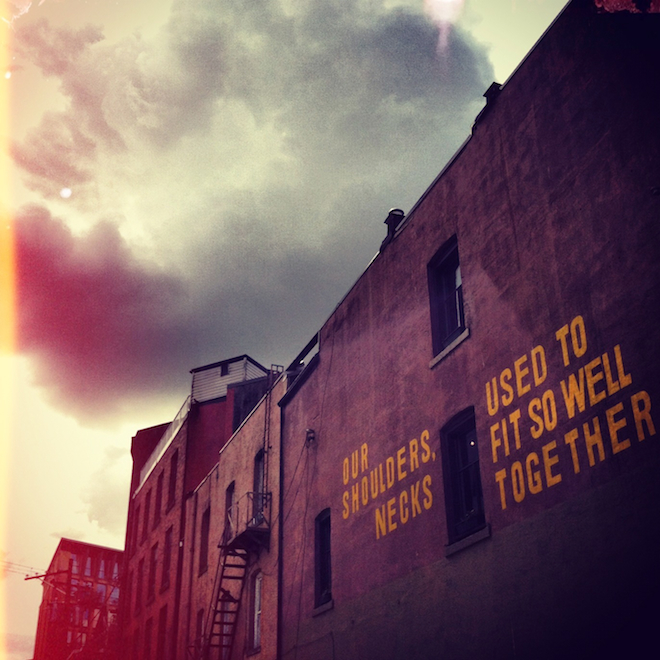 Side of a building in Gastown-- my favorite Vancouver neighborhood!
Getting some Cocktail Hour inspiration...
In the elevator of our hotel, on our way to dinner.  We stayed at Shangri-La Hotel and LOVED it!  The interior design of the hotel and rooms is beautiful.  I even snapped photos of our bathroom just in case we ever decide to remodel-- it was that awesome!