Whether you begin your day at your leisure or wake to the sound of a baby crying or alarm clock beckoning, there's a super easy way to jump start your productivity, lower your stress, and give you a sense of accomplishment at the start of your day.  It's not trendy.  In fact, my mom begin persuading us of it's advantages at a young age.  It's making your bed and you might just be surprised how beneficial science has found this simple task to be.  Plus, it takes the time equivalent of a few scrolls and double clicks on Instagram, so you've got almost nothing to lose.  Here's what experts have to say about making your bed....
Charles Duhigg notes in his fascinating book, The Power of Habit, "making your bed every morning is correlated with better productivity, a greater sense of well-being, and stronger skills at sticking with a budget." In the book, he calls making your bed a "keystone habit,"-- something that kick starts a pattern of other good behavior. Since it happens at the very beginning of the day, you're more likely to make better decisions for the remainder of the day thanks to your bed-making routine.   Gretchen Rubin, best-selling author and happiness researcher, says "When I was researching my book on happiness, this was the number one most impactful change that people brought up over and over."  As if this all weren't convincing enough, how about a stress reducer?  A decluttered bed makes for a decluttered space. A decluttered space makes for a decluttered mind. A decluttered mind makes for a decluttered life.  When I leave the house clean and tidy, everything else seems in order, too.  (No matter how lengthy the to do list for the day!)
In a survey of 68,000 people by Hunch.com, 59 percent of people don't make their beds. 27 percent do, while 12 percent pay a housekeeper to make it for them. Here's what disturbed me: 71 percent of bed makers consider themselves happy; while 62 percent of non-bed-makers admit to being unhappy. Bed makers are also more likely to like their jobs, own a home, exercise regularly, and feel well rested, whereas non-bed-makers hate their jobs, rent apartments, avoid the gym, and wake up tired. All in all, bed makers are happier and more successful than their rumple-sheeted peers.
In addition to impressing on me the importance of a made bed, my mom always said that an investment in your bed-- sheets, mattress, linens, etc-- is one of the most worthwhile since you spend close to a third of your life in it.  We furnished most of our room from Wayfair and decided to try out their new Nora mattress.  Here's the deal:  Aaron was a hard sell on getting a new mattress.   We first upgraded to a king size when we bought our house in LA. I read online reviews, but bought a mattress without ever having laid on it and we got really lucky.  We have loved it the past six+ years, spoken highly about it while out with friends and even talked about how fortunate we felt that it was our mattress, but supposedly you're supposed to switch those puppies out every seven years, so it was time. Plus, we kind of needed a thinner mattress for the new svelte frame of our bed.   Enter Nora.  It's a layered memory foam mattress that has a 3" layer of cooling foam. It stays cool and the memory foam element means that I don't disturb Aaron when I get out of bed in the middle of the night to feed Ever and he doesn't disturb me when he heads to the gym when it's still dark outside.  You guys. We are in love.  (Full disclosure: we were gifted this mattress to try, but I can assure you that if you come over to the house and pull up the sheets, Nora will still be there. We love her with our whole hearts.)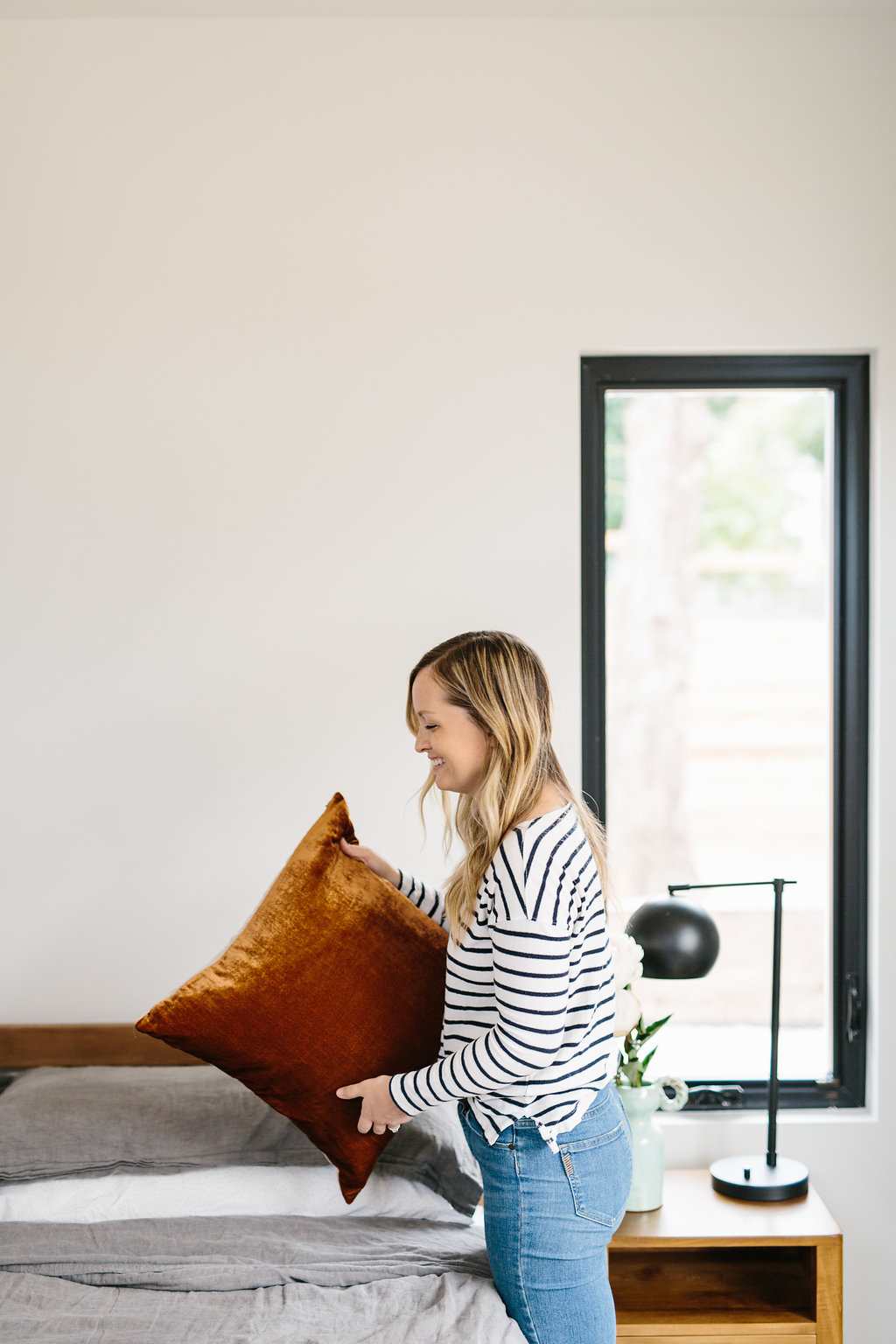 Are you already a bed maker?  Try it out for a week and let us know if you see a difference!
Rug || Bed || Nightstands || Mattress || Velvet Pillow || Lamp || Vase
Mattress and bedroom furniture were gifted by Wayfair.
Photography by Katie Jameson