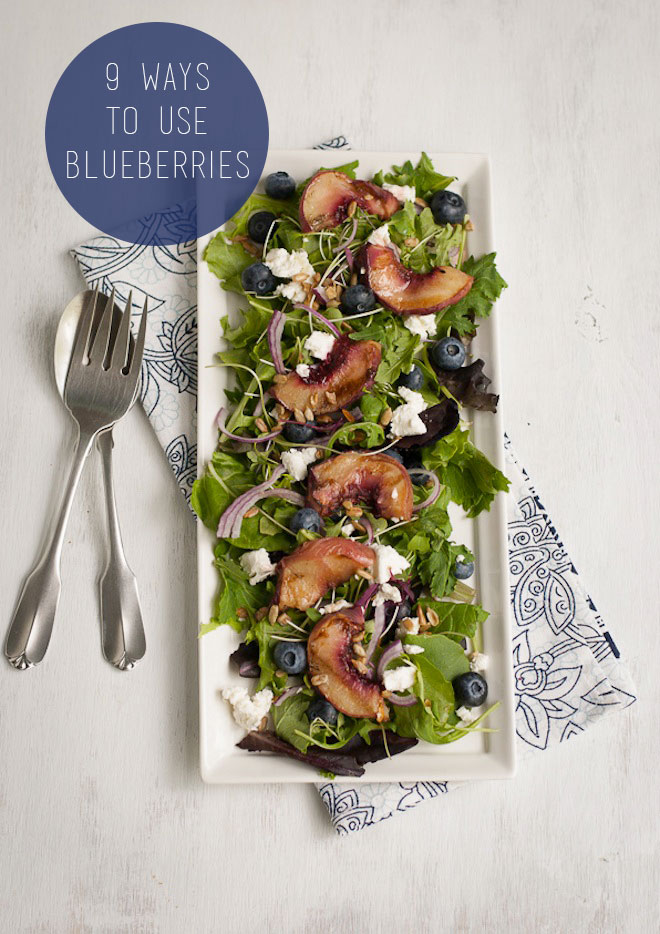 Yesterday at the farmer's market, my eyes were bigger than my stomach as I roamed from produce vendor to produce vendor, buying up everything that looked perfectly ripe.  Can you blame me?  There are so many fruits and vegetables in their prime right now!  Now that they are all packed neatly away in the kitchen, though, the race is on to use it all up before the end of the week.  Yesterday I began furiously perusing some of my favorite food bloggers for inspiration for a giant carton of blueberries that are calling my name.  I came across so many great ideas that it is was hard to choose!  I decided to put them all up here and let you be the judge! I have been trying to get more inventive with dinner salads these days, so this Grilled Peach and Chicken Salad with Blueberry Vinaigrette from Pineapple and Coconut was the first to catch my eye! Which ones sound best to you?
2. These Blueberry Crumb Bars from Whisk Affair look like the perfect summer dessert... or afternoon snack.  No ones judging here!
3. Speaking of dessert, I am off to Williams-Sonoma today and might just have to pick up some of the tartlette tins to make these Blueberry Lemon Mascarpone Tarts by Jayme Franklin.  There are too many of my favorite ingredients all in one place to resist!
4. In the mood for leafy greens?  This Broccoli and Kale Salad by The Endless Meal might be just the ticket!  I love how the blueberries add just a pop of sweetness!
5. In the spirit of keeping things healthy, I had to include this delicious bowl full of goodness by Ilana Freddye.  Quinoa, blueberries, goat cheese... what's not to love?
6. I can't wait to make this, you guys!  I love the idea of adding these sweet fruits to savory guac.  Be sure to check out the recipe over on Edible Perspective!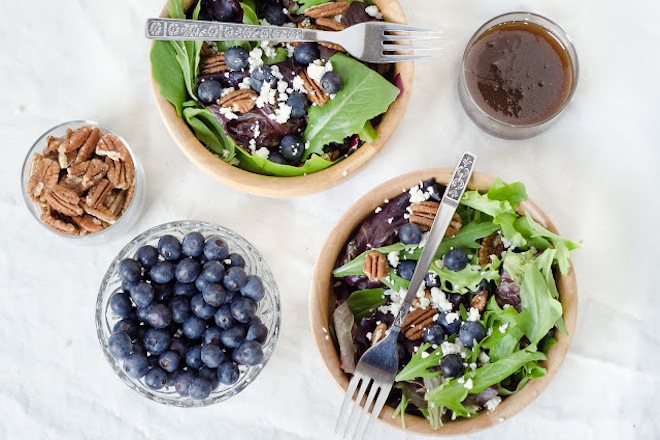 7. Courtney is always cooking up delectable vegetarian bites over at The Fig Tree.  This Blueberry Feta Salad seems to be no exception!
8. Looking for blueberries on the go?  These Chewy Blueberry Almond Granola Bars by Bob Vivant might be just your speed!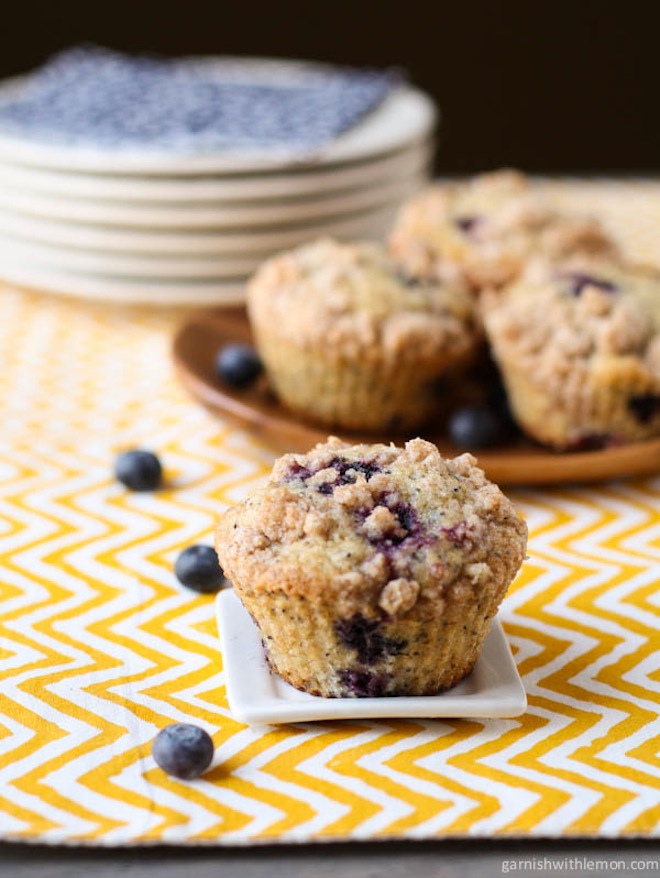 9. This morning treat is a true classic and the recipe for these particular Blueberry Lemon Poppyseed Muffins by Garnish with Lemon looks to be extra tasty!  True morning bliss would be this muffin paired with an oversized cup of coffee!
Can you believe tomorrow is already Friday?!  Hope your weeks have been stellar so far!
(If you enjoyed this post, be sure to check out our 9 Ways To Use A Lemon!)