(The post is sponsored by HotelTonight, an app that we have used for traveling in the past and absolutely love! Plan ahead or book last minute on a whim, it's an awesome way to travel. This trip is the first in our series of 12 trips that we are taking this year!)
When we land at CDMX, pesos in hand, I find myself already feeling so much more relaxed than when we took off, thanks much in part to my intentional swapping of my laptop for a stack of magazines before leaving the house. We quickly find our Uber and hop in. I dare not look down at my phone afraid I will miss something. After all, we are only in Mexico City for 48 hours and I'm bound and determined to make the most of every minute. What greets me out the windows are vibrant walls and effortlessly cool fonts. My mind can't help but take note of the ubiquitous pink (rosa mexicana!) walls. In Los Angeles, the pink Paul Smith wall is such an anomaly that in a sea of other buildings it's dubbed unmistakably just 'the pink wall'. In Mexico City finding a pink wall is like finding a Duane Reade in New York City.
A female entrepreneur stands in the middle of the highway advertising her frozen desserts that can be purchased while you sit in traffic, making me wonder why no one has yet capitalized on this untapped market of people trapped in traffic in Los Angeles. Money being left on the table, I think.
Soon the tightly clustered housing that surrounds the airport begins to give way to taquerias and handsome Mexican gentleman in exquisitely tailored suits commuting by bicycle, followed shortly after by the neighborhood Starbucks. We find our hotel that we booked through HotelTonight, The Wild Oscar, nestled in the more residential streets of Polanco.
The internet will tell you it's the Beverly Hills of Mexico City, and I guess I can see some passing resemblance. It's definitely quieter over here and more residential with some of the city's best restaurants housed here. I spend the first moments after we walk into our hotel room out on the balcony and am instantly serenaded by beautiful live music being played at a restaurant down on the corner. It's perfect.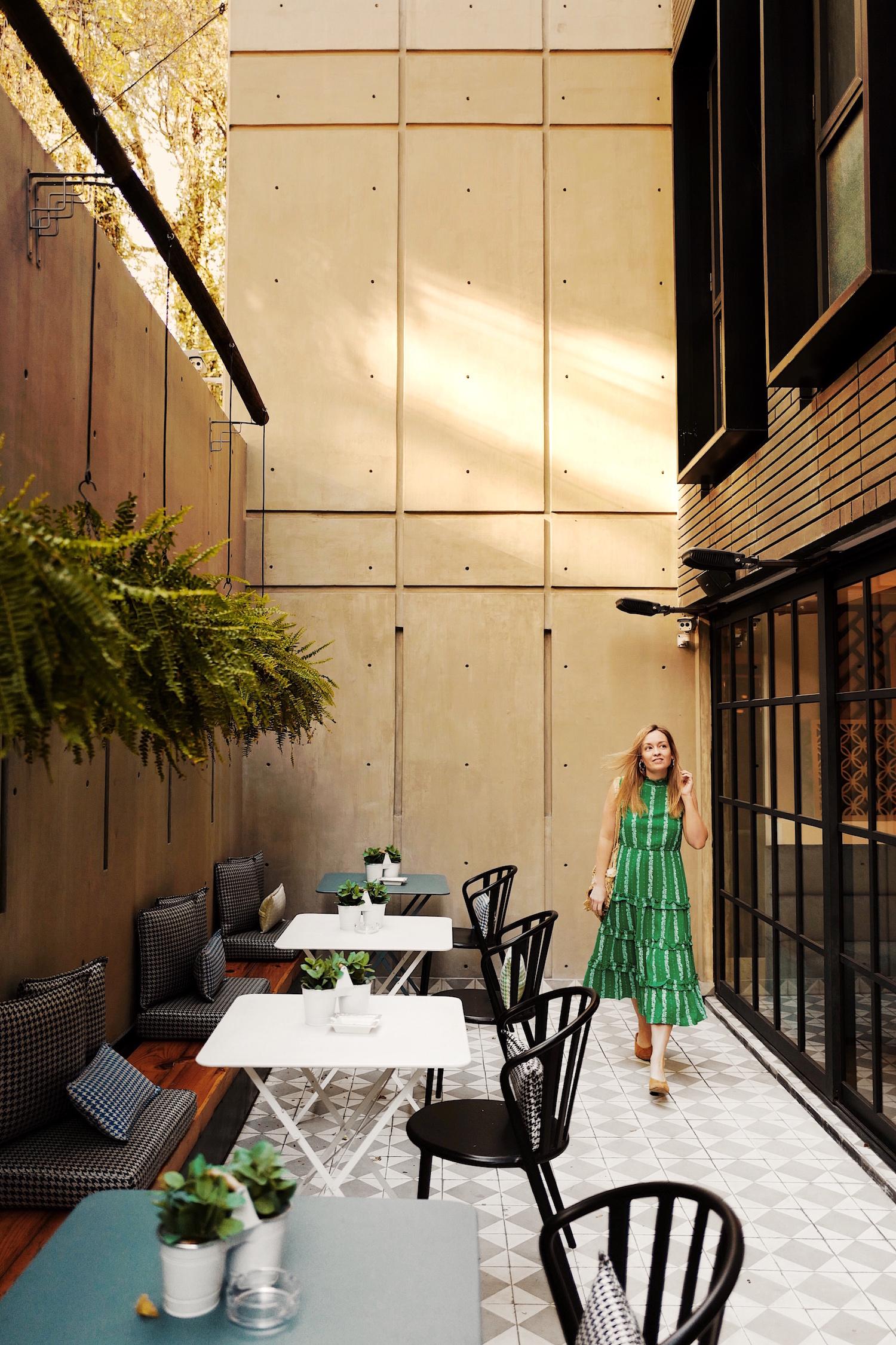 We eventually make our way into an Uber and over to Contramar for dinner. This dinner might have been the best part of our trip and it was only in part because of the unbelievable shrimp tostadas, Ensenada style fish tacos, and whole cook fished served with house made sauces. Watching the crowd here was fascinating and humbling. The Mexican people were so quick to embrace familiar faces, to engage in boisterous conversation with all eyes locked and focused on the present moment. We watched one man sit at three different tables during the same meal, continuing to bump into friends he knew and make himself at home. The mood and the crowd was loud and happy and celebratory and I don't think I'll ever forget it.
We start our morning with breakfast at Lardo. The green foliage grows wild around the green stucco building with tonal lettering and there's even a green Volkswagon parked out front to round out the color palette. We sit at a quaint table for dos personas while a woman at the table next to us sips her tea while reading a book as an antique kettle rests on the tabletop. A server brings over a basket of breads and pastries and moments later I'm sipping a cappuccino while eating a pan y chocolate.
After Lardo, we head to Casa Gilardi, followed by Casa Luis Barragan. The former was built in the 1970's and is still owned by the family who commissioned the house. You can book tours through the family on Facebook. The latter was built much earlier in the late 40s and it's wild to see how the architect's perspective changed during that time! (You can book tickets through the website ahead of time.) Both houses were incredible and full of plenty of picturesque moments. I loved seeing the way the gardens and outdoor spaces were considered in both locations. (Just generally I felt inspired by all of the plants, trees and foliage in Mexico City!)
"In Los Angeles, the pink Paul Smith wall is such an anomaly that in a sea of other buildings it's dubbed unmistakably just 'the pink wall'. In Mexico City finding a pink wall is like finding a Duane Reade in New York City."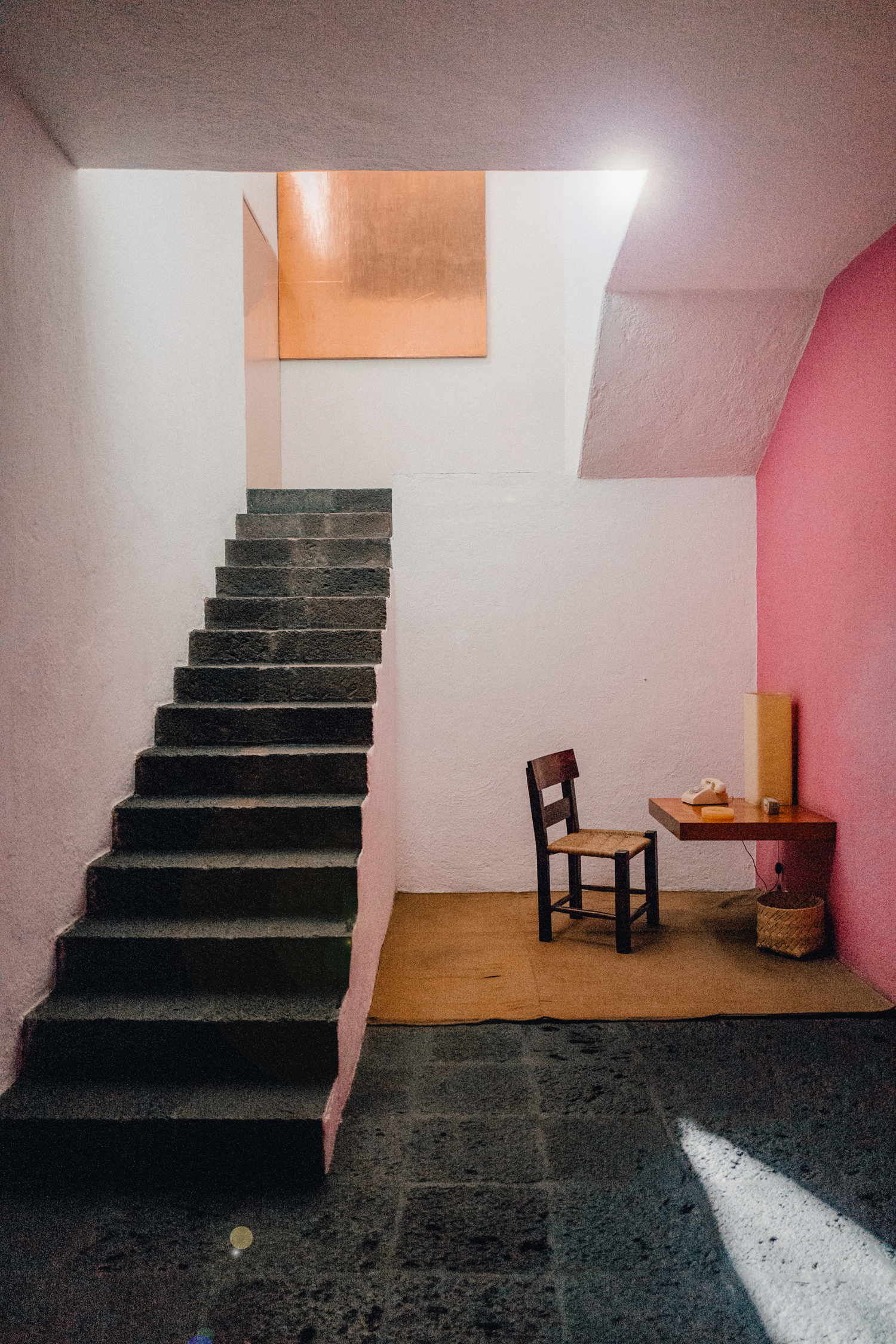 The craft market at La Cuidadela is full of bright, vibrant colors and all the pottery, embroidered blankets and apparel, and other wares you could ever hope to find.
Pujol! Everything about this place is memorable to me! It's a beautiful restaurant, but the food and the service are amazing. Our server gave us a tour of the garden in the back after our meal. The whole experience exceeded all of my expectations!
We spent the next morning in San Angel and it was so picturesque. Whether you go for the Saturday market or on a quiet Sunday morning like we did, this neighborhood is a can't miss!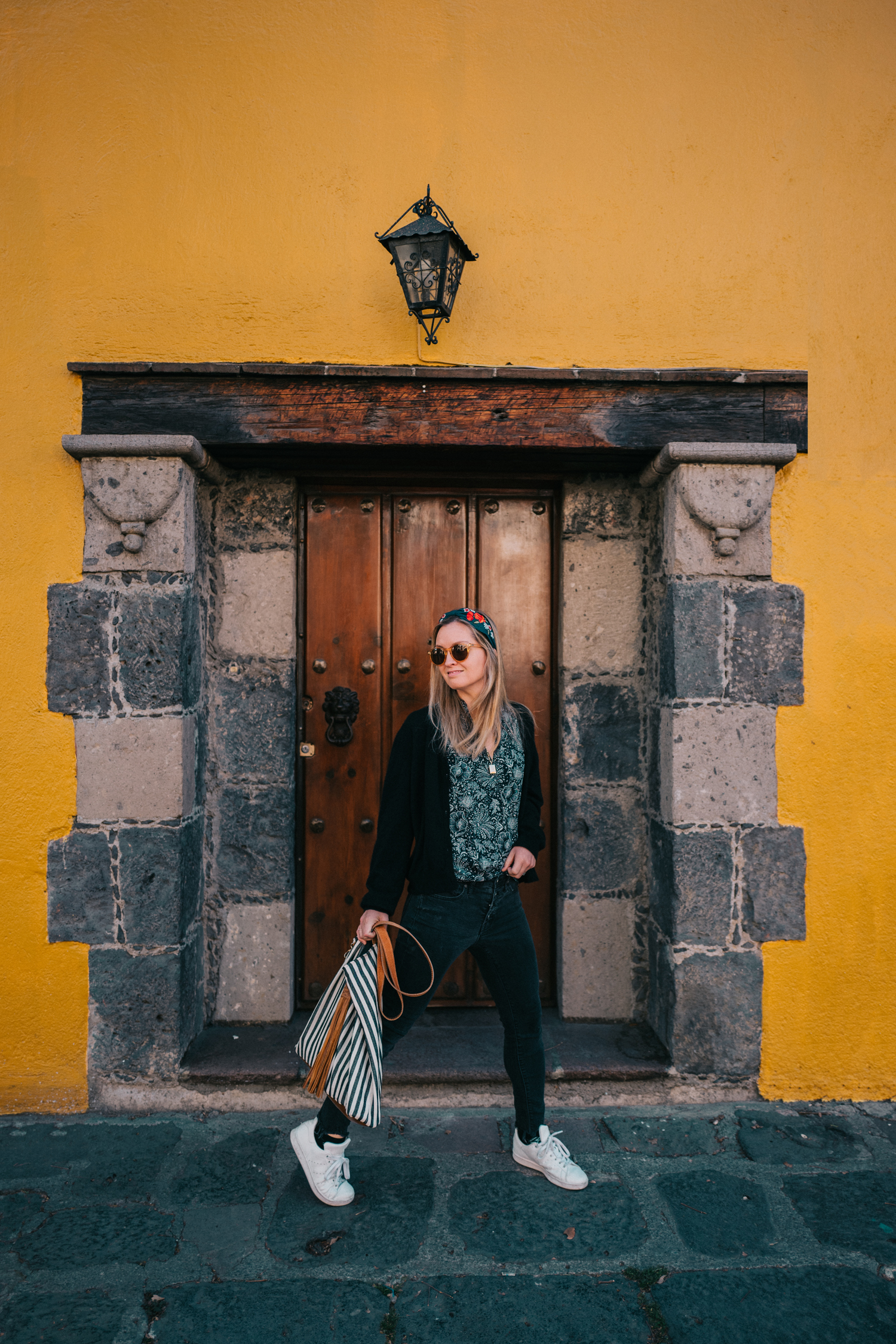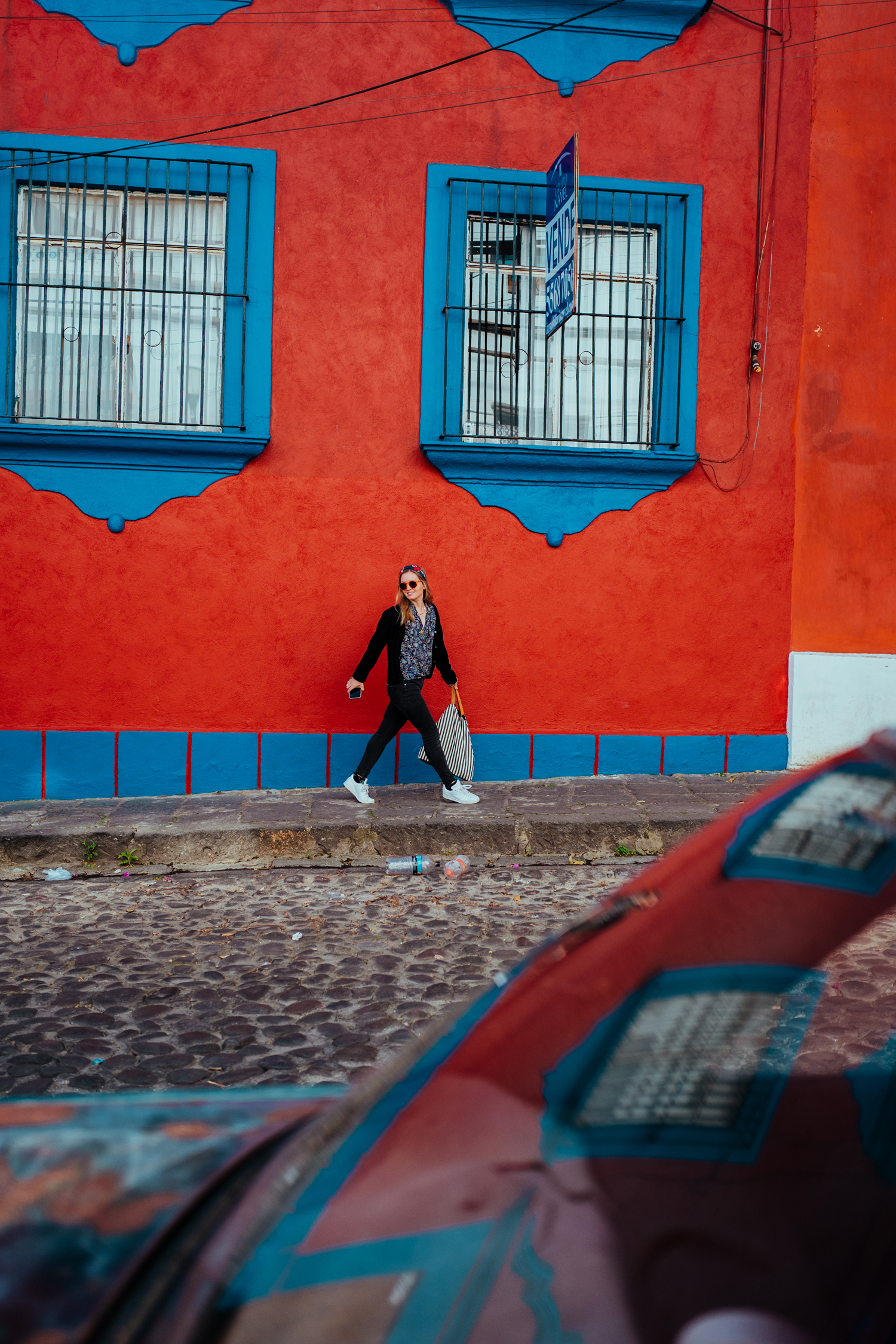 Shortly after though, we are stuck in traffic in an Uber. A Santee Alley like market keeps us from being able to turn left or right and finally we have to abort our plan to check out the Sunday antiques market because we fear we would cut it too close to our departure time. I feel overwhelmingly frustrated at no one in particular during the ride back and am reminded that travel is rarely perfect, nothing ever goes exactly the way we plan, and yet it is still the greatest privilege I can possibly imagine to be able to experience the people and food and architecture and culture of a new place. With every new locale, I find my view of the world expanded. I shake off my funk after quickly reliving the previous day's seven course meal at Pujol that included a 1798 day old mole in my mind.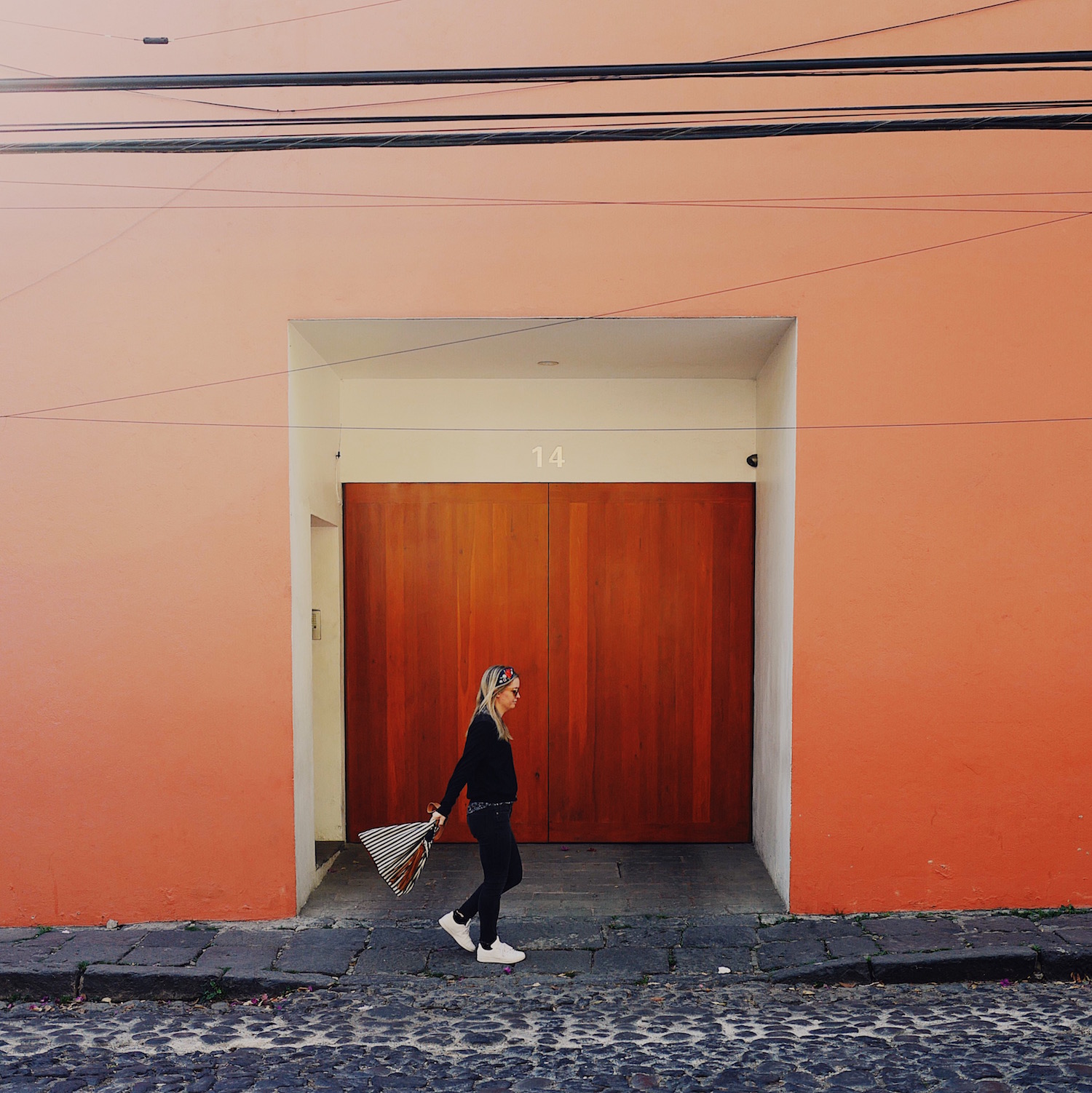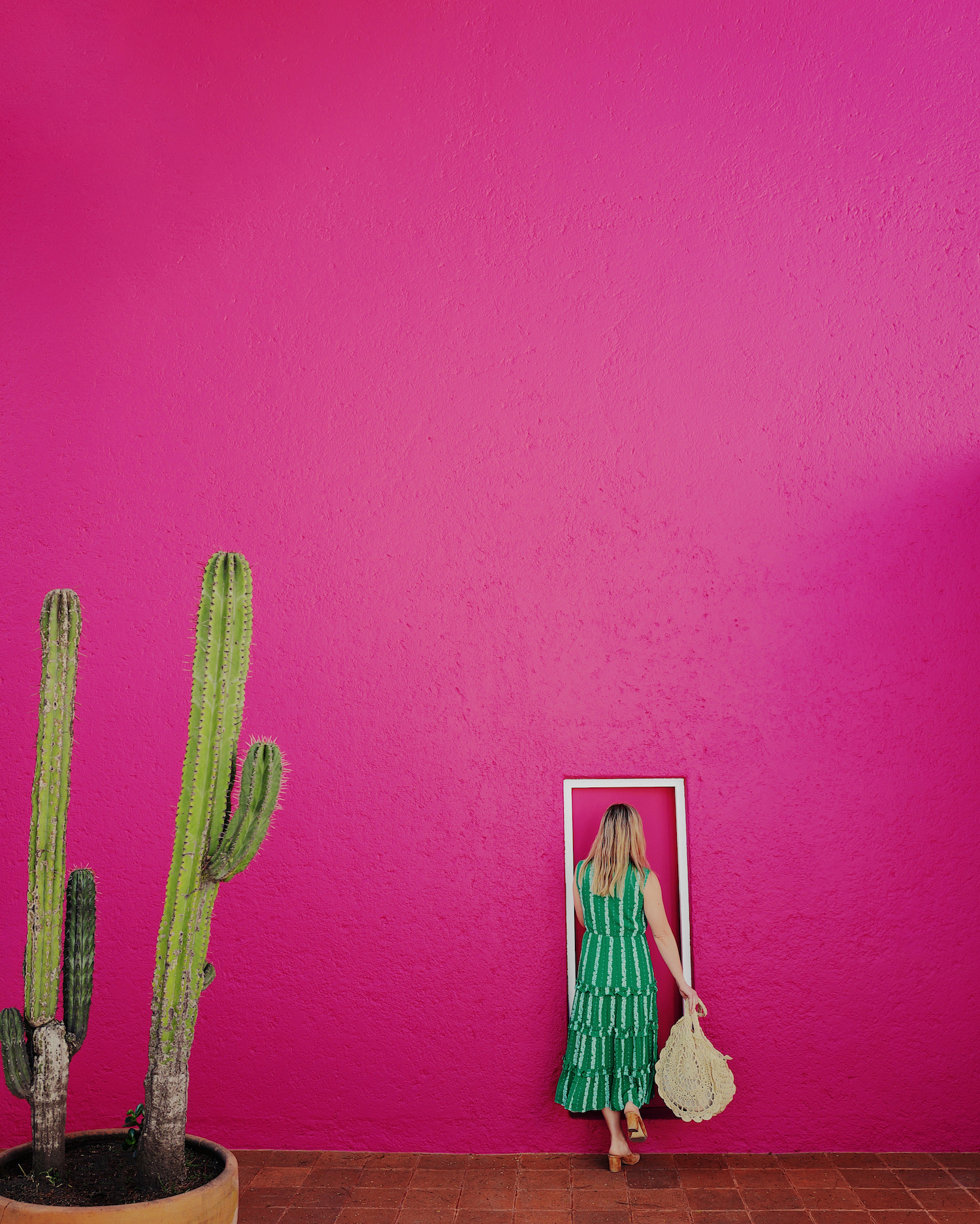 Headed to Mexico City? Here's what to Eat and See while you're there…
Lardo: Great for breakfast and lunch in particular! Baskets of bread and pastries, the chilequiles, and house made pizzas will not disappoint!
Pujol: Wait to book your flights until you know you can get a reservation. It's that good! (You can watch this episode of Chef's table for more color.) Aaron and I both agree that this is most likely the best meal we have ever eaten, but definitely in the top three.
Contramar: Mexican seafood dishes served up in the happiest atmosphere.
Huset: Nestled in the Roma neighborhood, this cozy spot is Mexican meets comfort food.
Lalo: This casual spot is great for breakfast, lunch or an early dinner. It's cute and the food is nothing fancy or mind blowing but super tasty.
El Moro for Churros: The blue and white décor is as equally appealing as the endless churros y chocolate!

You can use the HotelTonight app to find your favorite style of hotel in the best neighborhoods. I'd recommend staying in Polanco or Condesa.
We stayed at The Wild Oscar and would totally recommend it! It's a small boutique hotel with a great restaurant and bar and our room had the most picturesque balcony off of it.
As I mentioned above, the two best things we did were Casa Gilardi and the Luis Barragan house.
Mexico City has some of the best museums in the world and sadly we didn't have time to see all of them. From all of the research I have done, these would be my top four:
The Frida Kahlo Museum, is better known as the Blue House by locals due to its cobalt-blue walls. It's a historic house and art museum dedicated to the life and work of Mexican Frida Kahlo.  The building was the birthplace of Kahlo and is also the home where she grew up and then lived with her husband Diego Rivera for a number of years.  If you book online you can avoid the long lines wrapped around the block. This is near San Angel so you might plan to do it on a Saturday when the market is happening.
Museo Rufino Tamayo: is a public contemporary art museum located in Mexico City's Chapultepec Park. There is a wonderful collection of modern and contemporary art.  Rufino Tamayo (Oaxaca, 1899 – Mexico City, 1991) began to collect pieces for his international contemporary art collection from the end of the 1960s, in order to give Mexicans access to twentieth-century art.
The Anthropology Museum: Located in the area between Paseo de la Reforma and Mahatma Gandhi Street within Chapultepec Park, the museum contains significant archaeological and anthropological artifacts from Mexico's pre-Columbian heritage, such as the Stone of the Sun (or the Aztec calendar stone) and the Aztec Xochipilli statue.
The Museum of Modern Art: Also located in Chapultepec Park, the building itself is circular in shape with a large center dome, which bathes interior gallery spaces in eautiful natural light. Exhibitions showcase contemporary art by both international and Mexican artists (Diego Rivera, José Clemente Orozco, David Alfaro Siqueiros, and Rufino Tamayo) and include a range of mediums including painting, sculpture, photography and multimedia.
In addition to the architectural homes and museums, these three markets are all so different from each other and must sees!
Mercado Lagunilla is the Sunday flea market that I had heard so much about and sadly didn't make it to. Antiques abound… along with some less alluring pieces.  My friend Caitlin told me that this market has been taking place in the same site since colonial times!
El Bazaar Sábado This market is nestled in the beautiful neighborhood of San Angel and is only open on Saturdays, as the name implies. The surrounding homes to me were even more beautiful than the market. This is where a lot of wealthy Mexican families built second "country" homes even though it's only 25 minutes outside of central Mexico City.
Centro Artesanal La Ciudadela This market feels like exactly what you would expect from a market in Mexico City. Beautiful pottery and ceramic plates, woven leather sandals, bright colored embroidered dresses and tunics and plenty of other tchochkes can be found in plenty!
Wardrobe links: Skirt, Here and Here || Jeans, Madewell || Printed Top, J.Crew || Green Dress, Valencia and Vine || Headband || Sunnies, Le Specs ||
Photography by Aaron Pinkston (mostly) and a few from my iPhone