Halloween home decor doesn't have to be all about black, orange and ghosts! You can easily decorate your home in a modern, stylish and chic way the season. Keep reading for all of our tips and tricks!
Caitlin & Caitlin here! If you are a regular reader of our biweekly posts or subscribe to our design firm's blog, Life in Happy Hues, then you know we're crazy about themes and seasons…which is exactly why we make it a mission to do holiday decorations tastefully.
Halloween is a hard one to pull off when it comes to chic over cheesy—so much orange. So, so much orange. And black. And scary things! But we won't go there. Today (in honor of the…dead?), we bring to you lively and stylish design that your room can rock all year long.
Top Tips for stylish Halloween home decor
1. Tone down the pumpkin hues with pops of moss green and deep purple—these pigments are just as seasonal and add a lot of sophistication.
2. Brass accents scream fall thanks to the metal's warm tone but work year round—and gold is great to mix with mint greens and bright blues once the weather warms too.
3. Add depth and dimension by mixing layers and textures—so cozy and inviting. We love playing with velvet, fur and feathers for this time of year.
4. Animalistic elements make a lot of sense for autumn. It's the perfect time to collect these smalls for hanging on the wall or adding to a dinner party tablescape.
5. Flowers in autumnal hues make a room feel festive and fresh. We love Ranunculus for their layered, bulbous composition and vibrant shades of red, orange and yellow.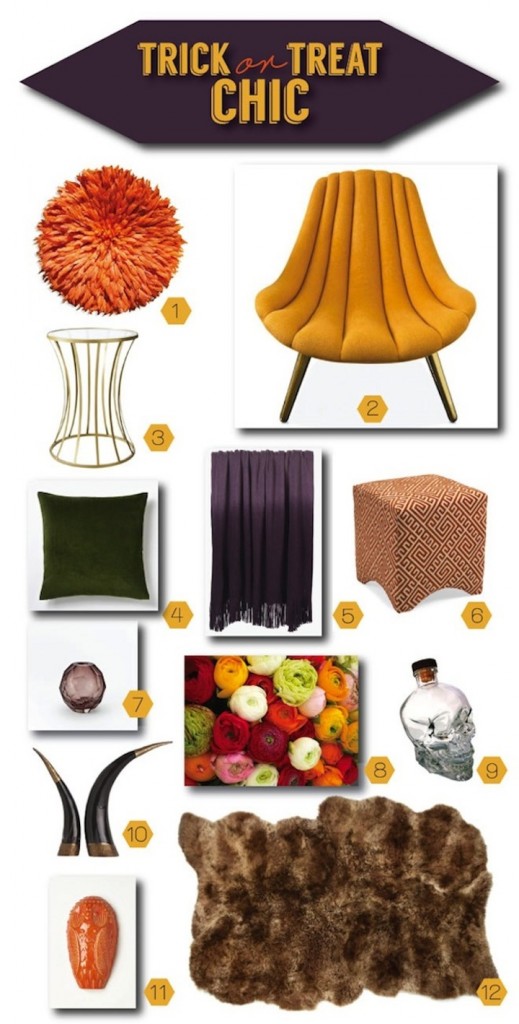 ONE / TWO / THREE / FOUR / FIVE / SIX / SEVEN / EIGHT / NINE / TEN / ELEVEN / TWELVE
Flowers for Halloween Home Decor
A great way to introduce the color of the season (orange!) into your home is with flowers. They are simple and elegant and add a great pop of color! We like adding them to brass vases, but you could try black ones for more of a contrast.
Soft furnishing to make a room feel welcoming
Soft furnishings are a great way to make a room feel fuller and warmer. It's easy and can be inexpensive to decorate your home this way. Great for a pop of color or to tone down those bright oranges! Cushions, throws and rugs are all great accessories to play with.
For more home decor ideas, be sure to check out these other posts!
5 Ways to Update Your Home Decor for Fall
Home Interior Design Ideas- How to Create A Cohesive Look
Jessica Honegger's Cozy and Eclectic Pool Room Reveal
7 Dreamy Laundry Room Before and Afters
I would love to here how you plan on decorating your home this Halloween and fall - be sure to drop me a comment below and let me know!