While some families are starting to go back to school, Parker's new school year actually began when we moved to Austin. We love the school we found for her and we are so excited for her to be with her peers day in and day out. She is super social and loves being around other kids, so I found myself utterly unprepared for the emotions that ensued when she began school in June. We created a morning routine and some backpack essentials that helped ease the pains of the transition to preschool-- more details on those below-- and within two weeks she was a very happy school camper. Two dads were put in a similar position when their kids who both have peanut allergies found the cafeteria to be a tougher than expected place to navigate. They set out to create a snack that was inclusive for kiddos with nut allergies and Skeeter Nut-Free was born!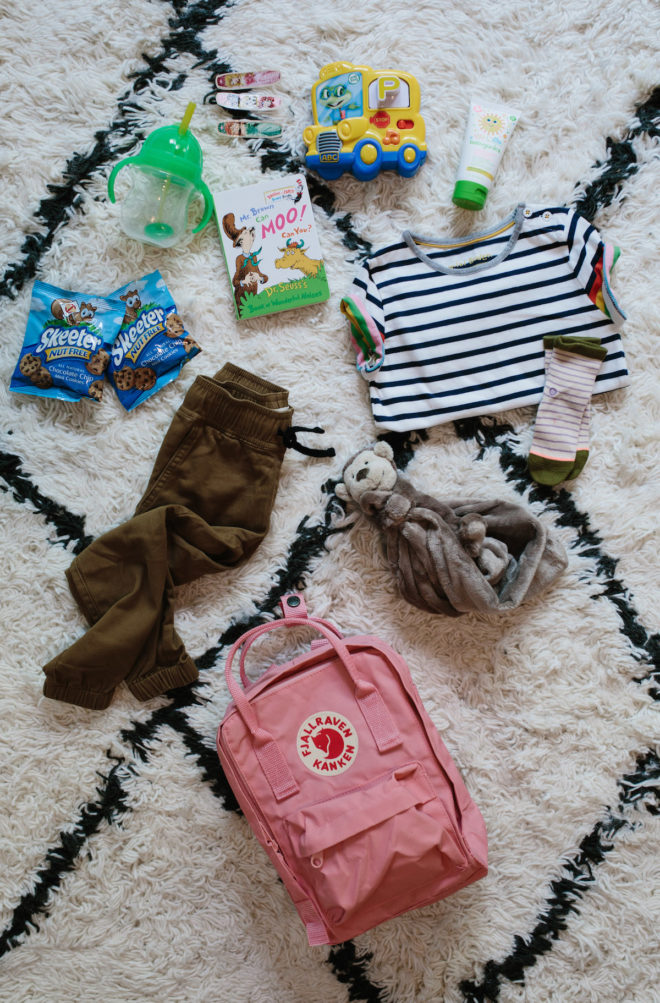 When we realized that the transition to preschool for Parker wasn't going to be as smooth as we expected, we started talking about school constantly. We talked about school at night during story time and what the next day at school might bring and we talked about it in the morning over breakfast. We also created this morning routine that we repeatedly talked about over and over. When we arrived at school the first thing we did was go say hi to the bunny, then we would say hi to the chickens, then we would put our water bottle in the basket and then we would say hi to friends-- which meant we were dropping her off and she was going to play with her friends.
In the car I would ask her, "What do we do first when we get to school?" then "What do we do next?"... and so on. Once we were there and going through the routine I would re-iterate it, "What do we do after we've said hi to the chickens?" (And, yes, I realize most preschools don't have chickens-- ha!) It sounds like overkill, but I really think it helped and gave her a sense of control in a new situation. It certainly helped her to know what to expect and it kind of eased her into her morning rather than going straight from the car to the classroom.
Next, we had her help pack her own backpack with the things she might need at school or in the car. We always pack an extra pair of clothes, her alphabet game that she loves, a book for the car, sunscreen, her lovey stuffed monkey for nap time, and an after school snack. Ever since this post, we have been loving these Skeeter Nut Free cookies. I usually pack my own version for my day-- laptop, chapstick and lipstick, sunglasses, and a pen and notepad. (So many digital applications now that help with keeping track of tasks and I just can't get over the actual pen to paper thing!)
The first 6 school days she cried when we dropped her off and then off and on throughout the day she would get a little emotional her teachers said. Then the next four schools days she cried when we dropped her off, but her teachers reported that she had a great day after those first five sad minutes. After those first two weeks, we've had easy drop offs and a happy toddler who constantly talks about school and her friends there.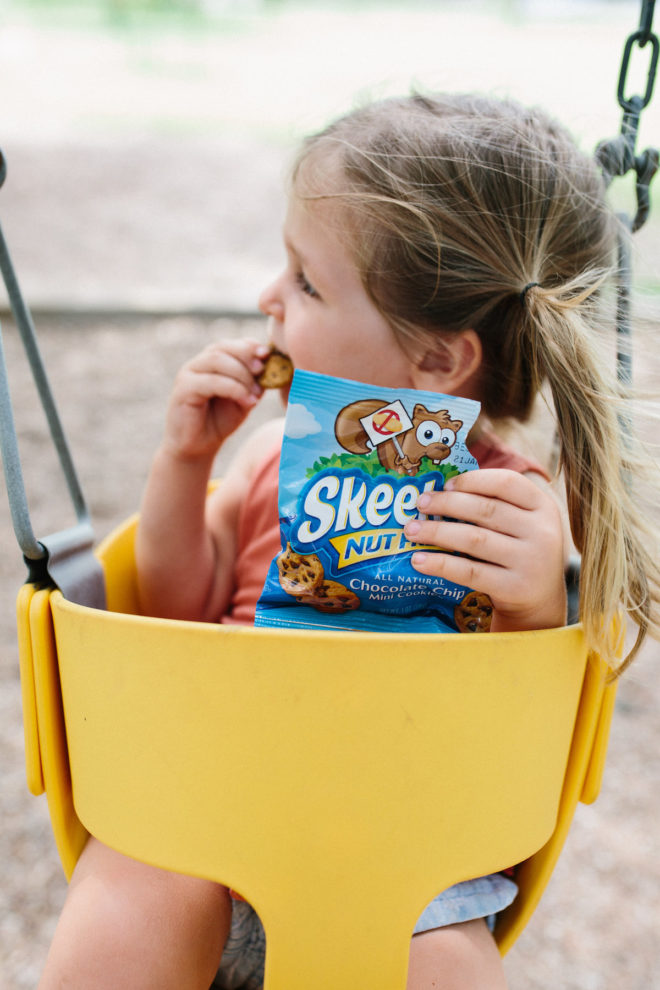 Have you been through the preschool transition? What seemed to work best for you? If you're looking for a fun new after-school snack, be sure to check out Skeeter Nut-Free and if you'd like to enter to win Parker's backpack and backpack essentials, just head to Twitter, follow @SkeeterNutFree, and stay tuned for more information on the giveaway!
This post was sponsored by Skeeter Nut Free. They make the most delicious cookies that are peanut and tree nut free, and safe for kids with nut allergies. Click here to find a store near you!