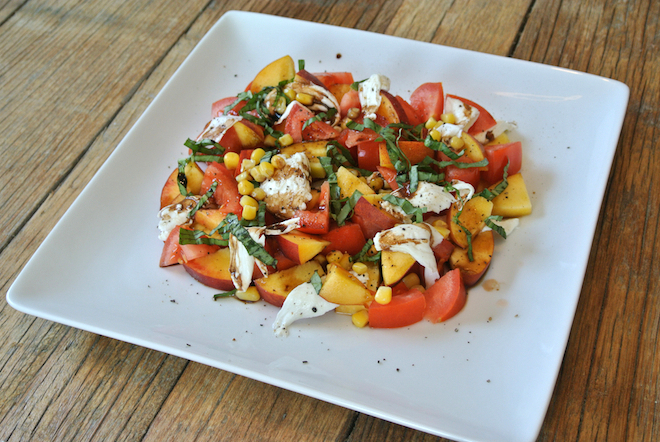 I have had two culinary epiphanies this summer.  The first, is the genius of the grill.  It puts Aaron's cooking skills to good use and keeps the kitchen from heating up when its already ninety degrees out.  Genius.  The second is the lunch salad and how easy it is to combine extra ingredients lying around in the refrigerator to make something truly tasty.  Also, no heat necessary which means the kitchen stays nice and cool.  Can you tell I am ready for that first fall breeze?!
This particular salad is fast becoming one of my favorites.  It started with some leftover ingredients from grilled pizza night-- burrata, basil and tomatoes-- and some farmers market peaches that were sitting on the countertop.  The corn is an addition that is going into pretty much everything I cook these days.  What's better than fresh summer corn?!
INGREDIENTS//
2 peaches, cut into small pieces
4 tomatoes, chopped
½ cup cooked corn (preferably straight from the cob)
4 ounces burrata cheese
10 basil leaves, finely chopped
1-2 tablespoon balsamic vinegar
salt
fresh cracked black pepper
DIRECTIONS//
Combine the peaches, tomatoes and corn on a plate.
Distribute the burrata evenly across the platter.
Add the basil over the top of the salad.
Drizzle the balsamic.
Season with salt and pepper and serve immediately.