02/21/2014
This is one of those projects that we've been debating doing since we moved into our house two and half years ago.  We already have a deck on the back of the house which we use as more of a lounge space, so there was never a sense of urgency to doing something about the 15′ x 20′ wasteland of a space in the back corner of our yard, behind the garage.  That being said, Aaron keeps his grill back there and we would love to have an outdoor dining area / fire pit space that we could enjoy.  ( Our beautiful outdoor table currently resides in the garage– total waste!)  Oh, and where our deck is shaded by trees, this space gets the best afternoon sun that is perfect for a little summer sunbathing (with SPF of course).  With baby girl on the way and our plans to spend all summer here in LA, much more housebound than usual, it seems like the perfect time to create this cozy little space that I've been dreaming about for so long.  Here is an Instgram picture from last summer to give you a visual of the wasteland space .  We have since put in grass in the entire yard with the exception of this little nook where Aaron is standing which is where we want to do our little backyard grilling/dining/toasting marshmallows/ sunbathing space…
Step 1: The flooring.  After removing that tree stump and leveling the ground, we're going to put in a gray flagstone.  We love the look of pavers, but for practical matters we like that there won't be cracks for tiny toes to stumble over or loose gravel or rock that will either get eaten by tiny mouth or end up in the lawn mower when it finds it's way into the grass.
Step 2: Dining Chairs.  We already have this dining table from Hayneedle, which we love.  It has this great additional piece that you can add to the table which allows it to seat up to 10-12, depending on the kind of seating you have.  For cozier nights, it will seat 6-8 without the leaf.  These are my favorite contenders so far for dining seating: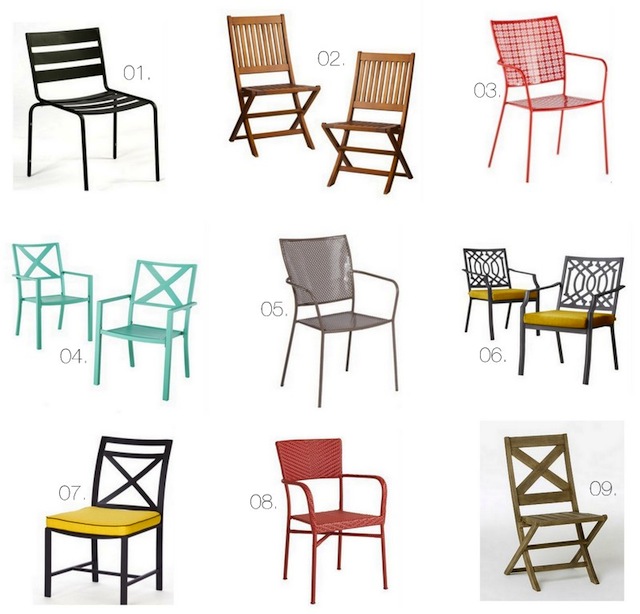 one. / two. / three. / four. / five. / six. / seven. / eight. / nine. /
Step 3: A Built In Bench.  I love the idea of having a built-in corner bench along the back right corner where we could then put the fire pit in front of and maybe add an additional two chairs opposite the fire pit depending on space.  I have yet to figure out how to make this one work, though, since all of these images utilize a wall behind the bench, which we won't have because of the landscaping and I happen to believe that a backless bench is a very uncomfortable way to spend an evening.
Step 4: A Fire Feature.  When Aaron and I were in Big Sur, our cabin that we stayed in had a fire pit out front.  (That may actually be what's responsible for getting me going on this whole project!  That, and pregnancy hormones.)  There's nothing cozier than a chilly evening spent outdoors around a fire pit.  Plus, how fun to be able to go out there and roast marshmallows with baby girl when she's older?!  Here's where I'm torn:  I love how low maintenance the gas versions are.  You don't have to worry about buying wood, storing wood in a dry area, or cleaning up the ashes from the bottom of the pit.  However they are more expensive and the look and feel of the flame doesn't compare to a wood burning flame.  Thoughts?  These are my favorite fire features thus far:
one. / two. / three. / four. / five. / six. / seven. / eight. /
Step 5: Lighting. I have my mind pretty made up on this one.  I love these big bulbed strand lights and these from Target are my favorite so far!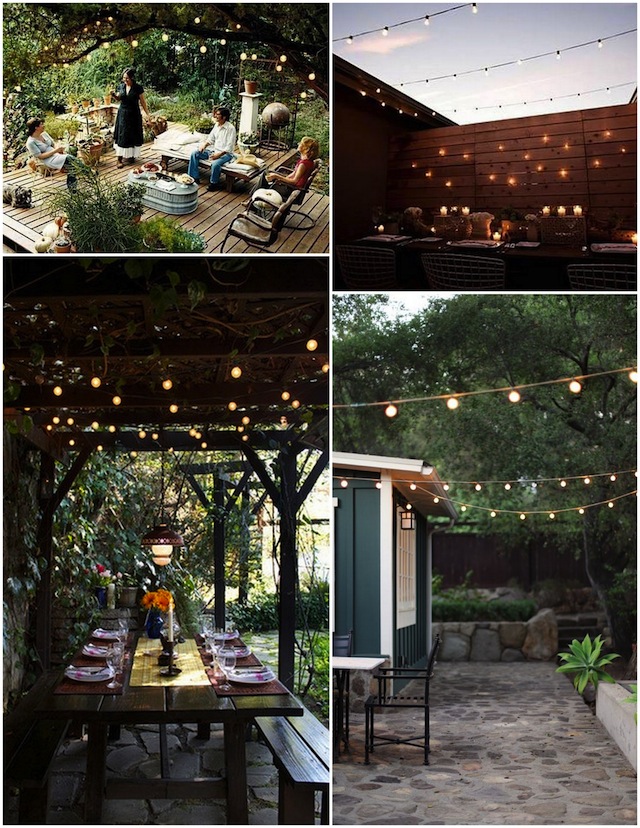 (From L to R: 1, 2, 3, 4)
Step 6: Chaise Lounges. I know what you're thinking.  This space is really starting to fill up back here, right?  The sunbathing-with-SPF-next-best-thing-to-having-a-pool-chaise-lounge part of the equation is non-negotiable.  It might be my favorite part of the whole plan.  Of course, I will need two.  No one wants to lay out by themselves.  These are my current favorite options… Thoughts?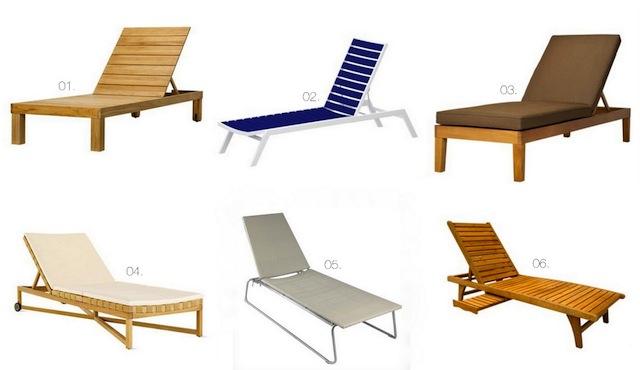 one. / two. / three. / four. / five. / six. /
Step 7: Finishing Touches.  A succulent here, a throw pillow there.  I love all of the finishing details in these outdoor photos:
Now you've seen the before… stay tuned for the after!