If you are looking for Thanksgiving menu inspiration, then look no further! I have got such a treat for you! These Thanksgiving side dish recipes and appetizers are so delicious, I promise you'll be making them all year round!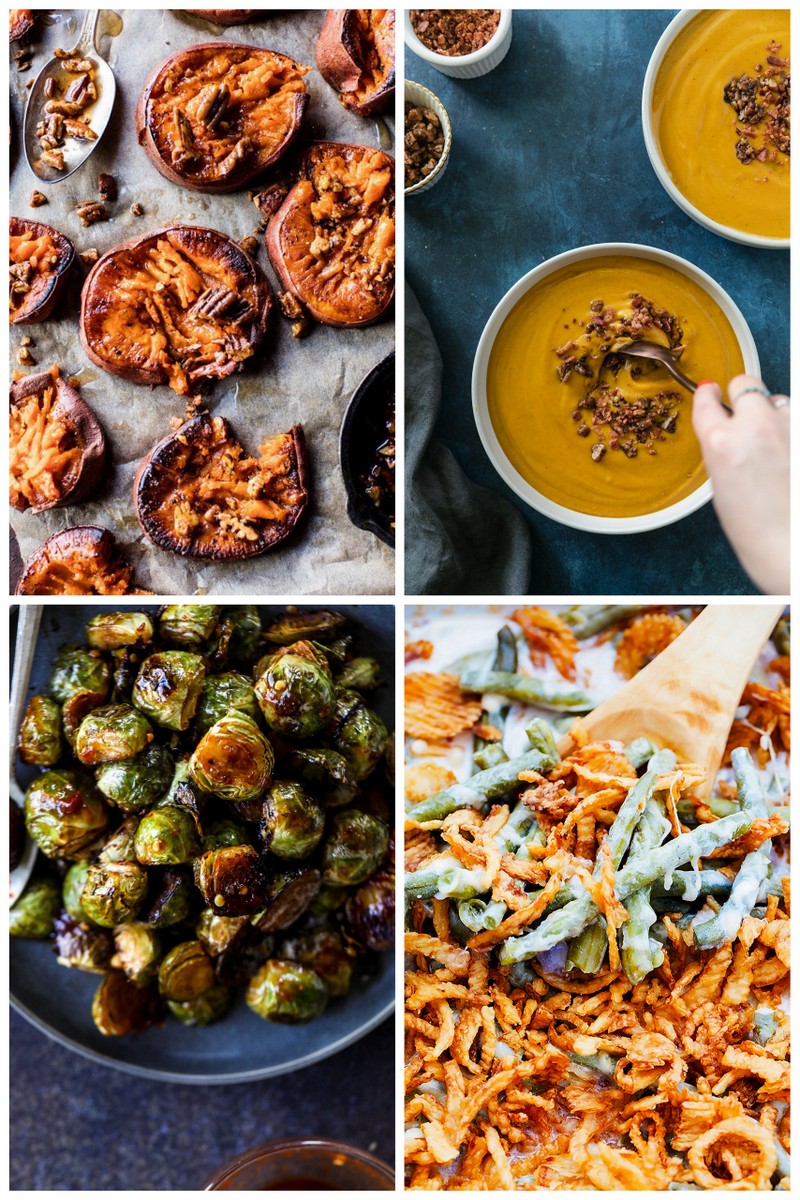 Time to start planning your Thanksgiving side dish recipes!
There's more to Thanksgiving dinner than that moment when everyone is finally convened around platters and platefuls of savory eats. Thanksgiving dinner starts now with the plotting and planning. What will be the main course? What side dishes go best? Do you go with the classics like mashed potatoes and green bean casserole or put a modern twist on the meal by serving Coq au Vin or Pumpkin Risotto?
Do you go full indulgence with an amount of butter that would make Julia Child proud or follow your health and wellness forefathers towards more clean options like an Autumn Glow salad or fresh roasted veggies? The options are endless and we aren't mad about it.
These are recipes we hope to be making this Thanksgiving and beyond: (and do let us know what's on your menu this year!)
Thanksgiving Side Dish Recipes
Autumn Glow Salad
This salad has sweet potato, crispy apple, roasted cauliflower, fresh parsley, grains of choice (fully support flexibility here), autumn-y spices, and an appropriate zippy lemon dressing that brings everything together in a big and happy way.
via Pinch of Yum
Chipotle Mashed Sweet Potatoes
These mashed sweet potatoes are tossed with a bit of chipotle peppers in adobo to give it a nice smoky taste. It's pretty addictive. Their buttery texture makes these chipotle mashed sweet potatoes an excellent addition to any Thanksgiving table!
Spinach and Bacon Stuffed Mushrooms
Spinach and Bacon Stuffed Mushrooms stuffed with sautéed baby spinach, chopped mushrooms, bacon, bread crumbs and Parmesan cheese – a lighter alternative to traditional stuffed mushrooms yet loaded with tons of flavor!
via Skinny Taste
Creamy Sweet Potato Soup with Maple and Pecan Crunch
This Creamy Sweet Potato Soup with Bacon and Maple Pecan Crunch is luxuriously smooth, and it has the best combination of sweet and savory flavors. It's a perfect, comforting soup for the fall and winter months, and the crispy bacon and crunchy maple pecan topping makes it over-the-top delicious!
via Spices in my DNA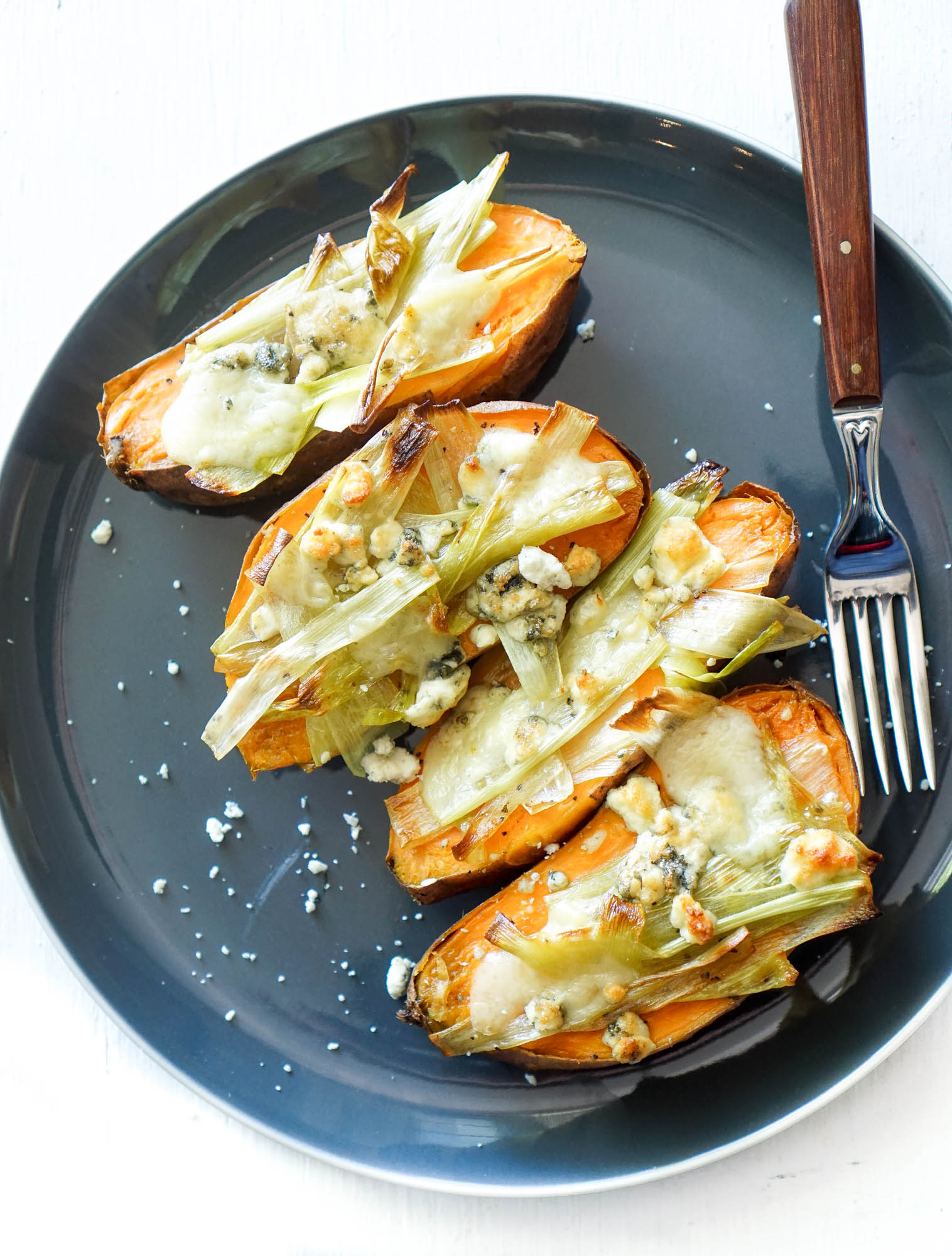 Sweet Potatoes with Buttery Leeks and Gorgonzola
Baked sweet potatoes, sauteed buttery leeks, and Gorgonzola cheese all come together for this fool-proof lunch, side dish, or whenever you're feeling a sweet potato.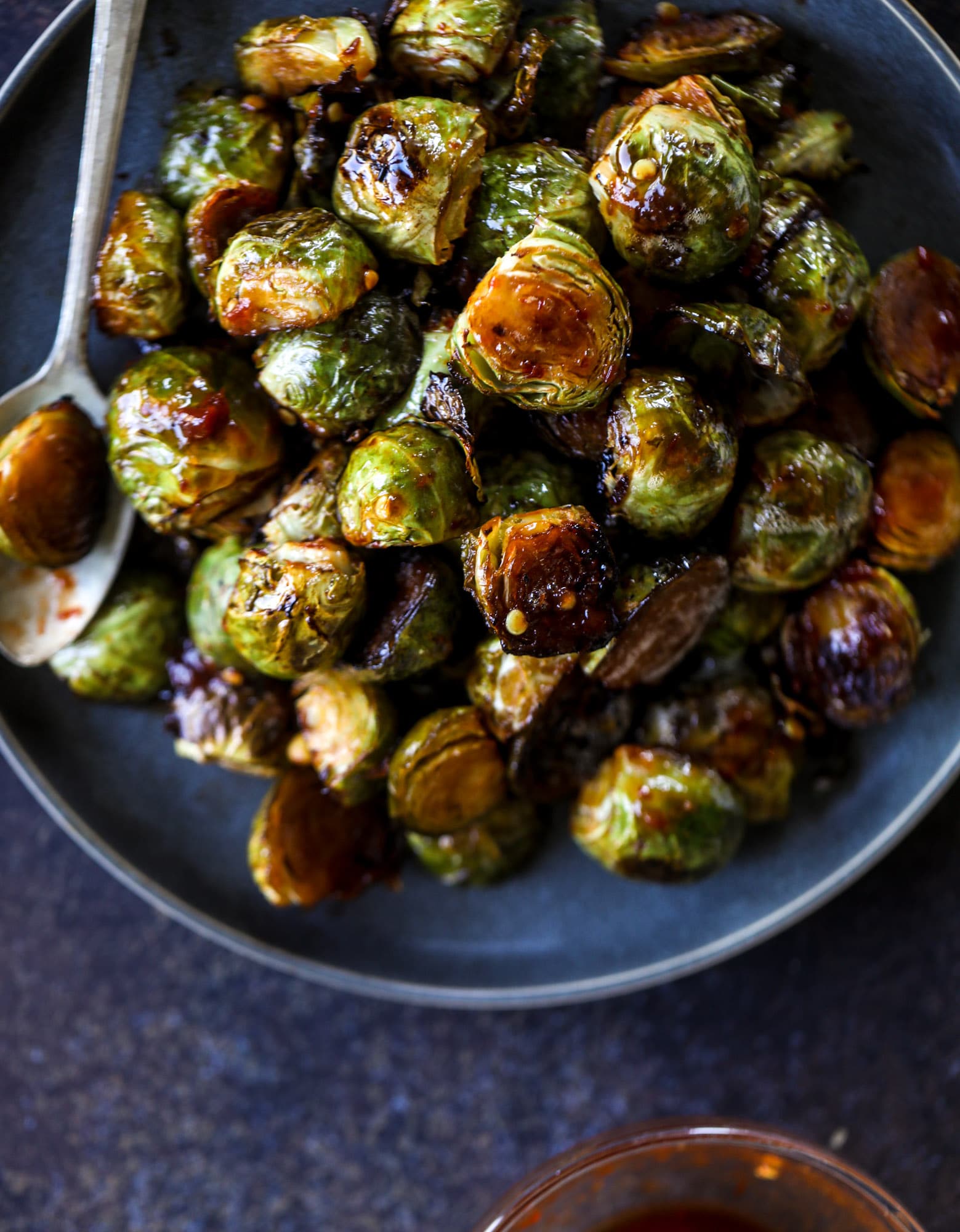 Sweet & Spicy Brussels Sprouts
This recipe makes all your brussels dreams come true, especially if you're a huge sweet + savory freak. Grab them out of the fridge cold for a snack or throw the leftovers in an omelet.
via How Sweet Eats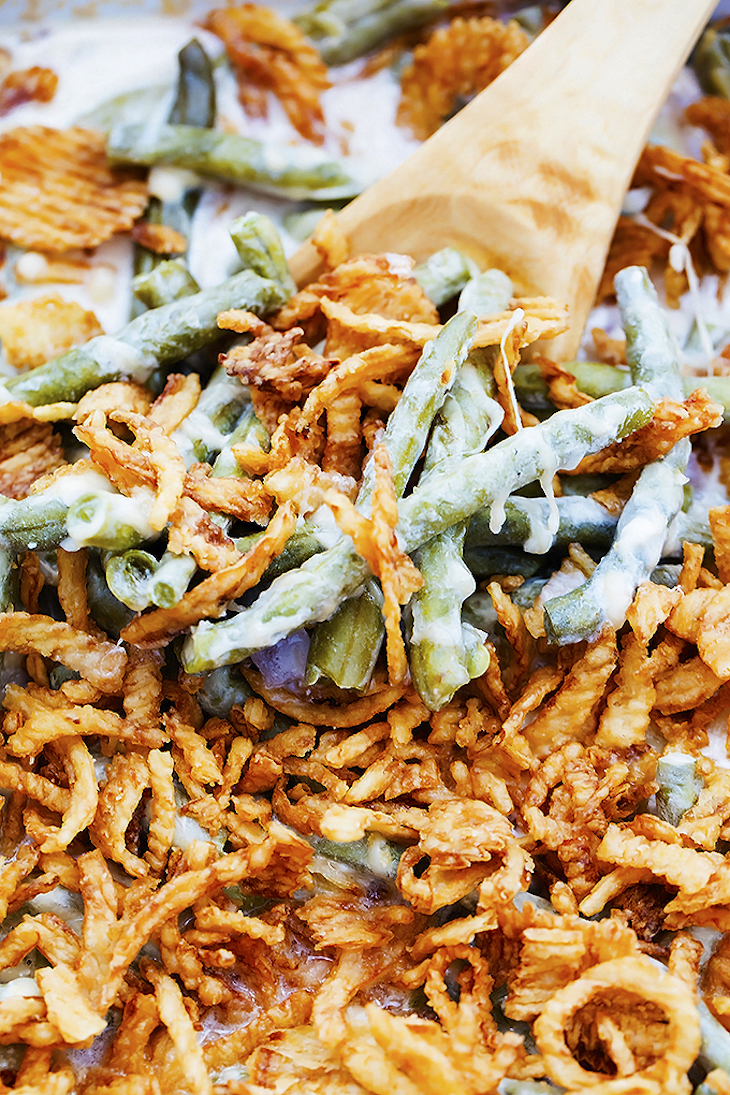 Slow Cooker Green Bean Casserole
Slow Cooker Green Bean Casserole – All of the flavors your love in a traditional green bean casserole made with just 6 ingredients right in your slow cooker! A convenient and comforting side dish for any holiday or dinner occasion!
Sweet Potato and Goats Cheese Tartlets
I love how these look and taste like they took forever to make but really are pretty quick to whip up. They would taste amazing on any holiday appetizer spread or even a couple for lunch with a yummy salad or cup of soup!
via Sugar and Charm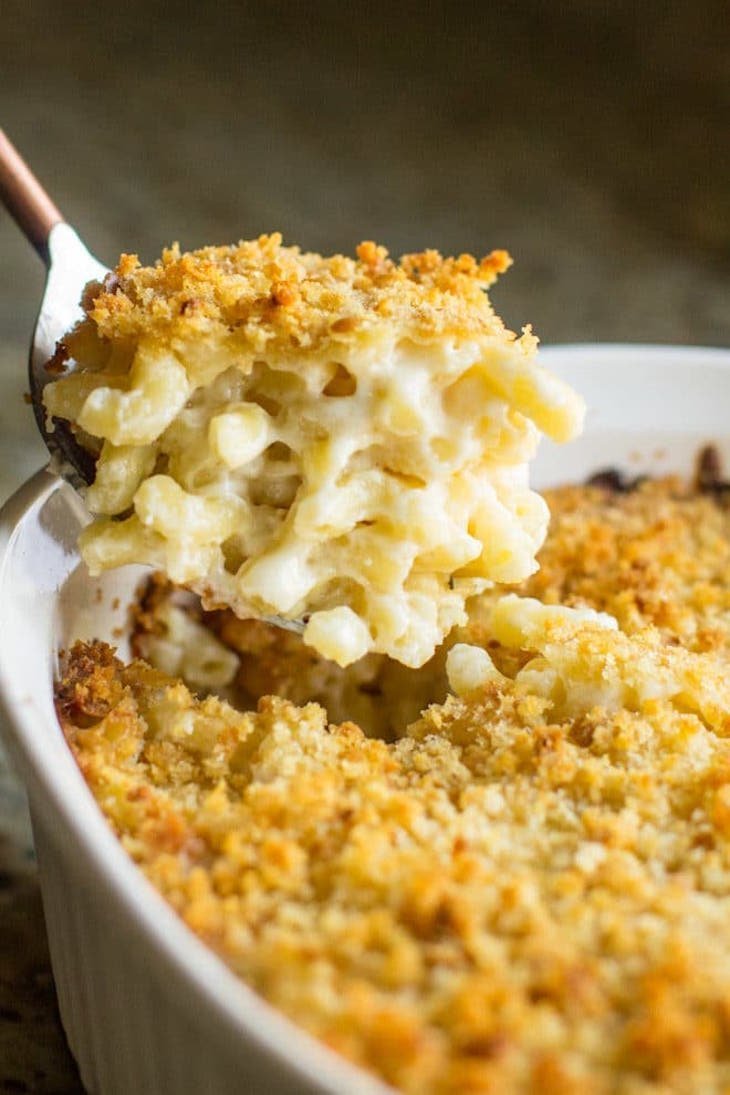 Baked Mac and Cheese with Garlicky Bread Crumbs
A recipe like creamy, homemade Baked Mac and Cheese doesn't come along every day… even though you wish it did. Thank goodness it's so easy to make, right down to the garlic butter breadcrumbs.
via Culinary Hill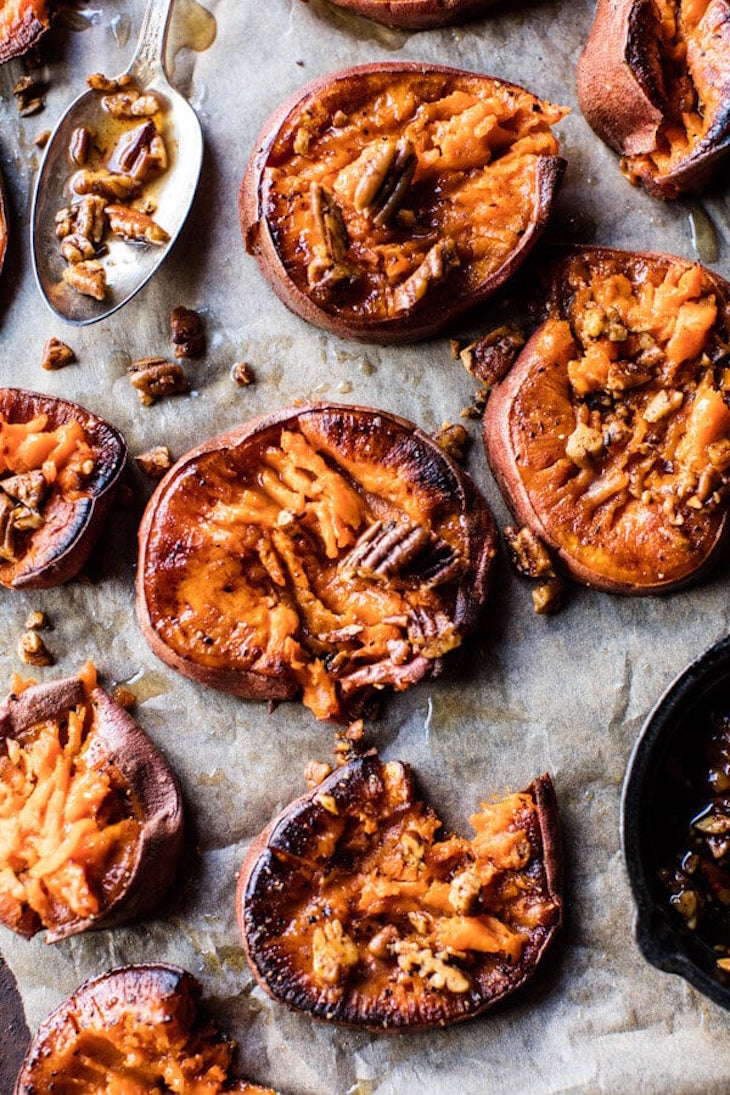 Crispy Roasted Sweet Potatoes with Bourbon Maple Butter
Instead of having a creamy consistency, like traditional sweet potato casserole, these little rounds have great texture combined with amazing flavor.
Pumpkin Risotto with Goats Cheese and Mushrooms
This pumpkin risotto recipe is just perfect for fall! This naturally gluten-free vegetarian dish is hearty enough for a main and it would also make a great addition to your Thanksgiving side dishes. Easy to make, this classic Italian dish has had a fall twist!
Delicious Thanksgiving Side Dish Recipes!
What an amazing collection of sides to serve your friends and family this year - I think we can all agree they look amazingly tasty! I can't decide what to make first!
Variety In Your Thanksgiving Side Dishes
When it comes to turkey, everyone is pretty unanimous. But which Thanksgiving side dish reigns supreme is often a hotly-contested topic: Do you prefer your potatoes mashed smooth, and creamy, or scalloped and roasted with cheese? Should your green beans have a fresh and crunchy snap, or are they better smothered in a green bean casserole?
Go for a variety of different sides, don't aim for all root veggies or all cheesy, variety is the spice of life and keeps the different family foodie factions happy!
Setting Up A Thanksgiving Buffet
If you are gong for a buffet style Thanksgiving, here are some ideas to help you out:
Decide what to put on the buffet table and what to put on the dining table.
Pull out your serving dishes ahead of time.
Put drinks on a separate table.
Determine the flow of the buffet.
Don't forget the trivets.
Label every dish that is served.
Top Tips For Thanksgiving Sides
Mix it up! Get a variety of different sides on that table!
Make as much ahead as possible.
It's not just the food that needs to be prepped. You probably are pulling out serving dishes that need to be washed, or extra silverware, or counting your napkins to make sure you have enough. Do all of that the week before.
Make your turkey a day ahead! What?? Madness surely! I know some people think "day old" isn't as good but, you know what? It is.
Be sure to check out these other ideas for Thanksgiving!
Be sure to drop me a comment and let me know if you plan on making any of these! Have you planned your menu yet?