(Today, we've partnered with Huhtamaki Inc. for the Chinet® brand to create this post! We hope you enjoy reading it as much as we enjoyed creating it!)
Here in the south, things are done a little differently.  People tend to move at a refreshingly slower pace.  They value big open spaces more than most.  There's also a lack of pretension around hosting that feels almost therapeutic.  It's fun to create and style beautiful tabletops, but I hope that those beautifully styled images would never keep someone from hosting their own party in their own way.  You don't need a big budget or elaborate tabletop pieces to create an atmosphere where guests feel welcomed and entertained.  On the contrary, sometimes those more relaxed atmospheres make for the best parties!  We partnered with the Chinet® brand to create this Texas Holiday Barbecue of my dream.  The best part?  Nobody has to do the dishes at the end of the night!  From setting the table to creating the menu and those final floral touches, keep reading for all of the details...
When we were imagining this most relaxed of party menus for our holiday barbecue, I knew I wanted something that felt authentic to our new home in Texas and something that anyone could create without spending hours in the kitchen or running back and forth to the stove after the party began.  The answer?  Barbecue!  Some of the best pit masters are here in Austin, Texas and it's an affordable way to do catering.  (The only question that remains is whether or not you classify creamed corn as a side dish or dessert.  It's just so good!)  In keeping with our effortless entertaining spirit, we skipped the fancy holiday cocktails and chose this holiday brew that reigns from just 90 minutes outside of Austin.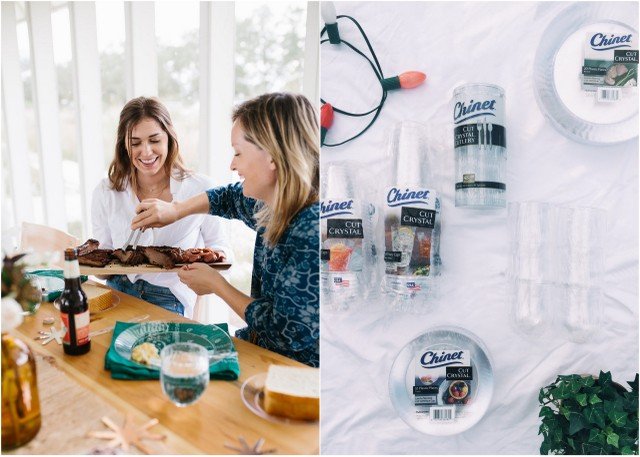 As for the tabletop, I love that the Chinet® Cut Crystal® collection has everything you need from salad plates for sides to large dinner plates, cutlery, stemless glasses and more!  It looks simple and chic and no one is stuck with a sink full of dishes at the end of the night.  We chose these green bandanas as an inexpensive alternative to cloth napkins and wrapped the cutlery in a simple piece of suede string.  Rather than one large arrangement, look for vintage vases or jars that you can group into three for a floral approach that's much simpler then stick with a single color palette and you can't go wrong!
Happy holidays, friends!  I would love to see the way you entertain in your home this time year!  Use the hashtag #effortlesschicentertaining on Instagram so we can check out your photos.
Photography by Katie Jameson
Venue for our Holiday Barbecue: Prospect House