When it comes to the general hierarchy of holidays the big ones tend to get all of the credit, but I'm a firm believer that it's those lesser celebrated, low maintenance holidays that are really where it's at! You know the ones-- they center around friends, food, fun, and don't involve a lot of fuss. It should come as no surprise, then, that Cinco de Mayo ranks among my top three holidays. (It's a close second to the 4th of July!) A holiday built on the three pillars of food, friends, and fun-- what's not to love?! Keep reading for a few of my tips on how to throw the most fun Cinco de Mayo party ever, while keeping it easy and stress-free!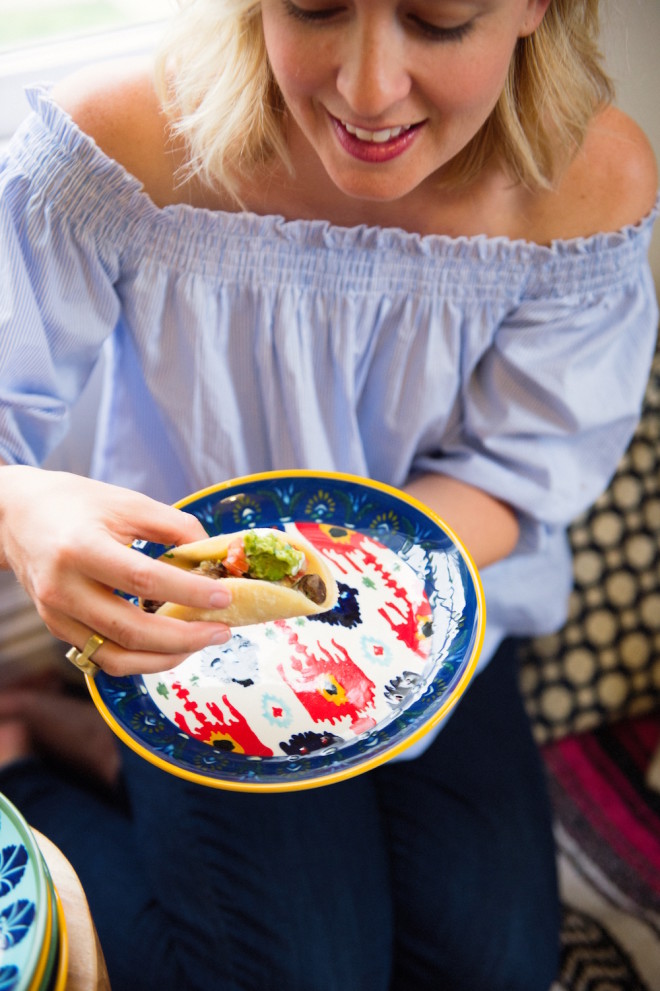 Tip #1: Choose just a few highlights. Highlights are to a party what accessories are to an outfit. They're the DIYs, more involved recipes, or decor items that will really catch your guests' eye. Like accessories, though, choose just a few. It will help keep you on budget and from staying up into the wee hours of the night hand tying DIY pom poms. For this party, my highlights were the round ice spheres for the Ginger Beer Margaritas, homemade Cumin Crema (my mom's recipe!), and these great Pottery Barn plates.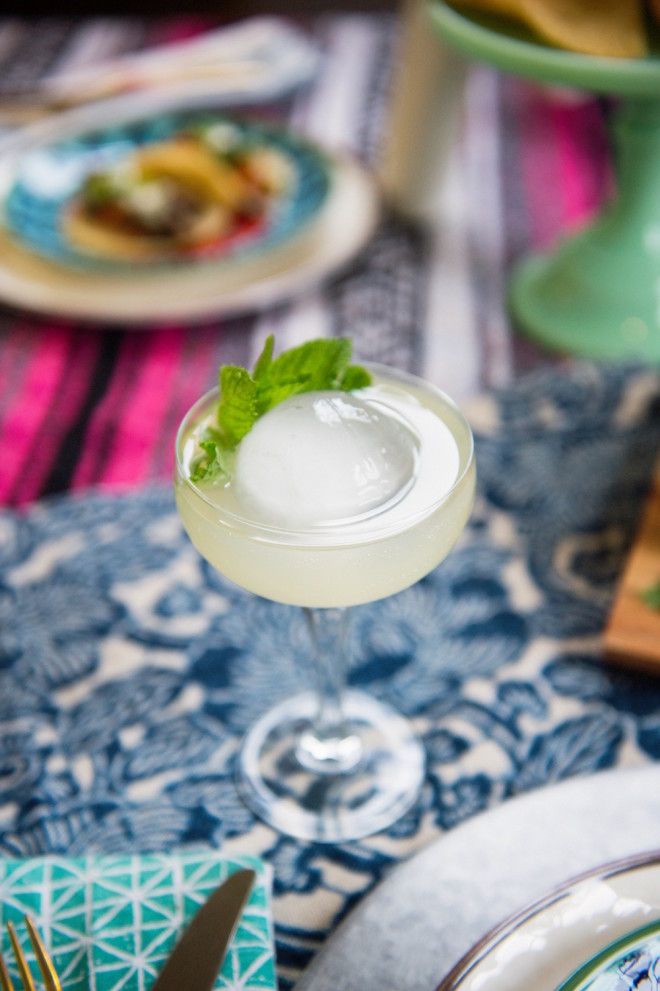 Tip #2: Don't be afraid to mix and match colors and patterns. Whether it's dinnerware, flatware or table linens, a set of 12 plates is way less interesting than a few different patterns that can be mixed and matched. The same goes for linens. Whether they're picnic blankets like our set up or tradition napkins placemats, think outside the box and have fun with bursts of color!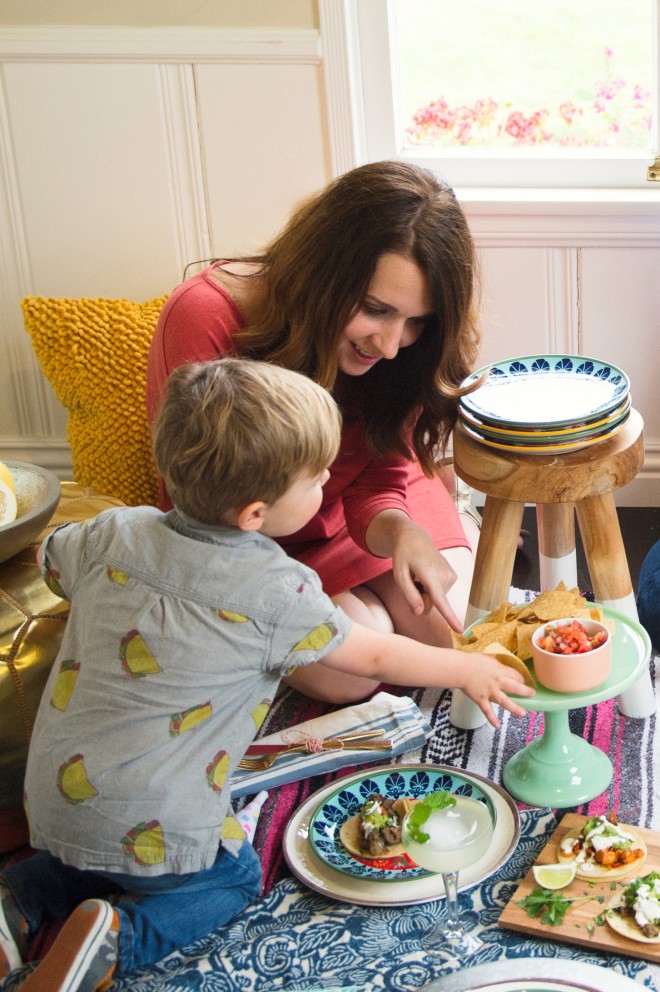 Tip #3: Let it go. Thanks to a Frozen obsessed toddler, this mantra is hard to forget! On the day of our Cinco de Mayo party it was pouring rain-- dashing any hopes we had of partying in the backyard under the twinkle lights. Instead, we moved the dining room table into the living room, threw down all of our favorite blankets and had our own version of a picnic. The kids thought it was especially fun! Something unexpected is bound to arise when you're hosting, just go with it and learn to make the best of life's little curve balls.


In keeping with our love of low maintenance holidays, these are the most delicious and totally low maintenance margaritas!
Ginger Beer Margarita Recipe
What You'll Need:
-one ice sphere per glass
-ginger beer
-silver tequila (clear in color)
-lime juice
-optional mint for garnish
In a glass with an ice sphere, combine 1 part lime juice and 1 part tequila for every 2 parts ginger beer. Garnish with mint.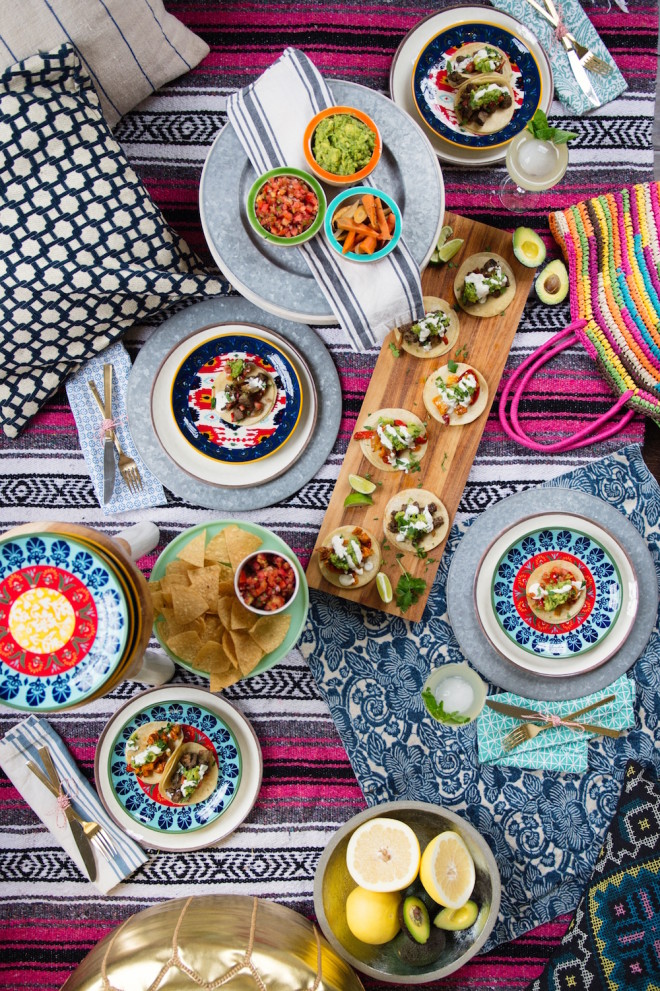 What are your best easy entertaining tips?
Rosalita Patterned Plates || Dinner Plates || Galvanized Chargers || Serving Platter || Set of 3 Wood Bowls
Photography by Amanda Gallant
Styling by Kara Elise
This post was sponsored by Pottery Barn!  Thanks for supporting the brands that help us create yummy margarita recipes for ya!