I laughed, I cried, I wore the same 36 pieces for the last two months.  This capsule wardrobe experiment will go down in Effortless Chic history as one of the best things I have ever done personally on the site, so it seemed necessary to pay homage to it in one final round up.  Here's what I loved, what I would do differently and my thoughts on the whole concept.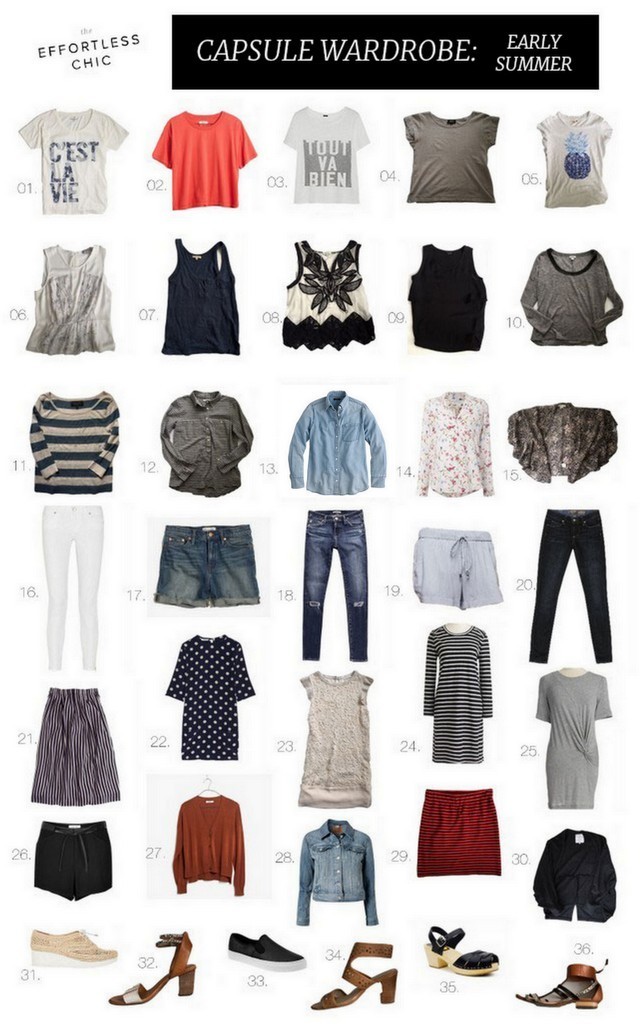 These were my 36 pieces.  I wore the whole first row (items 1-5) the most by far.  You just can't go wrong with a great tee.  This was my capsule from May 15th-July 15th.  It got hot so quickly that I wore numbers 30 and 11 just a couple of times.  As for number 12, I rarely wore it.  Not because a button up shirt isn't practical, but because the fit and color of this just isn't great.  I'm on the hunt for another one-- cotton, casual, but possibly with some color and just a better overall fit.  Steven Alan is my fave hands down but not sure that's in the current wardrobe budget.  I felt like there was a good variety within the shoes that I chose, but I did from time to time venture out and wear others just because I felt like switching it up.  If I did another capsule wardrobe I might just wear any of my shoes throughout.  It's not like I pack them away to another place anyways and I don't purchase them frequently enough that it impacts my shopping habits.
Here's what I loved:
It made me think twice before buying anything new.  For starters, I knew I couldn't add it to my existing capsule so it would be awhile before I could wear it.  And each piece begs the question, " Would I want to wear this for the next 2-3 months on repeat?"  If it's not totally perfect (i.e. fits great, flattering color, works with what I already own) then it's not really worth the purchase.  I got rid of so many clothes during this process that it really made me think about making any new purchases.
Speaking of new purchases, it did open my eyes to what I wear the most and the holes I have in my wardrobe.  I wear t-shirts constantly.  I wear them with jeans, I wear them with skirts, I layer them under jackets.  A good tee will always be a worthwhile wardrobe investment for me.  I am also at a loss for that perfect drapey cotton dress that doesn't look like a potato sack, but is conservative and casual enough for park playdates and general errand running.  I'm on the look out and will let you know when I find said perfect dress.  Any suggestions?
I also learned the importance of a few great accessories.  One great long necklace to break up a t-shirt or dress.  A couple of great hats to rotate that make things look a little different and more styled than they would on their own.
Would I do it again?  I'm thinking from here that I will continue with some of the same principles, but not limit myself to a specific number of items.  It was actually a lot of work narrowing down the items and packing away the others.  Plus, there were a few things I missed.  It kind of feels like when you do a strict diet for a certain number of days and then afterwards  you adhere to some of the things you learned or that worked really well for you, but you also give yourself more slack.  As I mentioned in this post, I fully intend on being a more thoughtful consumer.  Also, it was fun to re-work things in new ways, but it felt a little monotonous posting the same items here on the site.  Did you feel that way?  I'm sure I felt it amplified since I was also wearing them every day.
Would I recommend it?  YES!  Like I said before, it was one of the best things I have ever done!  It forced me to get rid of so many unnecessary things and completely rebuilt the framework with which I view new purchases.  I learned new ways of putting together things I already own and my closet looks absolutely amazing with so many fewer things hanging from it.  My clothes don't even touch which has kind of always been my closet dream!
For more details on each item above, see this post.
Thanks for following along over these last two months and for all of your comments along the way.  It seriously kept me going!  I would love to know your thoughts on this whole experiment...
All photos by Mary Costa