It has been so fun reading all of your comments on my capsule collection posts here and here!  To be honest, I was getting a little bored of the same style posts week in and week out so it's been really fun to shake it up a bit and really focus on simple, every day looks instead of finding the next giant patch of bougainvillea to shoot in front of!  Ha!  Some of you asked how I decided on these 36 pieces so I thought I would break that down.  Not that there is only one right way to do it, this is just how I did and it seems to so far be working.
I first started by pulling out the things that I was already wearing on a really consistent basis-- my J.Crew midi skirt, this rust-colored cardigan and my favorite shoes were some of the first to get their ticket into the collection.  Then I started imagining the things I do every day and would need to be dressed for.  What did I want to wear to the park with Parker in the afternoons?  The farmers market on Sundays?  What about when I was styling on set or running around prepping?  I started putting together looks for those things.  Lastly I filled in the holes.  What jeans should I include?  What other shoes?  What if it's a little chilly in the mornings or evenings?  What about church on Sunday?  I didn't really have a number I was aiming to hit, but when I finished all of this I was at 36 and figured that sounded about right.  Have you guys used a different process?  I would love to know what works for you as I am a total capsule wardrobe amateur.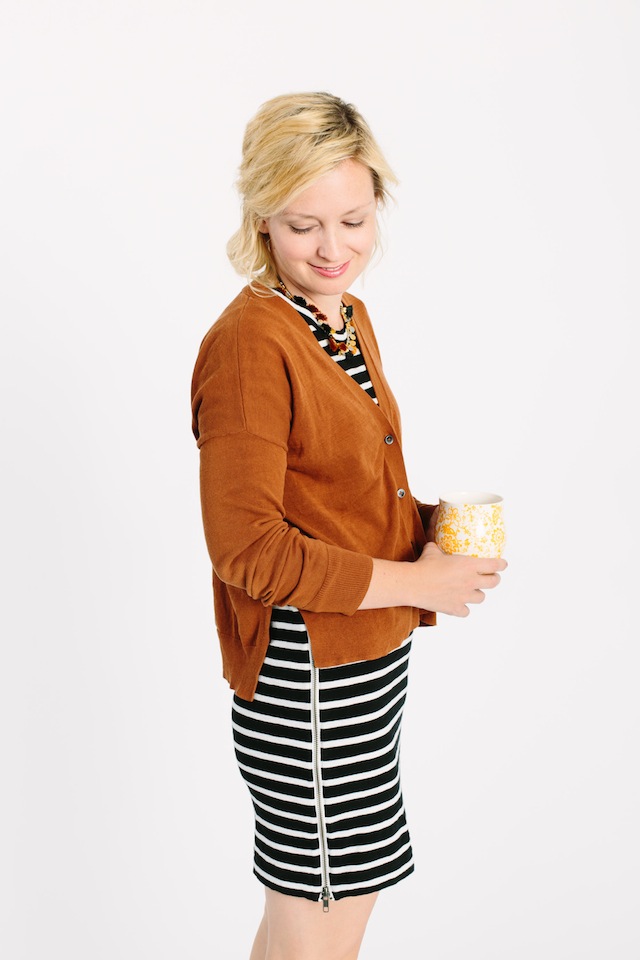 I picked up this dress at J.Crew in Austin when I was styling for Noonday and have worn it nearly a dozen times since!  Stay tuned for outfit number two on Wednesday!
Mug from Anthropologie / Necklace from Madewell / Cardigan from Madewell / Dress from J.Crew
Photography by Mary Costa