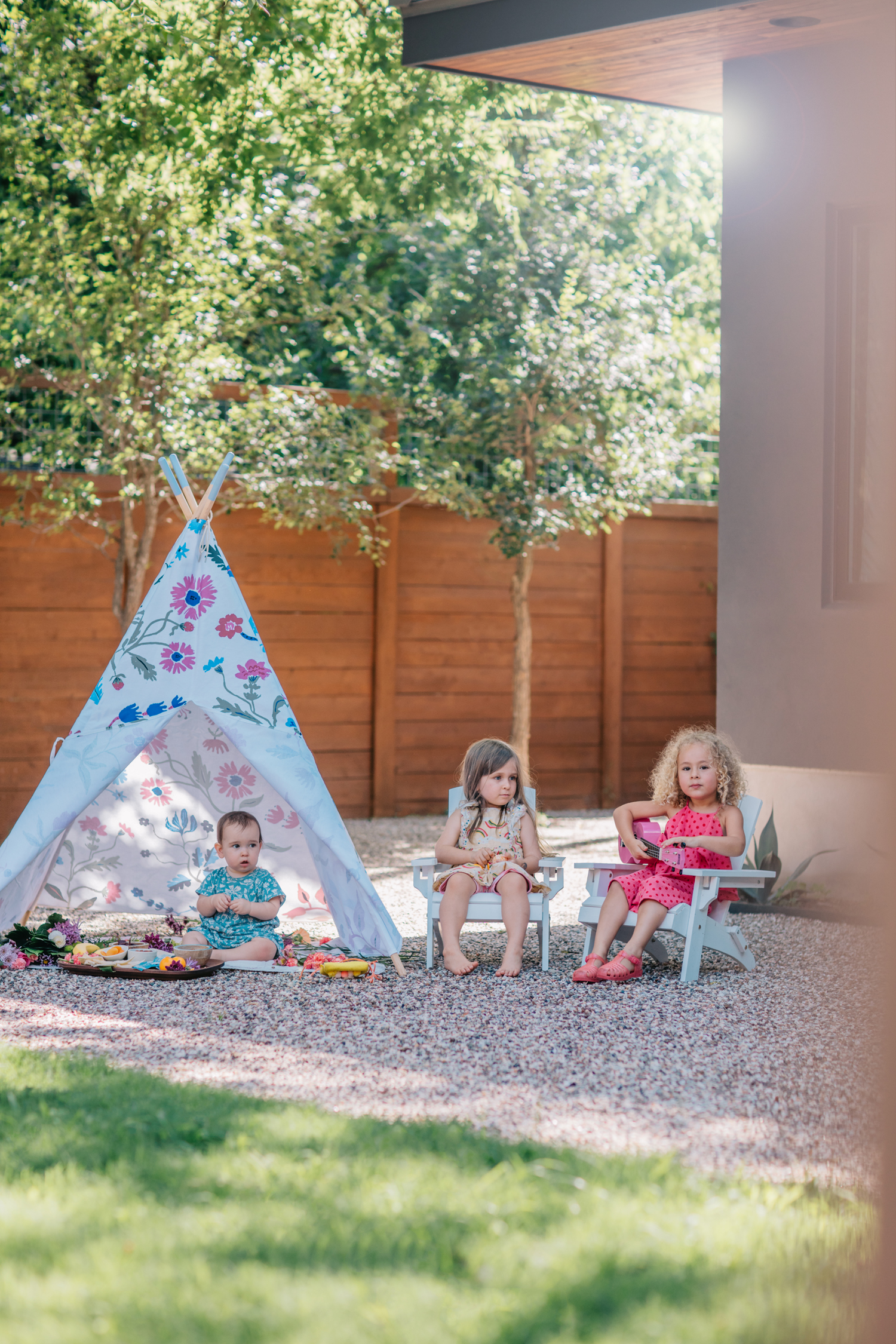 The beginning of summer went off like a short distance runner out of the blocks. Summer bucket list items were getting checked off faster than you could scream #bestsummerever and we had the tan lines to prove it. A few weeks into June and just a few visits away from being Deep Eddy's (our fave Austin pool) most valued customer, I wisely realized that summer is a marathon, not a sprint, and that we could have some pretty fantastic fun in our own backyard. If you know me, you know that simple entertaining with friends is one of my favorite things -- especially when my kids get to have fun, too. We partnered with Lorissa's Kitchen today for some easy, impromptu summer play date inspiration.
Here's our current recipe for summer backyard fun: Put the kids outside. Give them some things to play with. Provide them with healthy snacks so they can graze while they play. Try to stay out of their way. Turn on some music. Pour yourself a glass of rosé.
On this particular day, we needed to go to the grocery store anyway, so I let Parker pick out a few bunches of flowers from the $3 bin and she felt like she had won the lottery. Few things are better to a four-year-old than an armful of fresh flowers (actually, I think that's true at any age).
We anchored this kid-friendly snack board with delicious Lorissa's Kitchen meat snacks. All of the snacks are made with 100% grass-fed beef or chicken raised without antibiotics. All of which are free from unnecessary additives like growth hormones, MSG, nitrites, and are gluten free.  Next, I added fruits, nuts and tortilla triangles for easy grazing that I knew they would love and wouldn't make a huge mess.
Parker and Vivian spent the afternoon putting the flowers together in different bouquets, picking their petals and letting them fall from their hands like confetti, and finding ways to put them in Vivian's sweet curly hair and Parker's pigtail braids. There was an impromptu sing along and serious talks had over meat sticks about the differences between bird and butterfly wings.  At the end of the afternoon, they came in with warm rosy cheeks, balmy temples, and smiles from ear to ear. It was easy clean up and I made sure to pack away some extra Lorissa's Kitchen meat snacks in my purse for whatever tomorrow's adventure might be…
Interested in trying Lorissa's Kitchen meat snacks for yourself? Use the code 20OFFLK for 20% off Lorissa's Kitchen products on Amazon.com
(This post is sponsored by Lorissa's Kitchen.)
Photography by Aaron Pinkston