04/25/2018
(This post is sponsored by Aera, a brand that is reinventing the way we experience scent at home!)
If you've been a part of this community for awhile, then you've definitely heard me wax poetic about how I want our house to feel.  There's something about the long, sometimes arduous process of building from scratch that gives you plenty of time to think about things like how you want your house to look and feel and smell even.  What's the vibe?  I've always wanted our house to feel like a retreat, a place of calm… which is sometimes easier said than done with two little kids. I'm embracing simplicity more than ever as we slowly decorate this new space.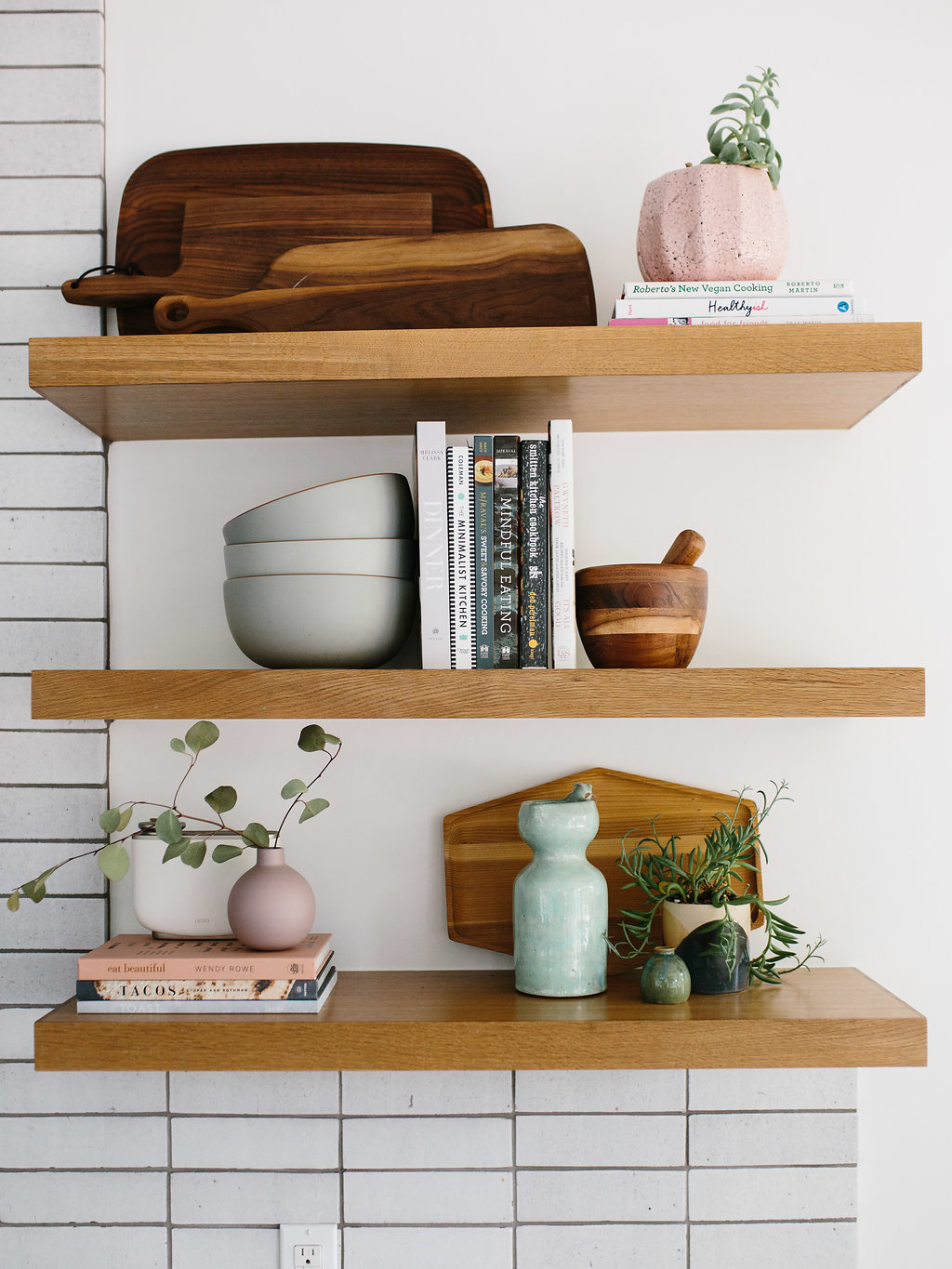 My relationship with Aera would be best described as love at first sight.  Its chic, modern, and small design means that it can blend effortlessly into any room.  We brought in my friend and interior designer extraordinaire, Shannon Eddings, to style our kitchen shelves three different ways using Aera because I knew it was going to be with us a long, long time.
How do I want our home to look? Uncluttered.  Like every object is in it's place intentionally. How do I want it to feel? Warm, inviting, and comfortable.  How do I want it to smell?  Like you just walked through the English countryside—clean, slightly floral, light, and so good.  When I heard that Aera has a 'Simplicity Collection', I knew the likelihood of me loving it was high.
The White Tea is my favorite scent so far from the Simplicity Collection.  It's really light and fresh and totally nails my English Countryside scent goals.  You can adjust the setting the Aera diffuser for the size of your room which is so nice.  It's also super simple to use—no measuring of water or refilling. I have had the same scent capsule for over two weeks now on the highest setting and our house smells so good!  If you do need to adjust the settings, you can do so using the AeraforHome app on your phone or the simple controls on the diffuser.  It's super low maintenance.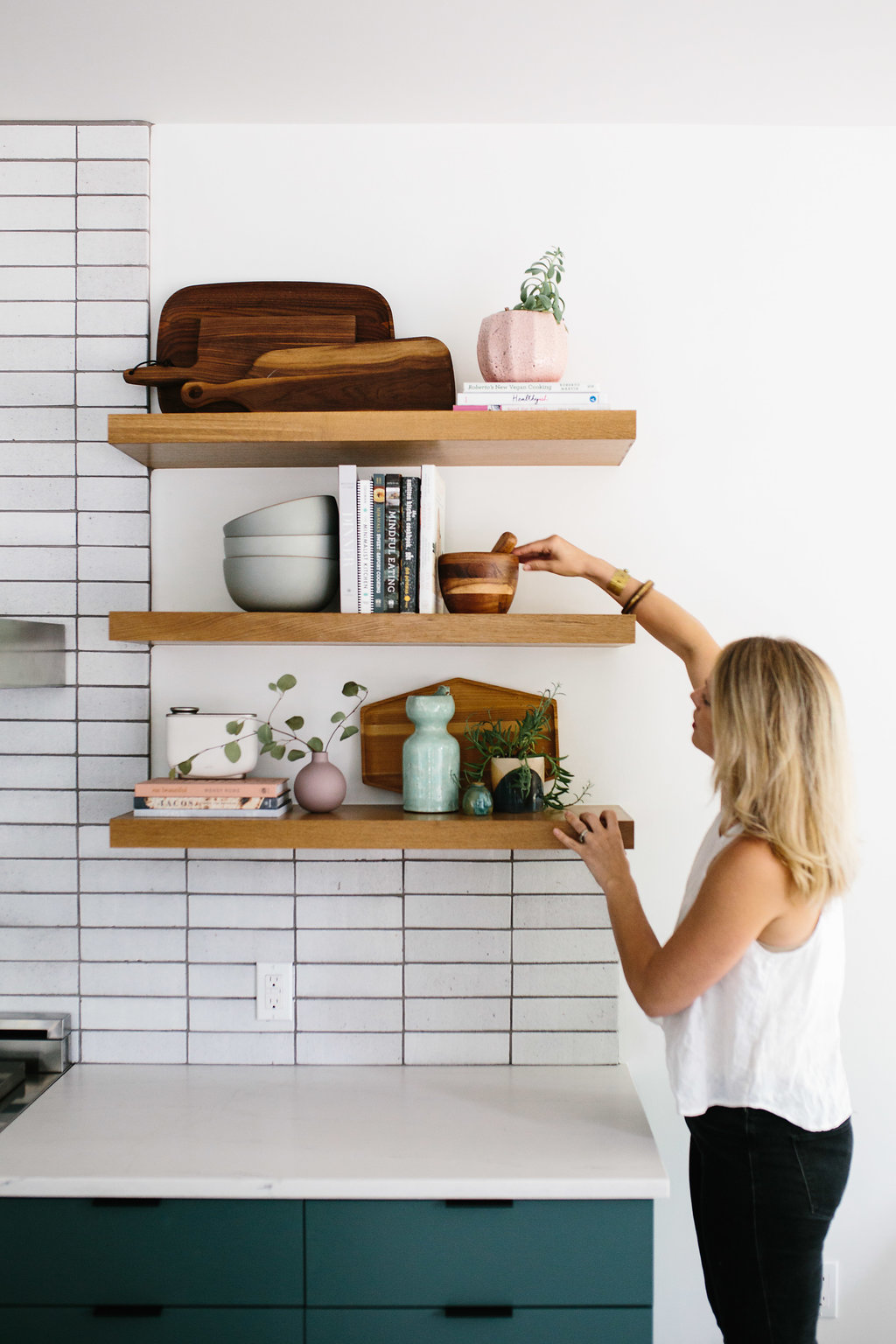 Looking to simplify the décor in your own space?  Here are 5 Simple Shelf Styling Tips from Shannon:
1. Location: Where are your shelves? Bedroom, office, kitchen etc? Take this into account when selecting what type of items to put on the shelves. These shelves are in the kitchen so we kept most styling elements to serving pieces / cutting boards and vases alongside pretty cookbooks.   In a living room I would do more art and design books peppered with quirky flea market finds and the everyday Emmy trophy 😉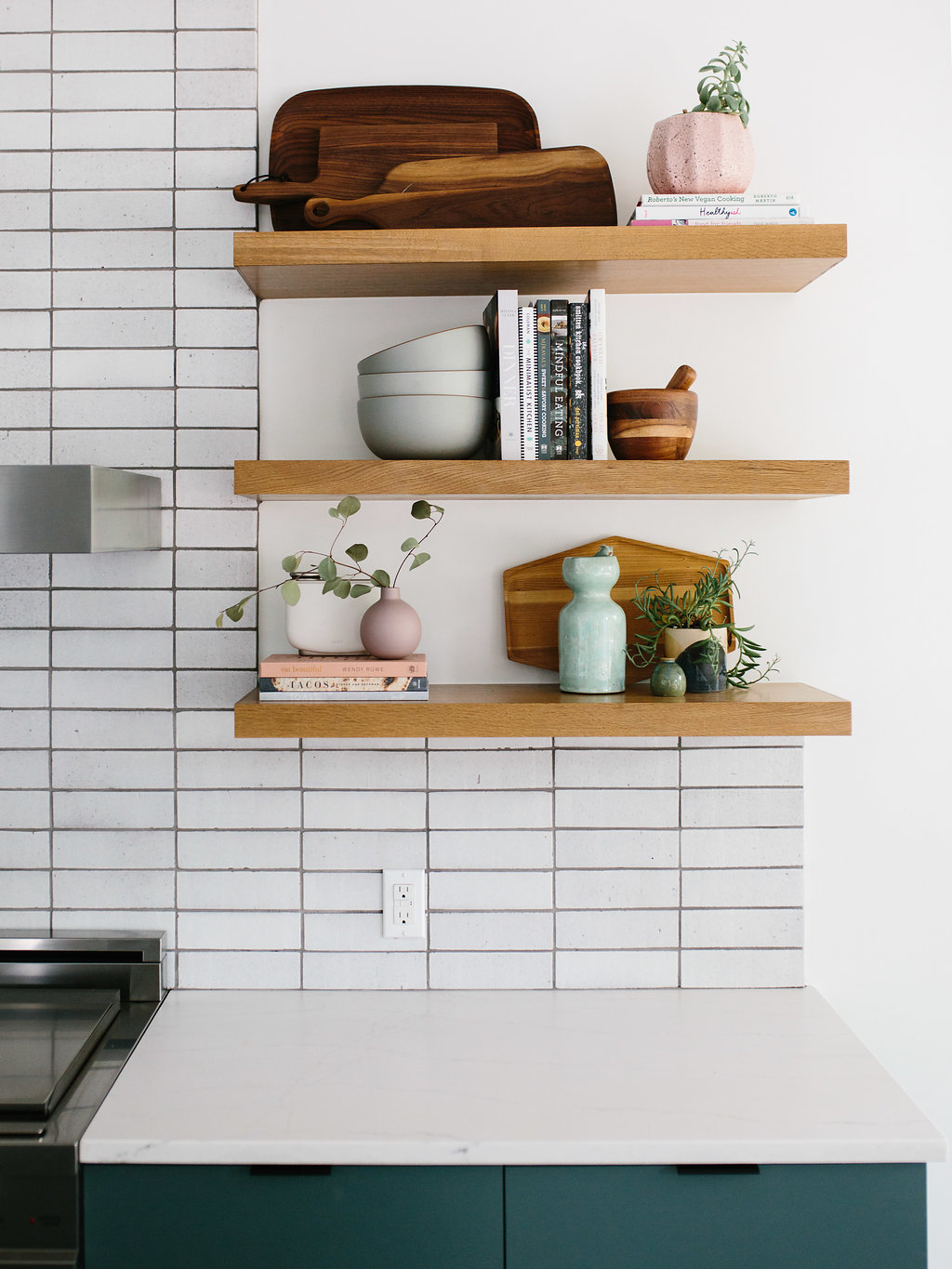 2. Shape and Size: Group books together, tall items, short items, etc. This helps determine whether you need to diversify and find more items of a smaller or bigger scale. Then I always start with books.  They are my base layer.  Then larger items. And last come the small items.
3. Color and Style: It's cheesy and perhaps a bit overdone but grouping things into colors before starting the styling can really help keep the look cohesive while still achieving your 'look' whether it's Scandinavian, Eclectic, Black and White or Minimalist.
4. Edit: I tend to overdo shelves at first and then stare at them awhile before removing things. Strip the shelves down to items that have meaning and make you smile. Restraint is essential in having perfectly (but imperfect of course ) shelves.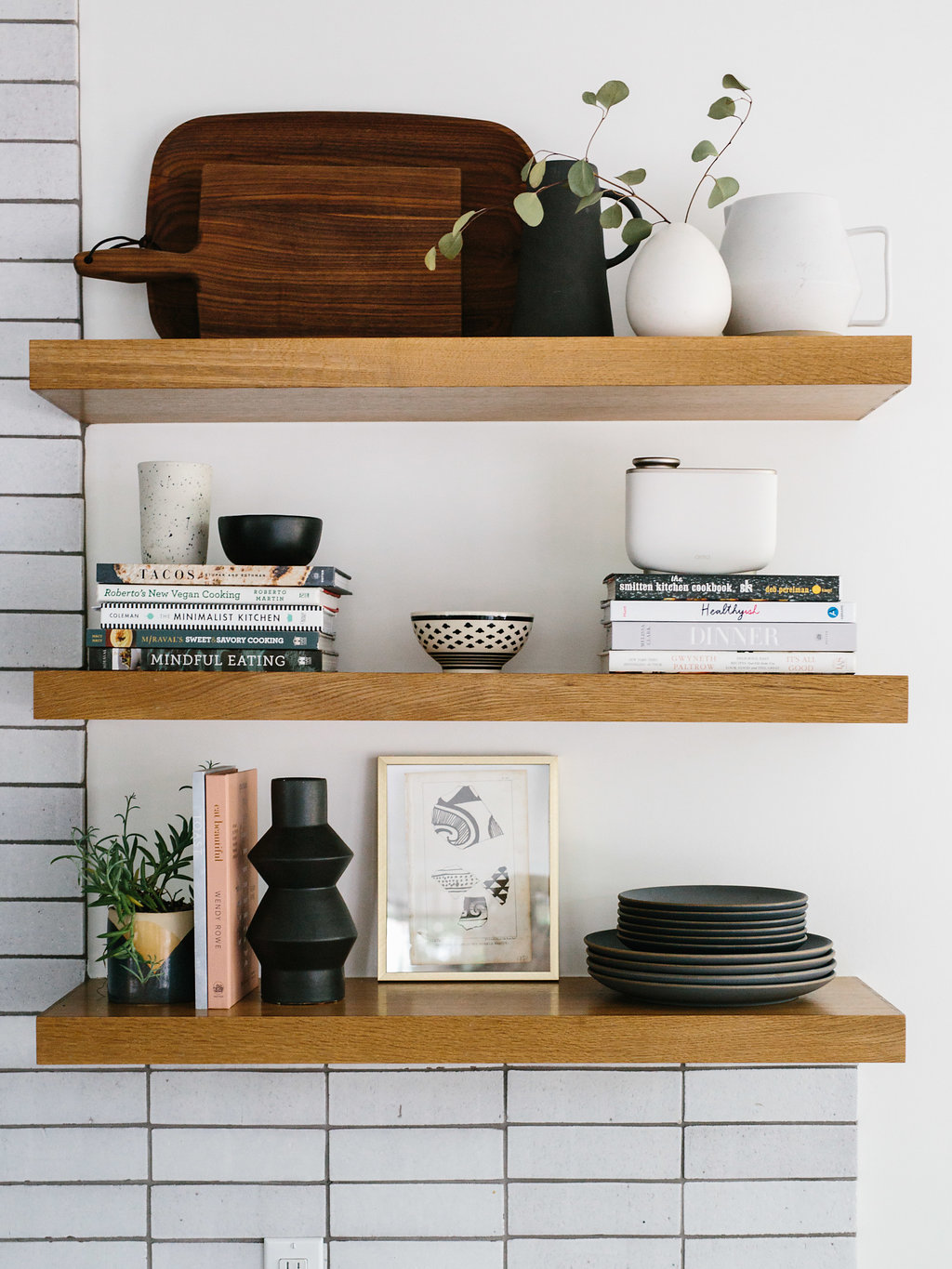 5. When in doubt, hire a professional!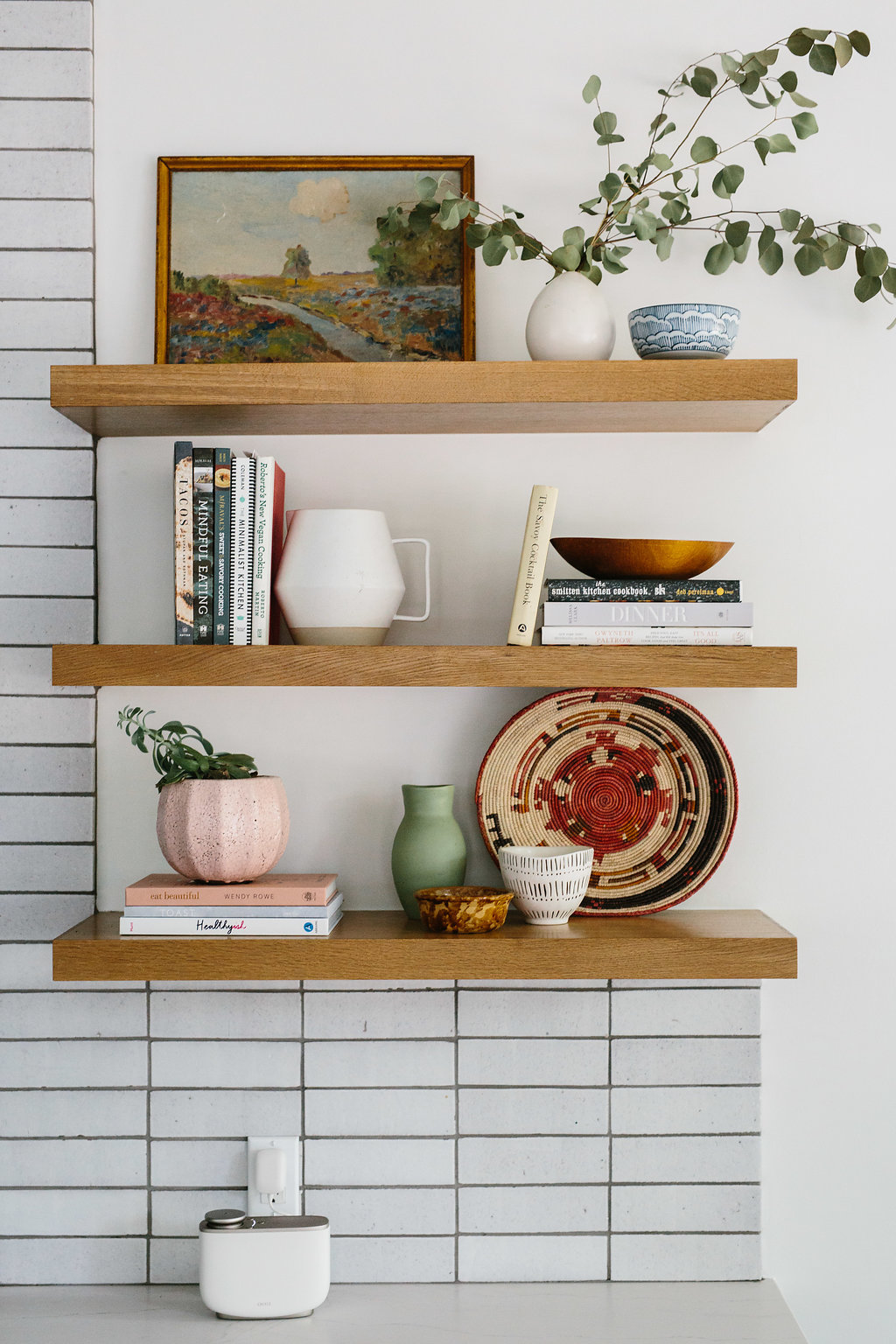 Ready to give try Aera for yourself? I seriously can't recommend it enough!  For more ideas on how design can impact your day for the better, join in on Aera's 30-day Simplicity Challenge, which focuses on how to simplify areas of life including home, relationships, career, and health! Aera will be inviting followers to share their progress during the challenge by tagging Aera and using the campaign hashtag #AeraSimplicityChallenge. Head here to learn how to participate and to enter their HUGE giveaway of some incredible simplicity products and services. And to get Aera even sooner, head to their site and use the code EFFORTLESSCHIC15 for 15% off all Aera products from now until June 30, 2018!
How do you want your home to look, feel, and smell?
Photography by Katie Jameson