I love this time of year, it's starting to cool down a little but it's still pretty warm out. I'm all about comfort this time of year and I need an outfit to match my Thanksgiving travel plans.
Parker and I are hopping on a plane tomorrow to meet Aaron in Maryland-- likely our last trip of 2016-- for Thanksgiving.  Exactly three years ago we were there when I was five months pregnant with Parker, so it's strange to think how much has happened in that seemingly short span of time.  (We now have a walking, talking two and a half year old and are residents of Austin, Texas.)
I'm really looking forward to slowing down for the week, going to a yoga class or two, taking Parker to the Natural History Museum in DC and to the steak and crab cakes that Aaron's family eats in lieu of a traditional turkey on Thanksgiving.
What are your Thanksgiving plans?
Any off-the-beaten-path traditions?  No matter what your political feelings, it's been a tumultuous month for our country.  Sending everyone a lot of love and light and hoping that everyone finds a welcome seat around a table with friends or family this Thursday.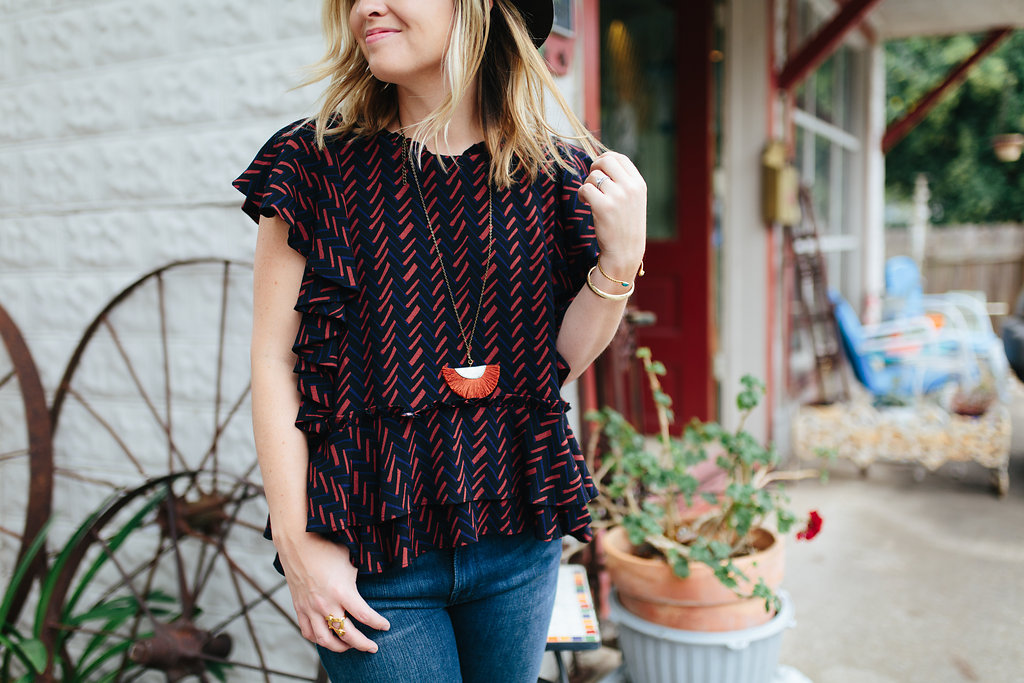 Top, Apiece Apart || Jeans, Joe's (Similar) || Necklace, Noonday || Hat, Madewell || Shoes, Paloma Barcello (Similar + Similar + Similar)

Photography by Katie Jameson
Location: E. 6th Street Relics & Antiques in Georgetown
Jeans are the perfect fit for my Thanksgiving plans
When the temperatures start to drop I always reach for a trusty pair of jeans. They're perfect to keep the chill away and still look stylished paired with a pretty top and accessories.
A hat is a fall must!
I'm so in love with this hat! A chic hat is the perfect accessory to transition from summer to fall and I think it's a great way to really pull an outfit together.
Is travelling in your Thanksgiving plans?
Are you travelling this year? If you are hopping on a flight, be sure to dress comfortably. These shoes are perfect for flying, not to high and easy to slip off if you so wish! I like to let my accessories do the talking when travelling, they're an easy way to look put together with little effort!
Be sure to check out some of my other fall fashion top tips!
I'd love to hear what your plans are for this fall! Be sure to leave me a comment down below!