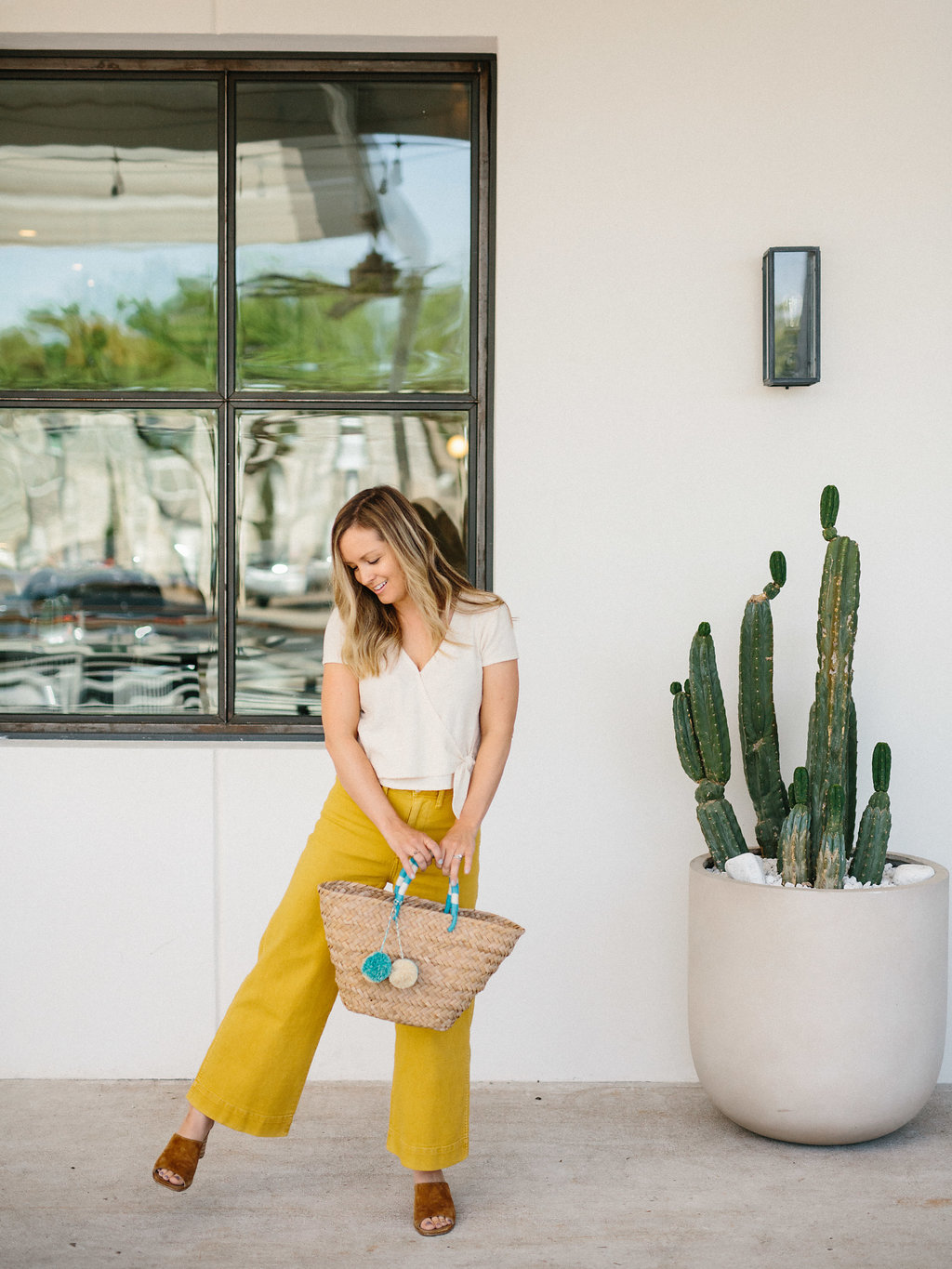 We are back from California! It's been 24 hours and I've been catching up on work whilst buried in the largest pile of laundry you have ever seen and also mentally sorting through all of the fun that I had with the girls that I'm trying to lock permanently into my vault of precious memories.  It was such an adventure and I'll definitely share more details on the trip here next week.   My brain and body are both a little sleepy at the moment, so forgive my stream of consciousness writing this morning-- I didn't want to wait another day to pop in and say hi, hello, I'm back!  I wore this exact outfit two days in a row on our trip, so figured it was a fitting post.  I have been gravitating towards all things yellow for some time now, and had to have these pants the moment I saw them... they're almost identical in color to the dress from this post!  Your thoughts on yellow in your wardrobe? It feels like a very polarizing color. You've got to either love it or hate it.
yellow pants, madewell || tie front shirt, madewell || woven bag, kayu (ON SALE!) || shoes, (similar + similar)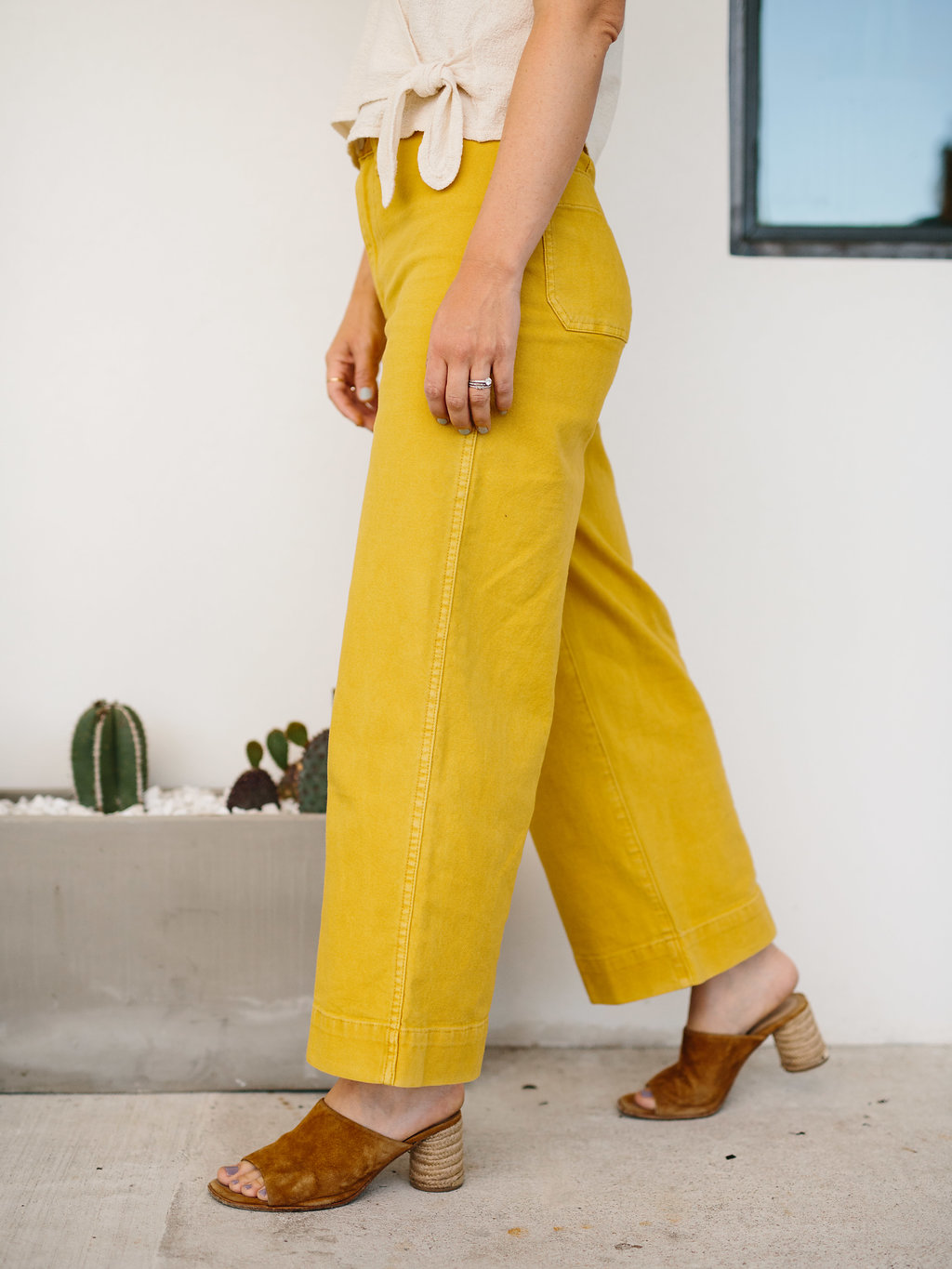 I'm contemplating whether or not I should buy this top in more colors.  It's easy to breast feed in. I usually wear a nursing tank under it so that the top acts as a nursing cover, but it's also easy access without a nursing tank.  You guys, I wear so much white and cream these days. It's totally counterintuitive for a mom of a preschooler and infant, but I just can't stop gravitating towards it.  Can't stop, won't stop.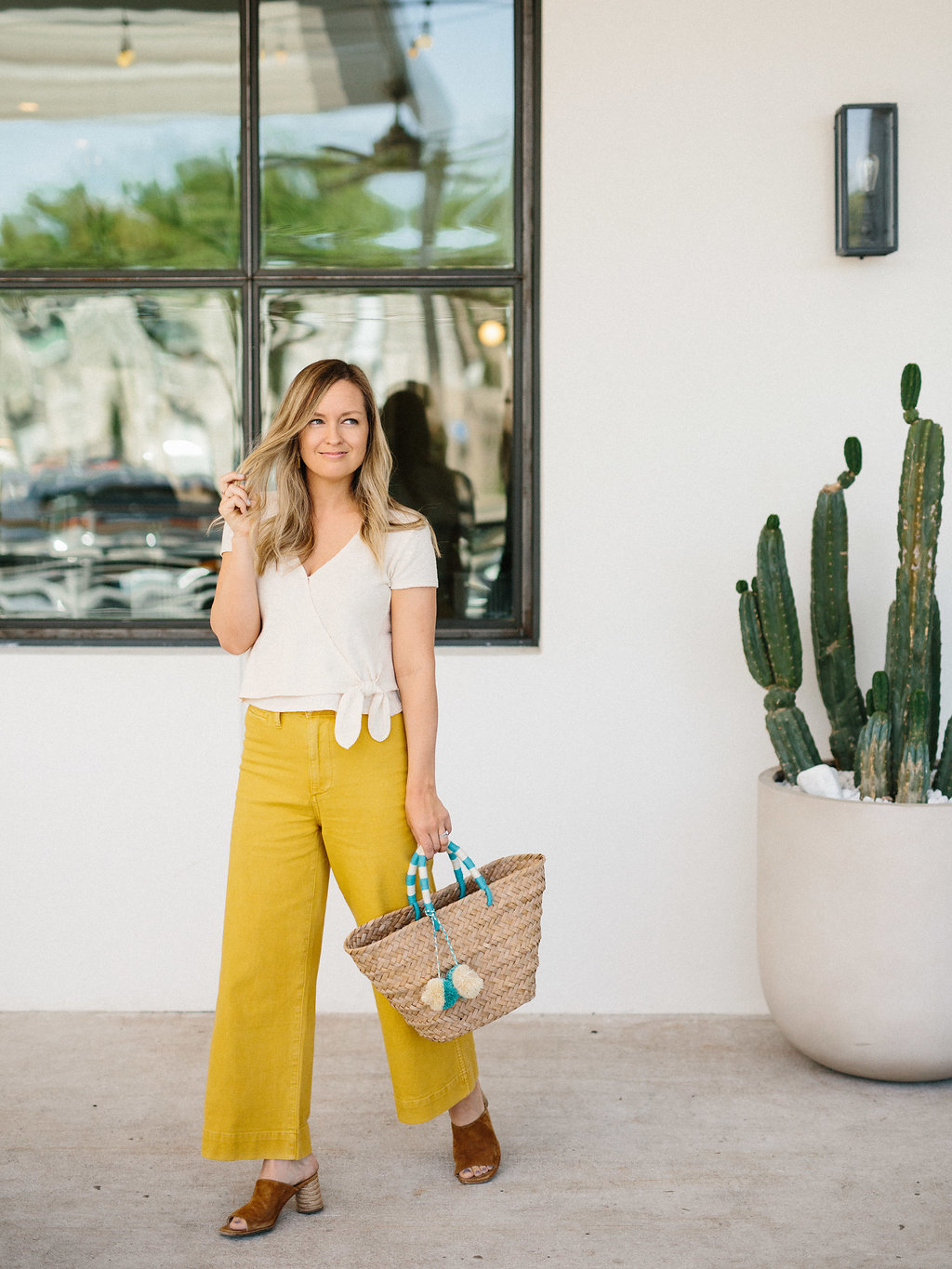 Do you have weekend plans? My brain is a little fried, but hoping a good night's sleep will cure that.  My sweet cousin is marrying the sweetest gal so we get to celebrate them all weekend long and I'm pretty excited about it! (Plus, CAKE!) Be sure and check back here tomorrow, though, as I'll finally be sharing the recipe for the Blood Orange margarita that I spent way too much time and tequila perfecting-- ha!
Off to re-charge, catch up, and likely fold a little more laundry... le sigh!
yellow pants, madewell || tie front shirt, madewell || woven bag, kayu (ON SALE!) || shoes, (similar + similar)
Photography by Katie Jameson 
Location, Hank's