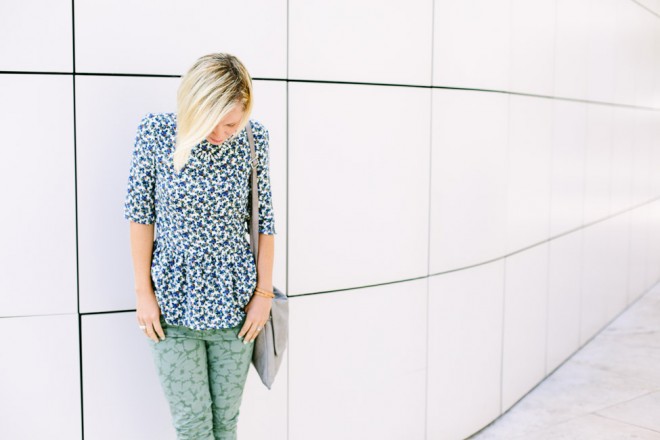 When I was in high school, the idea of moving to the east coast, attending a small private, liberal arts college and becoming an art student seemed like the best possible thing one could choose to do with their collegiate career.  I imagined myself hunkered down in a studio surround by canvases and paint brushes, wearing navy cable knit sweaters while it snowed outside.  This dream was obviously limited by my almost total inability to gracefully wield any kind of paintbrush or other artist tool, but my fascination with art hasn't waned a bit.  Whenever Aaron and I travel, I always spend one afternoon winding slowly through the halls of the city's best museums, while Aaron roams the town taking photos.  Some of my favorites have been the National Gallery in Washington DC, the Picasso Museum in Barcelona, MoMA in New York, and MoCA in Shanghai.
While fashion may not be a classical form of art, it is no less creative or expressive, don't you think?  Yesterday, I was over on Camille Styles talking about the genius that so many costume designers and stylists create for their performing artists at events like the VMAs and Grammys.  They tell the most detailed stories just through the wardrobe.  Personal style isn't all that different.  What a person wears, can communicate volumes about who they are as an individual.
Yet another wonderful thing about living in Los Angeles, is that you don't have to travel too far for a great museum.  The Getty is one of my favorites.  The museum itself is just as spectacular as the masterpieces inside.  The juxtaposition of the strong, straight lines with overgrowing flora and fauna sort of reminds me of this look, don't you think?
Top, Zara / Pants, Gap / Bag, Purchase in Italy / Shoes, Anthropologie / Necklace, Realia by Jen
Photos by
Mary Costa