12/12/2018
Happy Holidays friends! It's such a fun time of year to enjoy family and friends. And hopefully, if you're hosting you're not overwhelmed by the idea of feeding a crowd. It can be hard to come up with easy but creative ideas. But no need to stress my friend, I (Lauren) have got the perfect, easy main dish with this stuffed pork tenderloin recipe.  It's not just any kind of stuffing either. This Apple Chutney Stuffed Pork Tenderloin is such a crowd  pleaser. You may be thinking, I don't love chutney… or possibly, what is chutney? As a condiment, chutney may sound exotic, but put simply (and made a bit more americanized) it's just a combination of delicious fruits and vegetables, combined with spices and cooked down into a salsa like a bite of savory, spicy and sweet.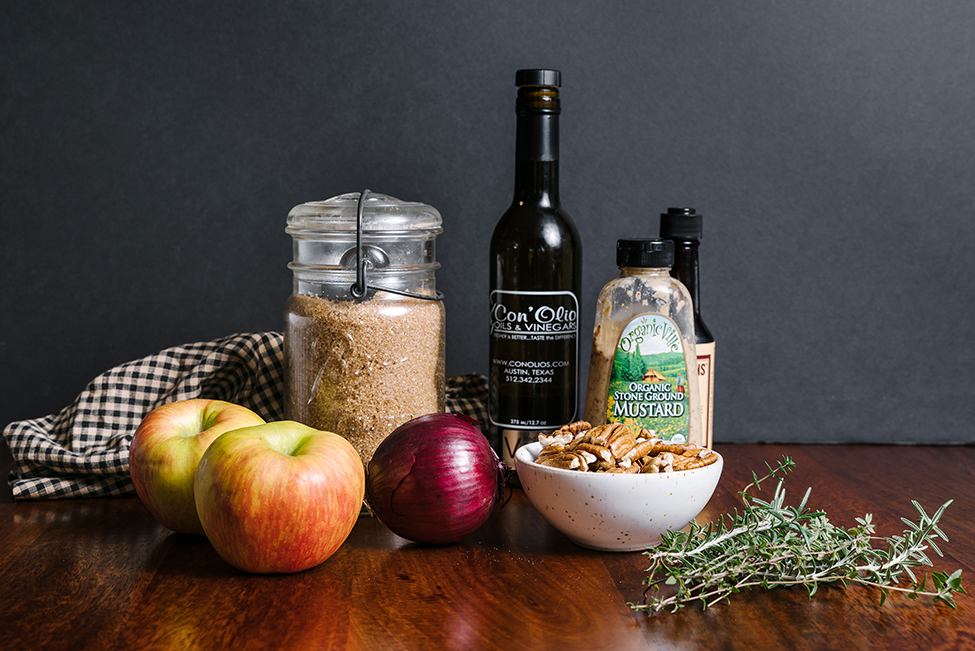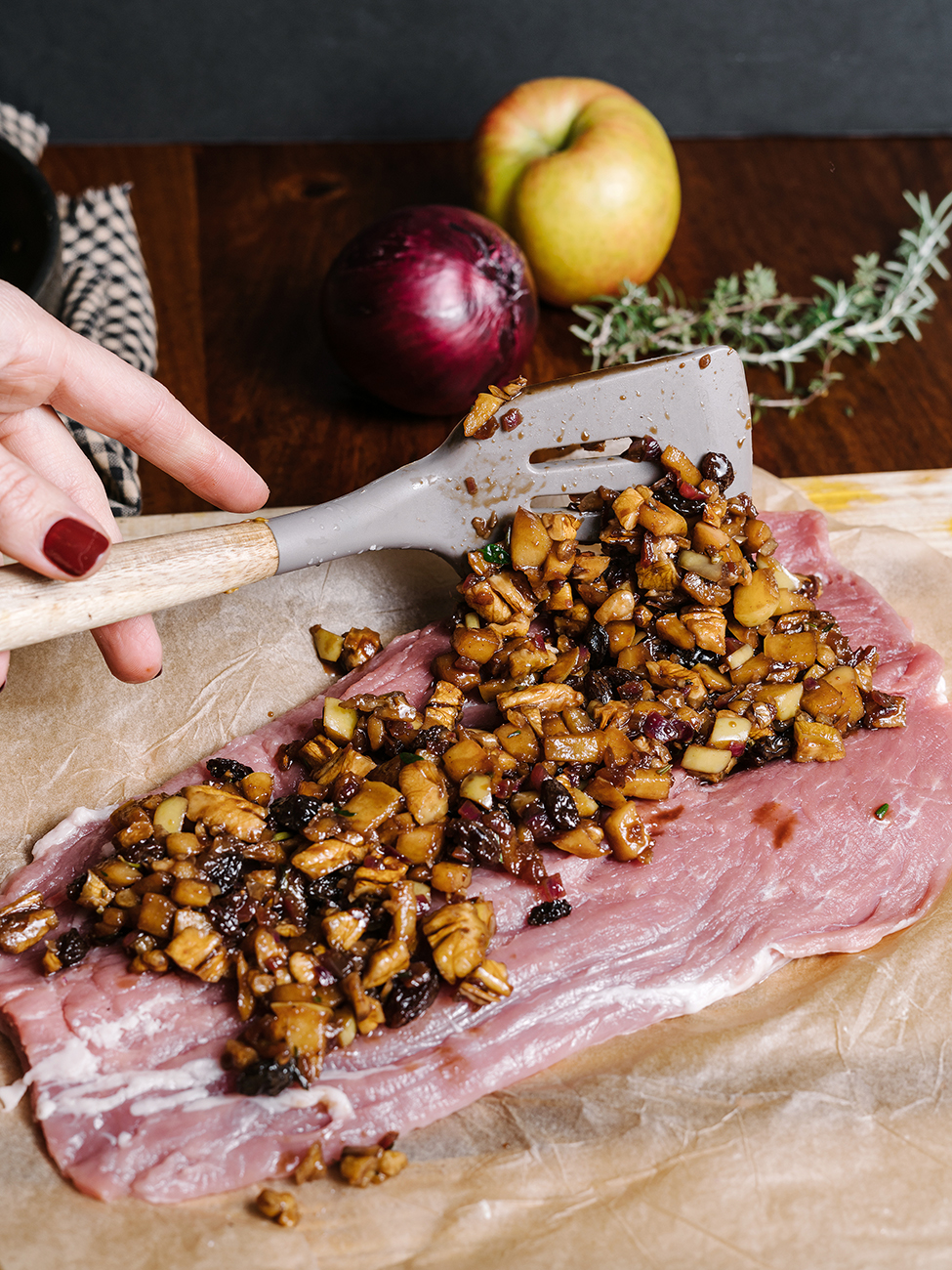 Chutney originates in the Indian culture as an accompaniment to fragrant curries. The original chutneys were made with mangoes, papayas, citron, kumquats, ginger root and other ingredients unique to the Indian climate. Once American cooks began playing with the recipe it became more adapted to our available ingredients. Americans incorporated peach, pear, apple and green tomato in chutney at harvest. Today, various versions and even consistency are made across the globe. I like to compare this version for our stuffed pork tenderloin recipe to a pico de gallo.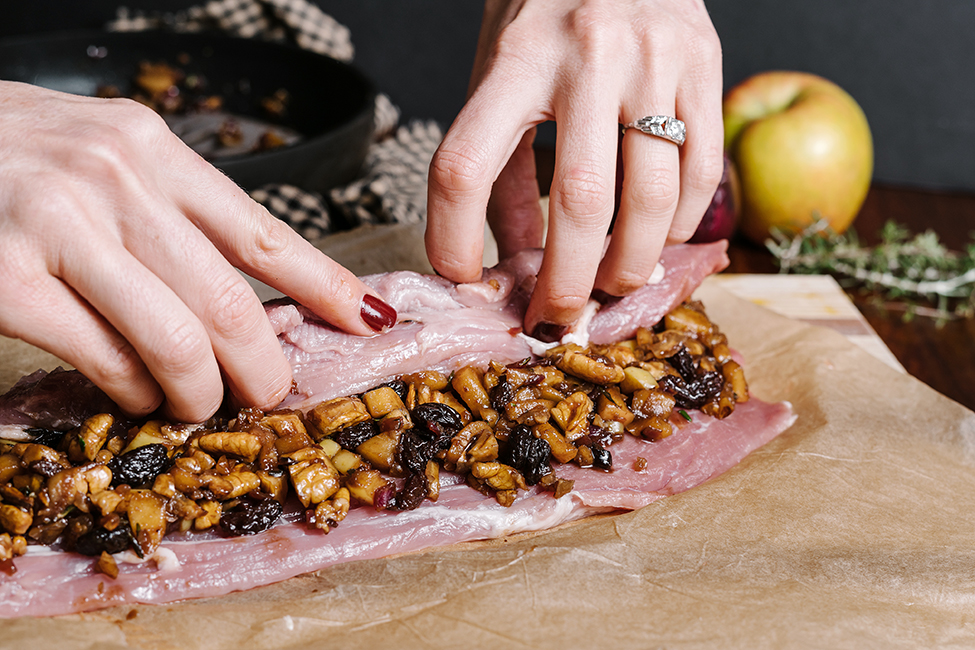 This stuffed pork tenderloin recipe is a crowd pleaser for a few reasons. My first and favorite reason is for the host, it's easy to prep. You can make this the day before your party or family gathering, place it in the fridge and then heat up your oven and place your already rolled, marinated dish in the oven. Anything you can prep ahead of time is always a win around the holidays. Plus, this stuffed pork tenderloin recipe makes two tenderloins so you don't have to worry about running out of your main.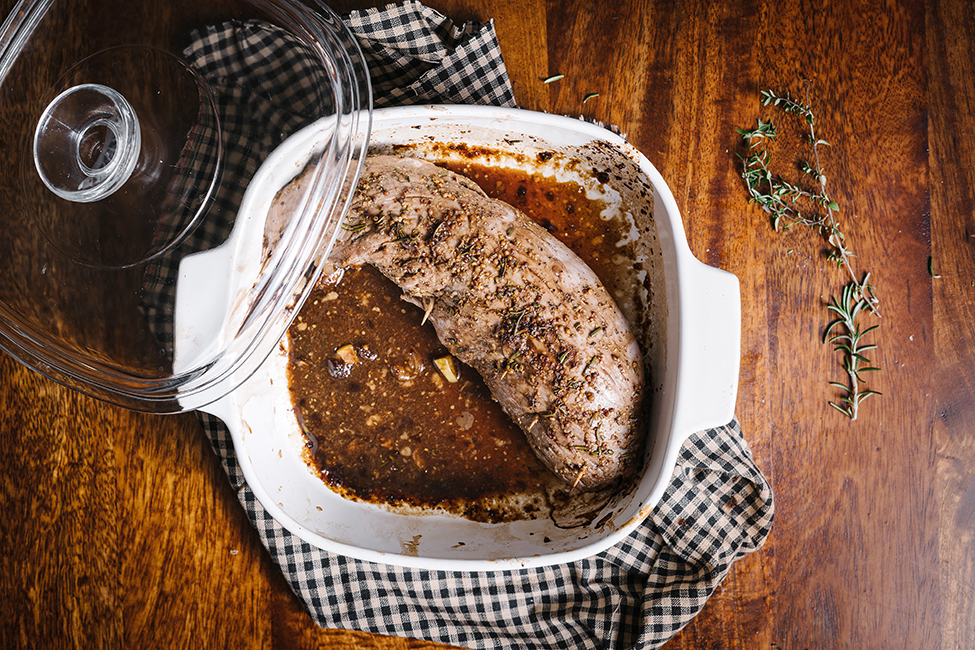 Another reason it's so great is it packs a punch of flavor but in a perfect bite-sized portion. It's got that great combination of savory and sweet while still looking classy. I love this as a centerpiece on my holiday table. I like to serve mine with sauteed green beans and mushrooms but it also pairs will with rosemary roasted potatoes, kale salad, or keep with simple with some cheese, fresh veggies, and wine.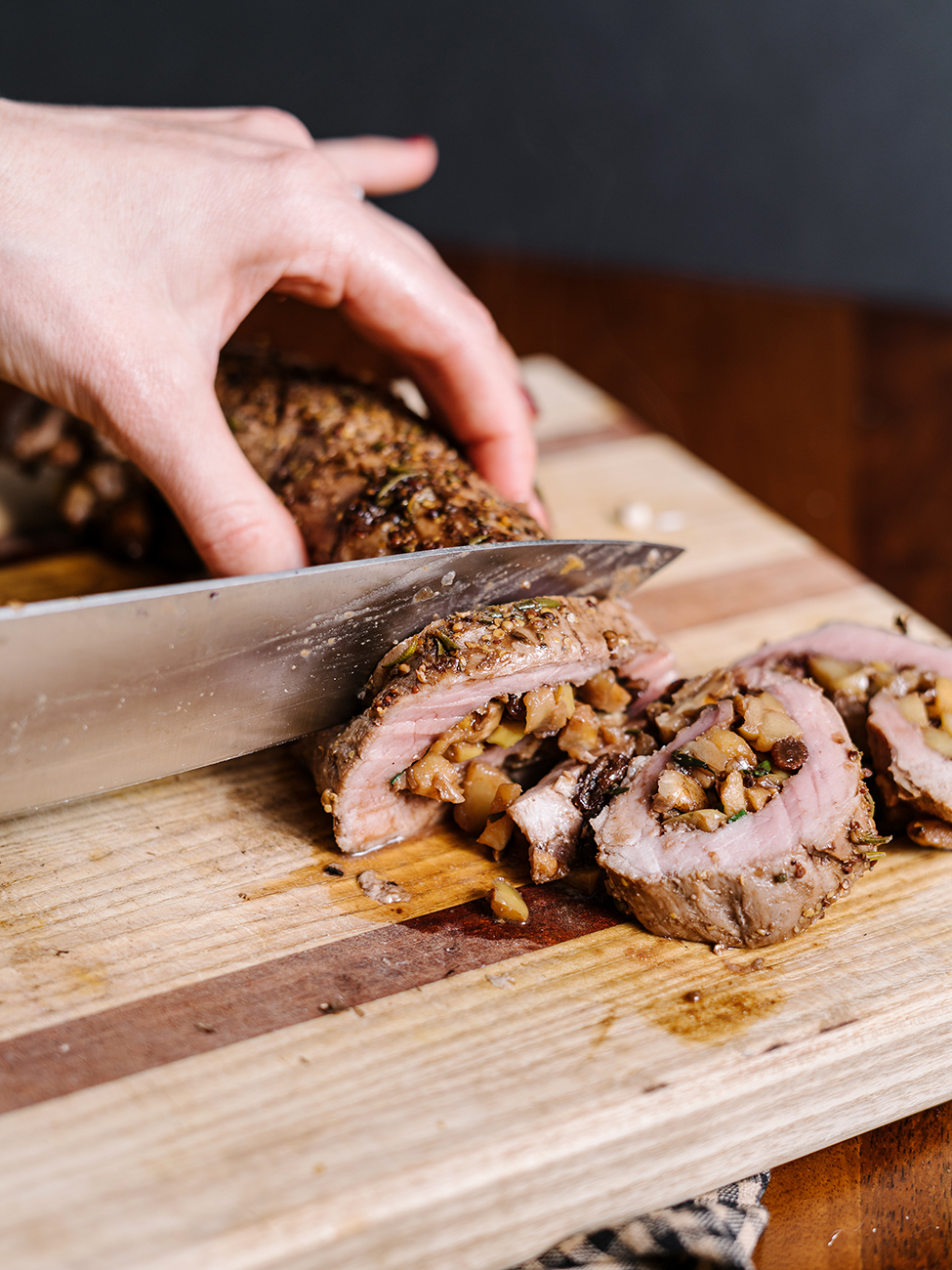 Don't be intimidated if you've never made (or even heard of) chutney. It's so simple you'll be shocked by how easy and flavorful it is. If the meat intimidates you more, here are my basic tips. Click here for a quick rundown on how to cut your tenderloin so it's easy to roll. Pounding your meat out once you've butterflied is an important step not to skip. I like to use parchment paper (plastic wrap works too) to guard from any splatter. If you don't have a meat tenderizer, use a wooden or metal spoon. It should look even once you're done, this will help your pork cook well, improving taste and easy of rolling.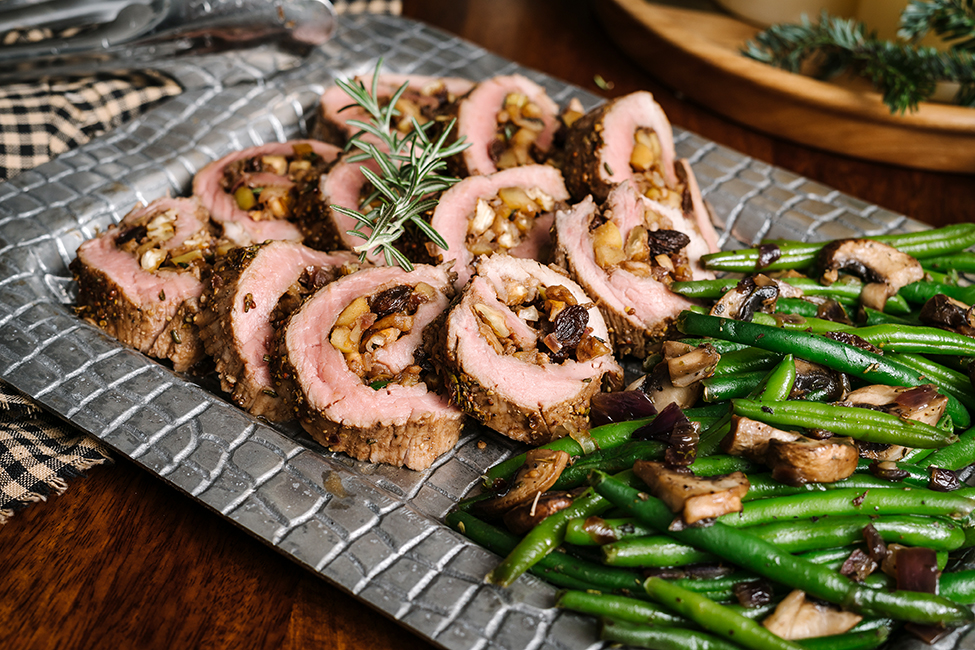 Once rolled I like to use toothpicks to keep it in place but twine works too, place it seam down before you pour your marinade on and remove before you cut.  Buy a meat thermometer–it is your friend and will help you not to overcook meats and give you confidence in your cooking skills. Let your meat rest. If you see your meat is not quite up to the temp you prefer but only a few degrees off, just take it out of the oven and don't touch it for a few minutes, meat naturally upcooks. This is much better then overcooked tenderloin, trust me. You've got this, you're about to impress the heck out of everyone with this unique but delish dish.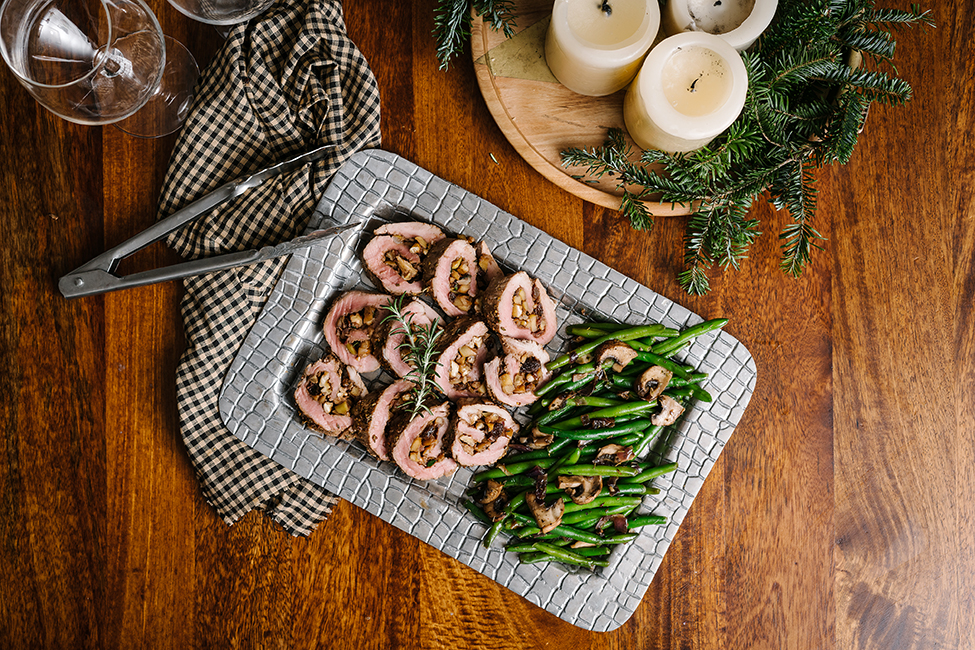 Print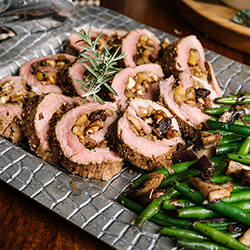 Pork Tenderloin Stuffed with Apple Pecan Chutney
Author:

Yield:

2

-

1

lb stuffed tenderloins

1

x
---
Description
This crowd pleaser packs a punch with the bite sized portions for a gathering or party. It's flavor combination of savory and sweet while still looking classy makes it the perfect centerpiece at a holiday table.
---
Scale
Ingredients
2

Pork Tenderloins (about

1

lb each)

Cooking twine or toothpicks
Chutney
1 tbsp

oil of choice (I used avocado)

1 ½

Large apples, peeled and chopped (I used honey crisp)

½

red onion, diced (about

⅓

c)

1

c pecans, chopped

½ tsp

fresh rosemary

1 tsp

fresh thyme

⅛

–

¼

tsp cayenne (depending on the spice level you prefer)

½ tsp

ginger

¼ tsp

fresh grated nutmeg

½ tsp

salt

2 tbsp

brown sugar (or coconut sugar)

2 tbsp

balsamic vinegar

1 tbsp

worcestershire

Squeeze of lemon

2 tbsp

raisins or dried cranberries
Marinade
1 tsp

fresh rosemary

3 tbsp

balsamic vinegar

1 tbsp

grainy mustard

1 tbsp

water

2

cloves garlic, minced

½ tsp

salt

Pinch of pepper
---
Instructions
Prep tenderloins by butterflying* them and pounding them out.

Whisk marinade ingredients together and set aside.

Heat a saute pan over med and add onions. Sweat for 2 minutes.

Add apples and cook for 5 minutes over med-low heat.

Add spices, brown sugar, balsamic, worcestershire and lemon.

Cook for 4 minutes over low.

Stir in pecans and raisins and remove from heat.

Evenly split filling and distribute between tenderloins, then roll and tie or use toothpicks to keep together.

Place in a lidded casserole dish and pour marinade over the top of both tenderloins**. Let set for at least two hours.

Heat oven to 350, bake with lid on for 25-30 minutes, then take lid off and bake for another 7-10 minutes. Then rest for 5 minutes before cutting.

Meat should be cooked to 140 for medium rare (slightly pink), 155 for well (almost white).

Slowly and carefully slice tenderloins and place neatly on a tray, serve warm.
---
---
Notes
This can easily be adapted to one tenderloin, simply use HALF the ingredients.
*see blog for technique tips
**Can be left like this in the fridge overnight and baked the next day.
Photos for this stuffed pork tenderloin recipe by Chase Daniel