When our CSA box arrived last week chock full of strawberries, I wasn't the least bit surprised.  The central coast must just be in full strawberry swing because it was the the third week in a row that they were in our box.  Now don't get me wrong, I love strawberries!  But after three weeks of strawberry smoothies, strawberries in our salads, and snacks of fresh strawberries, I figured it was time to do something a litte different so I whipped up this super easy and fresh strawberry tart.  And let me just tell you, it was quite delicious!
Strawberry Tart Recipe:
Ingredients Needed:
1 homemade crust: I made mine from this recipe here.  It makes two crusts so now I have an extra in the freezer which will come in handy when I decide I want to make another one of these on a whim!
1 lb organic strawberries, washed, de-stemmed, and quartered
¼ cup sugar
3 teaspoon cornstarch
⅓ c. lemon juice
turbinado sugar for sprinkling
 Preheat oven to 400 degrees.
Add strawberries, sugar, cornstarch and lemon juice to a large bowl.  Stir and set aside.
 Let the strawberries sit in all of that delicious lemon juice and sugar for just a bit.   Roll out your crust on a lightly floured surface until it's about ⅛" thick.  Transfer to a tart dish and lightly press your fingers along the edges so that the dough conforms to the shape.  Spoon strawberry mixture into the tart dish.  Lightly sprinkle with turbinado sugar.  Bake for 30-35 minutes until crust is golden and strawberries are bubbling.
 Let your tart rest for 5-10 minutes before serving.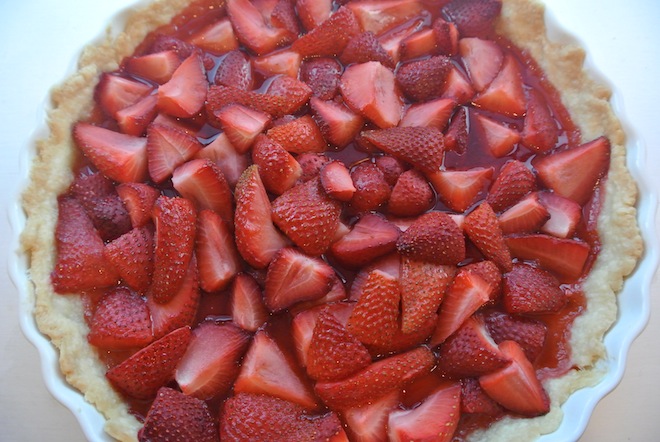 What did I tell you?  Super easy and delicious!