When Parker was first born, I was constantly breaking the cardinal rule of motherhood.  You know the one.  "Enjoy the phase you're in and don't wish for them to be older."  I couldn't help it, though.  As I stared down at her oversized jowls and tiny inflexible baby fingers lying on the swaddle blanket we carted her out of the hospital in, I dreamed of the moments when she would sit up, walk and talk.  I fantasized of the day when she would go from only knowing the taste of milk to being able to experiment with different foods, tastes, and textures.  One day I was at lunch with other moms and their similarly aged babies and everyone was talking about starting solids.  I remember someone asking when I was planning on starting with Parker, who was around 5 months at the time, and in the exact same moment she, from the comfort of my lap, took one sweet pudgy hand full of my arugula and goat cheese salad and brought it straight to her mouth.  It's been an adventure ever since!
Everyone tackles starting solids so differently.  My approach was a combination of Baby Led Weaning, our own intuition, and some influence from Bringing Up Bébé.  I loved the idea of Parker eating the same meals we were eating and not cooking separately for her.  I also liked the idea that she could enjoy stronger tastes and spices and not be restricted to bland foods.  Then there was the reality that for a few months she was having lunch at daycare with other kids, so someone's undivided attention was not just on her, her lunch, and making sure she didn't choke on it.   Around 5 months, I began putting her in her high chair while I was cooking and would give her big pieces of apple, carrot, or celery to gnaw on and play with.  At this point she wasn't actually ingesting anything, but it seemed to get her comfortable in her high chair and she got to experience some new flavors.  From there, we would give her little bites here and there of whatever we were eating-- scrambled eggs, roasted vegetables, cheese-- and it kind of picked up pace on it's own.  As she got more teeth, she became more interested in food.  The more interested she became in food, the more often we fed her.  We definitely mixed in purées here and there-- especially when she was at daycare or when food pouches were more convenient, but she never really took to purées the way she did to real food.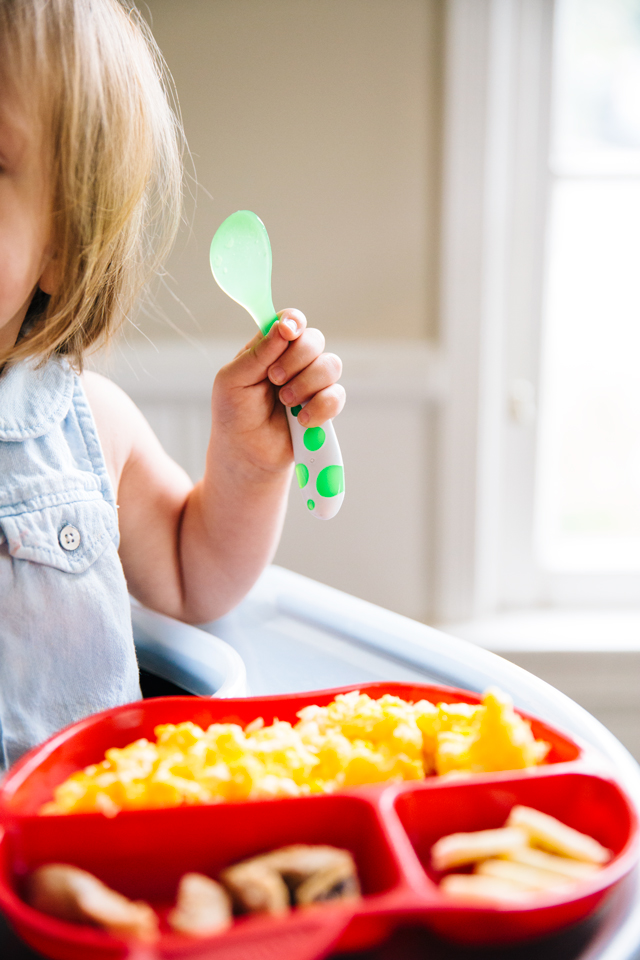 Today I'm happy to report that her appetite rivals that of a lumberjack and she's not too discriminatory with different foods.  I am obsessed with these Munchkin apple plates because it reminds me to give her a variety of foods at mealtime and it's fun to see what she gravitates towards first.  These are some of the snacks she has been really into lately:
Top // Raspberries, Apples dipped in Almond Butter, Caprese Salad made with halved heirloom cherry tomatoes, halved mini mozzarella balls, finely chopped basil and topped with olive oil.
Middle // Mini Babybel Cheese Rounds, Grapes, Bell Pepper Slices with Homemade Sun Dried Tomato Hummus
Bottom // Sweet Snap Peas, Waffle Carrots with Homemade Greek Yogurt Ranch Dressing, Cheese Tortellini with Homemade Spinach + Mint Pesto
We've been through a variety of different straw and sippy cups, but this Miracle 360 trainer cup is our current favorite!  It allows her to drink out of it like a regular cup, but doesn't spill or leak AT ALL.  Like not at all.  If you're familiar with toddler cups then you know that that is indeed a miracle!  Speaking of cups...
One struggle that we have had in the food department is getting her to take milk out of anything other than a bottle.  We've tried so many different cups and she really just wants water out of a cup.  (Perhaps we should have introduced milk in a cup much earlier on?)  However, we've recently discovered that she will drink milk out of these milk boxes.  (I seriously think it's because it has a picture of a cow on it and she is obsessed with animals and the sounds they make right now!)  The downside to the milk box, though, is that she squeezes the middle of it making a huge mess where ever she goes which is why these drink box carriers are totally genius!  It gives her neat little handles to hold onto and keeps her from squeezing the middle.  It seems like such a small thing, but these little innovative solutions can seriously make such a big difference in every day activities.
Our golden rule of food with a toddler?  Try to keep it fun and enjoyable whenever possible!  What are your favorite go-to snacks and meals for toddlers?  (I shared meals that work for our whole family here, too!)
Our favorite Munchkin products:
Miracle 360 Trainer Cup // Apple Plates // Drink Box Carrier // Click Lock Bowls with Lids // Snack Catcher // Plastic Utensils
Photography by Aaron Pinkston
(This post was sponsored by Munchkin, a brand that we have been using and loving for months!  All thoughts and opinions expressed are my very own.  Thanks for supporting the brands that keep this blog up and running!)