Tips and tricks from home staging, minus the hassle of moving...
How many people would buy their own home if it went on the market exactly as it is today? We were pondering just that this week at C+C as we prepped for a new staging project in Hermosa Beach. The truth is, it's hard to look at your possessions objectively and decide what is working for and against your decor. We think William Morris summed it up best when he said, "Have nothing in your house that you do not know to be useful or believe to be beautiful." Still not sure how to proceed? No worries, we've compiled a cheat sheet that will have you living like you just hired the savviest stager in town…without having to sell a thing.
1. Clear out any extra furniture. This immediately makes a room look and feel more spacious and allows you to avoid the dreaded duplication of similarly shaped pieces side by side; i.e. a round coffee table adjacent to a round side table.
2. Define vignettes. Grouping furniture together in defined spaces creates stations with purpose. For example, make a zone for entertaining in your living room by adding a tray with bottles on a console table and tucking two ottomans underneath for occasional seating. Having individual areas makes a room multi-functional.
3. Repurpose and reposition. Thinking outside of the box and using furniture and accessories in different rooms and for different reasons than you originally intended brings new perspective and a fresh look to your space.
4. Light logically. Most rooms need three types of lighting to serve every sort of activity that takes place in the space--ambient, task and accent. For ambient, think general or overhead. Task can be pendant or directional light while accent is decorative, like sconces and table lamps.
5. Don't be afraid of the dark. Painting walls navy, charcoal gray or deep green adds instant sophistication, visual interest, drama and coziness--and contrary to common belief, will often make a room look bigger, not smaller. Opt for a powder room, dining room or bedroom for the maximum effect.
6. Get grouping. One of the best ways to display various pieces of art is to create a salon wall above a sofa or other main furniture item. Frames, pictures or paintings grouped together in an imperfect way that still feels cohesive adds whimsy and keeps artwork from looking scattered or mismatched.  Remember: when grouping accessories, odd numbers always work best.
7. Create symmetry. Balance is important for a visual flow in design and can be achieved with both furniture and accessories. We love the polished look of matching bedside tables and lamps flanking a bed or sculptural statement pieces on either side of buffet table.
8. Bring in some outside. Fresh flowers are always inviting but add up in cost when you're not just hosting one open house. Picking seasonal plants or branches from the yard can be just as chic--and much more economical for every day practicality.
9. De-clutter, duh! Just a friendly reminder that if you don't use it, if you don't like it or if you don't need it...get rid of it. Also, don't have anything in plain site that isn't just plain pretty.
10. Don't skip the details. Little things go a long way when it comes to luxury. Plush towels, fancy candles and new hardware for cabinets and drawers are all inexpensive options for making your place look expensive (or like a great deal, whichever!).
The picture above shows a recent project we completed for a corporate executive office offers a great example of using dark paint, establishing a zone and playing with pretty accent lighting.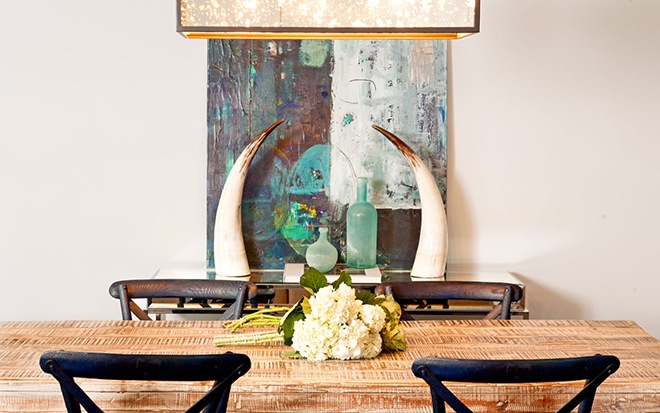 A dining room where we created symmetry through aligning the chairs, console table and chandelier as well as adding a balanced piece of art and two similar sculptures.