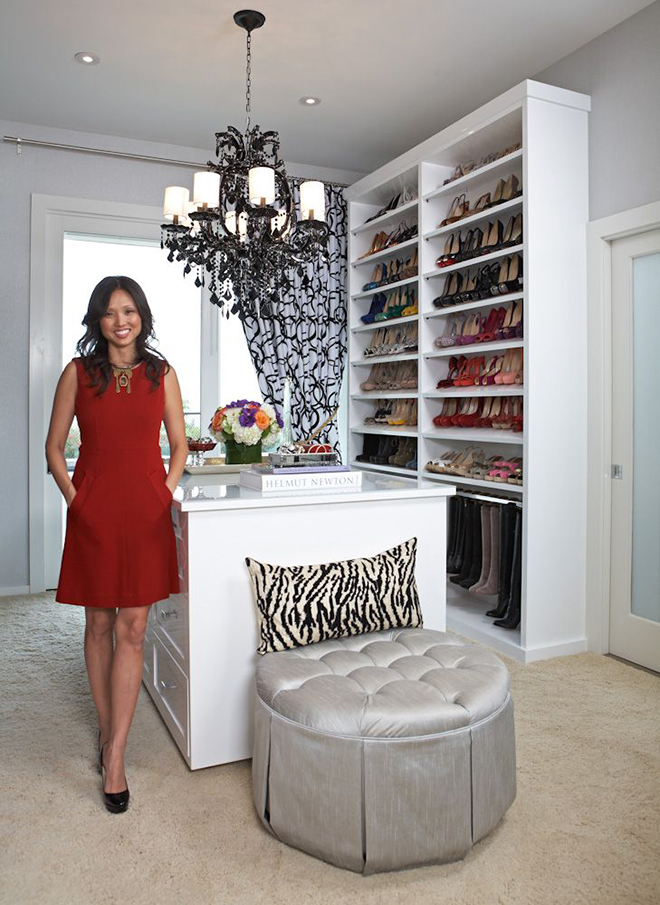 Feeling the itch to spring clean and freshen up your décor but don't know where to begin? Start small with your closet! For this week's post, we (Caitlin & Caitlin) are bringing you the expertise of style organizer to the stars, Lisa Adams of LA Closet Design.  Closets are a fabulous place to launch a functional and beautiful design endeavor. Since you're working with minimal square footage, the task is managable and the potential to pack in a lot of pretty is huge.  Here are some tips from Lisa on how to pull it all off, opulently:
Chandeliers are a great way to make your closet space feel like a glamorous dressing room.
Hanging your boots using boot trees is the best way to keep the shape of your boots while also staying neat and organized.
Glass shelves and dividers are the perfect way to create a purse display that not only allows you to keep you purses organized and helps keep them up-right, but you can also admire your beautiful purse collection better.  Having a view of your purses will also make you want to switch up your bags more often.  Glass is nice because of the lightness and transparency it creates, also breaking up the cabinetry a bit more; in addition, glass is easy to clean!
Mirrors really glamorize a closet!  Having mirrors in a closet is essential for getting ready but also helps open up the space by making it feel larger.
Women have clothes that sometimes don't fit the average hanging space, for example tunics and dresses.  Rather than having these items hang on the rod below or on the ground, using pull-down rods are a smart way to maximize the hanging height of your closet.  This will still allow you to have access to items that are hanging high.
There are some beautiful storage boxes available that are great for storing items and getting things organized on shelving around your closet.
Using decorative handles can really make a huge difference in your closet.  The hardware finish and style can really add a wonderful style element to the space.
Organizing shoes on angled shoe shelves is a great way to display them so you see them all at first glance!  They also add an element of polish in your closet.
Pull-out scarf cabinets really maximize storage space for your scarves, and allows for them to be kept in one place where they can stay organized and you can always find the one you are looking for.
Lined drawers that with separate compartments to store your jewelry are a key essential to making your closet much more functional and luxurious.  We used platinum suede in this closet!  Ring holders and stud holders are especially key for keeping those precious small items safe while still accessible. A great option is to also add a lock to these drawers for more security.
One can find themselves spending quite a bit of time in their closet, so having a mirror TV (if space and budget allow!) is a wonderful accessory to include, and especially if it doubles as a mirror too!  Don't we all want to catch up on the morning news while getting ready to start the day?
Pull-out valet hooks—every closet needs them!  They are convenient for hanging incoming dry cleaning, packing and helping to get dressed in the morning.