With March in full swing, we are kicking off a new Spring Break series with Munchkin that I could not be more excited about!  Whether your plans involve hitting the road, catching a plane or settling in for a satisfying staycation, we've got you covered!  I decided to begin with the road trip because it might just be my own personal favorite.  Is there anything more all-american feeling than a great big road trip?!  Some of my best memories as a kid were our summer trips-- all packed into the mini van, without the convenience of cell phones or iPads!  I will always remember my dad sitting at the kitchen table at night, weeks before our departure, charting our route on an actual paper map.  Since moving to LA, Aaron and I have road tripped to San Diego, San Francisco, and Big Sur, but this year we are taking Parker along for the fun as we make the short trek to Palm Springs.  Keep reading for my road trip essentials, what I like to bring to keep Parker happy in the car and her new favorite car accessory!
Before we leave, I always prep the car the night before-- this Munchkin baby-in-sight mirror is something we have used since Parker's very first ride home from the hospital.  I love knowing when she has drifted off to sleep and being able to peek back at her and make sure she's all right.  I'm not even sure how these pop open window shades work, but I know they stick up there like magic and keep the sun from shining in her eyes or on her skin.  (And they're super affordable!)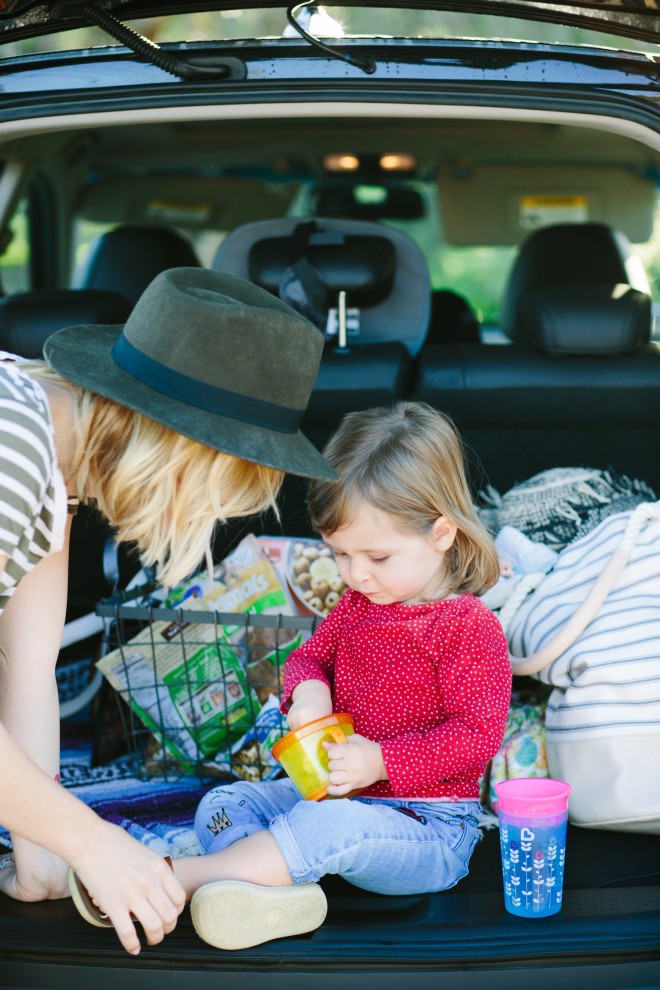 I'm as much about the journey as I am the destination.  If I spy a scenic outlook sign, you better believe I'm pulling over!  I've also been known to yelp my way up the California coast in search of the best coffee shops and dive restaurants.  (You can also use the TV Food Maps app!)  When Parker is with us, she normally dictates when we pull over.  Once on the way to Santa Barbara, she was getting antsy, so we randomly pulled over at u-pick fruit orchard and ended up having the best time! I've gotten into the habit of always having a basket of snacks and a blanket in the car in case the opportunity for an impromptu picnic arises.  It may take us twice as long to get places now, but we get to see twice as many things along the way!
Parker's new favorite thing is this Are We There Yet travel tray!  She loves to put stickers all over it, then peel them off and start all over again.  Plus, it comes with a handy snack catcher-- which is a total feeding essential, road trip or not!  We keep this Miracle 360 cup in her car seat because I know when she tosses it across the car at some point, it won't spill.
Other road trip destinations on my list are Joshua Tree, CA, the coast of Maine, the coast of Alaska and to make it to Marfa, TX.  What are the best road trips you've ever been on?!  Any tips for road tripping with a toddler?
Photography by Mary Costa
Munchkin travel products for the road trip: auto mirror || pop open shades || miracle 360 cup || snack catcher || travel tray || if your child is recently potty trained, these clean ride seat savers are genius!
This series is sponsored by Munchkin-- a brand I have used since Parker's birth and continue to use for her now!  They make truly useful and fun products at a great price point!  Thanks for supporting the brands that support this site!