In a city where the restaurant scene is always evolving, there is at least one constant: On any given day, you can sit at a table amidst a sea of other diners, between the avocado-hued walls of Thai Fresh and feel right at home. The local establishment that Jam Sanichat started alongside her husband Bruce in 2008 has stood the test of more than a decade and continues to thrive with a sea of enthusiastic patrons and people who will go to their grave swearing by her red curry. We dropped in one morning for breakfast tacos (yes, they serve breakfast!) and got a chance to sit down with the unassuming restaurateur and hear about everything from how she funded her business in it's infancy to how she measures her success. Keep reading for the full interview and Spicy Glass Noodle Salad recipe she so generously shared with us!
What brought you to Austin and at what point did you decide you wanted to start a restaurant?
I came to Austin for graduate school at UT in Communications. After graduating and receiving my Master's in communication, I applied for a PhD program and got accepted. While waiting, I started teaching cooking classes and sold food at the farmers' market. I decided to stay and pursue this new venture in Austin. After selling and working at the farmers' market and teaching cooking for 4 years, I decided to open a Thai restaurant called Thai Fresh. I wanted to have a space that I could sell food, teach classes, and sell groceries all in one.
How did you fund your new business in the beginning?
We funded with our savings, small business loans, and credit cards.
What have you learned from your customers? 
Over the years, I have learned that, if we thrive to provide them with the best ingredients and service, they will keep coming back. Our customers are our community and our family. We treat them the way we want to be treated. They will keep telling people about us, and I see that they keep coming back even when they have moved away.
What did you do in those early years that you don't do now?
As a new business, I had to put in a lot of hours on the line and the floor. I was working 7 days a week. So did my husband. Our son pretty much spent most of his free time at the restaurant. We always wanted him to be exposed and tried as much as possible not to hire a babysitter. He would go to pre-school and we would pick him up and bring him back here. I was more hands-on the production. Now that we are busier and the business is doing well, I spend a lot less time in the production and more time on marketing and being present in the community. We try to help the community wherever and whenever we can.
What are you not doing now that you hope to be doing in three years?
I would like to expand into manufacturing, be it our ice creams, our sauces, or making videos to teach cooking class. The manufacturing will start happening soon, possibly in one or two years. I want to be able to travel and spend more time with my family. (Although I am traveling quite a bit. I never fail to do that.)
What is success to you, for the restaurant and personally?
Success is happiness in you and others around you. I am committed to put people first. If I am able to keep my employees and my customers happy, then I am happy. Therefore, I am successful. Food & Wine magazine also just named us one of the "19 Great Restaurants to Work For" in the country!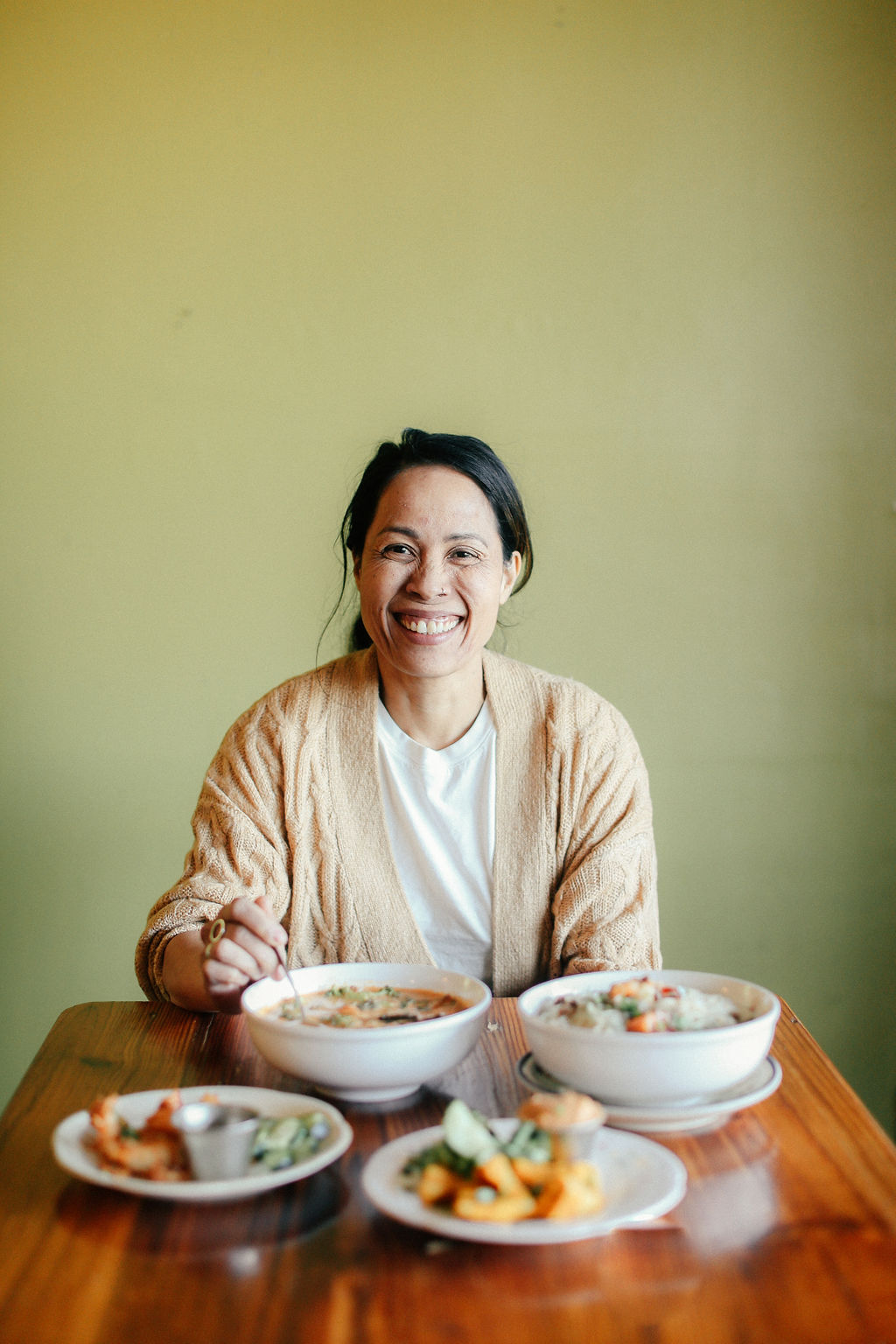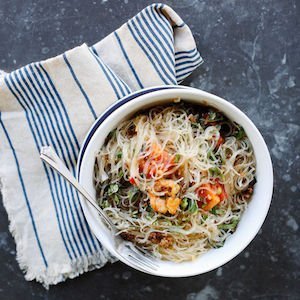 Spicy Glass Noodle Salad Recipe
Delicious and spicy glass noodles with succulent shrimp and minced pork. Easy and so tasty!
Ingredients
8

oz

dried bean thread noodles

soaked for 30 minutes and boiled for 10 seconds and drained

2

tablespoon

vegetable oil

2

cloves

garlic

minced

¼

pound

of shrimp

minced (substitute w/ soy bean protein and mushrooms for vegetarian

¼

pound

of pork

minced (substitute w/ soy bean protein and mushrooms for vegetarian

1

tablespoon

soy sauce

2

tablespoon

water

2 to

matoes

chopped

¼

cup

chopped cilantro

1-2

shallots

sliced thinly

2

green onions

cut into ¼ inch pieces (use both the green and white parts)
Dressing
1-2

Thai chilies

1

teaspoon

white sugar

2

teaspoon

palm sugar

¼

cup

lime juice

3

tablespoon

fish sauce

or soy sauce and fermented soy bean paste for vegetarian option
Instructions
Heat oil in a medium sauté pan, add garlic, and fry until fragrant.

Add minced pork and shrimp and stir occasionally until cooked, about 2 minutes. Add soy sauce to taste.

Add water to moisten and turn off the heat. Mix all ingredients and the cooked meat in a mixing bowl.

Make dressing by pounding all the ingredients using mortar and pestle or in a food chopper/processor.

Pour dressing on top of the mixture a little bit at a time and make sure that it won't be too much dressing and mix well.

Taste and add more dressing if desired.
Nutrition
Nutrition Facts
Spicy Glass Noodle Salad Recipe
Amount per Serving
% Daily Value*
* Percent Daily Values are based on a 2000 calorie diet.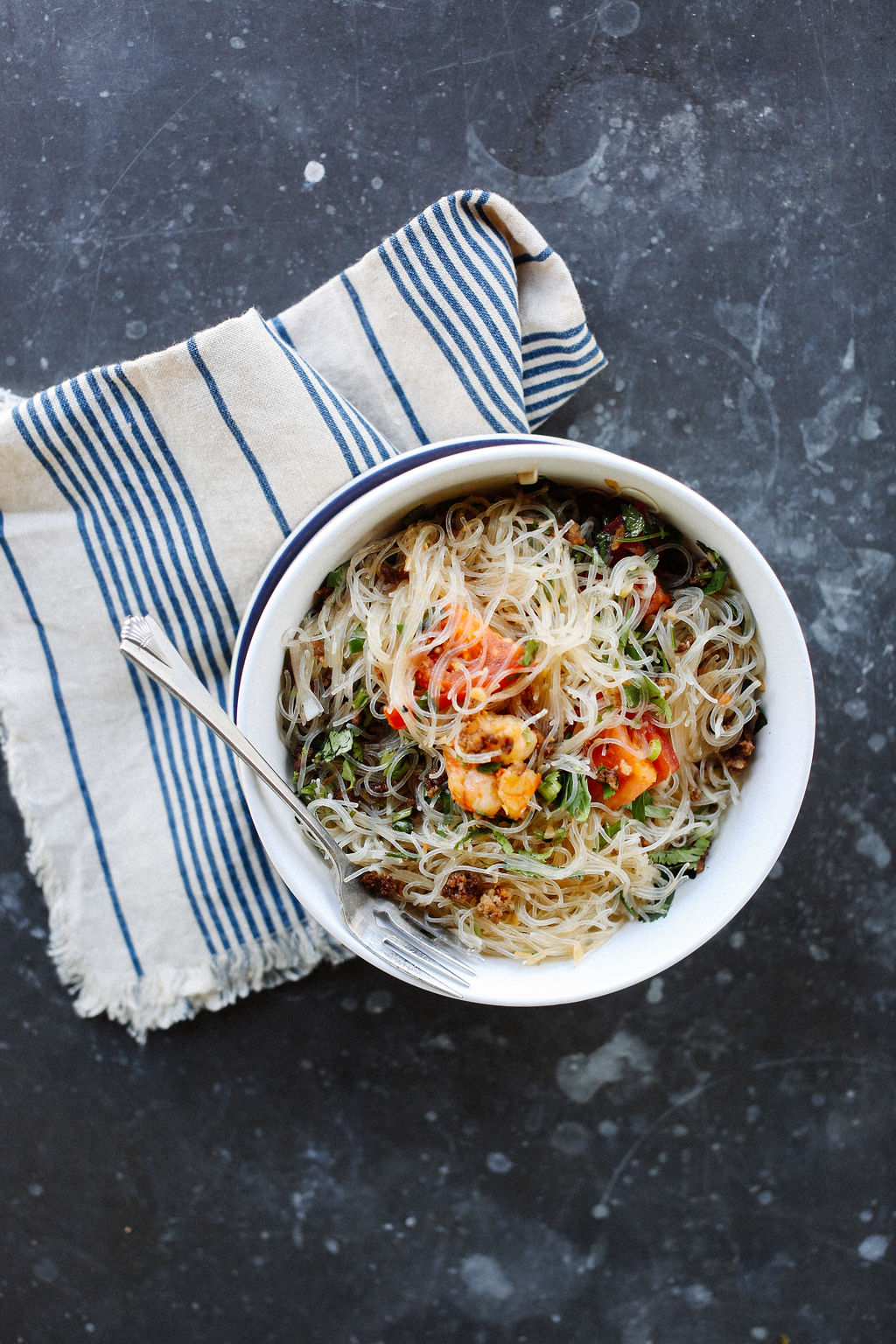 HEADING TO AUSTIN FOR A VISIT? YOU MIGHT ALSO ENJOY:
Photography by Gracie Byrd Jones