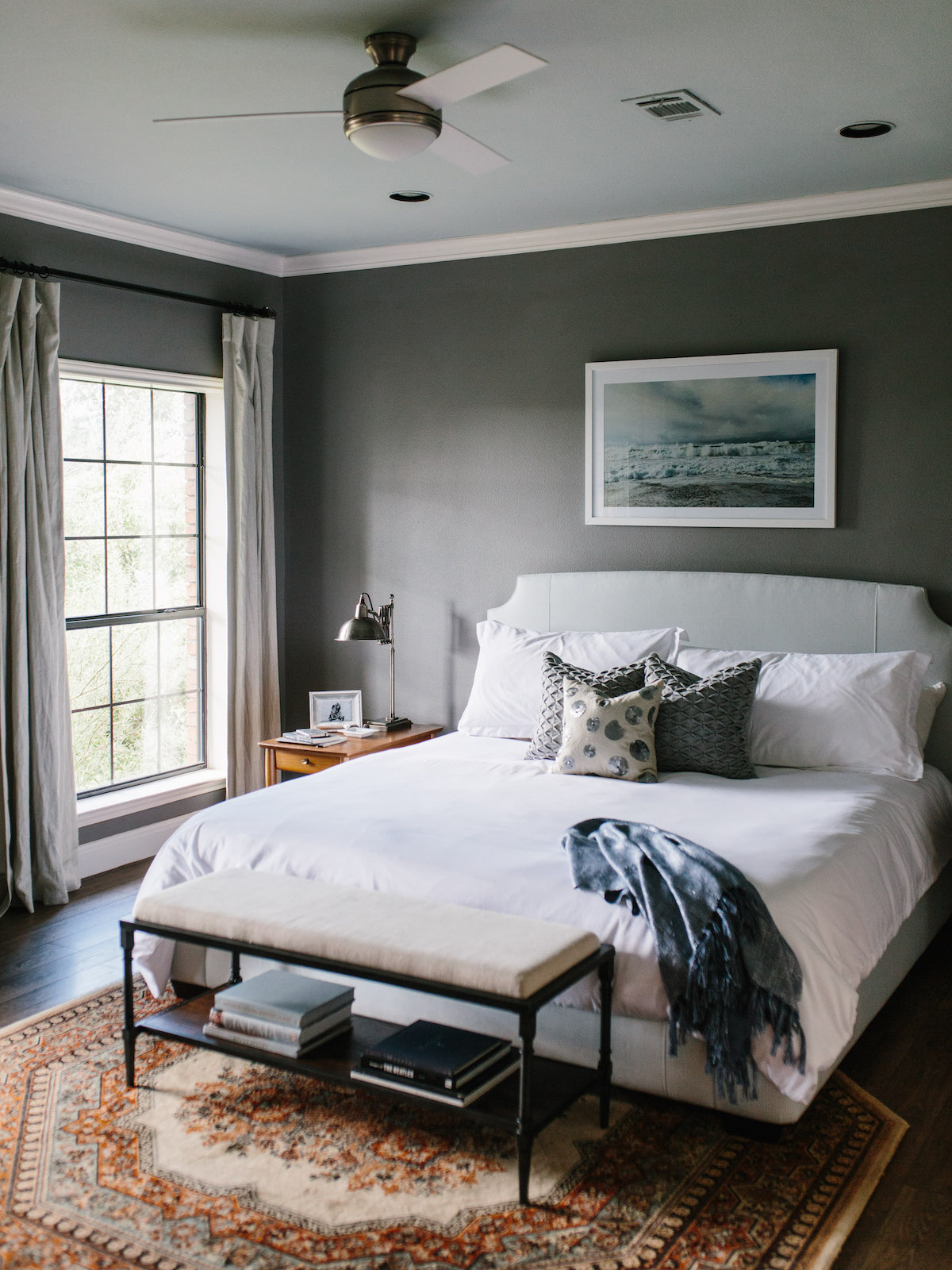 Hi friends! It's Sara again and I am so thrilled (and a little nervous!) to share with you a space that is near and dear to my heart...my bedroom! I have a little of the self conscious soul of an artist that makes me nervous to share my own work sometimes. You know, wondering if it will ever be good enough and will people love it as much as I do. Especially when it comes to showing you where I lay my head each and every night. But I love my bedroom so much. Its warm, cozy and so completely perfect for me and my husband, Dana.  We got really lucky when we found our home in Austin. We were relocating to Westlake Hills from North Austin at a time when the market was EXTREMELY hot and while we were more than down for a complete remodel job, we struck gold when we found our house in the Lost Creek subdivision. It had just undergone a complete, down-to-the-studs remodel by the super-talented Butterfield Custom Homes, and here's the real kicker, it was remodeled to our taste...how rare is that?! Sure there were a few finishes that didn't suit us, but they were easy fixes.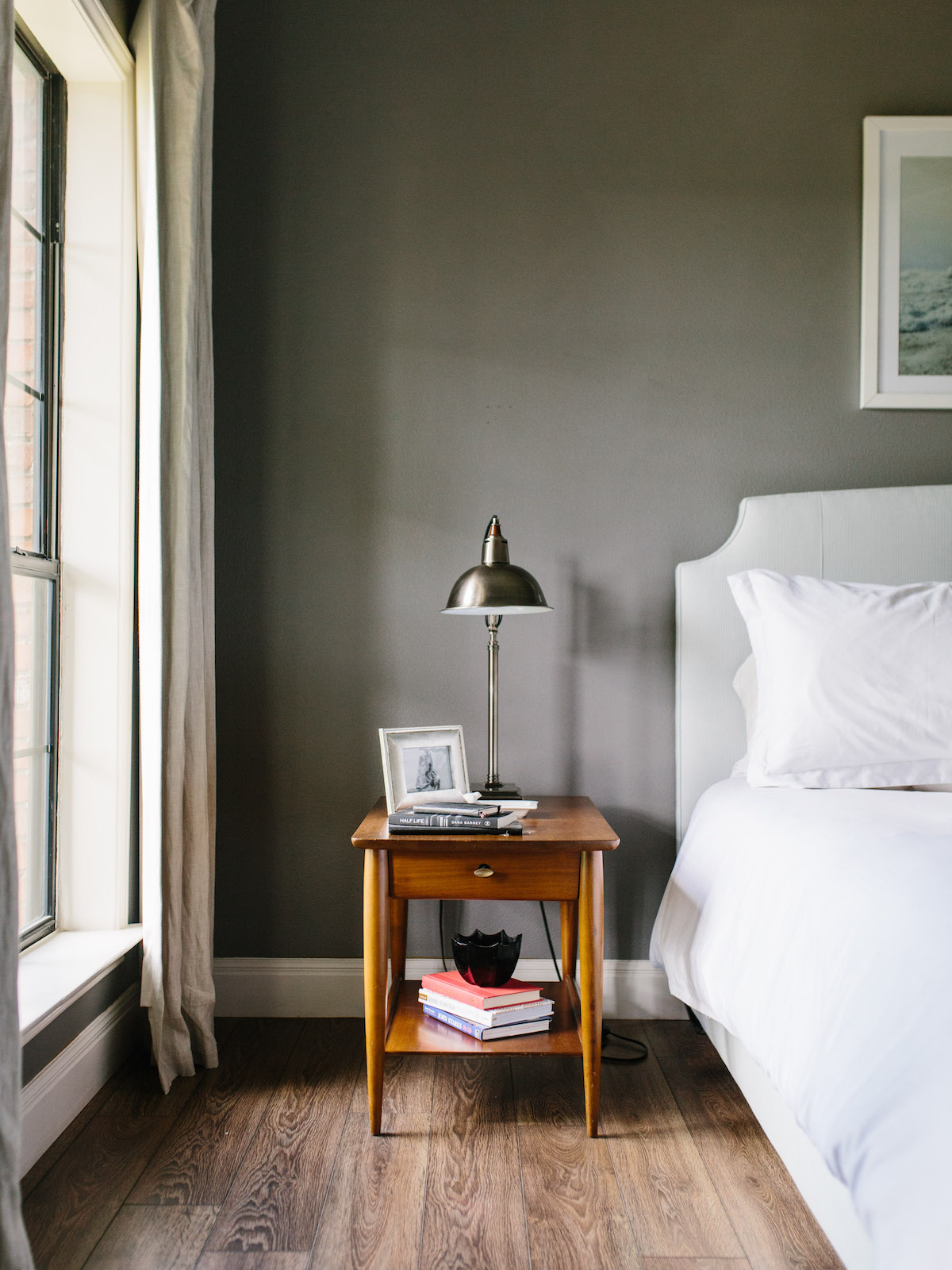 The master suite was one area that I knew needed the most attention with its dark brown walls and super traditional finishes, because that is not really my speed. When I approach designing a space, I like the walk the line between traditional and eclectic and while I know that's a weird mix, it allows my designs to be timeless and interesting with pieces specific to the people who will be enjoying the space for years to come. For me, it meant my master suite had to be softened up but it needed some modern touches as well. Less frill and more ease.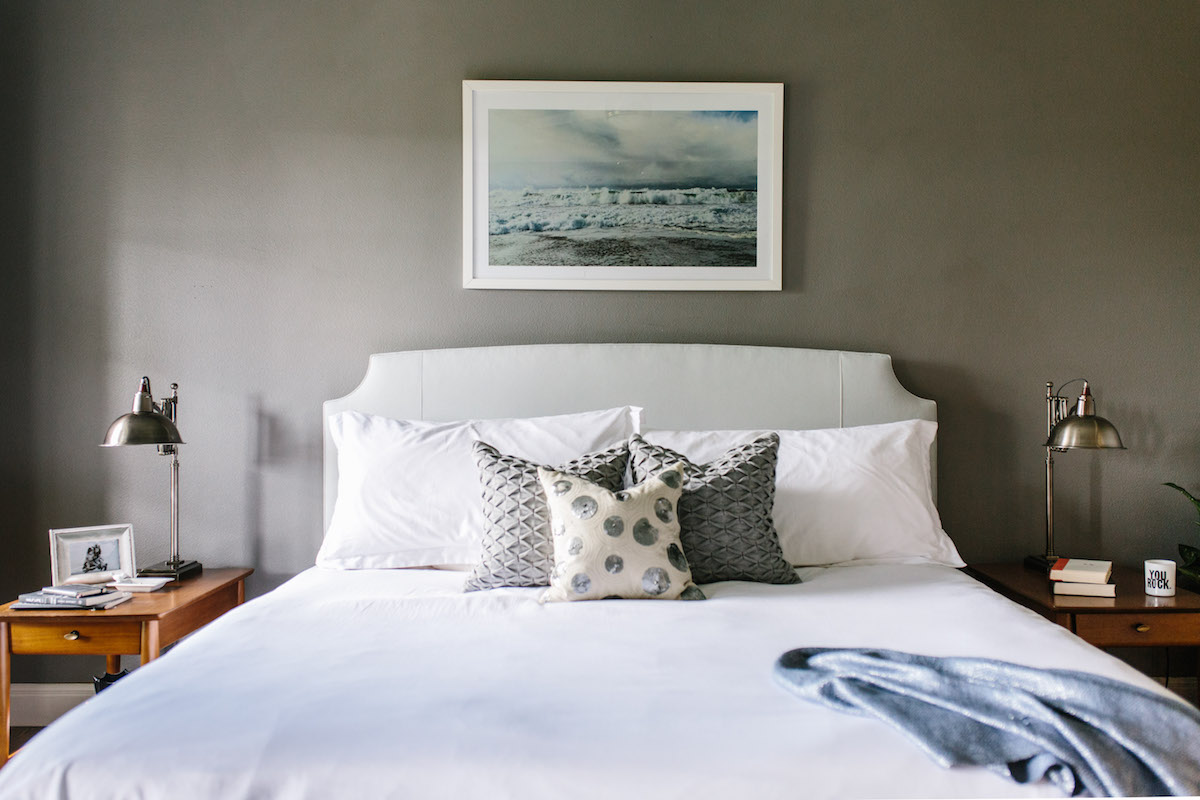 I generally prefer bedrooms to be calm and relaxing with a natural ease on the eye. I personally don't want to sleep in a space that makes me feel anxious or busy. So, I started by painting the walls a dark gray that would almost create a cocoon feel to the room or like a big, fuzzy blanket you snuggle up in on a rainy day. I also painted the ceiling a really soft blue, as it is the ultimate relaxing hue.  I carried the blue down to the bedframe which is a beautiful cream and chambray pinstripe upholstered frame and because I don't think beds should feel fussy, I stuck with all white, extra soft bedding. I paired my preppy bed with vintage mid century end tables and an antique hexagon rug that was passed down from my mother-in-law.
My favorite corner of the room is the little vintage chair that I am dying to reupholster and use regularly...rather than just using it as my laundry catchall! But it is a real designer's dilemma for me because I just can't land on the right fabric for the chair. There are too many great ones out there!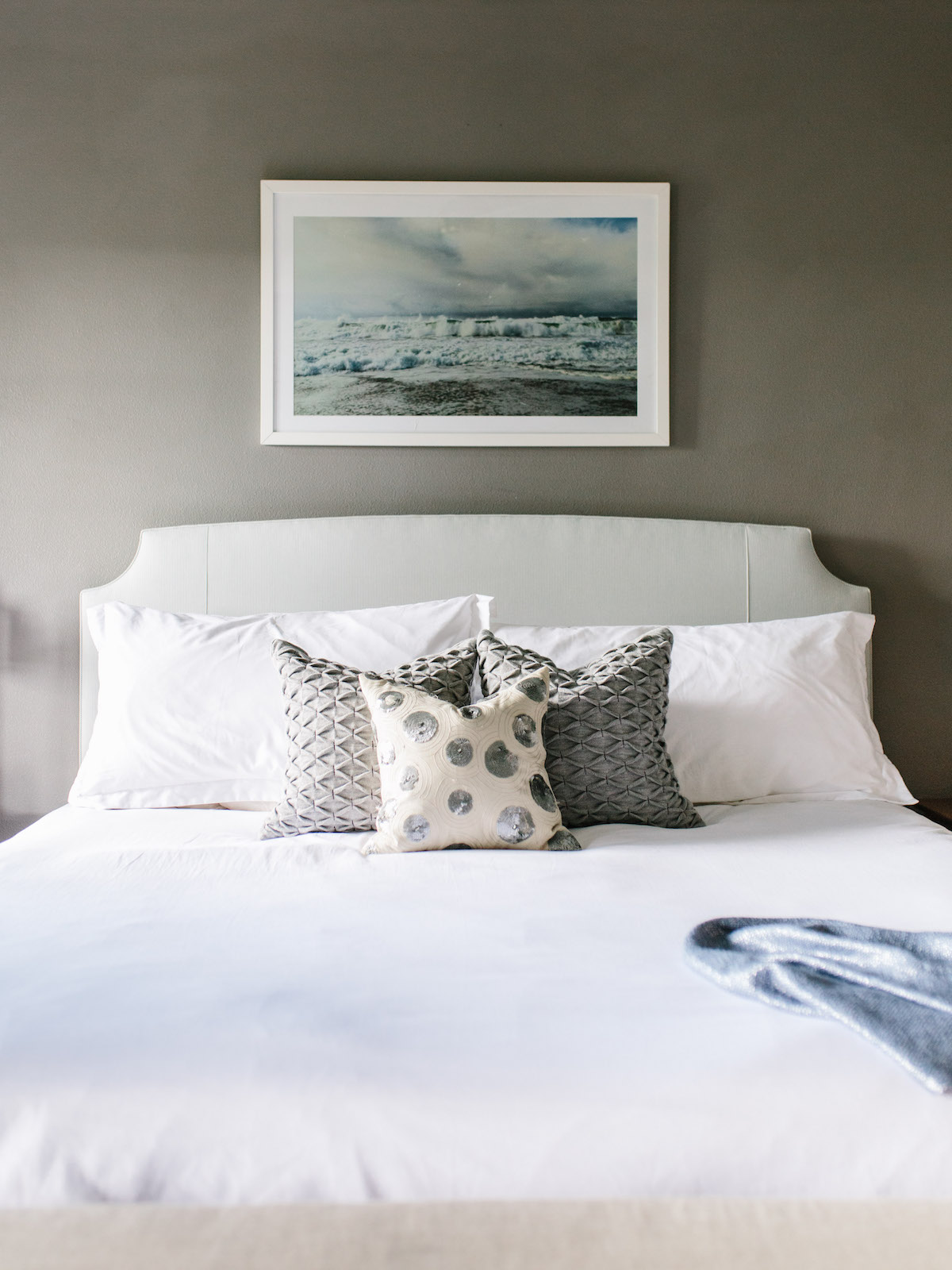 I carried the paint over to the master bathroom, but as I mentioned before, the old, traditional vanity lights and swirly bronze mirrors had to go. Eventually, we'd love to remodel the bathroom, but for the time being, switching out the mirrors and vanity lights to something more modern, in a matte black helped make the space feel more like ours.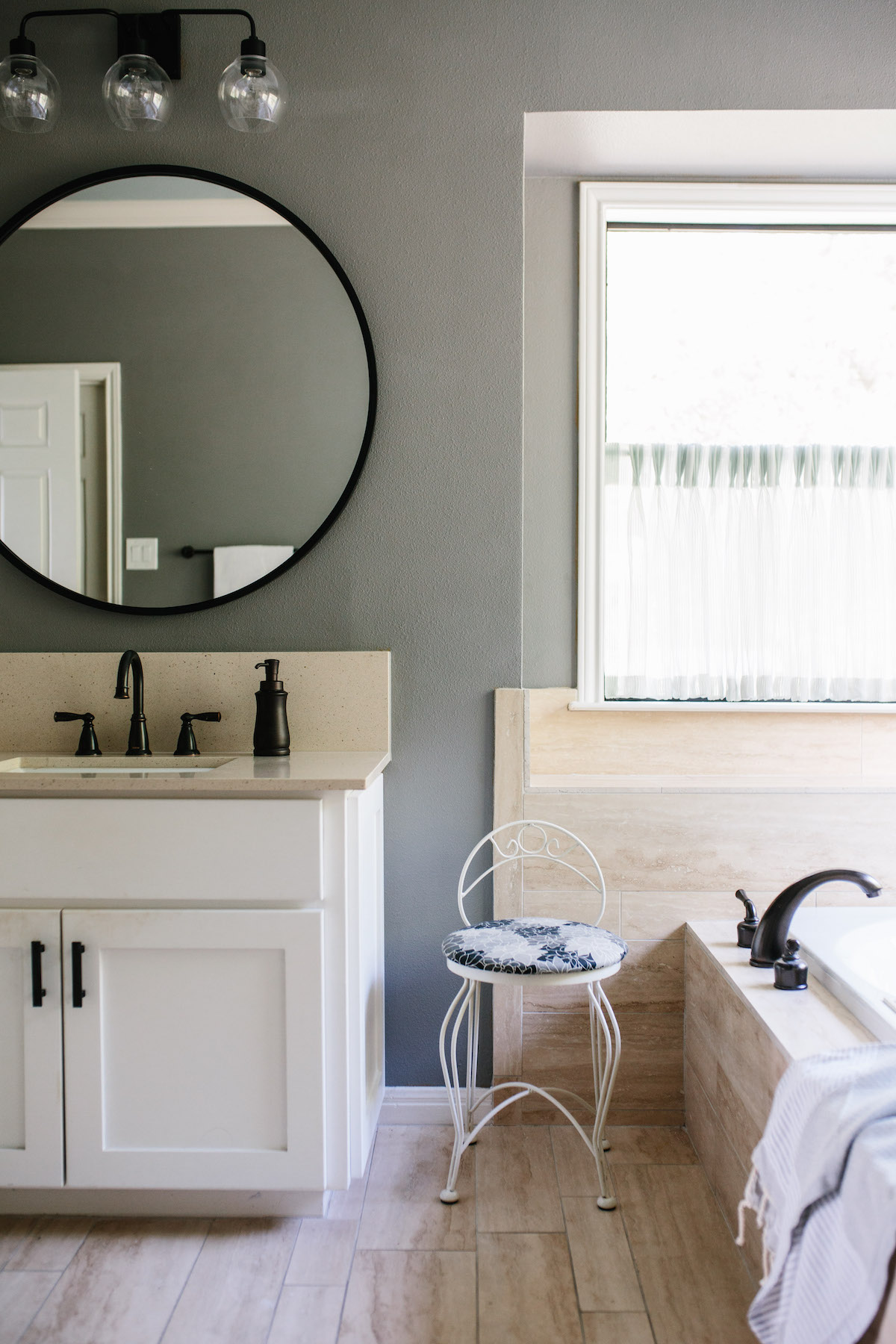 So in all, it didn't take much to make it feel like our space after we moved in. Down the road, I'd love to add some sconces to flank the bed frame, remodel the bathroom to give us a bigger shower and change out the bathroom tile. Oh and find new fabric for that reading nook chair! But for now, this is still my favorite bedroom in the house. Now, off to take a nap! (yeah, right...I wish.)
Sources: Nightstands - Vintage Craigslist || Wall Color - Sherwin Williams Cityscape || Ceiling Color - Sherwin Williams Atmospheric || Bedside lamps - Pottery Barn || Duvet Cover - Amazon || Sequin Polka Dot Pillow - West Elm || Bedframe - Serena & Lily || Rug - Vintage || Rug Pad - Rug Pad USA ||  Dresser - Vintage || Chair - Vintage Craigslist || Bench - Joss & Main || Bathroom Vanity Mirrors - Wayfair || Vanity Lights - Captial Lighting
Photos by Katie Jameson