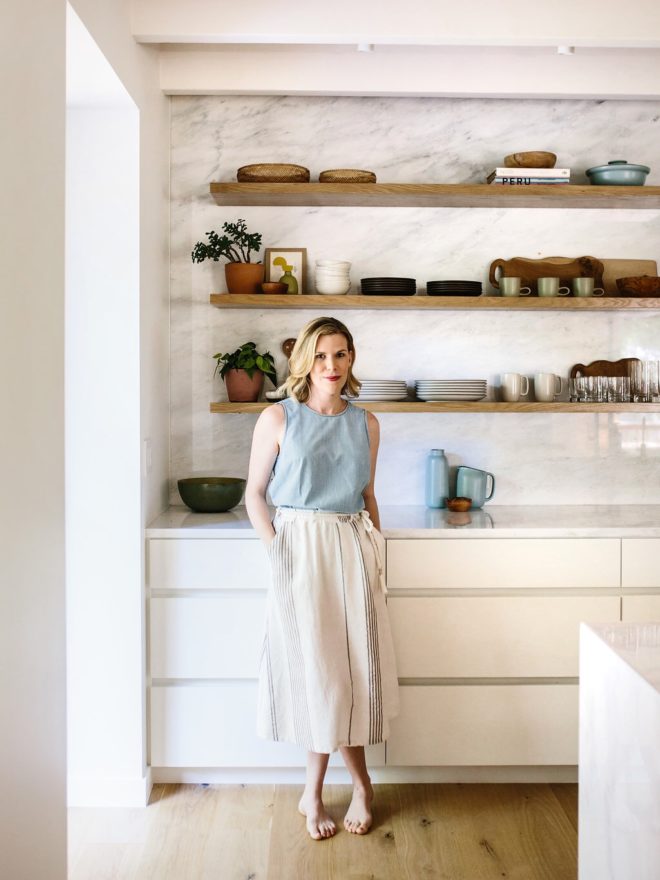 While Lauren Cunningham describes her chic, neutral kitchen as "warm modern", we all describe it, as the kitchen we wish we came home to each night.  The white oak plank floors and milky marble countertops (that were sourced in China with her designer, Claire Zinnecker, no less) in this undeniably warm modern kitchen seem to instantly lift your mood and put you at ease.  The strategically placed appliance pantry keeps the room feeling uncluttered and airy while still practical for the needs of every day life. Not to even make mention of the perfectly curated collection of ceramics, wood boards, bud vases, and utensils that line the solid wood floating shelves.  The things kitchen dreams are made of.  She shares the space with her husband, Joe, and two little boys, Miles and Jack. Keep reading for the full scoop on this dream space and how it came to life.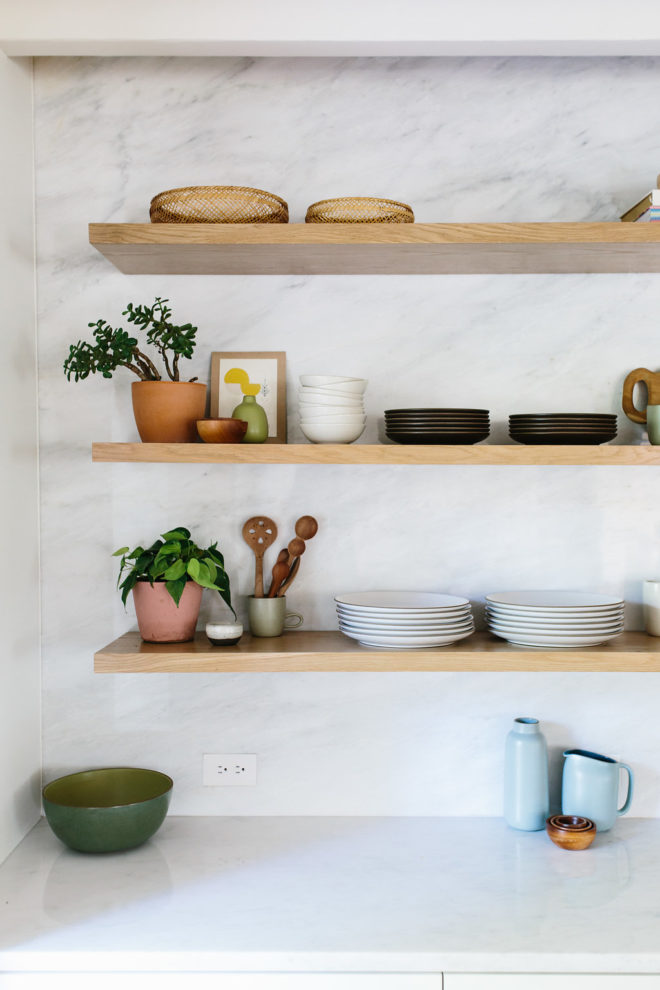 Jen: It's obvious you have an eye for design. What's your background? What do you do now?
Lauren: My background is in graphic design. Before having Miles and leaving Austin for a 2 year expat stint in Shanghai, I had a small business designing paper goods for weddings. Now that we've been back for a while and my youngest is a little older, I'm finally getting back to work. I love to paint and am trying to make time to explore that. I'm also working on a baby startup with my dear friend, Irene, called Little Dumplings. We're re-creating the baby bib and have designed a beautiful, more useful product that we plan to launch later this year.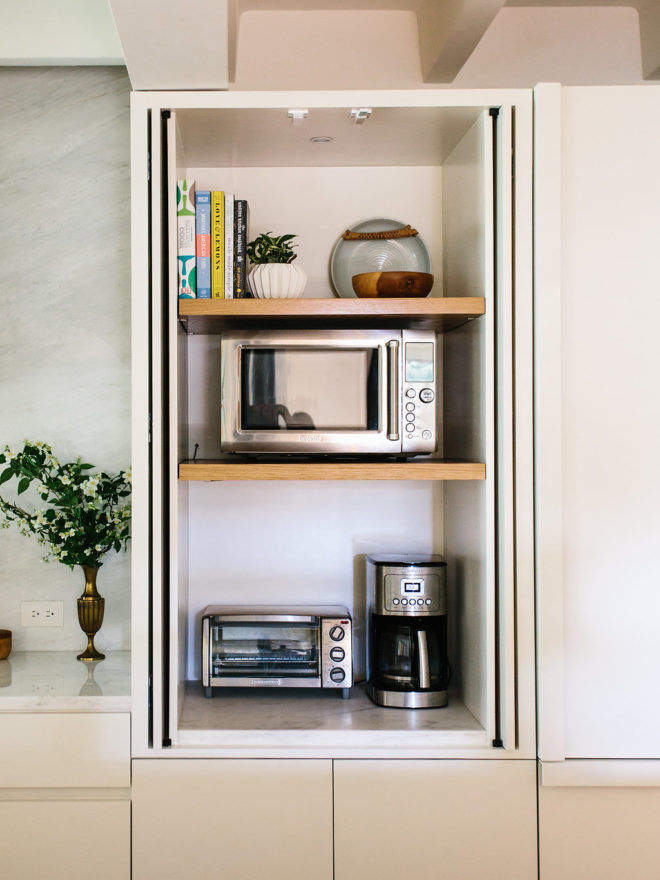 J: You worked with Claire Zinnecker for the design of the space. We are also big fans of her work over here! What made you choose Claire?
L: Claire and I met years ago through mutual creative friends, and when Joe and I started the conversation about remodeling our home I immediately asked her if she would help us with it. It was a slow process because we were living overseas at the time, and before we even got started Joe and I purchased a bungalow here in Austin which also needed a bit of work. I first asked her to help me with paint colors and tile, but she ended up helping with the whole thing. It was a lot of fun working with her, and ended up being great practice for the much bigger project of remodeling our own home. (You can see—and rent!—that house here)
Over time Claire's style has definitely rubbed off on me, so working together has felt very natural because we're always on the same page. The whole process has been incredibly fun, and she's become a very good friend. She even flew to China to help me choose the marble for the kitchen (which saved us TONS but was definitely an ordeal!).
J: How did the two of you come up with a vision for the kitchen?
L: So much of the vision for the house (and even some furnishings) came from Australia. The design there is just SO good. I fell in love with an image of a kitchen which influenced a lot of the design—the long marble island, the clean handleless cabinetry, and the wood. Our architects, Alterstudio, also did a great job of completing this vision with the open shelving and steel vent hood.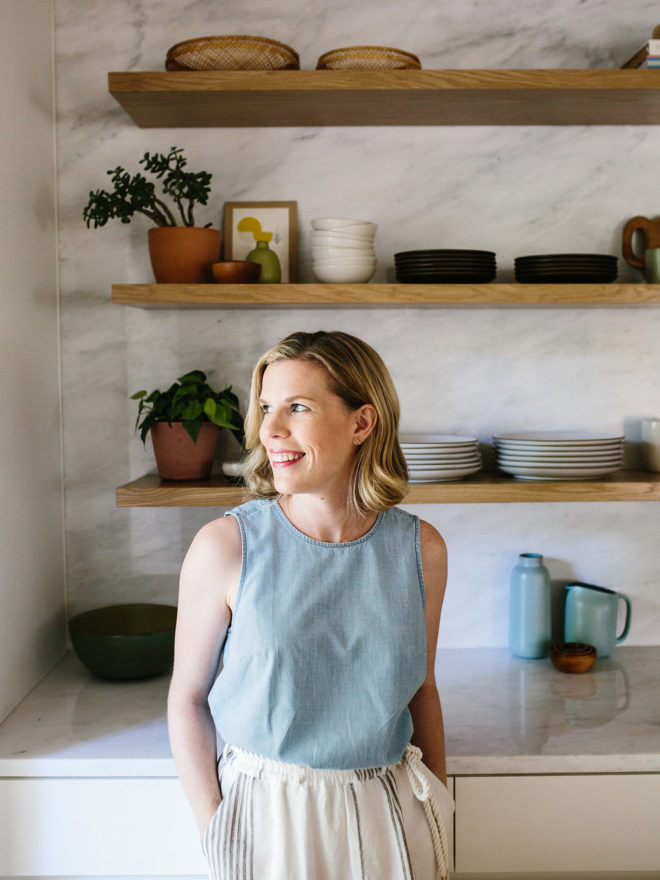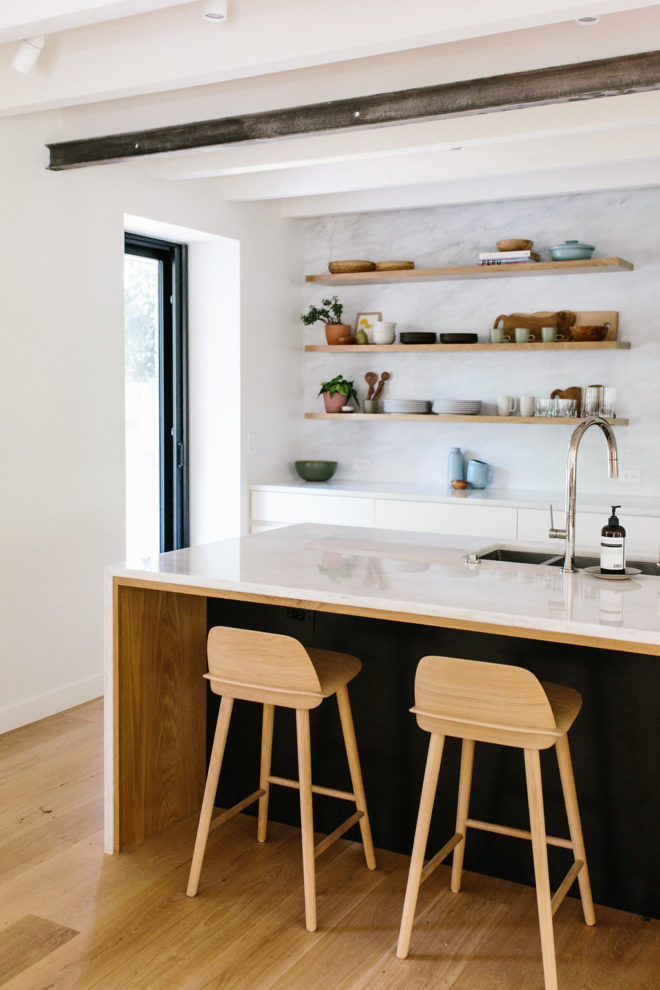 J: What were some of the things you knew you wanted to incorporate right away? What things were the hardest for you to decide on?
L: Joe and I knew we wanted open shelving but everyone kept telling us not to do it because it wouldn't look good for long. Not true! If you know you're tidy and can appreciate a well-styled shelf, you will love open shelving!
We also wanted the appliances to be integrated with the cabinets because we loved the integrated appliances in our Shanghai apartment. But everything in China is tiny, and finding a handleless solution for a huge refrigerator was a real challenge. The powder coated steel handle was our contractor's idea, and the second iteration after the first version was too hard to open. It's not truly handleless, but we love it. And fortunately Miele makes a knock-to-open dishwasher, so that one was simple!
J: What was the biggest challenge of the process?
L: The biggest challenge (in the kitchen, at least) was getting the Chinese marble to work. It was an adventure just getting the slabs to Austin since I'd never imported anything that large before, but once it was time for the fabricator to cut it we found that all of the slabs were cracked. Every time they cut a piece the entire slab crumbled. Luckily we'd bought almost twice the amount we needed for just this reason, because we used every last piece. It ended up working—barely!
Oh, and trying to baby-proof a kitchen when you only have the metal c-channels in between drawers: impossible!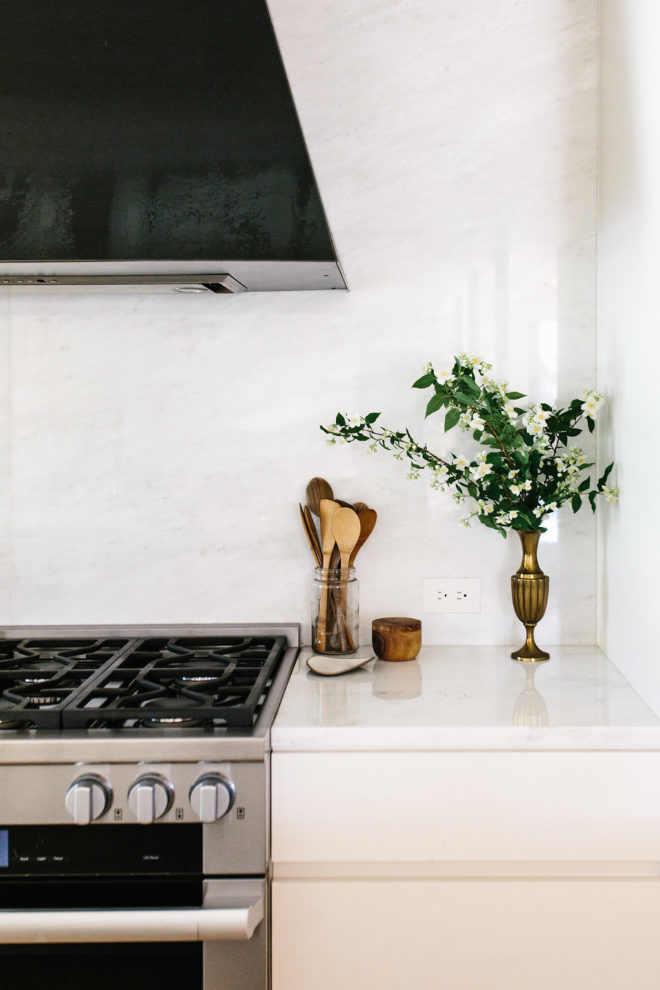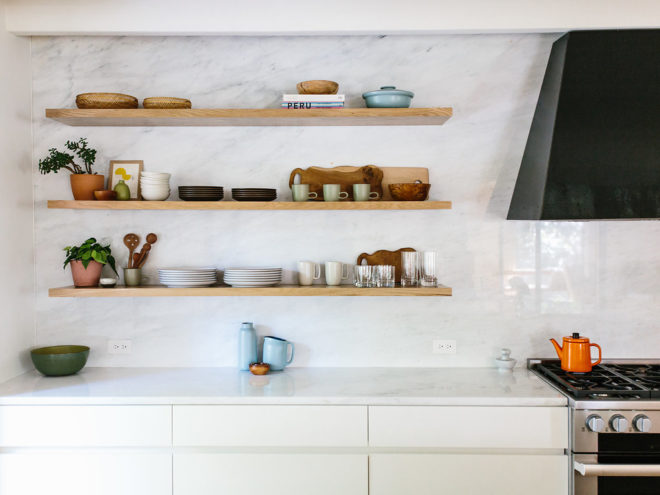 J: Is there anything you would go back and change?
L: Honestly, no. It came together so beautifully and it's been such a wonderful space for our family and for entertaining.
J: Do you have any tips for people about to embark on a new kitchen design or remodel?
L: Planning, patience and pros! I spent more time planning how I would use this space than any other part of the home. I drew out sketches and made countless lists so that the architects and Claire would understand exactly what we needed. It felt a little overkill at times, but it absolutely paid off because it functions perfectly for us.
Of course, everything ends up taking longer than you want it to, so just expect that. And if you're able to hire professionals, do it. They're the ones who make sure it turns out the way you want it to. And kitchen design is way more complicated than you can imagine!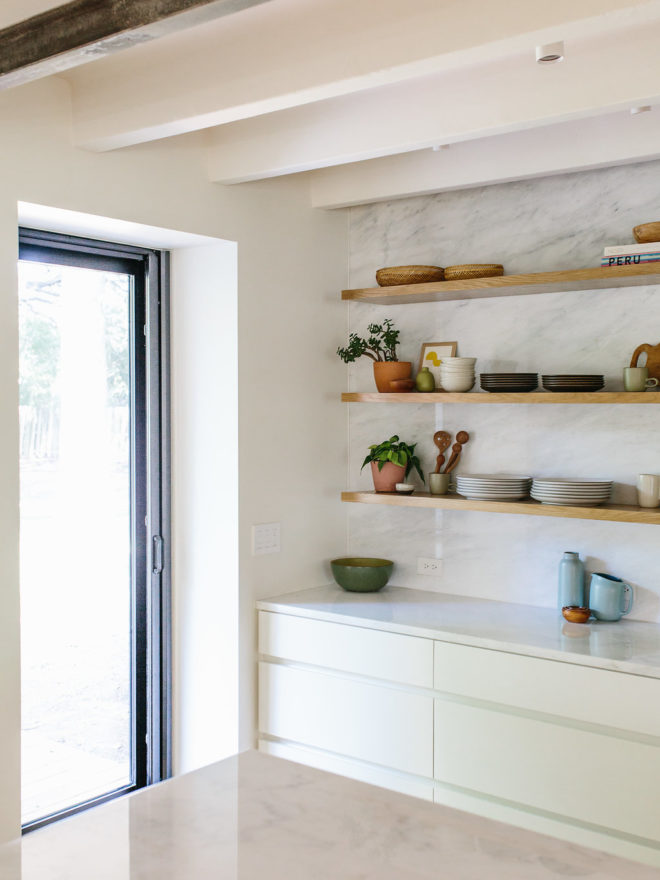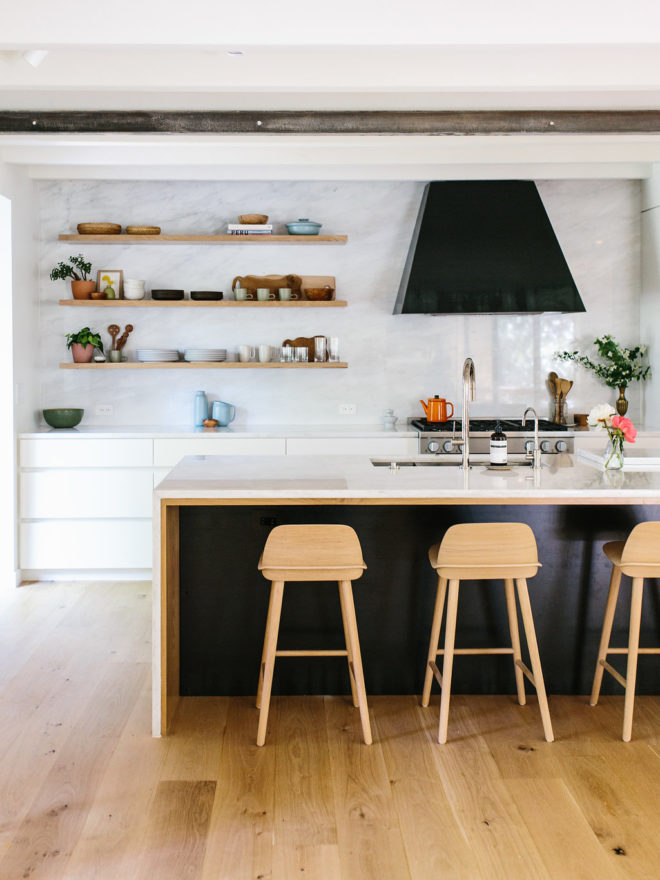 Photography: Katie Jameson
Architecture: Alterstudio
Interior Design: Claire Zinnecker Design
Warm Modern Kitchen Sources: Stools, Muuto || Tea Kettle, Purchased in Tokyo || Appliances,  Miele || Hood, Custom steel outer with Best range hood insert || Sink, Blanco || Faucet, California Faucets || Cabinets, custom || Cabinet Paint Color: Benjamin Moore White Dove
Lauren's Top, J.Crew || Lauren's Skirt: Antik Batik from Cove on South Congress
For more Sneak-A-Peek features, check out these inspiring spaces.