Michaela McManus is a talented actress known for roles on One Tree Hill, Law & Order, Vampire Diaries and more recently Aquarius, SEAL Team and The Village. However it wasn't on set that we met, it was while changing our very young newborns' diapers at The Pump Station. She is kind and generous and has a great sense of style that is all her own. Her wardrobe exudes that effortlessly cool vibe, so it was no surprise when I found out her living room did, too! She was kind enough to invite us in and give us the lowdown on how she put together her Los Feliz living room. Keep reading for all of the details!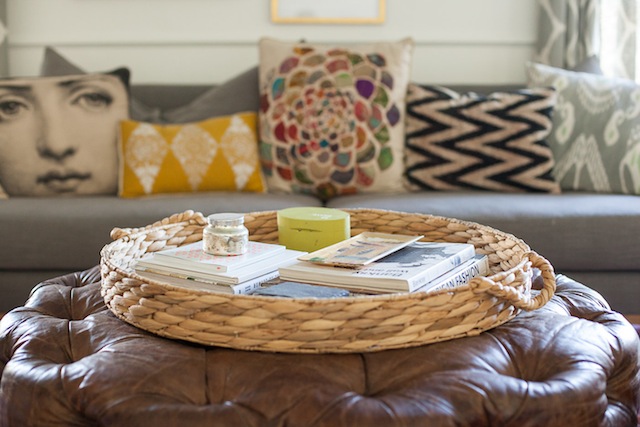 JP: Starting with the easy stuff-- Your name, job, and Who lives in your home?
Michaela: My name is Michaela McManus. I'm an actress and I live with my husband, Mike Daniels, our son, Gabriel October, and our beloved pups, Sully and Scout.
Jen: From the looks of your space, one would never know you weren't an interior designer by profession. What things have influenced your sense of style?
Michaela: When I was growing up, I wanted to be an actress and an artist. I ultimately pursued acting, but my love of drawing and painting never went away. I think interior design has become another way for me to express my inner visual artist. I love being able to imagine and create a space inside an empty room. I get the same feeling when I sit down with a clean canvas. I'm also pinterest obsessed, and I find so much inspiration browsing blogs and seeing how other people have interpreted their spaces. Lastly, I have to admit, I'm lucky to have some incredibly talented designer/stylist friends (Savannah Ferris-Gilbert and Clare Mukherjee) who I can call on when I'm feeling stumped about a room.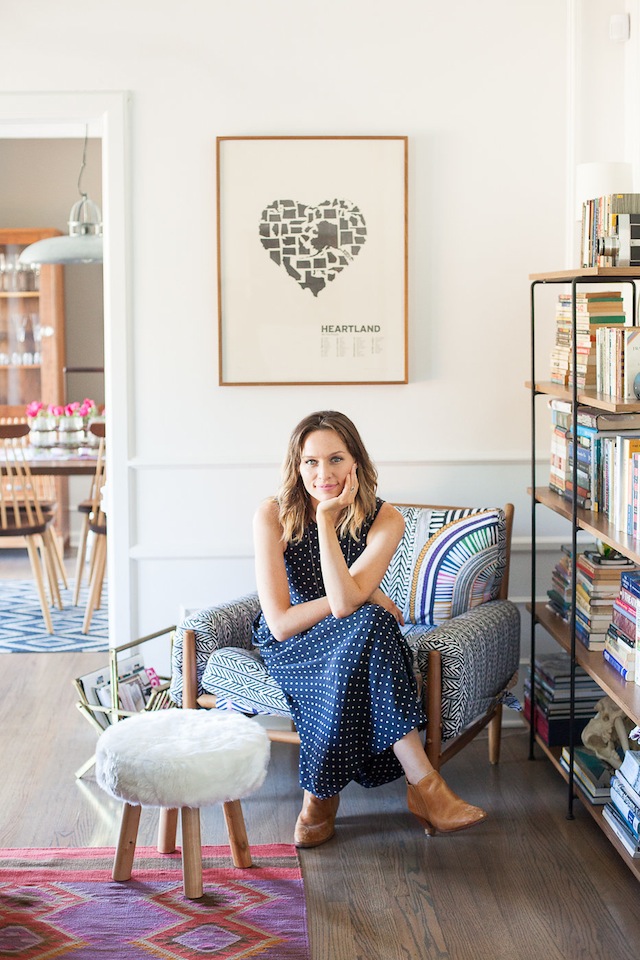 Jen: This room is so thoughtfully put together. What were the first pieces in the room? Was there one piece in particular that kind of dictated the style of the room?
Michaela: The mid-century bookshelf, the lockers, and the distressed cabinet were all items we brought with us from our last house and found a way to incorporate in the new space. Those three pieces are so different that it really allowed us to build a fun, playful, eclectic room that didn't have to follow too many rules. When you're throwing beat-up lockers into a room with formal crown molding, suddenly anything goes. That's what I love about our house. If we find something we fall in love with, we figure out a way to make it work.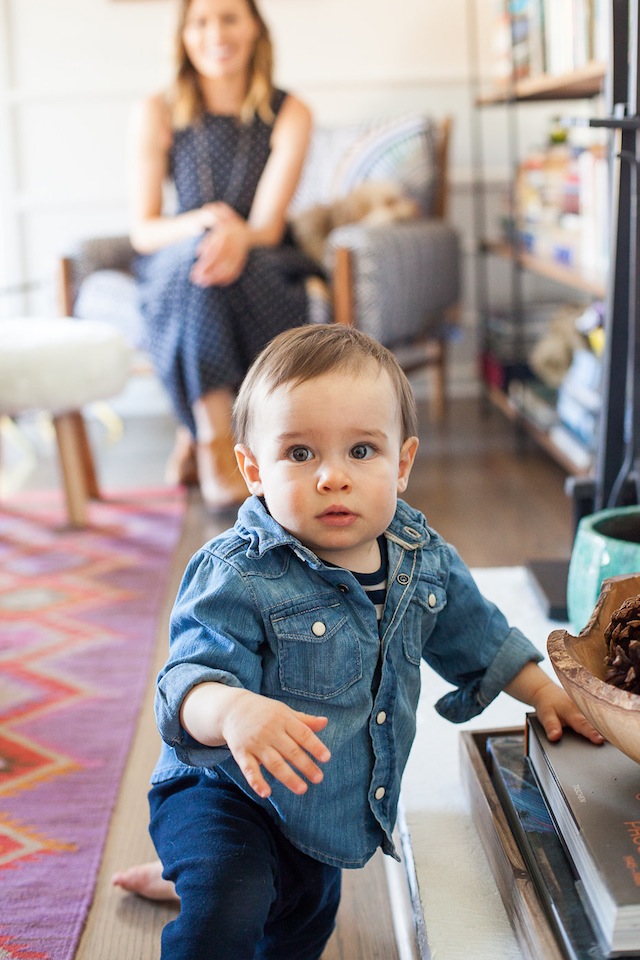 Jen: Do you and Mike have similar aesthetics? How involved was he in the process?
Michaela: This is an area where I feel pretty lucky. We have different aesthetics for sure, but somehow the two really work together. I'm drawn to bright colors against crisp white, fun patterns and textures that make a space feel homey and warm. Mike's into architecture. He loves mid-century furniture, clean lines, and earthy materials like reclaimed wood, metal, and leather. He definitely has an opinion and I'd be lying if I said we didn't have a few serious showdowns, but I think that makes us good for each other. Sometimes he has to reel me in when I'm taking something too far, and other times I have to push him to take a risk that pays off in the end. Miraculously, we both always seem to end up happy with what we've put together.
Jen: What was your biggest challenge with the space?
Michaela: The height of the ceiling and the massive fireplace were challenges. I wanted the room to feel cozy, but it was so expansive and most of our furniture is relatively low, so it just felt cold and open. My friend Savannah (who I mentioned above) suggested painting the ceiling gray to de-emphasize the height. I never would have thought to do so, but it made such a major difference. The fireplace isn't original to the house, it was added sometime in the sixties. On the one hand, that worked for us because it's a traditional room with this cool mid-century element. However, it was natural stone when we moved in, sort of a sandy beige color. I tried so hard to embrace it and make it work, but I just wanted to paint the whole thing white so it didn't feel like this obtrusive stone wall. I got a lot of push back for that. People thought it was sacrilege to paint natural stone because there's no going back. But there is nothing in my house that's beige. I loathe beige. So I painted it white and never looked back.
Jen: What is your absolute favorite piece in the room and why?
Michaela: I have three, actually.
The first is the memory box I painted for Mike when we began dating and I got a job that moved me from LA to NYC. I didn't know what the future was going to bring so I gave it to Mike before I left. I knew that he loved elephants and they're known for their memories so I painted one along with the words, "Never Forget." Not long after, Mike sent me a text that said, "I won't" with a picture of the elephant from the box tattooed to his wrist. We'd only been dating for maybe six weeks. It was the most romantic/craziest thing anyone had ever done for me. Thankfully it worked out!
The second is the Warhol Marilyn print hanging above the record player. When I was living in New York, the super of my building bought it at the vintage store across the street and gave it to me as a gift. It was so touching because he told me that I had said something in the elevator once that meant a lot to him. I don't even remember what it was, but that piece of art is a daily reminder for me: simple kindnesses go a long way.
The third is the brown leather ottoman that now serves as our coffee table. We had a husky mix named Andy who died two years ago. The ottoman is on a swivel. He used to leap up onto it and ride it while it would spin. After, he would just curl up and sit on his little perch for the afternoon. It was his version of a dog bed. I think of him when I see it. I miss that sweet, old Andy bear.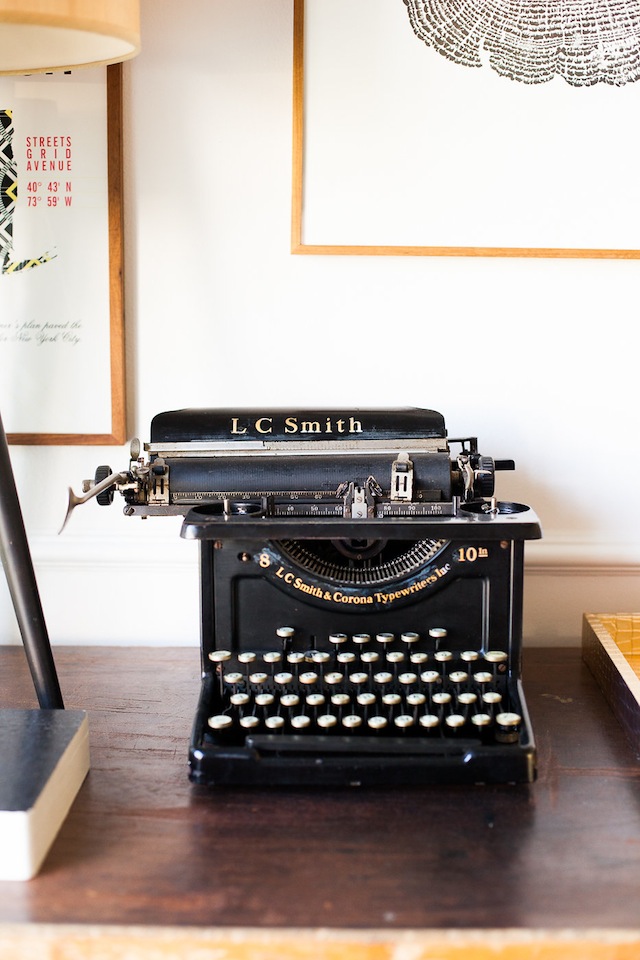 Jen: What are your favorite off-the-beaten-path decor stores to shop in LA?
Michaela: DeKor in Echo Park, TINI (This Is Not Ikea) on Fairfax, Spitfire Girl in Los Feliz, Reform School, Mohawk General Store, Lawson-Fenning, and Clover in Silverlake. The Rose Bowl flea market in Pasadena is always a great source if you can muster up the energy -- it's not for the faint of heart. We've also found so many items on Craigslist over the years. There are so many online options nowadays. I have found great pillows and artwork on Etsy (I'm in the process of starting my own print shop there!) and we've bought some really unique lamps from eBay.
lockers, mid century slat bench, bookshelf -- craigslist // end tables, little red chair, lamp on distressed cabinet -- vintage thrift shop NYC (23rd and 3rd) // gray couch, curtains, floor lamp, small mercury glass lamp, honeycomb pillow -- west elm // white hex table -- home goods // brown leather ottoman -- h.d. buttercup // refinished vintage blue knoll chairs -- dekor // dark gray chair -- room and board // printed chair -- anthropologie // heartland, peace sign numbered prints -- reform school // sconces -- jonathan adler // stool -- cb2 // white faux fur stool -- target // rug -- layla grace // pillows -- cb2, anthropologie, spitfire girl, one kings lane, uncovet // gold tray -- one kings lane // love print, pink triangle art print -- etsy // instagram art -- printstagram // distressed cabinet -- TINI
Photography by Stephanie Godfrey