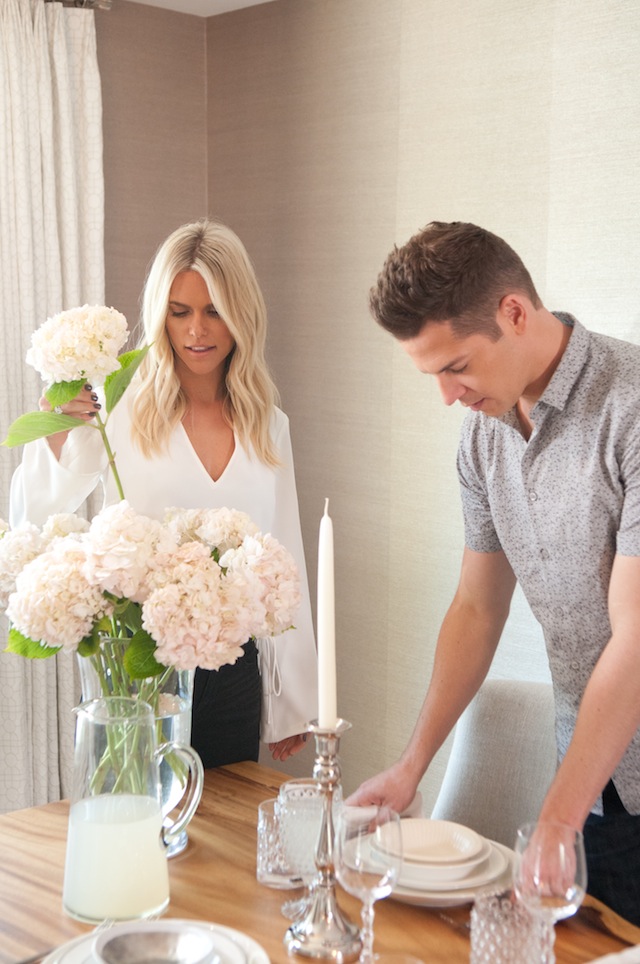 There are so many things to love about Lauren Scruggs that I'm not even sure where to begin!  For starters, she's a Texas girl, so of course I love her!  She is also the co-founder and editor of Lolo Magazine, the ultimate online resource for fashion, travel, beauty and so much more!  From dinner made easy recipes to the latest fashion trends, it's a really fun site to add to your daily reads.  She recently tied the knot to E! News Correspondent, Jason Kennedy and moved into their first home together here in Los Angeles.  She's a girl on the go, but she was kind enough to stop in and give us the details on her new digs and this glamorous neutral-palette dining room she's sharing with her new hubby!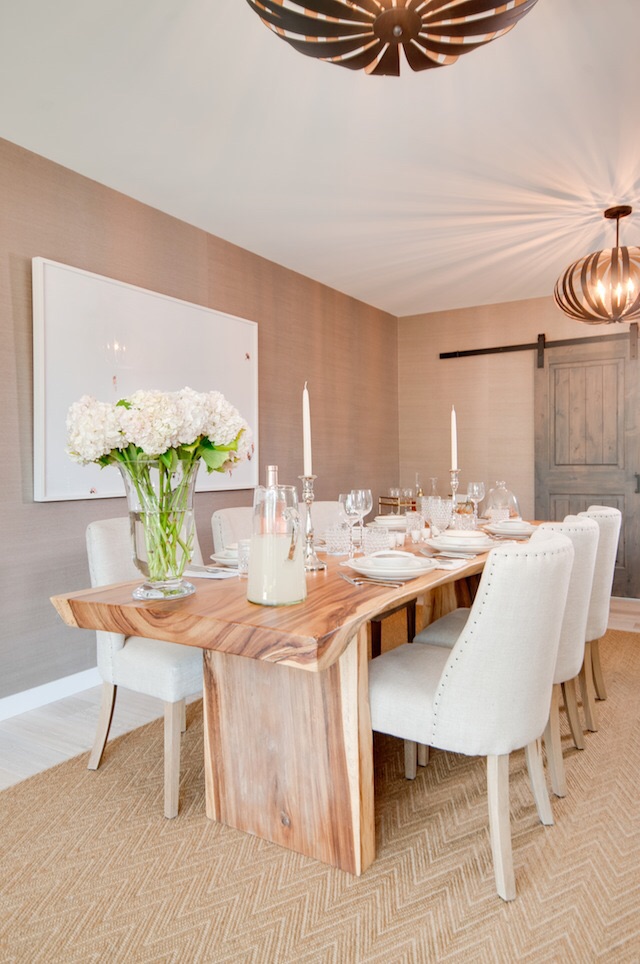 You're a Dallas girl at heart who has recently relocated to Los Angeles.  What are you loving most about living in LA and what do you miss about Dallas?
I love discovering new places and things to do in LA. There are so many hidden gems and beautiful, scenic sights that LA has to offer and exploring them is an adventure. I will always have a special place for Dallas in my heart. It's where I grew up and where I've made some amazing memories. I miss seeing my family every day, but we make sure to visit with each other as often as possible.
I have been a long-time fan of LOLO Magazine-- It's such a great blend of fashion, beauty and food!  Has your background in fashion and your time editing LOLO influenced your interior style?
Definitely. LOLO Magazine is all about making fashion more accessible and infusing your personal style into every aspect of your life. Our neutral color scheme throughout the house is a reflection of my go-to style. I'm a firm believer in being comfortable in every sense of the word! Just like every girl has that great pair of comfy jeans, I think it's equally important to incorporate furniture pieces and designs into your living space that make you feel comfy and more at home. I find there is immense beauty in minimalism, and I've enjoyed being able to explore that while decorating.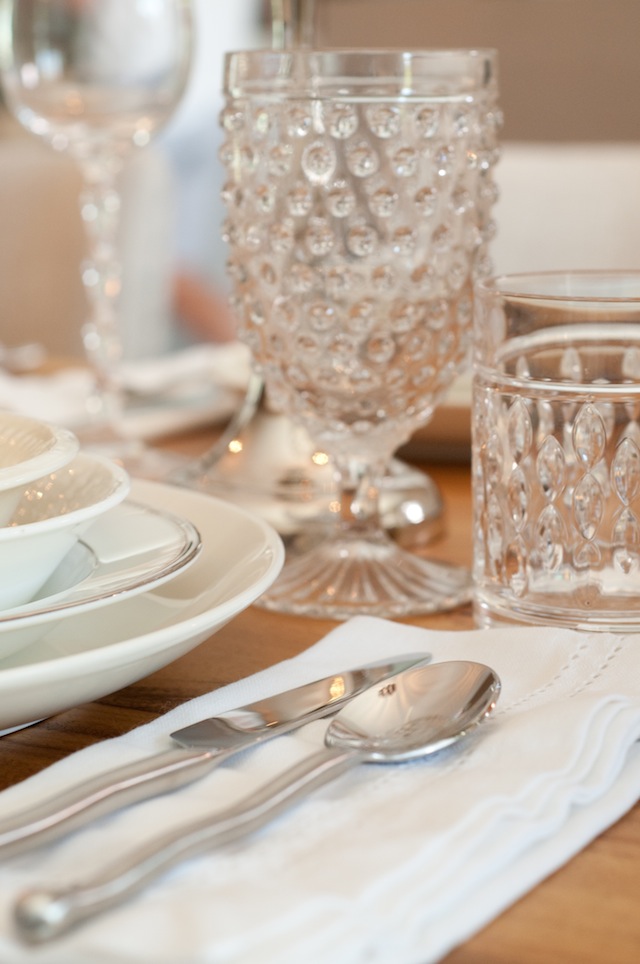 We all know that marriage is full of compromises.  Do you and Jason share similar interior design styles?  Were there moments where you had to meet in the middle on different pieces?
Luckily, Jason and I have similar tastes so it's been a pretty smooth process. When we were house hunting, we both had a similar look in mind – we both like a modern feel with some beachy, coastal elements and rustic touches.
I think that when you're moving in together for the first time, you have to compromise and blend pieces from your past that work in your new space. We met in the middle for the most part – like, I've had this tufted couch since first apartment and we both agreed that it could stay because it's not overly girly. But there was one moment when I had to put my foot down… in his old place he had this brown leather circle bed, and that was not going to happen!
So funny!  Well this dining room is so thoughtfully put together.  I can fully imagine the dinner parties already!  What was your vision for the space?  How did you get started?
I LOVE hosting dinner parties and cooking for friends! I'm a big fan of neutral shades, so I had a color scheme in mind. I started by picking out a bunch of fun dishes at HomeGoods to complement the china that we got for our wedding. I love to mix and match – not every setting has to look the same! I layered dishes in warmer shades with bowls with crisp silver details. If you stick to a general theme, I think you can't go wrong with layering different shades, accents and prints. Don't be afraid to mix glassware of different heights, sizes and textures too!
One of my favorite tips is to always have a large vase available for when you're having guests over – a massive arrangement in a beautiful vase is an easy way to make a statement. Hydrangeas are my favorite!
What is your absolute favorite piece in the room?
Right now, I'm obsessed with textured glassware. These hobnail glasses are so classic and pretty, and give character to a neutral tablescape. It's all about the details!
Have you discovered any great places to shop for interiors since you've been in LA?
One of my favorite places to shop is HomeGoods – they have such unique pieces that really enhance what we already have in our home. Like, I've had this little fur rug for years and wasn't sure if I wanted to keep it, but I found this giant shag rug and thought it would be perfect for layering. It makes my old rug just look that much cuter! My mom used to take me shopping at HomeGoods in Dallas and got hooked back when I was single (and on a tighter budget) but now Jason and I spend time shopping and picking things out together here in LA.
What is the best dish you make?  The recipe everyone goes crazy for when you make it!
Kale salad with homemade balsamic vinaigrette dressing (Jason's favorite!), roasted homemade sweet potato fries, and almond crusted chicken are my go-tos! For dessert, I have been making these peanut butter chocolate chip cookies that are to die for; they are that rare healthy recipe that doesn't taste healthy!
Now that you're settled in, what LA residents would you like to have over for dinner?
Jason and I have a close-knit group of friends and we often invite them over for casual dinners or relaxing evenings by the fire pit. We love the calming atmosphere of our home because it's perfect for entertaining our guests. Jason and I really enjoy getting to know new people, too, and we find it more welcoming and comfortable to invite them over for dinner rather than meeting at a busy restaurant!
Photography by Harry Van Gorkum