Caitlin and I crossed paths in the most LA sort of a fashion.  I was styling a commercial that she happened to also be working on.  If you know anything about how commercials are shot, then you know Caitlin and I had plenty of downtime on set to chat and realize we had so many similar interests!  At the time, she had just purchased her loft in downtown Los Angeles and was working on the initial renovation and floor plan adjustments to the space.  Since then, she has finished her fabulous downtown space, had it featured in Rue Magazine, and launched her own interior design firm, Caitlin & Caitlin, along with fellow designer Caitlin Murray.  With clients reigning from San Francisco to San Diego and beyond, she is a girl on the go, but was kind enough to let us stop in one morning last week so we could document the cozy, chic bedroom space she created from start to finish.
Jen: As an interior designer, you are incredibly talented at working with many different types of clients and aesthetics, but it's so fun to see your own personal design preferences in the flesh. In three words, how would you describe your own aesthetic?
 Caitlin: First of all, thank you! It's very hard to sum up style because it is an abstract concept, translated into a tangible thing. However, I'd have to say my aesthetic is luxe, collected, yet unexpected.
 J: You essentially renovated and redesigned every square foot in your loft when you purchased it. How important was the bedroom area to you? Where did you begin that part of the process?
C: In lofts, the public space and the private space are often intermingled. I wanted the bedroom to feel very different from the rest of the home. To achieve an intimate look, I layered soft spa bedding and pillows, a raw silk upholstered headboard, and a diamond flokati rug. I believe there should be something cozy to put your feet on when you climb out of bed each morning.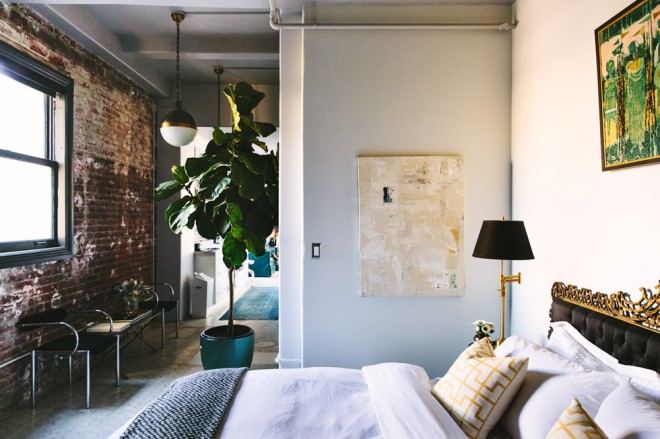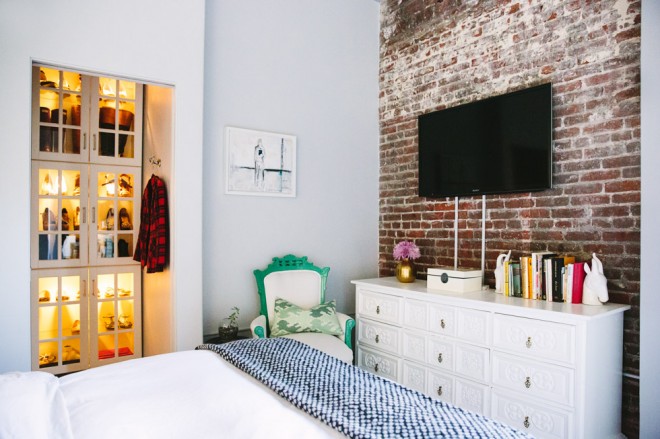 J: What was your biggest challenge with this space?
 C: The shape of the room was very odd when it landed in my hands. A former bank building, my downtown loft was not laid out for living, but was originally designed as office space. The bedroom looked like two small rooms on top of each other, so I built the walk-in closet and created a square cavity for the bed area allowing just barely enough room for bedside tables. No matter what, there has to be enough room to walk briskly around the bed when you make it, otherwise you never will!
J: What did you learn from being your own client through the renovation and design?
C: I learned how picky I am! I see all the furniture that is launched each season, so I only chose pieces that were my favorite. Since I am drawn to so many different vibes, I brought a little bit of each style I love into my home, but I kept the color palette consistent so that the look was cohesive.
J: What is your favorite piece in the room?
C: Without a doubt, the bed. It's the same as the Ace Hotel. Made from recycled shredded rubber, it is both cushy and supportive.  I also love the lacquered chair. It was a flea market rescue that Caitlin (my business partner) and I brought back to life.  
J: What is your advice for others living in similar loft or studio situations? What are some ways to create a cozy, bedroom retreat when there aren't walls?
C: To live in a loft space, you have to be willing to de-clutter and stay organized. The difference between an urban sanctuary and a hoarders nightmare can be just a few dirty dishes. The bedroom should be a place of rest and relaxation. I make my bed in the morning so that it feels luxurious to climb into when I turn in at night. If your bedroom area is put together it will feel like it's own independent space, even if it has to be in plain view.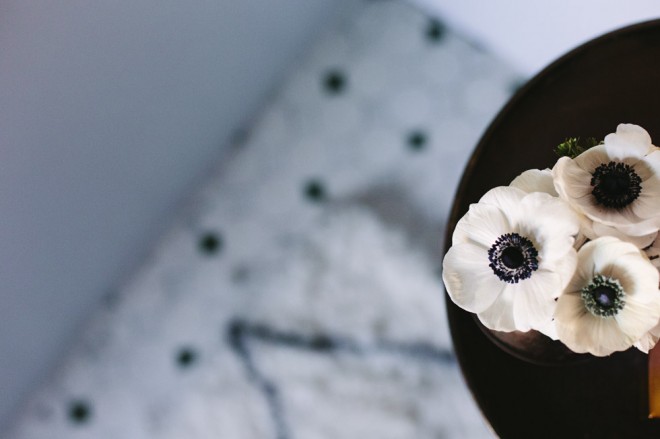 J:  Finish this sentence: "My favorite thing about coming home is…"
C: The personal connection I feel with each little detail.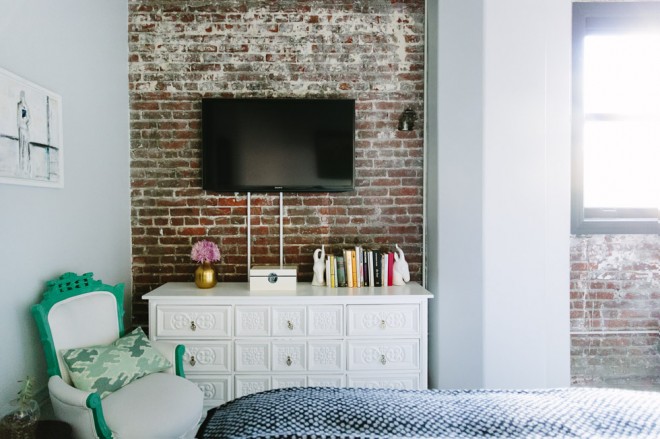 Photography by
Mary Costa
Headboard:craigslist rescue, reupholstered in black linen
Bedside Tables: 
urban outfitters
Lamp: 
restoration hardware
Gold Vase: nate berkus for target, out of stock
Bedding: hotel spa bedding
Throw Pillows: 
spark modern schumacher fabric
Throw: 
kelly wearstler
Pillow on Chair: 
spark modern kelly wearstler fabric
Chair: craigslist rescue, lacquered celadon, reupholstered in white linen
Dresser: craigslist rescue, lacquered white
Animal Head Bookends: boutique find