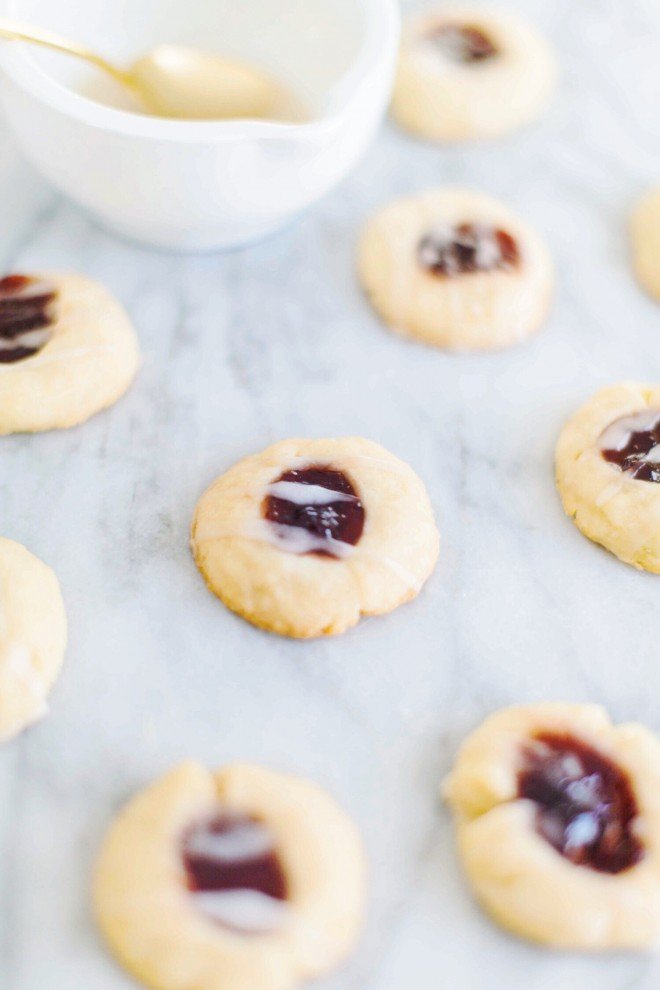 You know how you have these fantasies about how certain moments will go down in your life and then they're nothing like that?  Well, I  have dreamed about cooking with my daughter since before I even knew I was having a daughter and have been forcing that moment for quite some time now.  It has ended in a coconut oil catastrophe which proved really hard to fully clean off of our tile floors and lots of pasta flung to far off destinations and yet I still let her crack our eggs open every morning.  (Please try to imagine her chubby baby hand gripped around the entire egg as she just smashes it on the countertop and then I try to finagle all of the egg into the bowl without getting any of her shatter shells in the mix.  It's actually kind of a fun challenge.)  All of this to say, this Blogger Christmas Cookie Exchange (dubbed #ChristmasCookieSquad on social media), was just another opportunity for me to train my future sous chef.  The holidays are fussy enough without adding a super intense baking recipe to the to-do list, so I've opted for a family favorite that is not only brilliant in its simplicity, but also happens to be my favorite tasting Christmas cookie of all time!  ALL TIME, PEOPLE!  The dough itself has a total of just 6 ingredients, not including the raspberry jam and glaze, and freezes super easy.  You can even make a big batch, roll them into a cylinder and do a slice and bake number on them whenever you're in the mood for a sweet treat!  Keep reading for the recipe, courtesy of my mother, and be sure to check out the other tasty recipes from Eden, Ashley, Leah, Julie, Michael, Cyd, Kelly, Chelsea, and Brittni.  (Oh and share your own cookie recipe on social media using the hashtag #ChristmasCookieSquad!)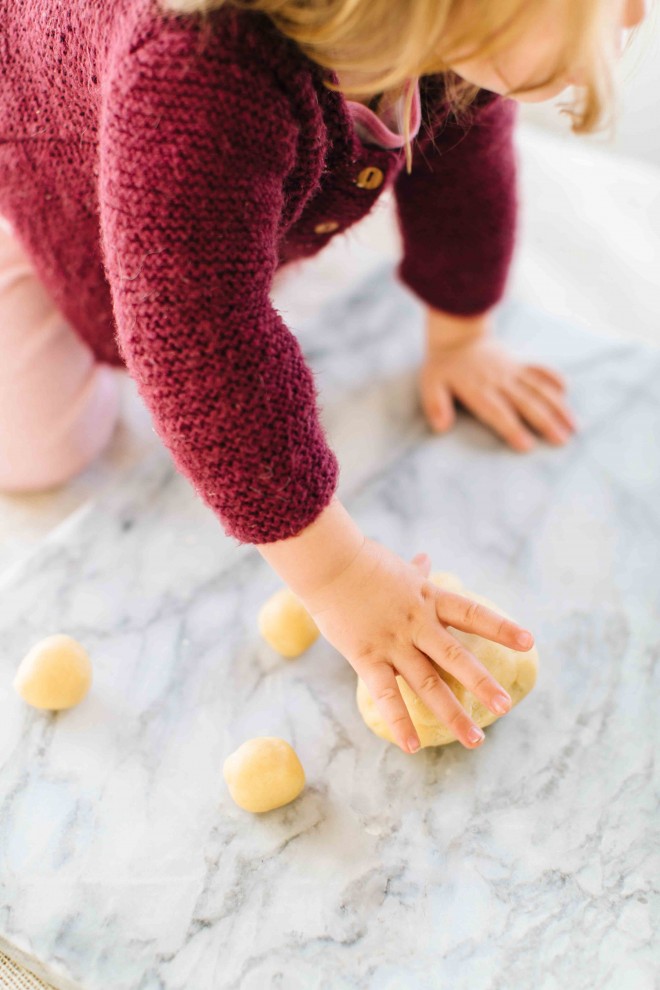 Raspberry Almond Thumbprint Cookies
Ingredients
12 ounces unsalted butter, room temperature
1 cup sugar
¾ tsp. pure almond extract
¼ tsp. vanilla extract
3 cups all-purpose flour
¾ tsp. salt
raspberry jam for filling
Simple Glaze
(I can't stress enough how important it is to wait until the cookies are completely cool to apply glaze, otherwise it doesn't adhere very well.)
½ cup powdered sugar
1 Tbsp. + 1 and ½ tsp. water or whole milk (you can also substitute Amaretto or Whisky for a little boozy kick!)

Instructions
In a large mixing bowl, cream together butter and sugar on medium speed until light and fluffy, about 4 minutes.
Add almond and vanilla extracts and continue to mix.
Add flour and salt and mix until well combined, but don't over mix.
Wrap dough in plastic wrap and chill for 1-2 hours.  If chilled for any longer, remove from refrigerator and allow to sit at room temperature for 30 minutes so that it becomes malleable.
Preheat oven to 350 degrees.
Roll cookie dough into 1-1.5" balls and press down in the center with your thumb to make the center spot for the jam filling
Using a ¼ teaspoon, fill the indentation with jam.
Bake cookies for 11-13 minutes.  (Mine took exactly 12 minutes.  Look around the bottom edges for a light golden color to tell you when they are ready.)
Allow to cool on cookie sheets for a few minutes and then transfer to wire racks to cool completely.
Glaze
In a small bowl whisk together powdered sugar and water (or milk, amaretto, or whisky)  adding a little at a time until you get the right consistency.
Spoon glaze over completely cooled cookies. You can also use a piping bag to drizzle the glaze.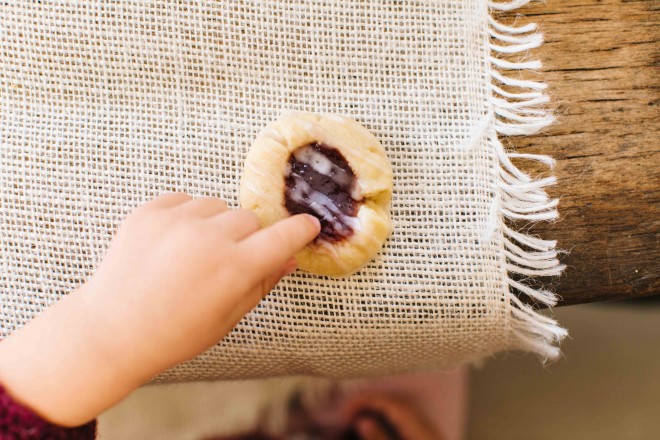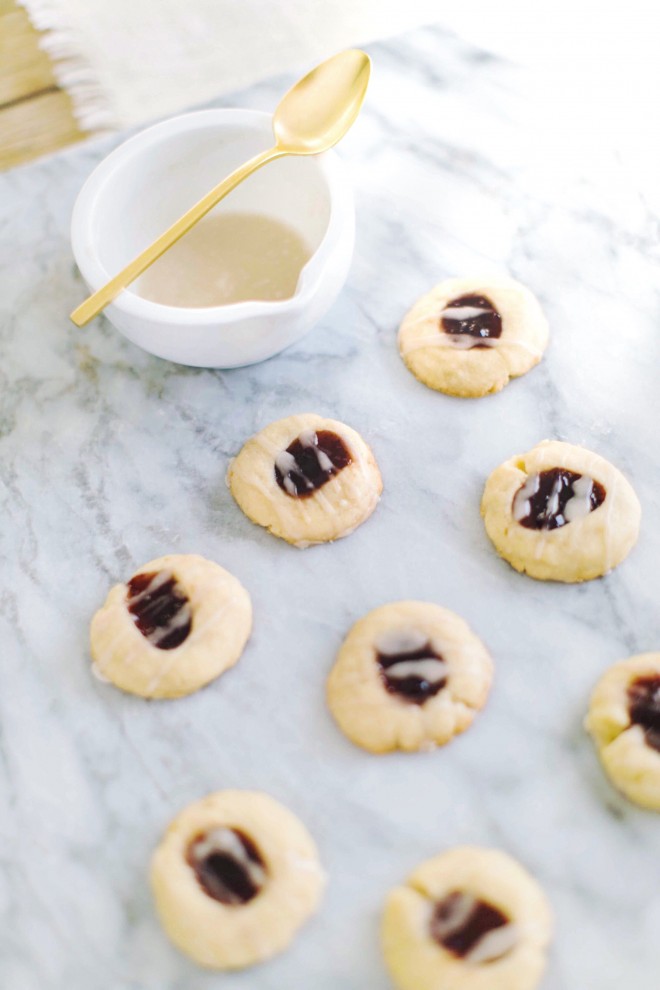 Photography by Aaron Pinkston