07/18/2017
Remember that time we did Whole30 for 5 days?  It's but a distant memory, yet we keep coming back to some of the recipes that we tried and loved that week.  (To be fair, I had already meal prepped most of the following week, so we were pretty compliant for closer to ten days!)  This shrimp cake recipe is one of the gems that I came up with in the process and Aaron's been begging for me to make them again.  They're relatively easy to pull together, cook quickly, and make for a really yummy lunch when re-heated the next day. Plus, who doesn't love pineapple guacamole?!  You could make mini versions for a satisfying and healthy appetizer or two of these entree-sized shrimp cakes definitely qualify as dinner.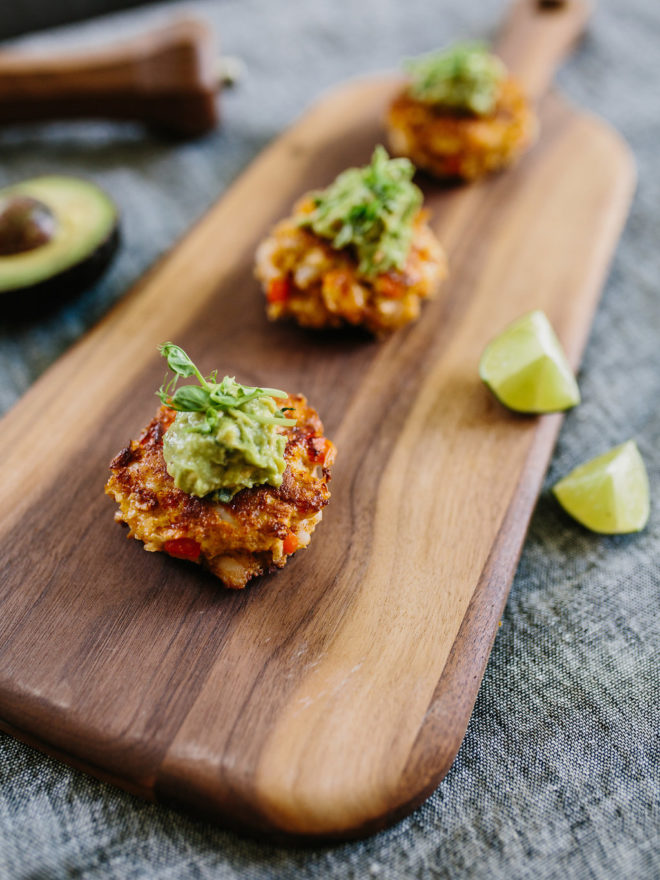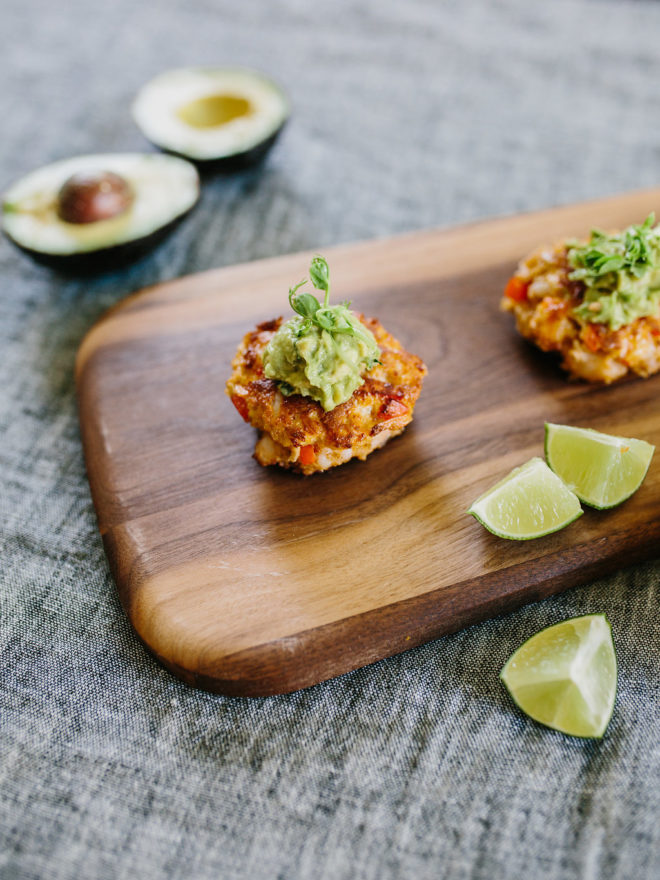 Shrimp Cakes with Pineapple Guacamole (Whole30, Paleo, + Gluten Free!)
(makes 8 large shrimpcakes)
Ingredients for Shrimp Cakes:
1lb peeled and deveined shrimp, roughly chopped into 1/2″ pieces
2 eggs, beaten
1/3 c. unsweetened coconut flakes
1/3 c. almond meal
1/4 c. white onion, finely chopped
1/4 c. red bell pepper, finely chopped
2 t. lime juice
1 t. paprika
1/2 t. chili powder
1 t. garlic powder
1 t. salt
2 Tbsp. + 2 Tbsp. avocado oil for cooking
Ingredients for Guacamole:
3 medium ripe avocados, halved and pitted
1/2 small white onion, finely chopped
1 jalapeños, seeded and minced
1/4 c. minced cilantro (about one bunch)
1 c. pineapple, finely chopped
2 limes, juiced
1/2 t. garlic powder
sea salt and pepper, to taste
Directions:
For the shrimp cakes, combine all ingredients (except the avocado oil) in a large bowl and mix well. Depending on the consistency you might want to add an additional Tbsp or two of the almond meal to bind together the wet ingredients.
Once combined,  separate mixture into 8 even patties on a large plate or platter and refrigerate for 20-30 minutes. (This will help them to stay together and not fall apart while cooking.)
While the shrimp cakes are chilling, make your pineapple guacamole by combining all ingredients by hand in a medium sized bowl. Cover and refrigerate until ready to serve.
To cook the shrimp cakes, place a sauté pan over medium heat and add 2 Tbsp. avocado oil.  Once the oil is hot, add three shrimp cakes and cook for about 2-3 minutes until the bottoms have become golden and crispy.  Flip the cakes and cook another few minutes until the second side is also golden and crispy and the shrimp is cooked to pink.
For best taste, serve immediately with the pineapple guacamole! (Although we had these for leftovers the next day at lunch and they were still just as delicious!)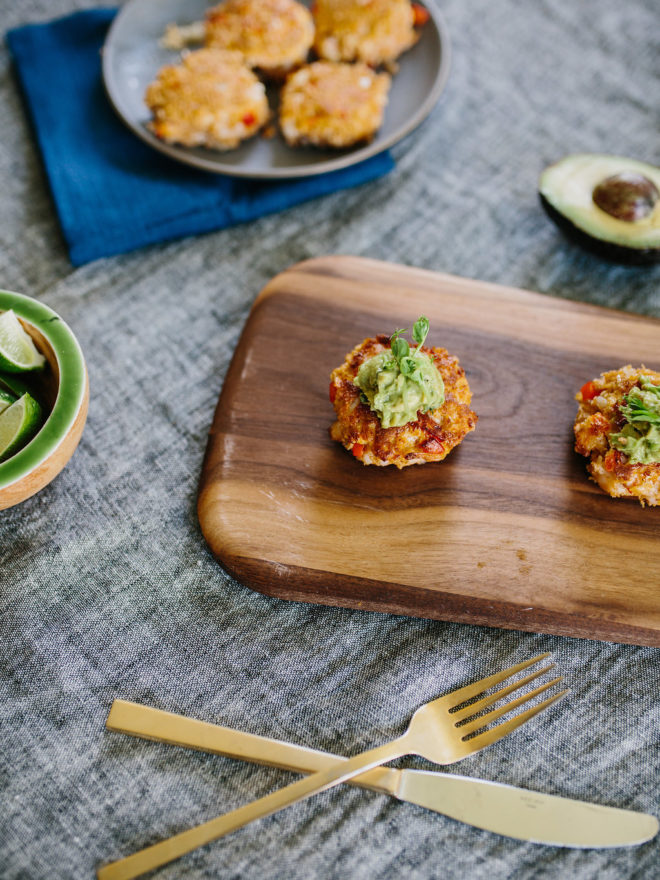 Photography by Katie Jameson
(For more recipes, see here!)