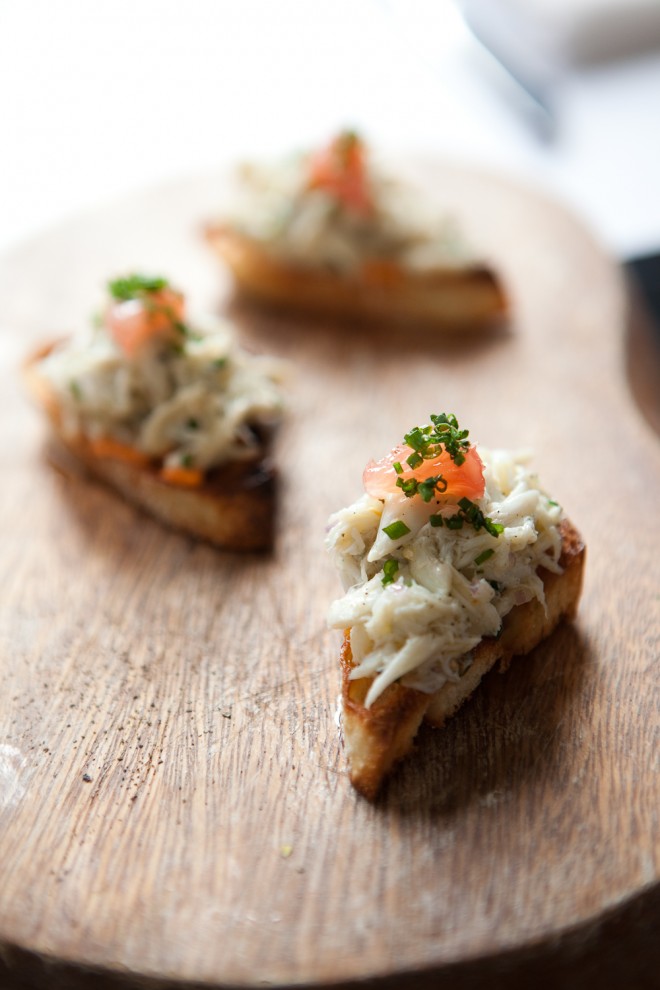 The summer after Aaron and I began dating, we found ourselves with a few weeks free from work and, like any right-minded person in their early twenties would do, we booked round trip tickets to Europe.  For the next couple of weeks we hopped on and off trains from Italy to Belgium and everywhere in between.  It was pretty incredible!  At the time I was reading Julia Child's, My Life in France, so I could hardly wait to make it to Paris and sink my teeth into some authentic boeuf bourguignon.  By the time we left France I was completely addicted to french bistro fare and determined to satiate my craving back in LA.  One of my favorite discoveries on that quest was the french urban brasserie, Comme Ça.  The ambiance is both warm and modern, as is the service, and the unique twist on classic french cuisine is really fresh and full of flavor.  We stopped by last week  and Chef Danny gave us the scoop on one of their most popular appetizers, the Blue Crab Toast.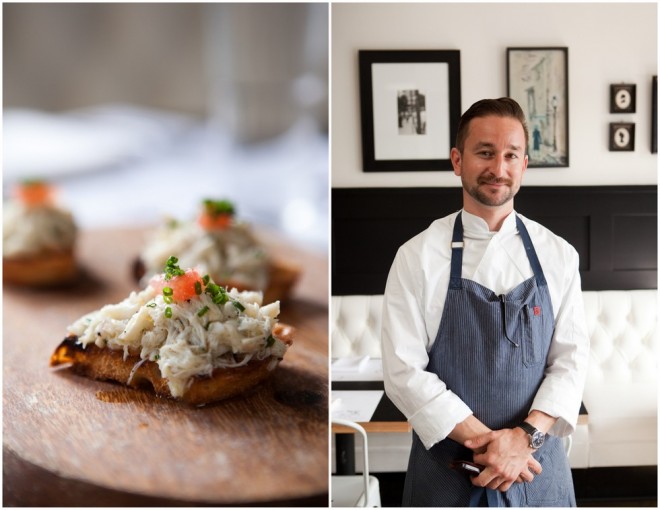 Blue Crab Toast
(with harissa aioli and grapefruit)
For the Crab:
Ingredients:
 5oz Jumbo Lump Blue Crab, picked and cleaned
1 small shallot, finely diced
2 tablespoons chives, finely minced
1 tablespoon infused lemon oil
1 tablespoon extra- virgin olive oil
Salt and pepper to taste
Fresh squeeze of lemon juice to taste
Method:
Combine and mix all ingredients together in a bowl.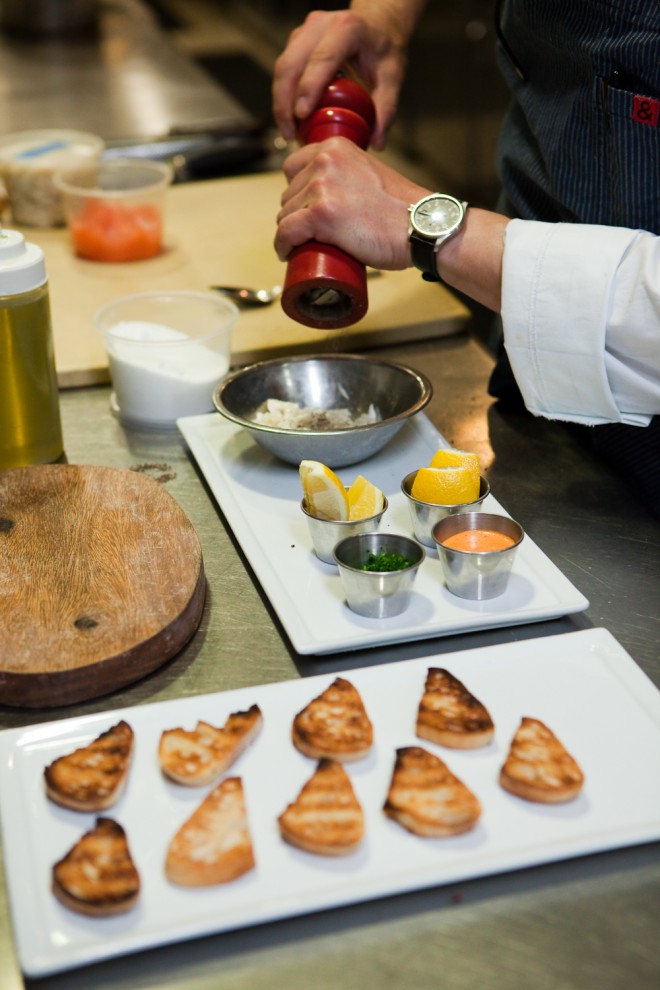 For the Harissa Aioli:
Ingredients:
 1 small shallot sliced
1 roasted red pepper, seeded
2 medium garlic cloves, sliced thinly
3 egg yolks
½ cup extra-virgin olive oil
½ cup canola oil
1 teaspoon harissa paste
Lemon juice to taste
Salt and pepper to taste
Method:
In a sauté pan, over medium heat slowly cook the shallot in 2 tablespoons olive oil, approx. 5-6 minutes. Add the garlic and continue to cook until each are tender and aromatic, another 2-3 minutes. Set aside and let cool. In a blender, add each the garlic, shallot, roasted pepper, harissa paste and egg yolks. Blend on medium until smooth in texture and slowly drizzle in the rest of the oil. Add salt and pepper and lemon juice to taste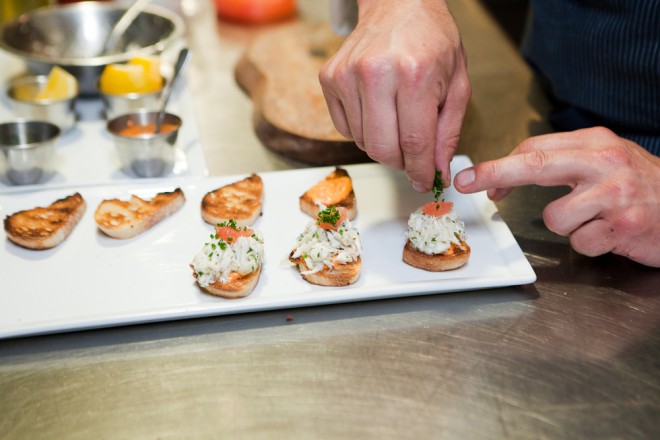 For the grapefruit:
Ingredients:
 1 large grapefruit peeled and cut into segments
½ cup water
½ cup sugar
½ vanilla bean scraped
Method:
Combine each water, sugar and vanilla in a small sauce pot. Bring to a boil and pour over grapefruit in a small bowl. Let chill in fridge.
To Complete--- Grill some thinly sliced sourdough toast drizzled with olive oil or alternatively toast in oven. Spread harissa aioli on the toast, layer the blue crab mixture, then finish with grapefruit.
Photography by Stephanie Godfrey
(Chef Danny's apron is made by Hedley and Bennett)