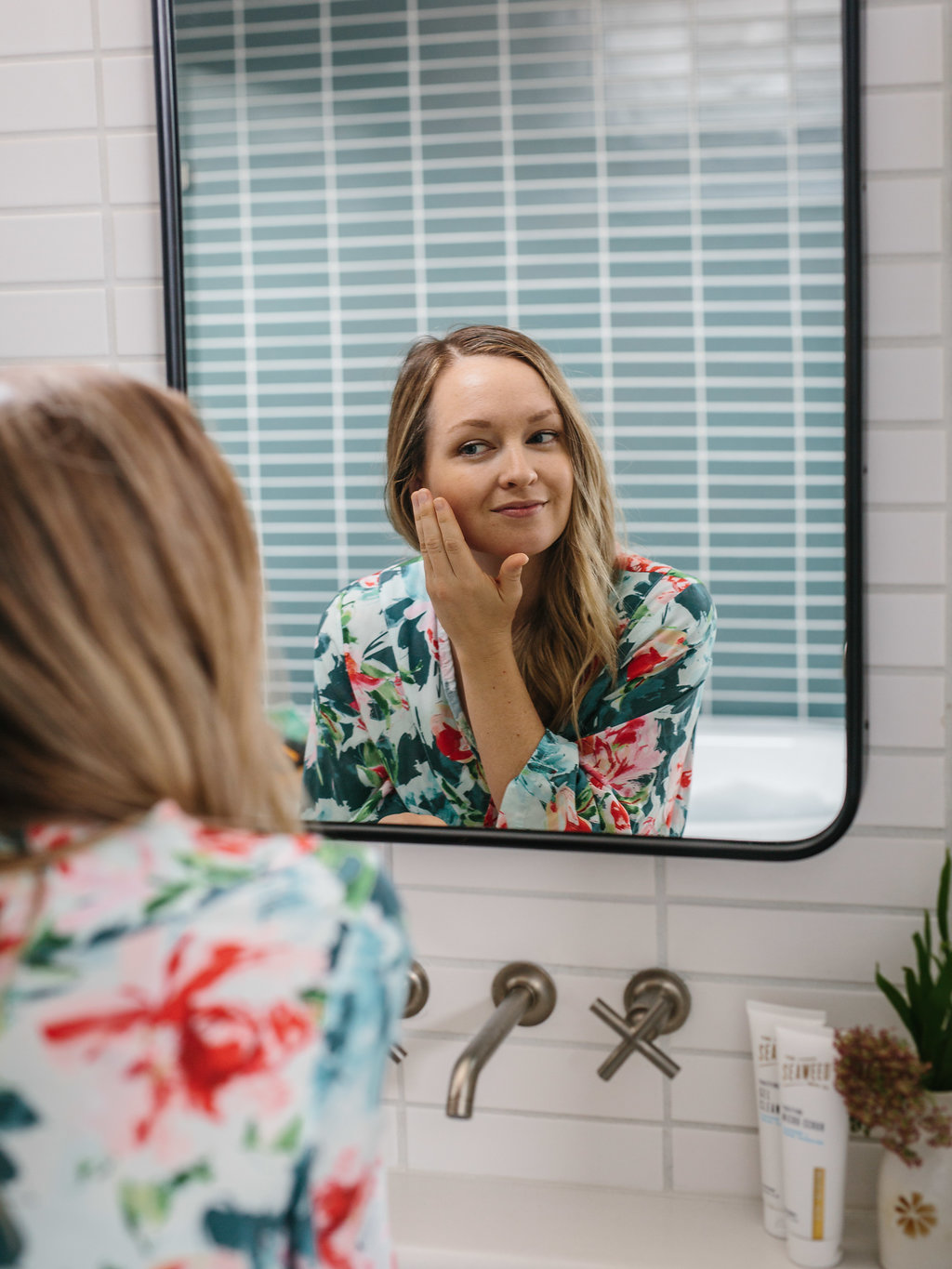 I've been drinking more than my fair share of peppermint tea this winter.  Here in Austin, the word 'winter' is usually a formality referring to a certain set of dates on a calendar more so than the frigid temps that typically come to mind.  This winter, though, we've had three snow days and plenty of others that never crept out of the thirties, so I blame that and the fact that I'm breastfeeding on my considerable peppermint tea intake.   On one particularly blistery day I was able to chat with the founder of The Seaweed Bath Co. over tea in our kitchen.  I got to hear not only the story behind their start-up-turned-national-brand skincare company, but how effective the products have proven to be, thanks to their unique key ingredient, seaweed.  The Seaweed Bath Co. sustainably hand-harvests certified organic seaweed off the coast of Maine, which is then used in their skin and hair formulas to naturally detoxify, replenish, and protect.  The timing was particularly perfect because we were in the middle of our clean beauty trials and a few of you had already DM'ed me about trying their products.  Our tea ended when a certain four month old babe decided she was ready for a nap, which was also quite perfect because I was ready to dig into all of these new products.  I lathered, scrubbed and moisturized on repeat!  The consensus?  The products are not only effective, but the subtle ocean smell seriously transports you to the seaside and as of this weekend you can purchase their latest skincare products nationwide at Target.  They're also really affordable as far as skincare goes.  Keep reading for more of my favorites and what I'm loving most!
First of all, I'm almost completely through this Detox Body Cream and I haven't had it long at all.  I use it constantly and love it!  When Parker came down with the flu last week my hands dried out within hours as I washed them incessantly, determined to keep from spreading it to Ever.   I was putting on everything that I owned that was marketed as hand lotion and all of them burned because my hands were so dry and didn't do much in terms of hydrating.  I started using this cream, though, which not only didn't irritate my insanely dry skin, but I immediately started to see signs of hydrating and healing.  The cream combines nutrient-rich bladderwrack seaweed, green coffee bean extract, green tea extract and hyaluronic acid to deeply moisturize and detoxify for smoother, firmer-looking skin.
This foursome in the white packaging is the new detox and age-defying skincare line that's available at Target and it's really amazing. The Seaweed Bath Co. enlisted a team of world-class scientists to create an innovative seaweed-based skin care that is clinically-proven to repair and restore skin's protective moisture barrier.  These products contain an AlgaDerm™ Complex (which is a combination of 3 types of seaweed and Vitamin B3), and powerful Marine Tri-Peptide. It's definitely the heaviest, richest night cream that I own now and I love it. The gel cleanser, micro scrub, and day cream are all great, too.  Honestly, I've loved every Seaweed Bath Company product that I've tried so far and would love to hear what you think, too!  In addition to Target, the products are also available nationwide at Whole Foods (and other natural product retailers).
Photography by Katie Jameson
This post was sponsored by The Seaweed Bath Co.  All thoughts and opinions are my own.